The pleated curtains` design is universal, since it is suitable for any kind of windows (rounded, complex, beveled and traditional). What are these curtains and how actual are pleated curtains in different rooms and design styles?


Pleated curtains on the window: design features
Outwardly, the design of such curtains resembles horizontal conventional blinds, but with a pleated cloth, that is, with clear folds (pinches). Their width is in the range of 10-50 mm. People usually chose narrow folds for small and standard windows, and wide folds for large windows.


There are single, double or triple types of pleated curtains. Single are a just a canvas with folds. Double or triple consists of several canvases, sewn together on the type of honeycomb.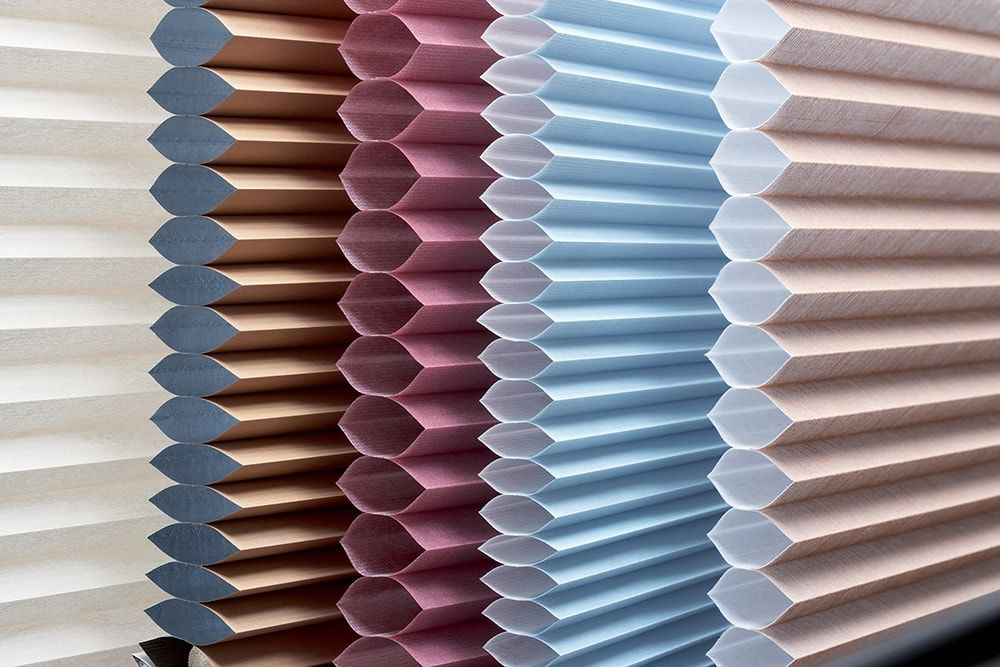 The mechanism for managing such curtains on non-standard windows is carried out with a chain, cord, handle, a raised to a high enough distance leash for windows, or remote control. The latter option is more relevant for mansards and winter gardens. Also there are curtain screens, which are ideal for round, semi-arched and oval windows. They are stationary, that is, they can not be closed and opened.
Varieties
Pleated blinds differ with material, shape, size, type of construction.
Material
The material for such curtains is something between the oilcloth and the cloth, so they are also perfect for bathrooms.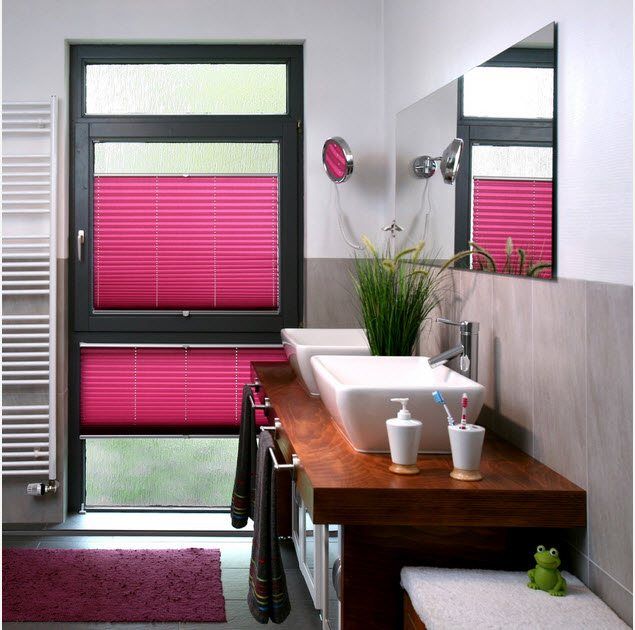 Some varieties have dirt and dust repellent impregnation. There are canvases with special heat absorbing and reflective coatings, which are especially relevant for non-standard windows in winter gardens and attics.
Often the material is treated with special compounds that provide fire resistance. But there are also such fabrics, which are almost completely not subject to ignition – these are models with Trevira CS fiber. They were patented by the Germans in the 80's.
In the collections of modern manufacturers, there are more than 100 interesting shades of such blinds. A considerable texture choice is present as well (crepe, flax, and hemstitch).
Very practical and original "day-night" curtains, consisting of two types: translucent and opaque.
Paper pleated linens are the most budget option. Of course, they can not be washed and nor repaired. Such curtains have to be replaced with the smallest damage. But also you can save considerable money.
Size and shape
Today you can buy pleated knot-curtains on windows of any shape – rectangular, square, round, elongated, trapezoidal, etc. They are also used for the surface, while standing under a slope. These are the windows of terraces, mansards, arbors, attics.
Types of structures
In the direction of the folds, the movement patterns, types of folding we can distinguish the next types of pleated curtains:
free-hanging are fixed from above, used for the standard window;
roller pleated blinds. They are also fixed from above, and the cloth is wound on a special shaft;
stretching are fixed with the help of profiles and stretched by strings along the edges. Such curtains, do not sag even being placed at an angle;
modification of the bottom-up allows you to partially open not only the bottom of the window, but also the upper part of it;
fixed pleated curtains do not open. They are used for non-standard shape windows;
vertical structures have vertical folds which are attached to the sides and move to the sides as well.
Pleated curtains : three main advantages
A wide range of. For any type of window, you can choose your own type of construction.
Decorativeness and practicality. Such curtains are easy to use and easy to care for. Laconic design attracts many ordinary people.
Ease of installation.
Note: such models will not become a full-fledged decoration of the window in the Classic interior. A harmonious solution in this case will be a combination of them together with traditional curtains.
Curtains on plastic windows: installation, operation
Simplicity of the design allows you to install pleated curtains on plastic windows. They can be attached in different ways:
on the frame – with the help of screws and brackets;
on the opening – used for both blind and opening windows with a sufficient distance (7 cm) between the opening and the frame;
above the opening – this method is used when owner wants to use a window sill as a shelf in the niche of a window.
The process of installing pleated curtains is simple enough and does not require special skills, so the owners can handle themselves.
Such cloths are quite resistant to dirt, but if nevertheless a need for cleaning is necessary, it should be carried out taking into account the following important conditions:
firstly curtains must be twisted and removed;
then place them in warm water (up to 30 °C) with a sparing detergent in the open form;
after 20-30 minutes, pull out and rinse them under a shower;
collect the curtains and drain the water;
suspend and leave for 12 hours.
What is important to know before buying pleated curtains?
The assortment of pleated curtains allows you to choose a model for every taste and color. But to make the right choice, it is worth considering the following:
the best option for sloped windows is the tensioning structure, the strings of which do not allow the fabric to hang;
if the windows go to the south, it is advisable to hang curtains with pearlescent coating, which will strengthen the reflection of the sunrays, keeping the coolness in the room;
do not use paper curtains in the kitchen and in the nursery. Here they will be out of order even more quickly;
consider the width of the folds when buying. So, a large pleating will not work for a small window, a small one for a large window.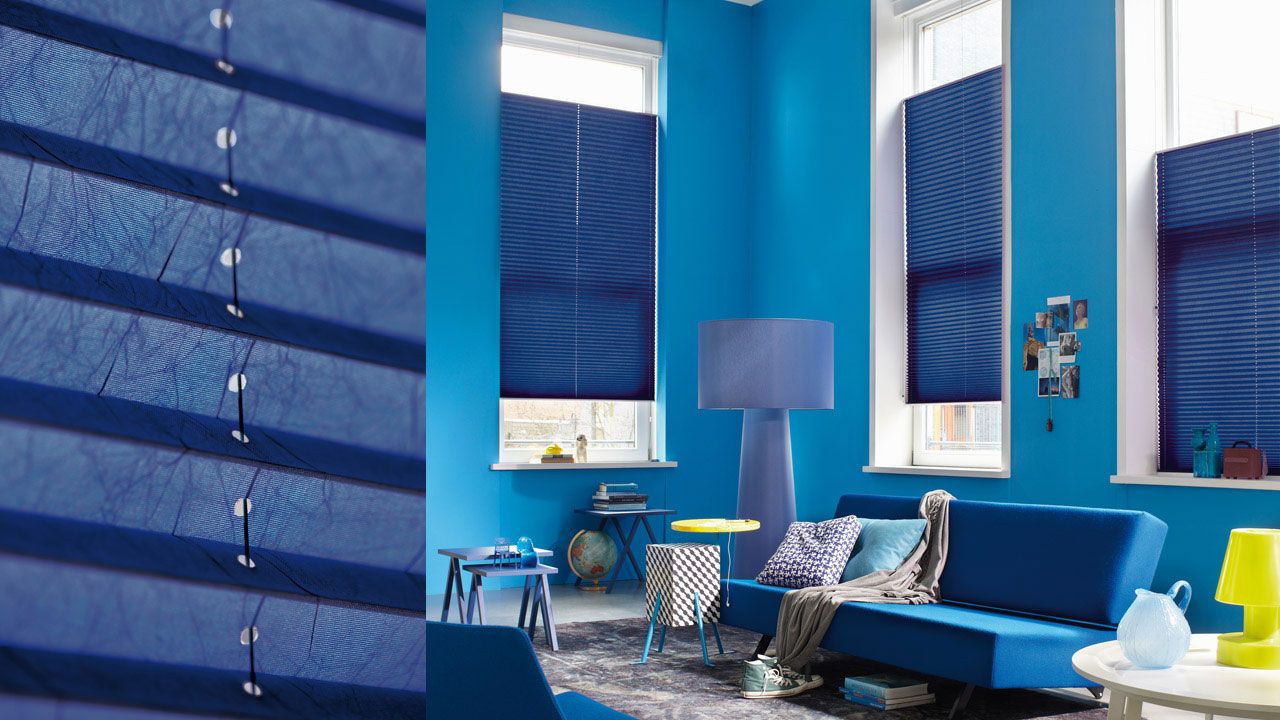 Pleated curtains: photos of the best examples in the interior
Pleated curtains are popular not only in the design of terraces and mansards. They are actively used in the design of ordinary rooms. But, as already mentioned, the classical interior can not do without the traditional canvases, but the pleated curtains will look harmoniously enough with them. The main thing is to choose the right color and texture.
The "day-night" option is an excellent solution for children. Pleated curtains are very popular in the interiors of the bathroom, kitchen. It is not worth worrying about their condition, as the fabric is treated with waterproof impregnation.