Each ethnic culture has its own characteristics of country style in the interior, its individual elements and nuances of the design space. In this article we would like to introduce you to the atmosphere of the Scottish apartment unusual country interior design which is a shining example of how to arrange a modern home with the help of unusual design decisions in a country-style. These small area apartment is emitting light, cleanliness and comfort of home can become an inspiration for homeowners who are looking for new and fresh ideas of organizing space in a nontraditional way but with comfort.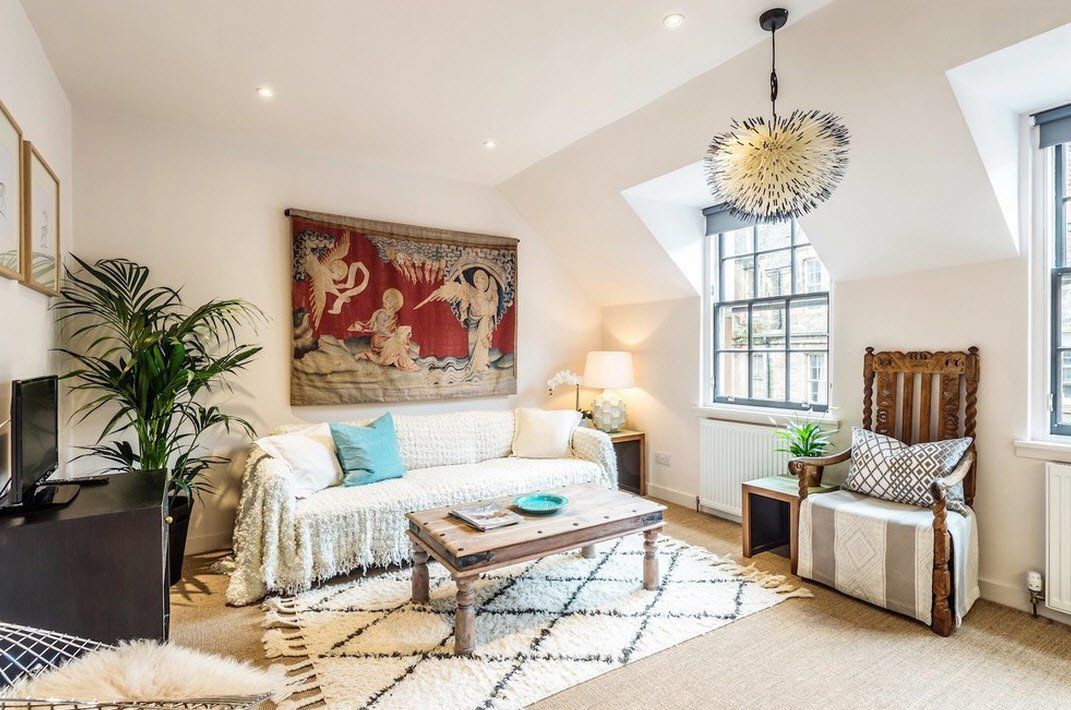 We'll start a small tour of the Scottish housing with the most spacious, principal central room – the living room. Majority of the premises in the apartment have an asymmetrical shape, partly sloping ceilings, so it is no surprise that homeowners have chosen a light color palette for surface finishing of the space. The white walls and ceiling in company with beige flooring is an excellent solution for visual expanding of the space, giving it a freshness and lightness. In the interior of the living room, as well as in the other rooms, we will see a lot of country elements and furniture made of wood: carved, vintage imitating, really antique or artificially aged.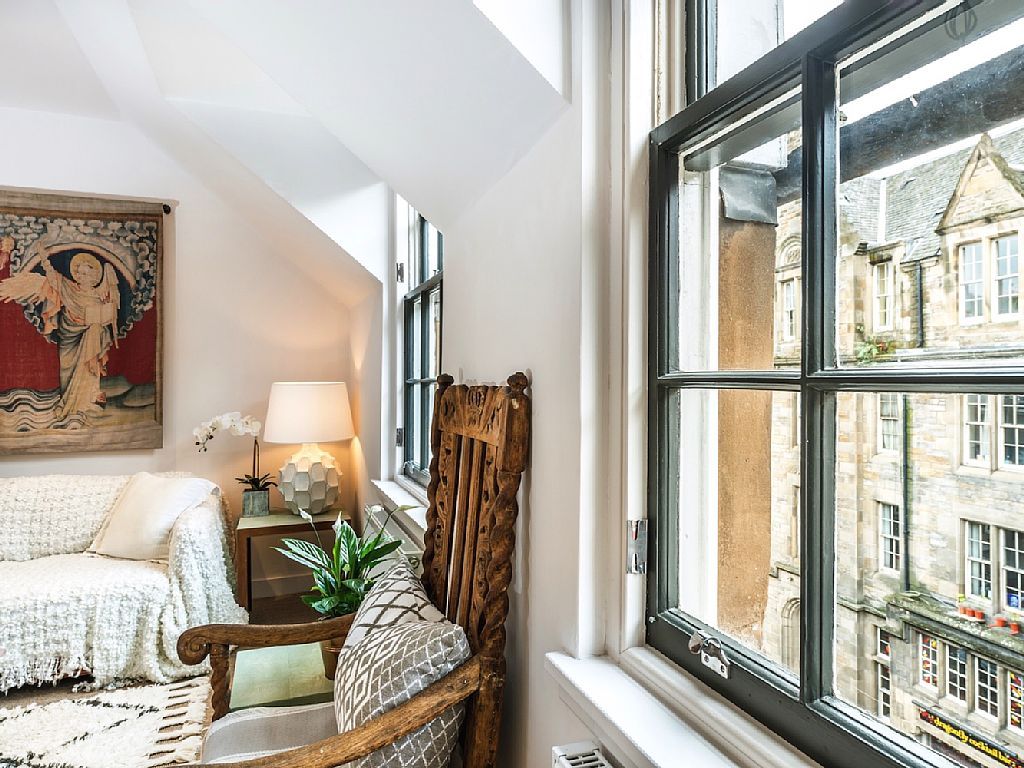 A harmonious blend of modern decor items and furniture with antique elements gives the ability to create a unique but extremely comfortable interior space.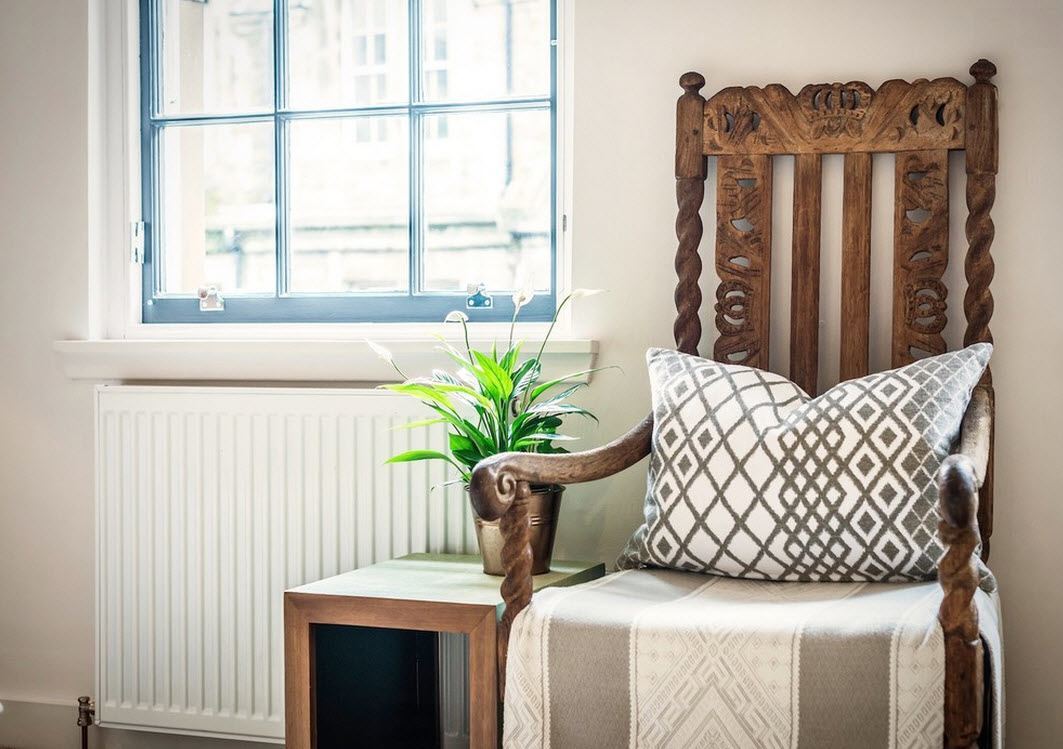 Against the backdrop of a bright living room decoration, carved chairs of dark wood look most advantageous. Particular attention is given to textiles, which helped to create a truly homely, warm atmosphere.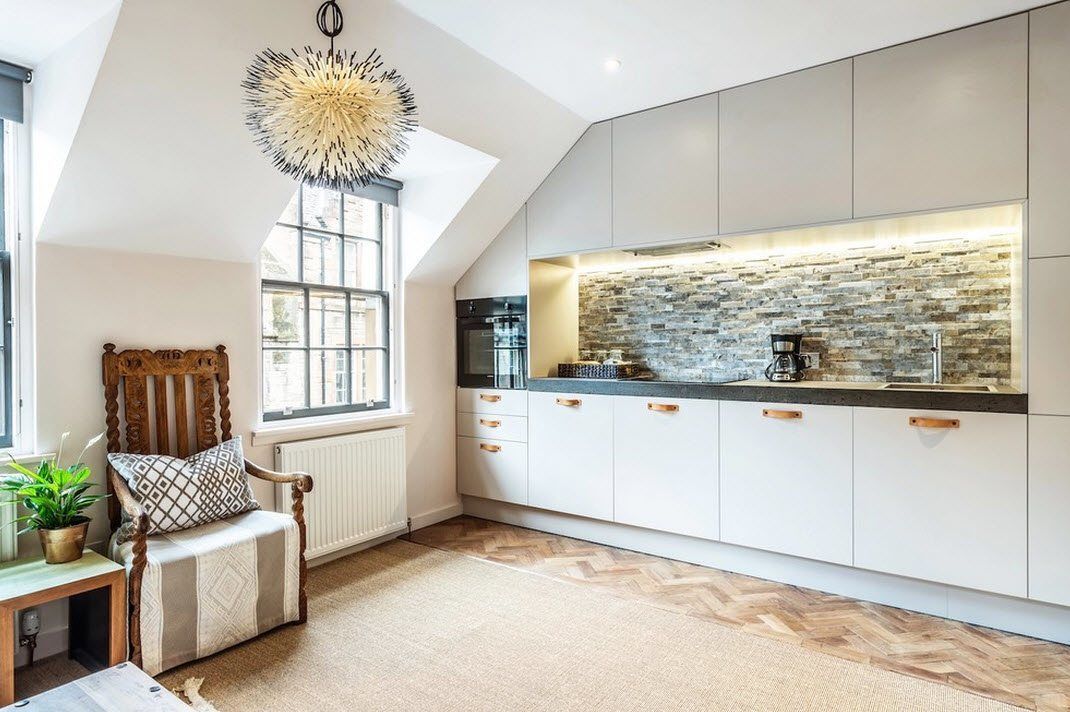 The living room space is combined with kitchen area represented with linear arrangement of working surfaces and storage systems. Thanks to built-in cabinets which successfully incorporated all the necessary appliances, kitchen space takes up very little space. If the living room`s space is illuminated by a chandelier of the original design, the working surfaces of kitchen are provided with built-in lighting system.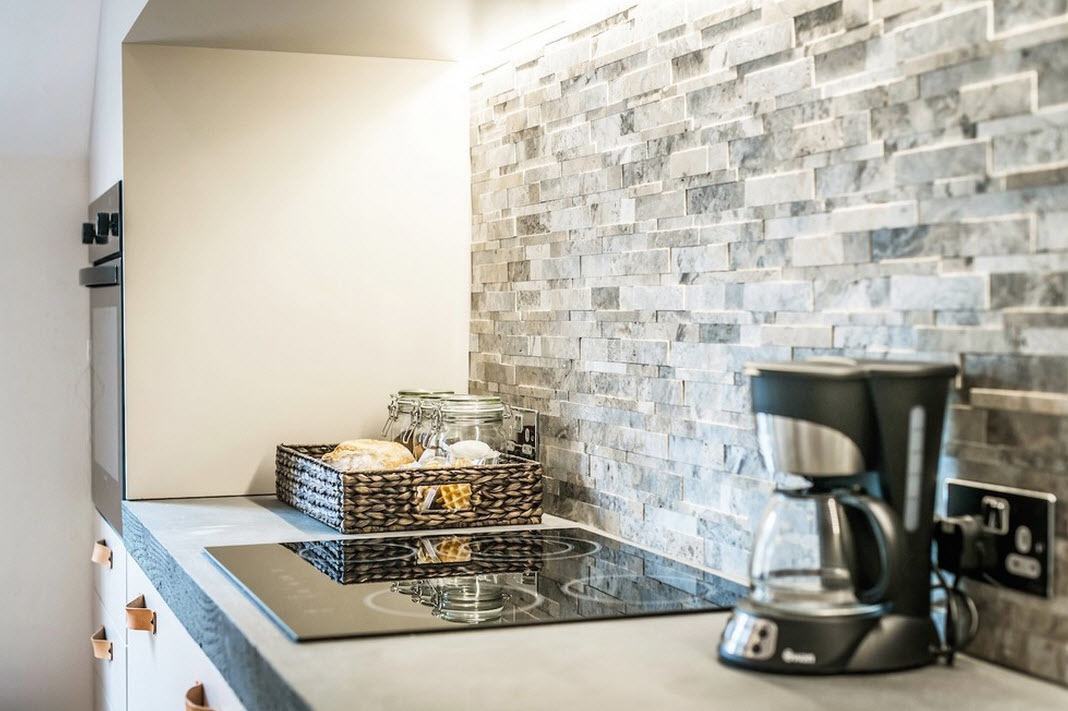 Cooker is often replaced with ceramic hob in the modern kitchens, freeing up a lot of space for storage in the lower tier of the kitchen cabinets. Considering the oven presence, the family can be provided with all necessary appliances for cooking of various dishes, with a significant saving of the kitchen area.
The dining zone is moved to the separate from the kitchen and living room area. Here we also see a bright finish, so necessary for a small room, and wooden furnishings which became a symbol of Scottish Apartments. Original decorative items not only add variety to the interior of the dining room, but also create individual, personalized atmosphere.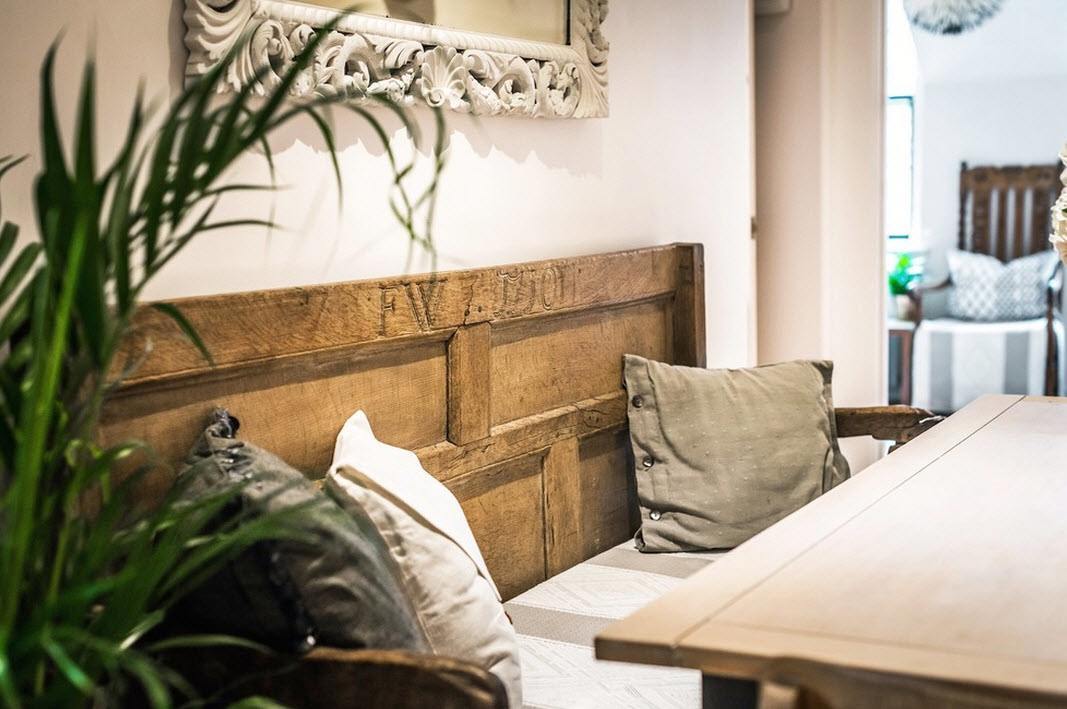 natural materials (cotton and linen) are used as curtains, upholstery and textiles for pillows here. It is obvious that these cloth are most relevant for country style interior, wooden furniture and the spirit of antiquity translocated to the modern home.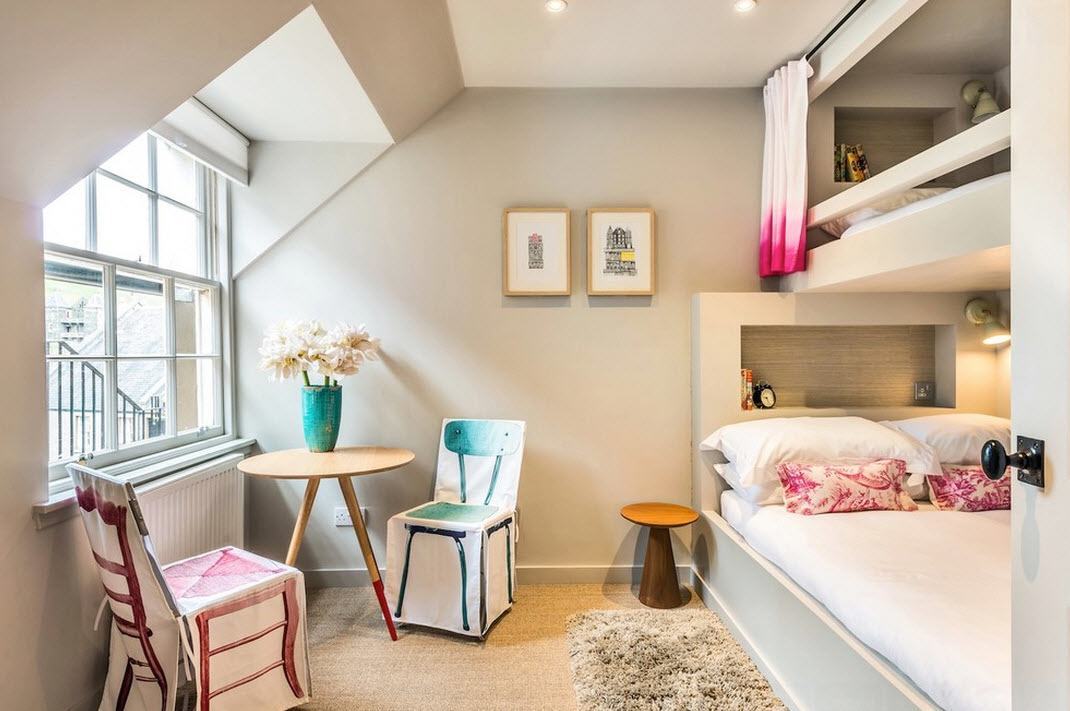 Then we proceed to the private rooms and we`ll see the bedroom. Not surprisingly, bright finish was used for all surfaces in this room with modest dimensions. Even the furniture of a bedroom is made by light wood or painted white.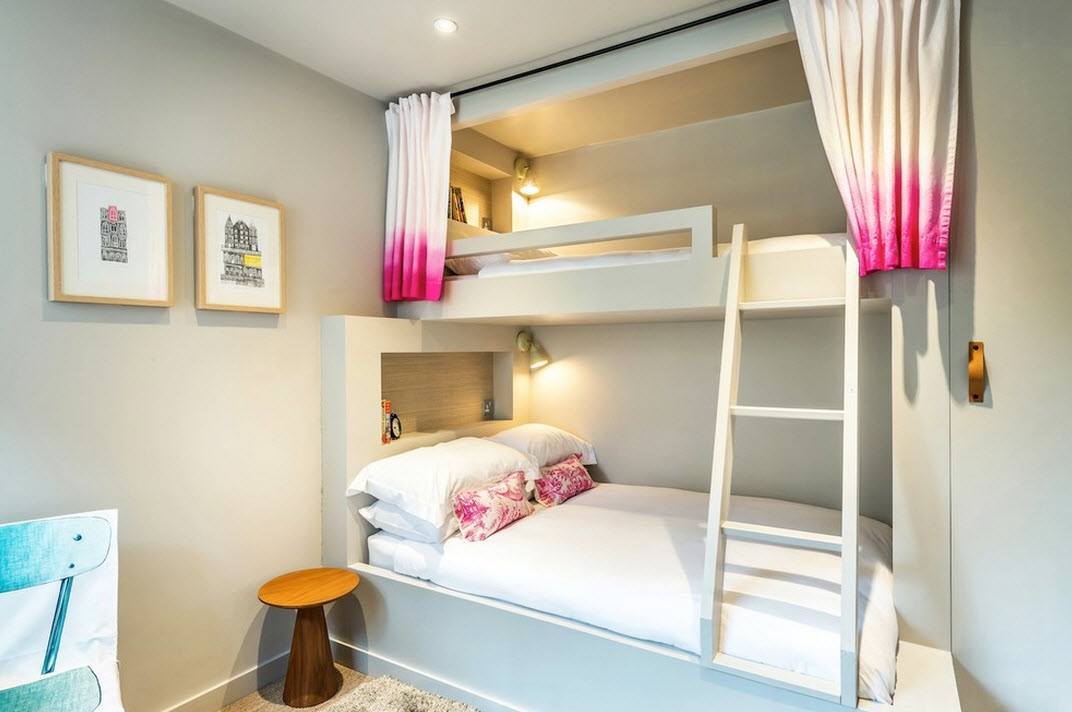 Thanks to the two-tiered arrangement of beds it was managed to save a significant amount of bedroom space without compromising the aesthetics of the room.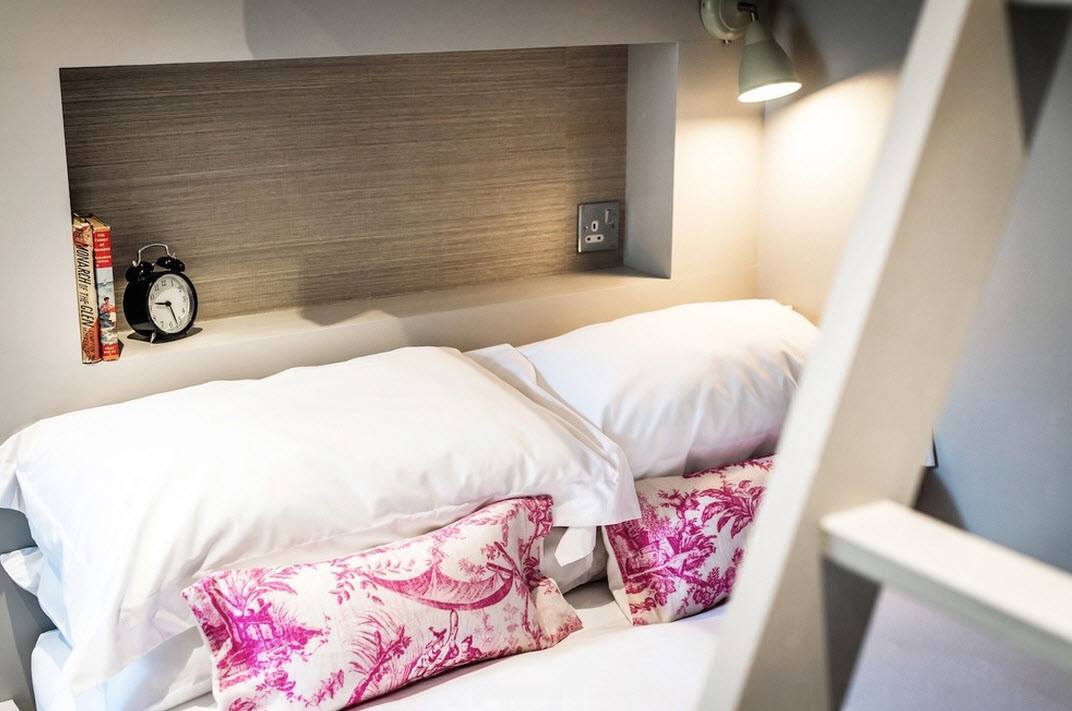 The headboards have shallow niches that allow you to place necessary items right  at hand. Owing to wall lights you can read books before going to sleep. And it is not necessary to get out of bed to do this.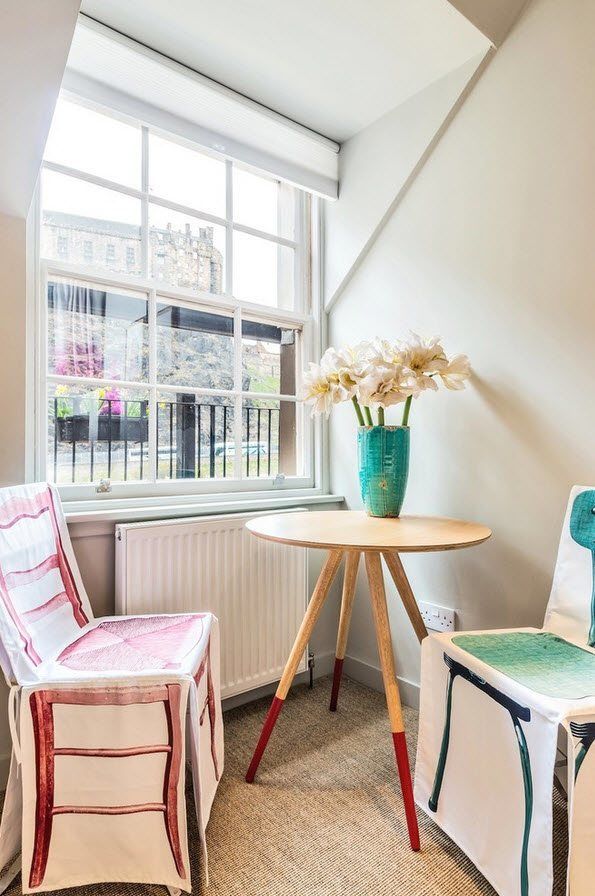 A small sitting area and concurrently reading area is represented by light furniture consisting of a small table and chairs, dressed in funny cases with a painted frame.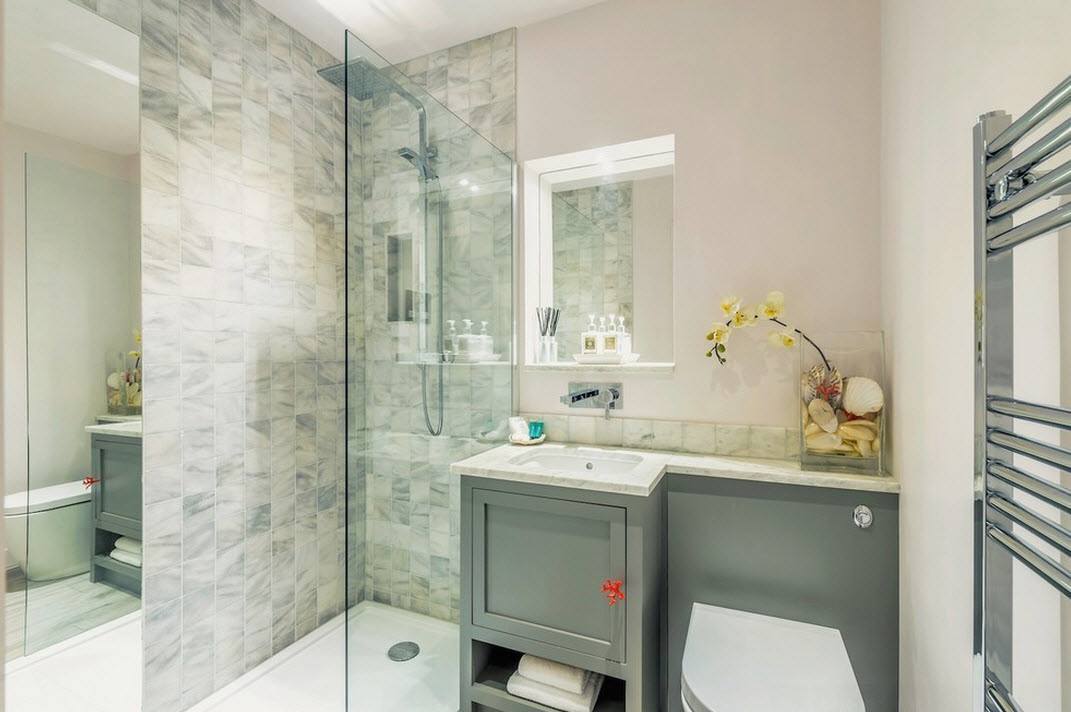 There is a small bathroom near the bedrooms. With a light finish, the use of glass and mirror surfaces, it was possible to visually expand the space of the room for water procedures. Combination of finish using imitating a stone ceramic tiles and waterproof plaster creates an interesting look of the bathroom.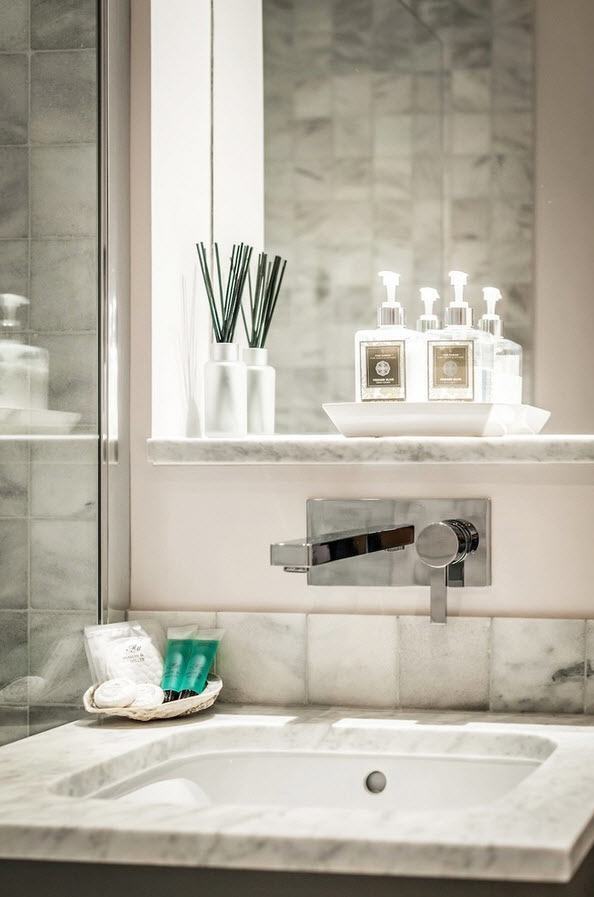 Marble countertops and a small shelf for accessories to fit the color of the tiles perfectly completes the image of a bathroom.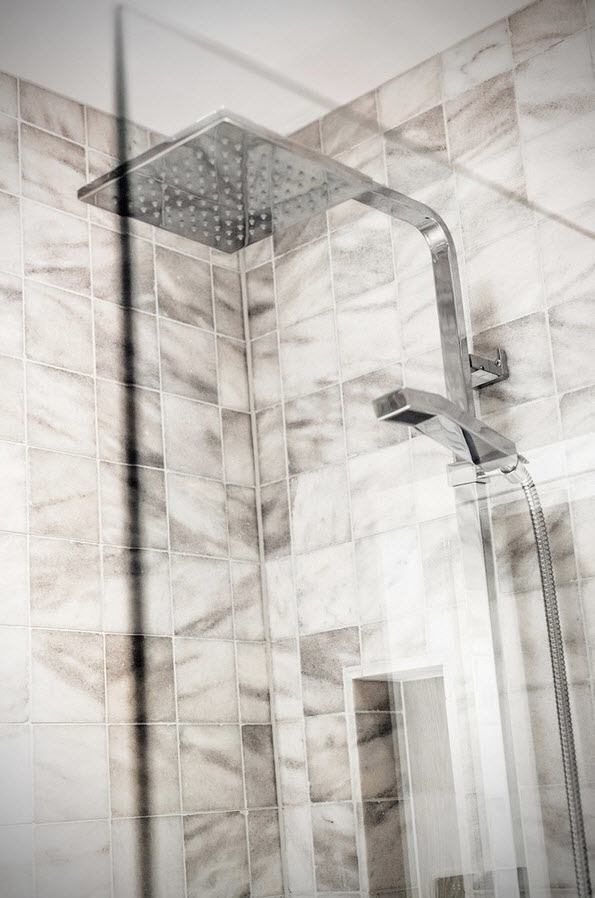 The luster of modern bathroom attributes required for water treatment looks great on a background of the tile that mimics natural stone.