The choice of chairs for the kitchen space is a simple task at first glance. As a rule, the chairs are selected at the very end of renovation or remodeling, when surfaces' finishing is completed, the basic furniture is ordered, the location of household appliances, work areas, and storage systems is defined. It remains only to pick up a chair set in accordance with the design and coloring of the dining room table, bar, or kitchen island. But in practice, the solution appears not so simple, because the kitchen furniture manufacturers provide us with a huge range of models, color, and texture solutions. So we are here to help you to decide which models and forms among the best 100 kitchen chairs design ideas will be most appropriate at your kitchen and will meet your sense of style.
Contents: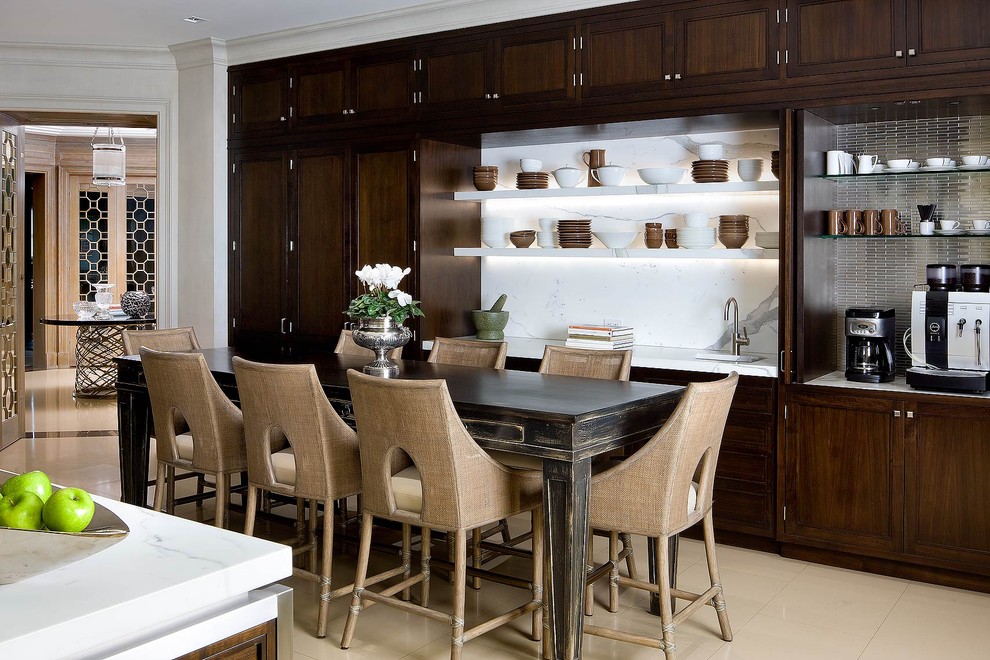 Let's try to understand what are chairs in design, what materials are they made of, what characteristics do they have them and, most importantly, – how to successfully integrate them into the finished kitchen design project. We hope that the concrete examples of kitchen interiors with various types of chairs, picked up especially for this publication, will help you make the right decision.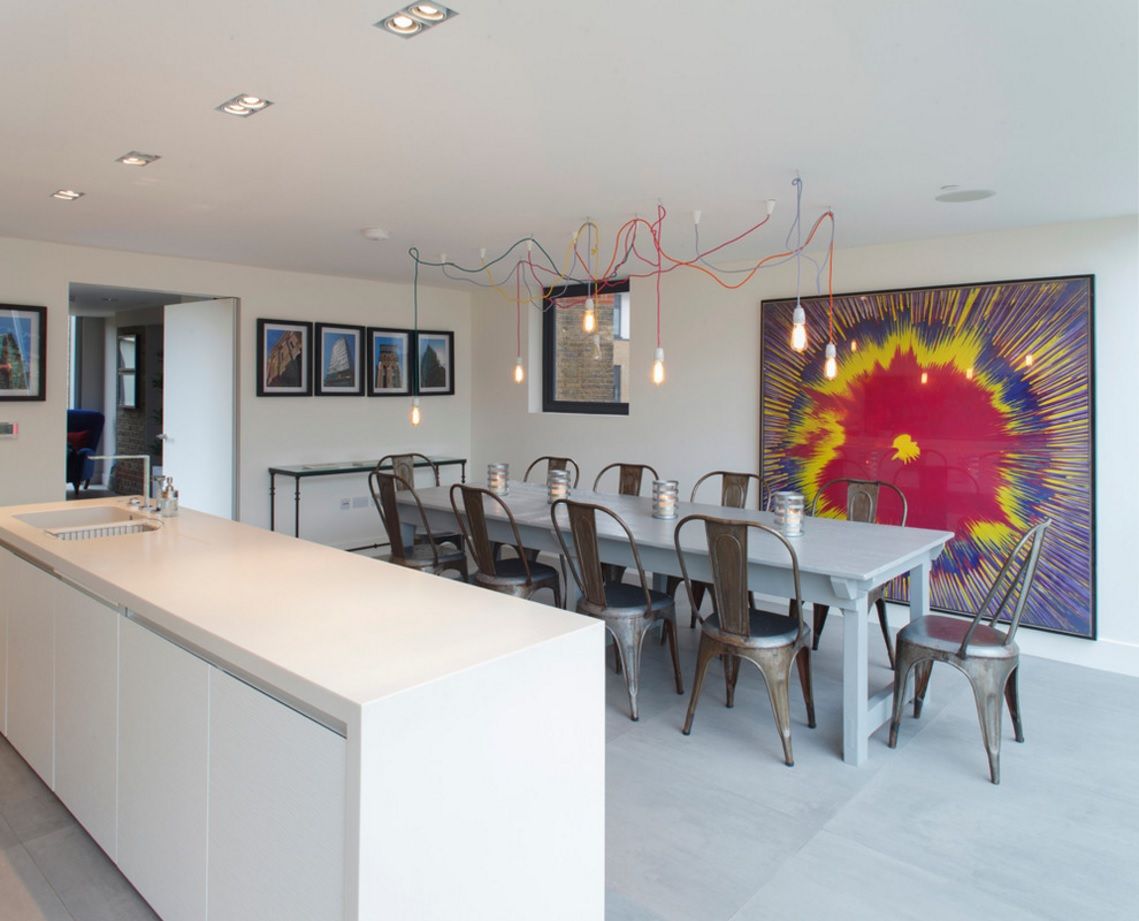 Wooden Kitchen Chairs
Chairs are a type of furniture that is subjected to serious enough utilization. Accordingly, they must be selected based on the characteristics of strength, reliability, and durability. But do not forget about the aesthetic side of the issue and accordance with the style of the interior in general, and the dining area in particular. Such a material like wood is appropriate in almost any interior of the kitchen.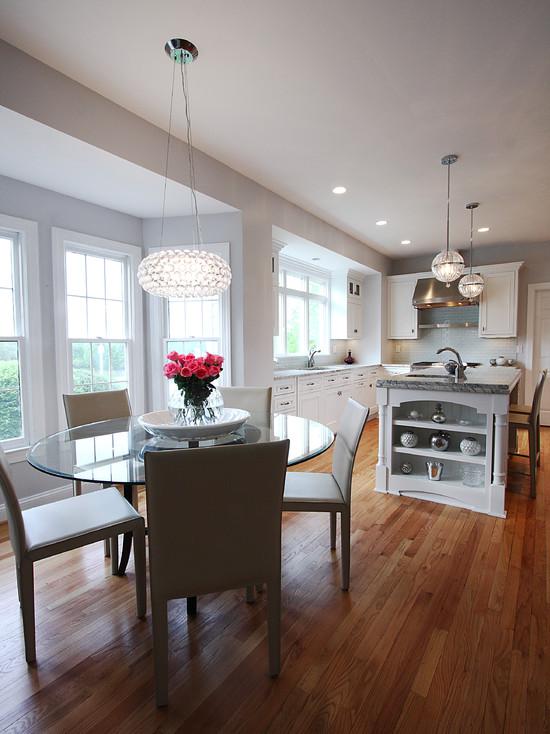 Wood complements glass, metal, and stone surfaces. Not to mention the fact that most of the storage systems in the form of kitchen cabinets are made of wood or imitation. Even for such styles as the high-tech or loft, you can choose a simple and concise version of the wooden chairs in a discreet color palette that will look appropriate and in harmony with the rest of the design of the kitchen facilities.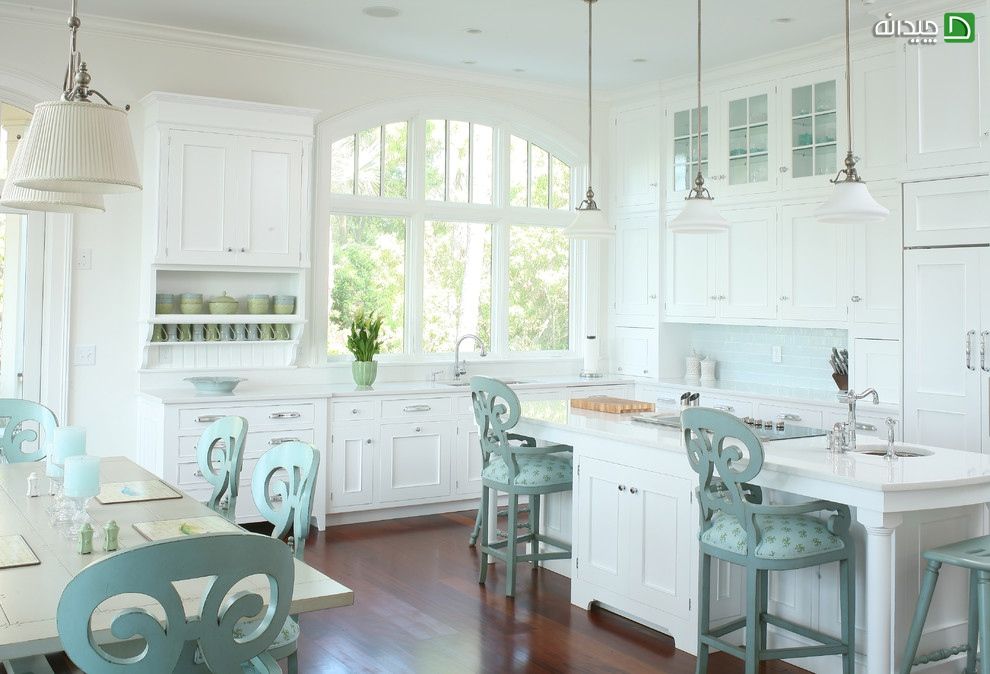 Wooden chairs with carved backs have become a real boon for the kitchen in classical style. The pastel blue hue of the chairs looks accentually against the backdrop of a snow-white palette of the kitchen environment. Upholstered seat with printed textiles not only provides comfort for sitting but also brings a touch of comfort and rustic simplicity to the kitchen interior.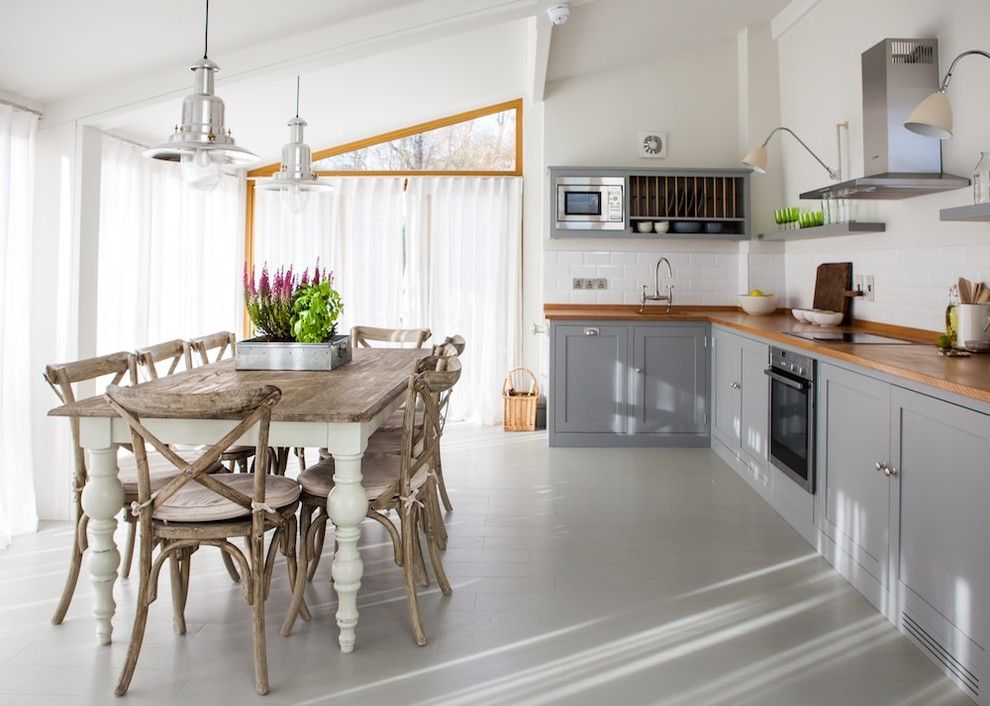 Kitchen with traditional furnishings of classical style received harmoniously these chairs made of wood with soft seats in a country style at the photo below.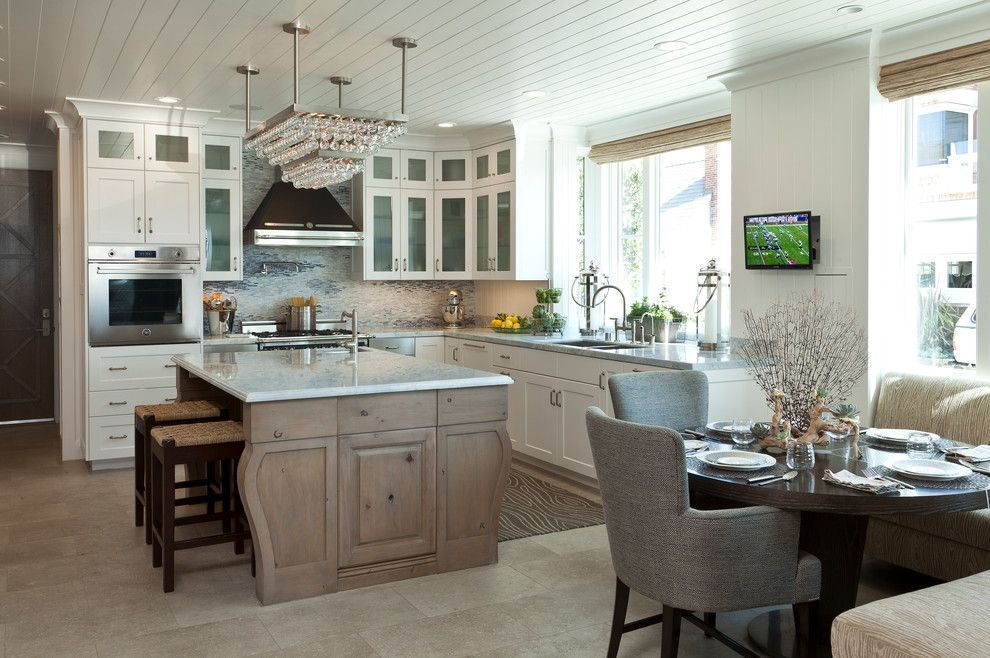 Classical kitchen and wooden upholstered chairs in a neutral color palette is the traditional solution used by designers all over the world for many years. The popularity of such a regal attractive design style of the chairs only increases with time.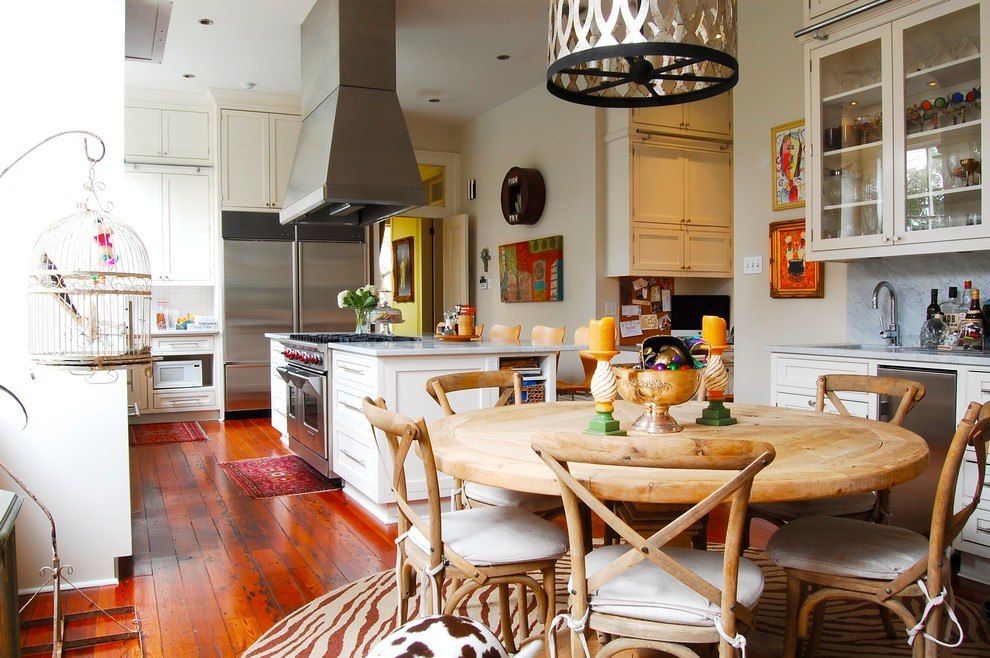 And here is a similar chairs' model of light wood, which is the same color as the dining room table, but within the eclectic kitchen interior, which contains various options of colors, textures, and decor from different stylistics.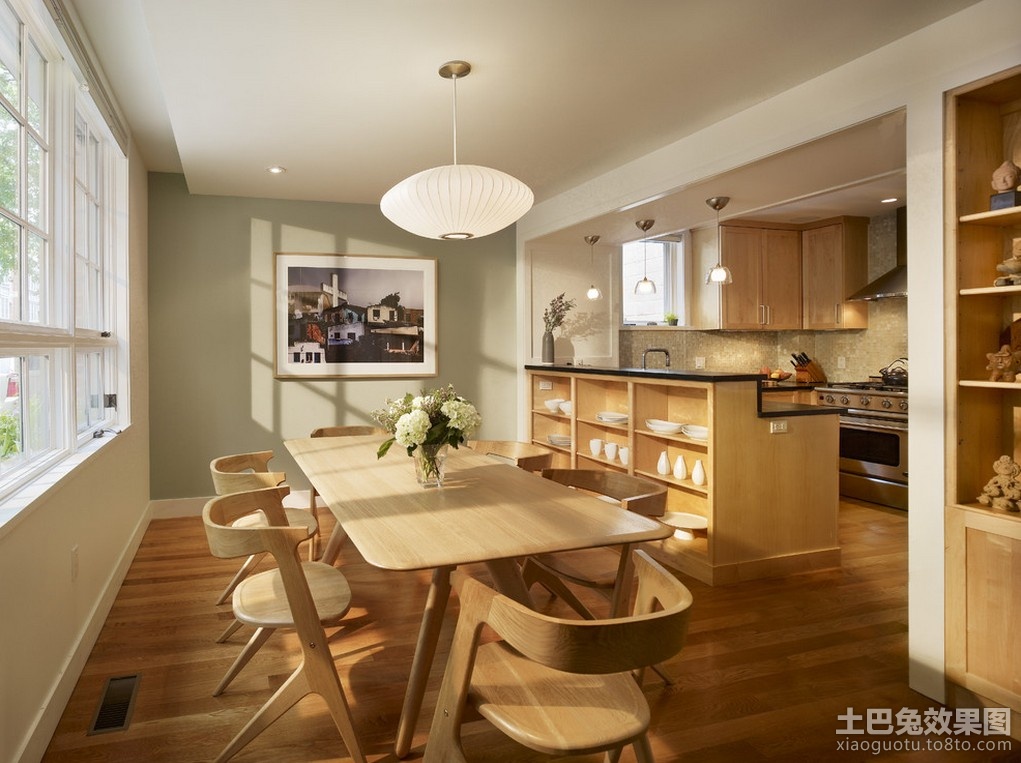 Look at another example of the entire dining group made of one species of wood. But this time the set is placed in the kitchen actively using wood both for decoration, as well as for the production of kitchen storage.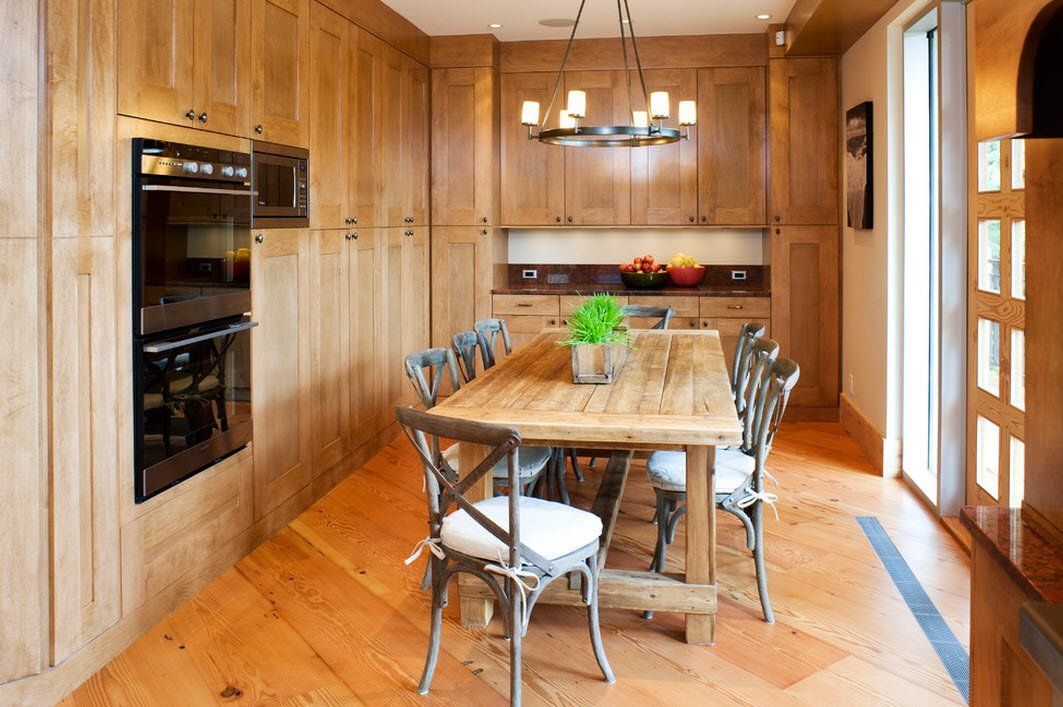 In this image, you can see how similar chairs look in the kitchen with the entire wood trim, where not only a dining table, floor, and spacious storage system consisting of the built-in kitchen cabinets are made of unpainted wood.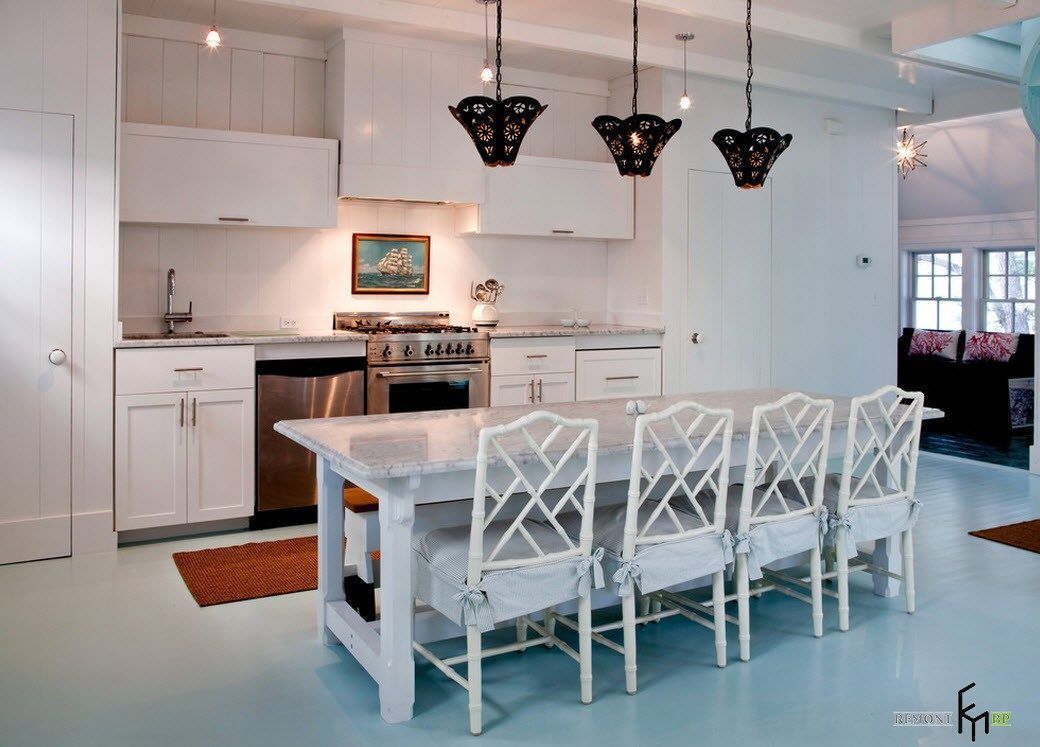 Painted white wooden chairs can serve as an excellent choice not only for a classically styled kitchen. Depending on what kind of textiles will be used for removable soft seats, you can create different moods throughout the kitchen environment, placing emphasis or merging with the overall color scheme of the room.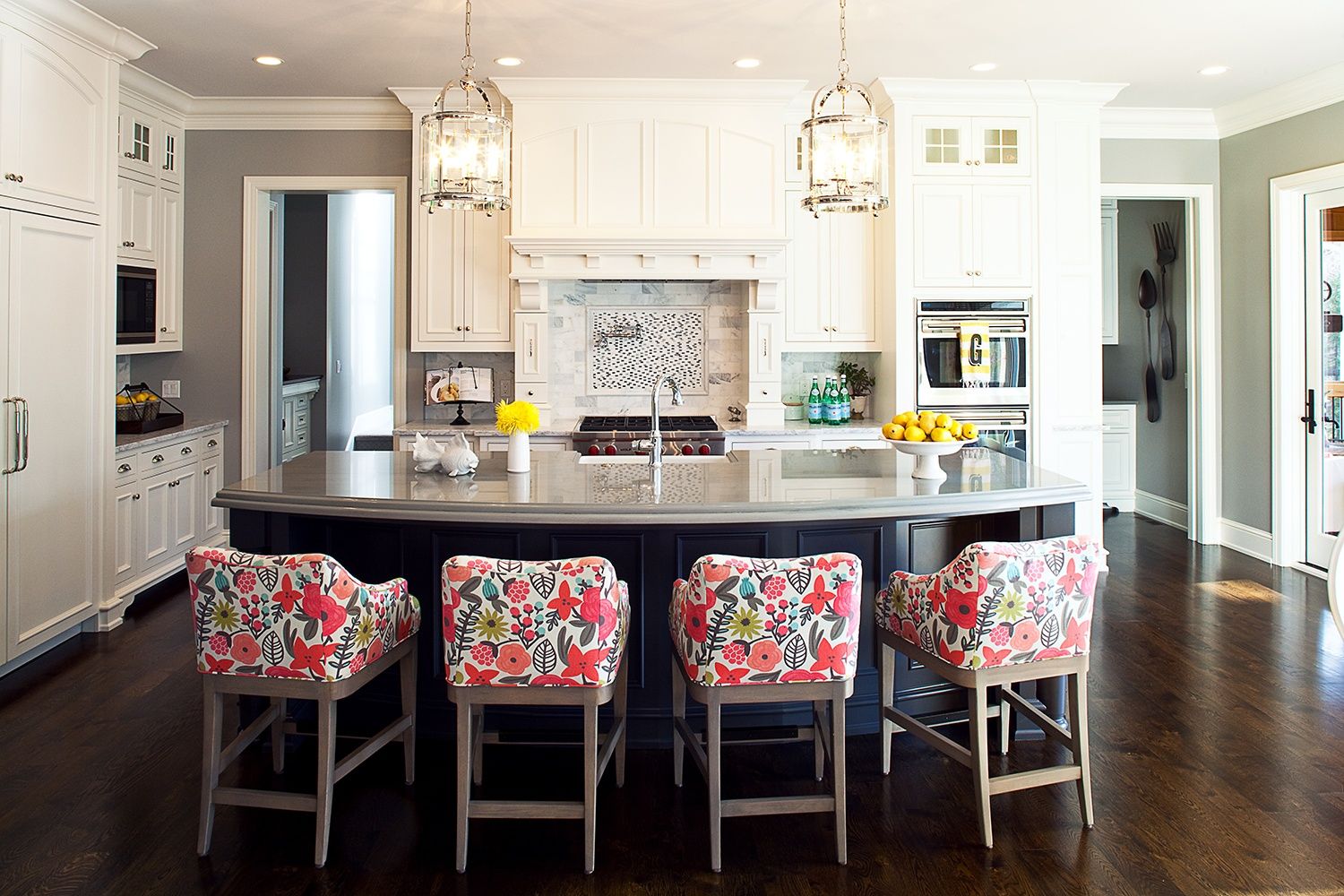 Another option for the kitchen in classical style – armchairs with wooden bases and soft seats and backs. Upholstery material for chairs is exactly the same as the window curtains. It helps to not only bring a variety of colors in the pure white interior of the kitchen but also making the environment more harmonious and cozy.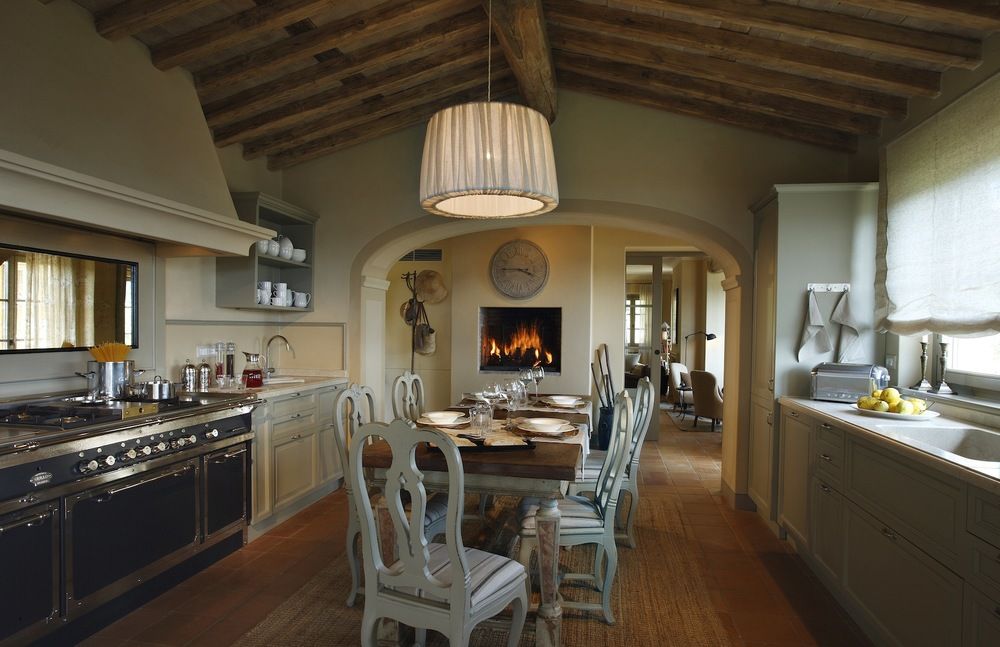 And this is a variant of carved wooden chairs painted in a light shade of gray for the kitchen in country style. Given that the dining table legs are of the same shade of gray, they form a harmonious and original ensemble along with chairs.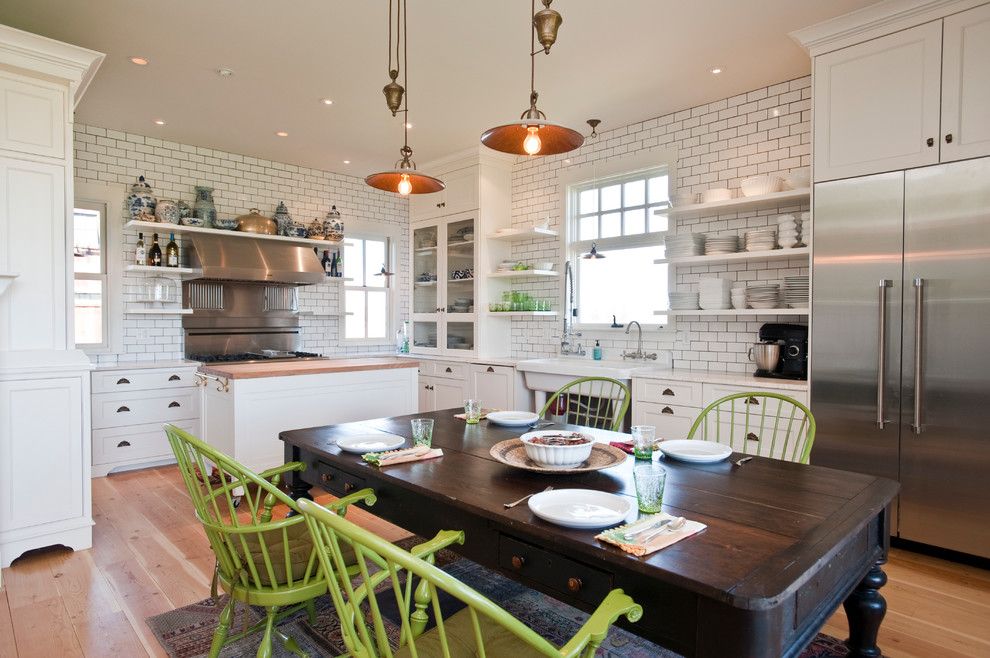 Light originally designed carved chairs from wood became the accentual light green spot in the traditional kitchen interior.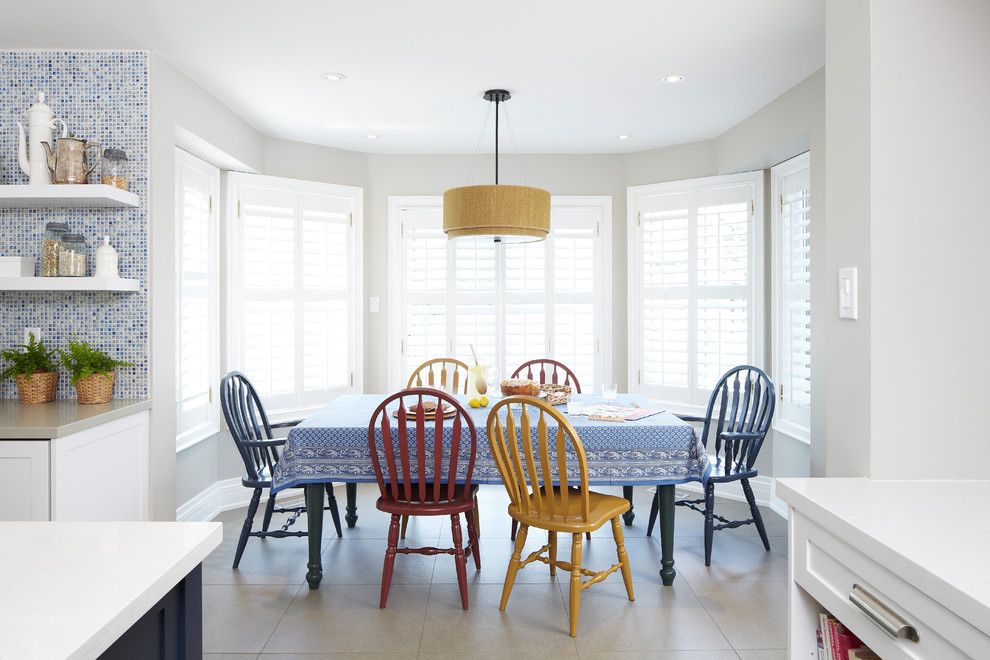 The original solution to the traditional environment of the kitchen space can be wooden chairs painted in a different color. The seating group placed in a bay window looks attractive, bright, and interesting, becoming the focus of attention in the center of the dining area.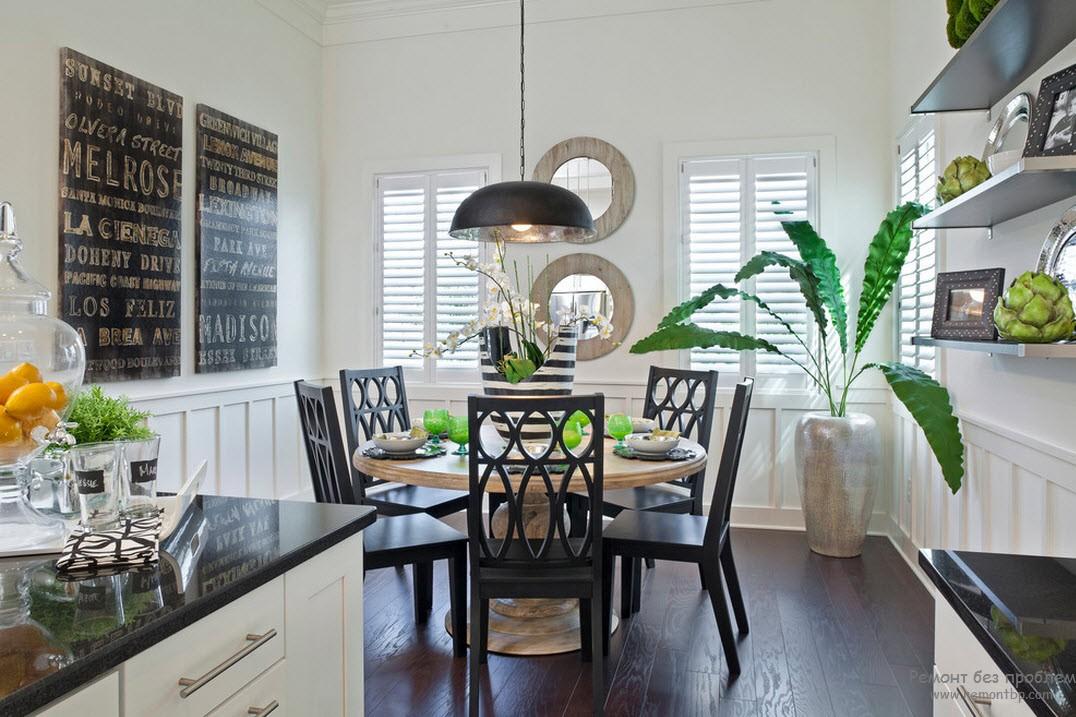 Wooden dining group in a contrasting color scheme with painted chairs in a dark tone and a table of light wood is a classic of the genre for the kitchen, which interior also uses black & white combination of surfaces and decor.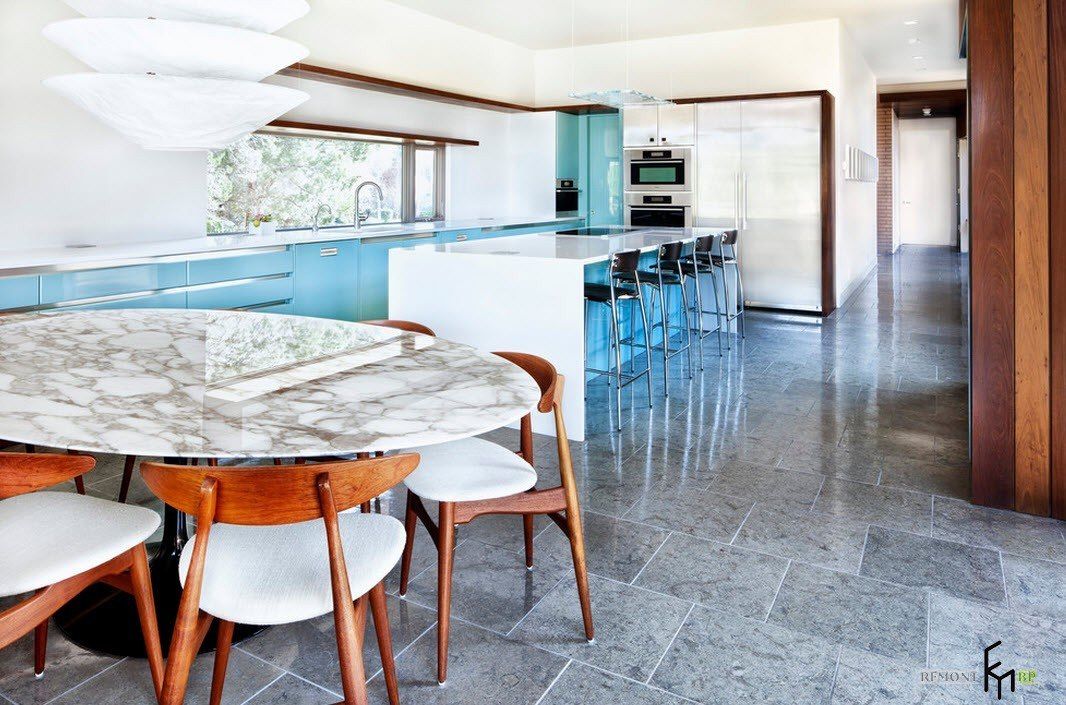 We can see chairs with wooden frames in the dining group. The material of a chair base corresponds exactly to the frames of kitchen furniture and open shelves. As for the kitchen island, stools on metal carcasses are settled at his desk bar.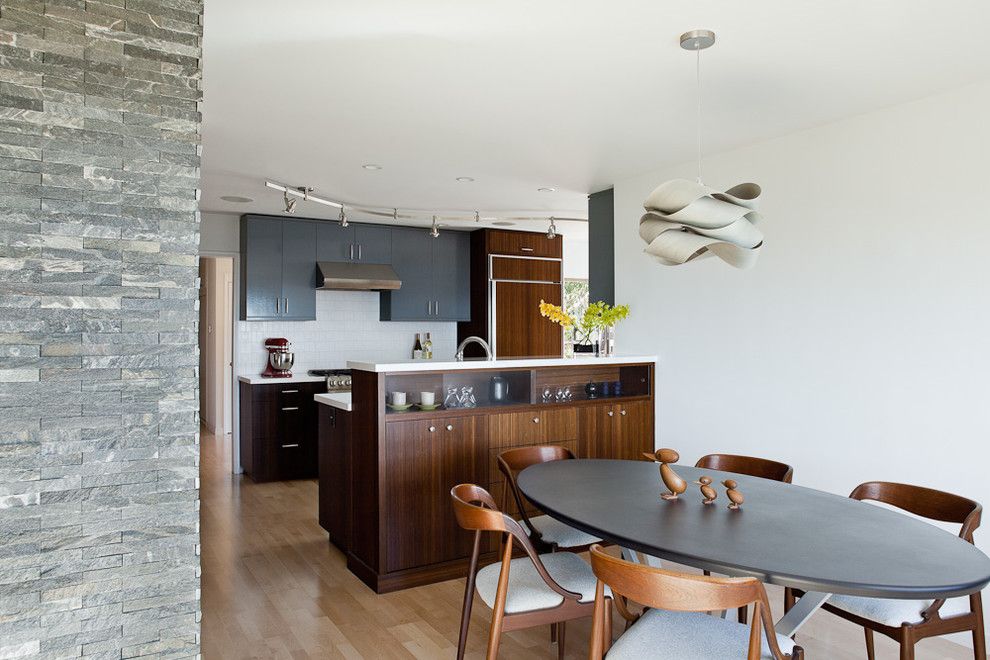 Here is another example of chairs with wooden bases, which blends perfectly with the material of the kitchen cabinets system. Even a creative lamp over the dining table is made from recycled wood.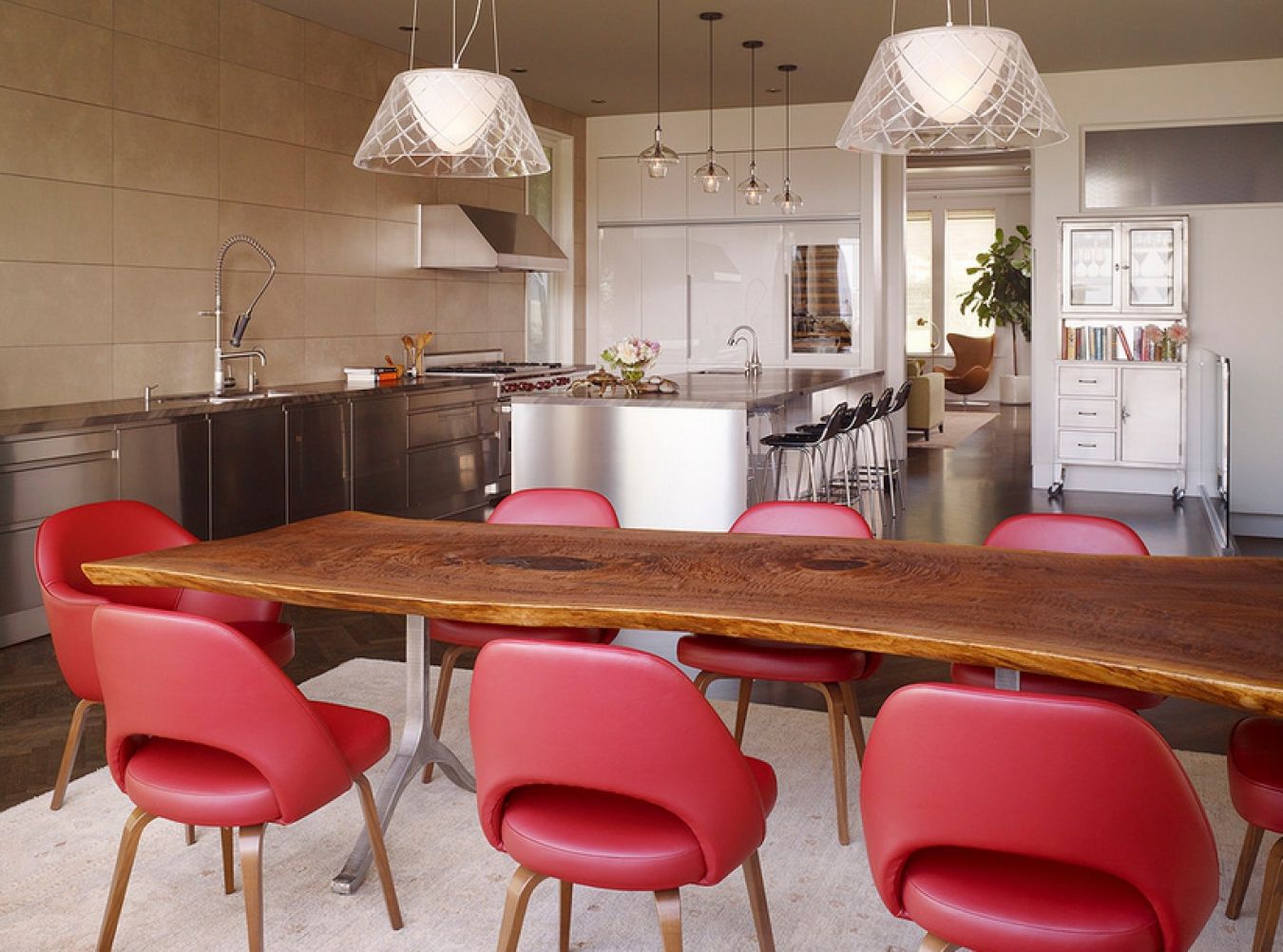 These handy kitchen chairs with wooden legs and soft leather seat'n'backs in colorful colors became the decoration of the kitchen dining area in a contemporary style with Art Nouveau style elements.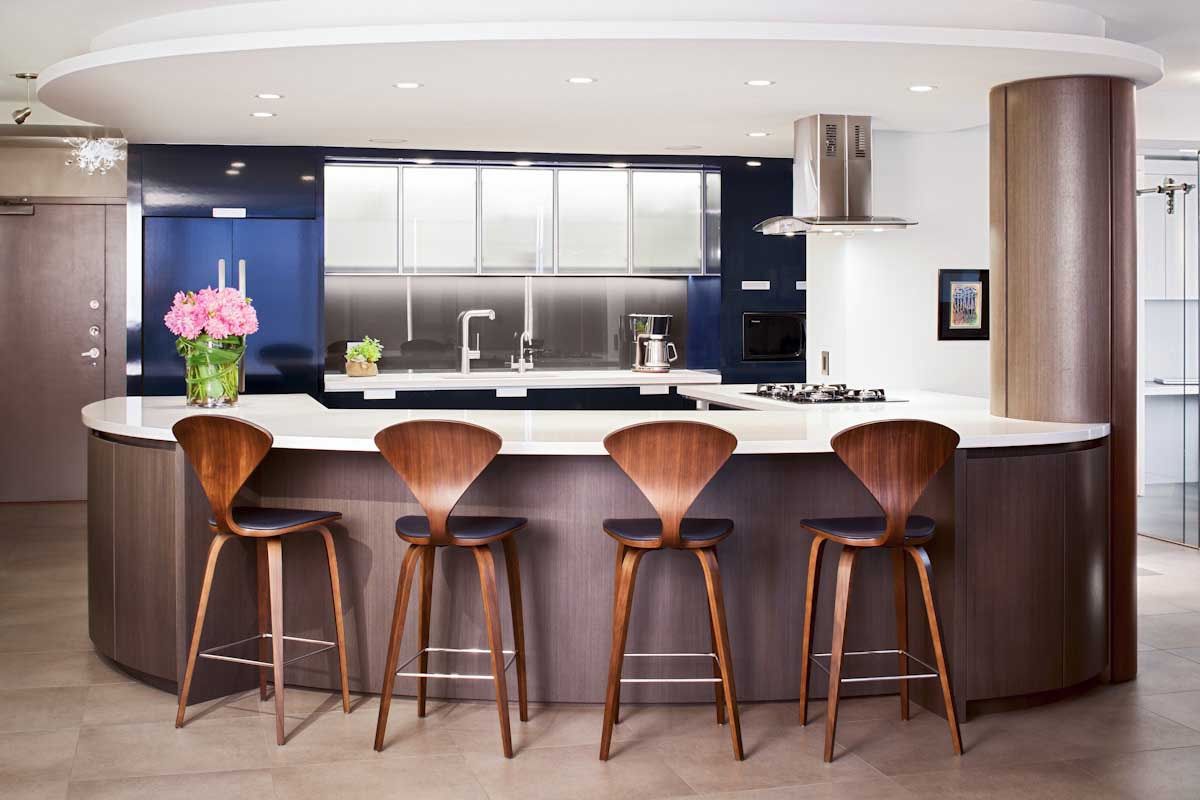 Modern style with elements of hi-tech may also harmoniously adapt chairs and a dining table made of wood. We only need to spend some time picking up fairly simple but comfortable and practical models of chairs.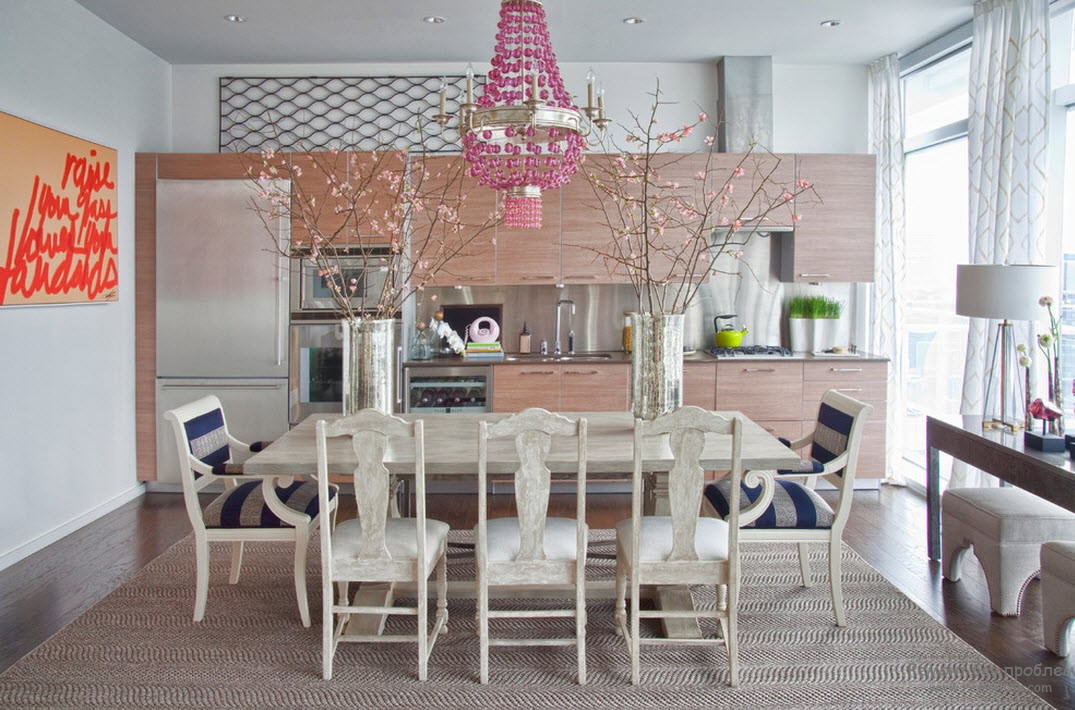 An interesting design solution may be different upholstery choices for wooden chairs within one dining group. Whitewashed carved chairs with soft seats blend perfectly with striped upholstery armchairs with white frame.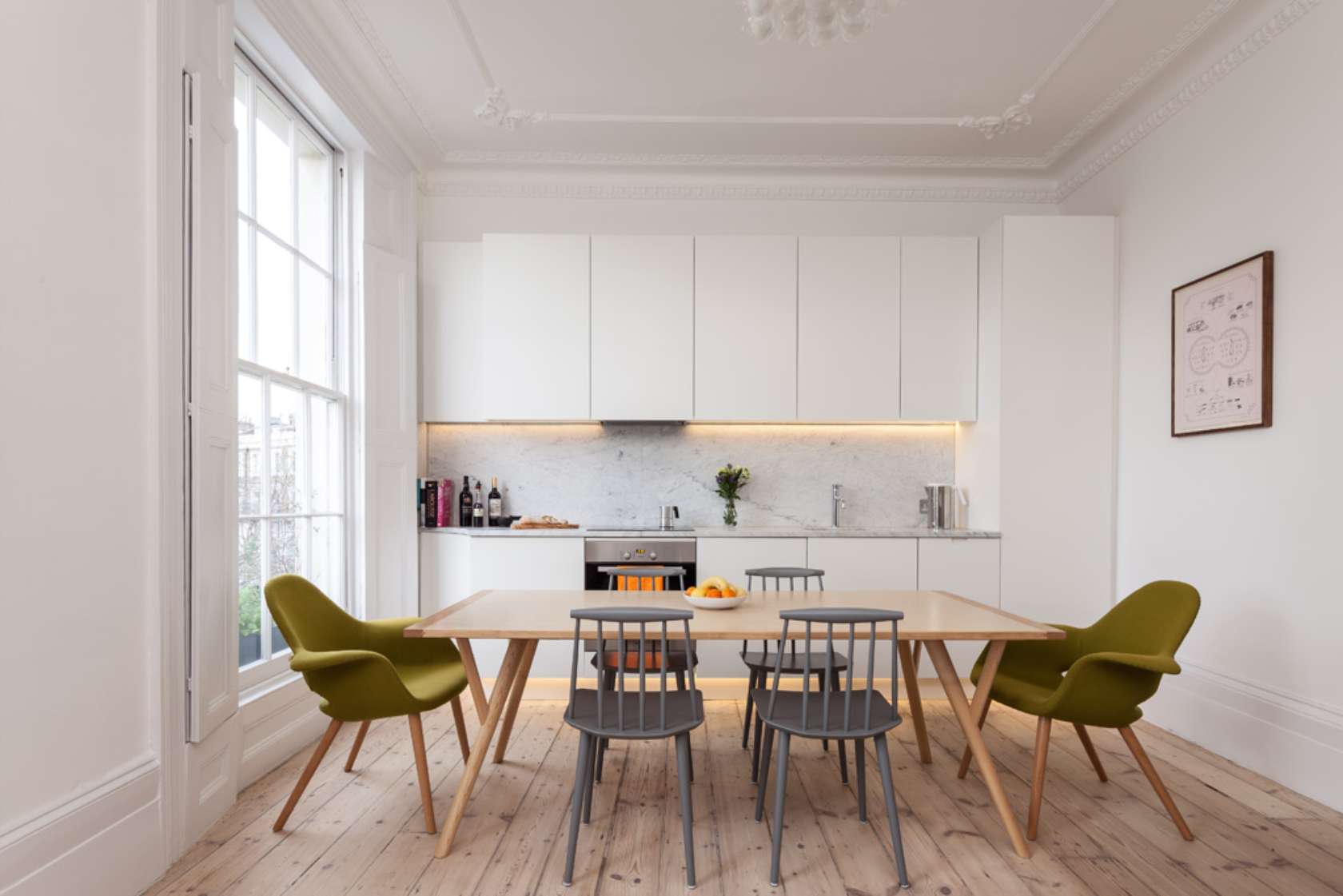 Yet another example of a combination of chairs and armchairs of different models and colors in one dining area. In this snow-white kitchen with minimalist furnishings, the natural-colored dining group looks incredibly attractive, inviting to take a comfortable seat at a spacious table for a meal.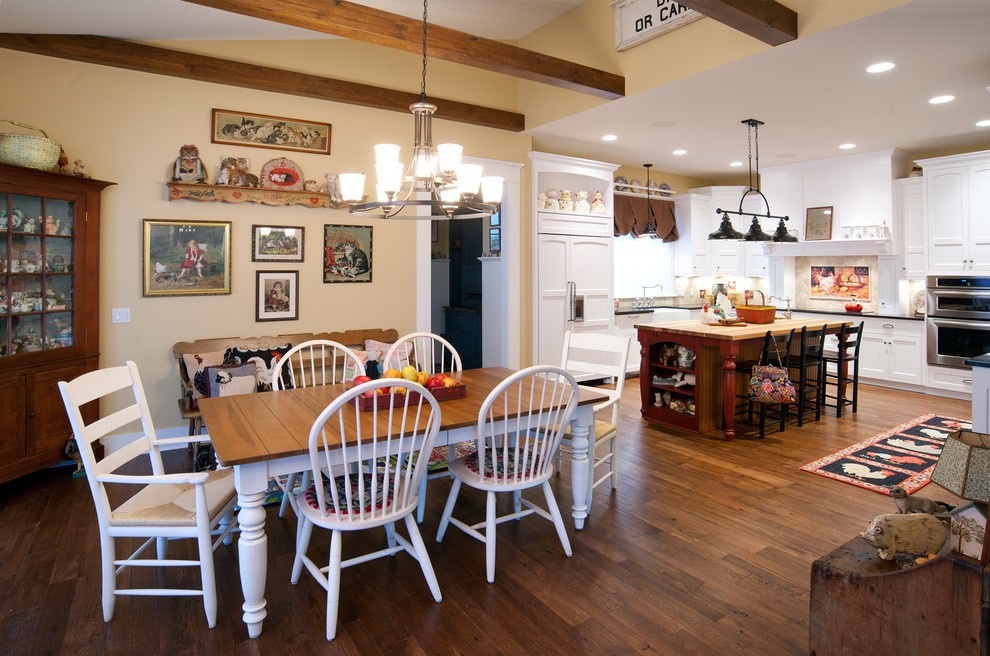 You can combine chairs of a single color, but of different models and designs, as it was realized in the dining area of ​​the kitchen in country style.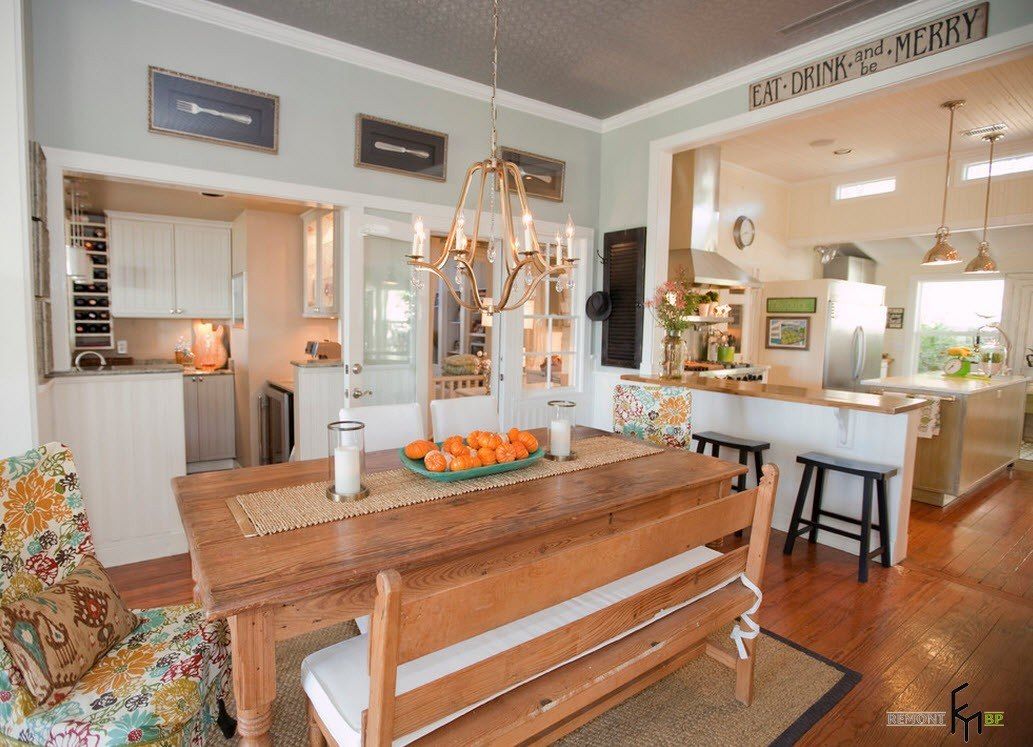 Chairs can be combined not only in different colors and models as part of the eclectic design but also fundamentally different designs such as these small benches made of the same type of wood as the dining table, perfectly combined with chairs, armchairs in colorful textiles.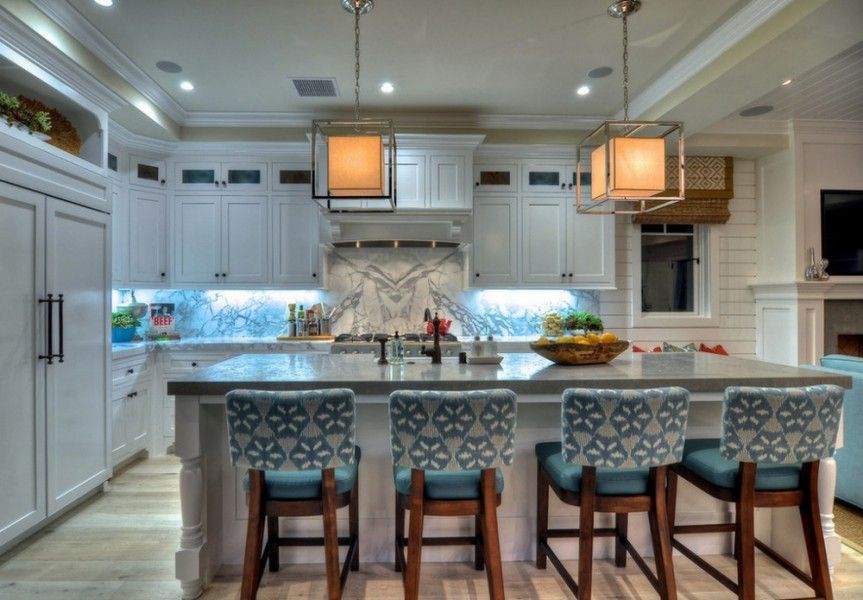 100 Kitchen Chairs Design Ideas. Wicker Furniture
By the wooden products can be attributed to the construction of rattan, bamboo, and vines. Wicker furniture is not so often found in the kitchen interior, so its appearance is always exclusive, remarkable.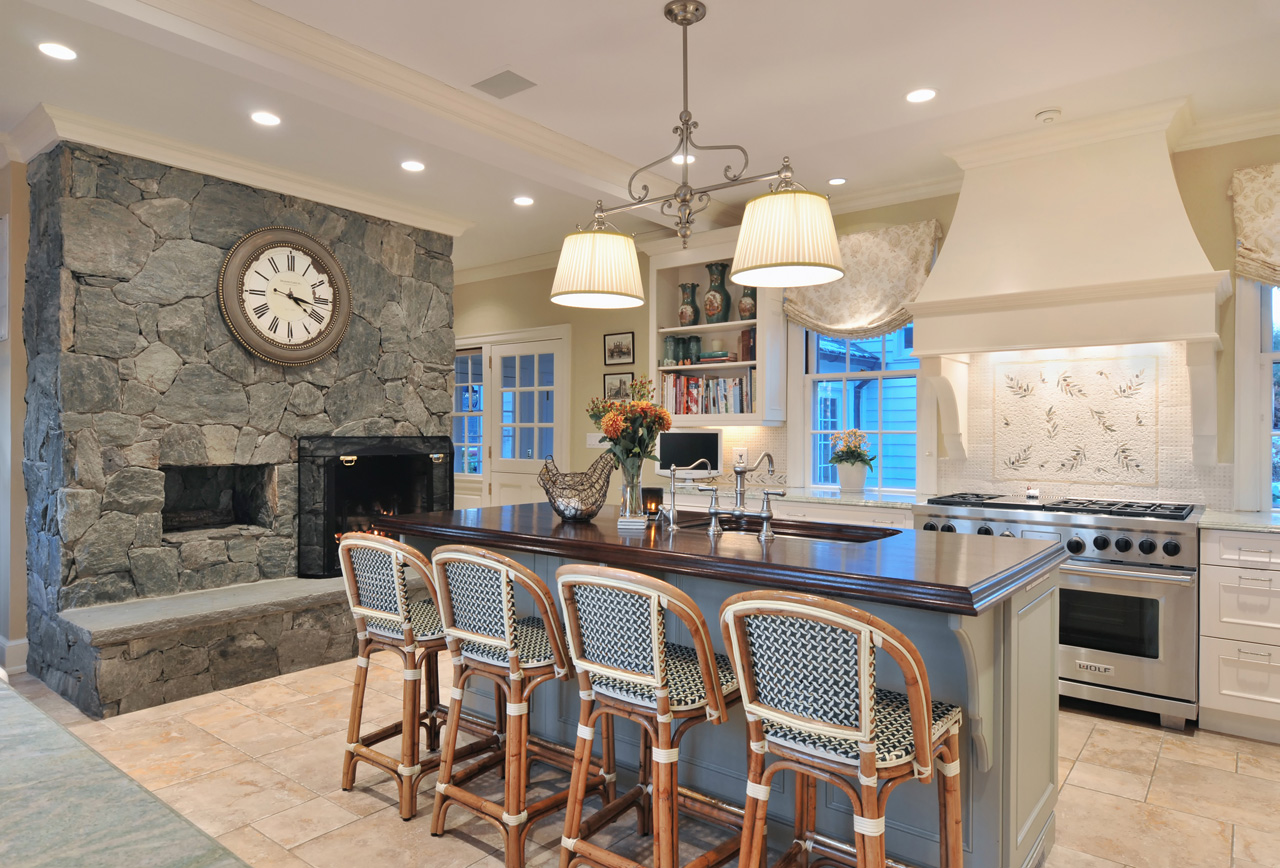 Such models of chairs will be very helpful for a "rustic" interior in country style, Provence with rural life elements. Lightweight and mobile, these chairs are easy to handle and easy to care for, but they have load limits and require special processing of the material for moisture resistance and temperature extremes.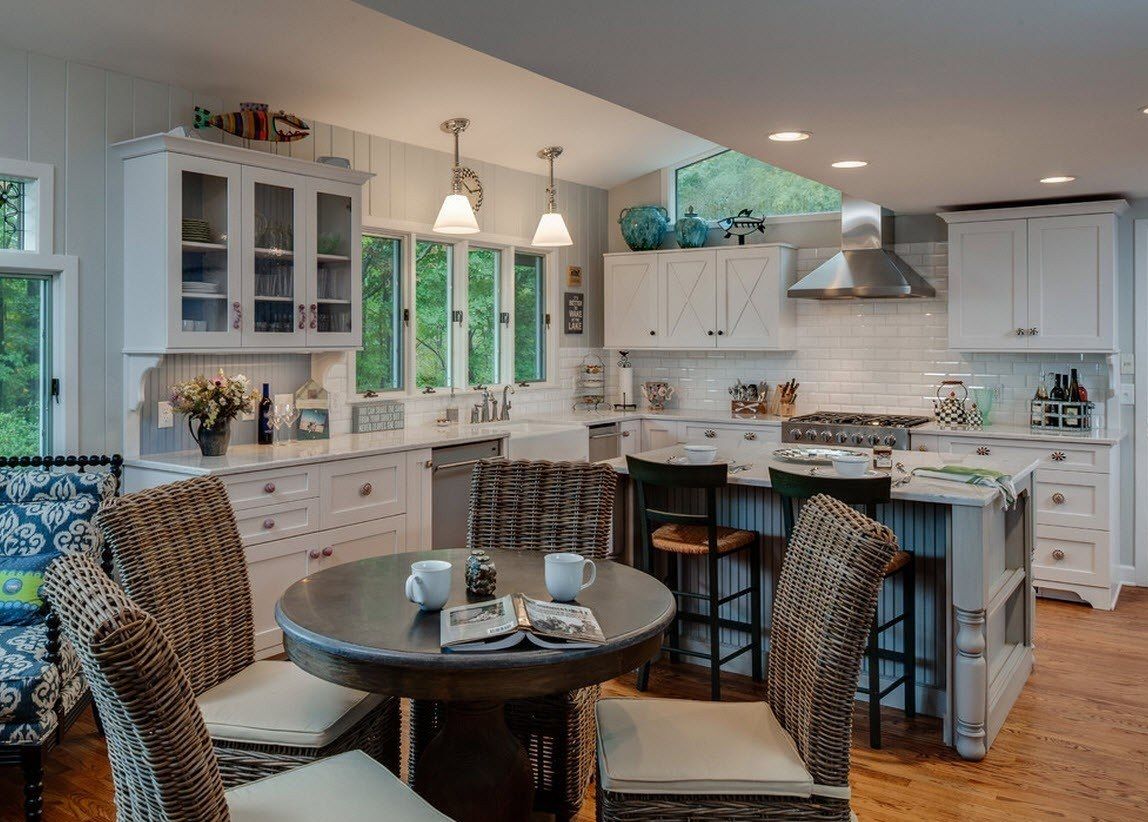 Wicker chairs, armchairs, which are usually attributed to a group of street or garden furniture have become an excellent complement to the rustic style of the country kitchen. Of course, such furniture will look out of place in the ultra-modern city apartment, the kitchen in high-tech style, etc., but for country life, it would be most welcome.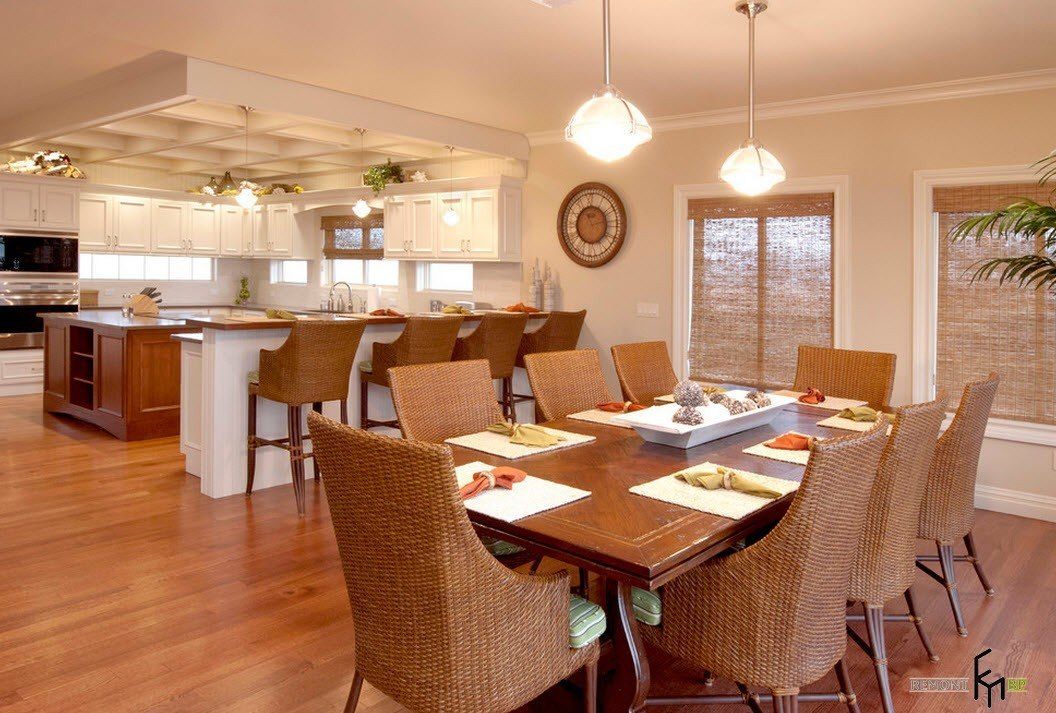 The ensemble of wicker furniture for the dining area and stools for the kitchen island has become harmonious completing the situation in beige and ocher tones. Even the roller blinds on the windows were selected according to the furniture color. Such a warm color scheme adjusts to the comfort, convenience and relaxation.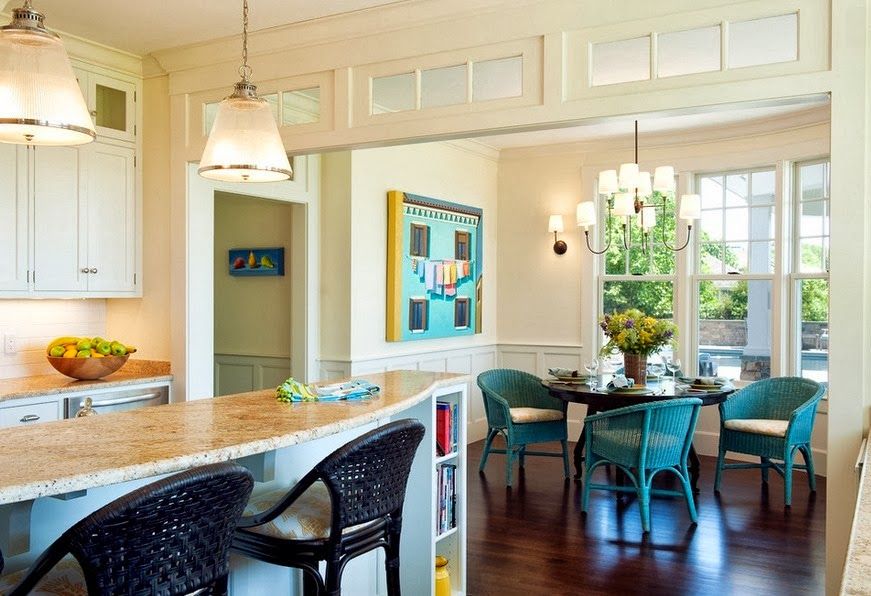 Painted in bright, saturated colors of wicker chairs and bar stools became accents in a bright palette of the kitchen-dining room. With such a little garden-looking furnishing of the kitchen space, your mood will always be spring-fresh and positive.
Kitchen Chairs and Stools Made of Plastic
Among the obvious advantages of plastic furniture, we can distinguish light-weight construction, easy maintenance a variety of colors, ease of storage. You can purchase a set of plastic chairs for the kitchen, use only the required number, and remove the rest to the storage, placing one chair on another, and take out one by one as necessary. Plastic furniture is easy to care for, it is water-resistant – the obvious plus for areas with a high risk of contamination and moisture. But there are also some disadvantages. The plastic furniture is fragile and has a load limit. Typically, plastic chairs can bear weight up to 90 kg. To increase the strength of the products, but remain in a certain price range manufacturers combine plastic with wood and metal. Steel or aluminum legs of chairs greatly increase their lifespan.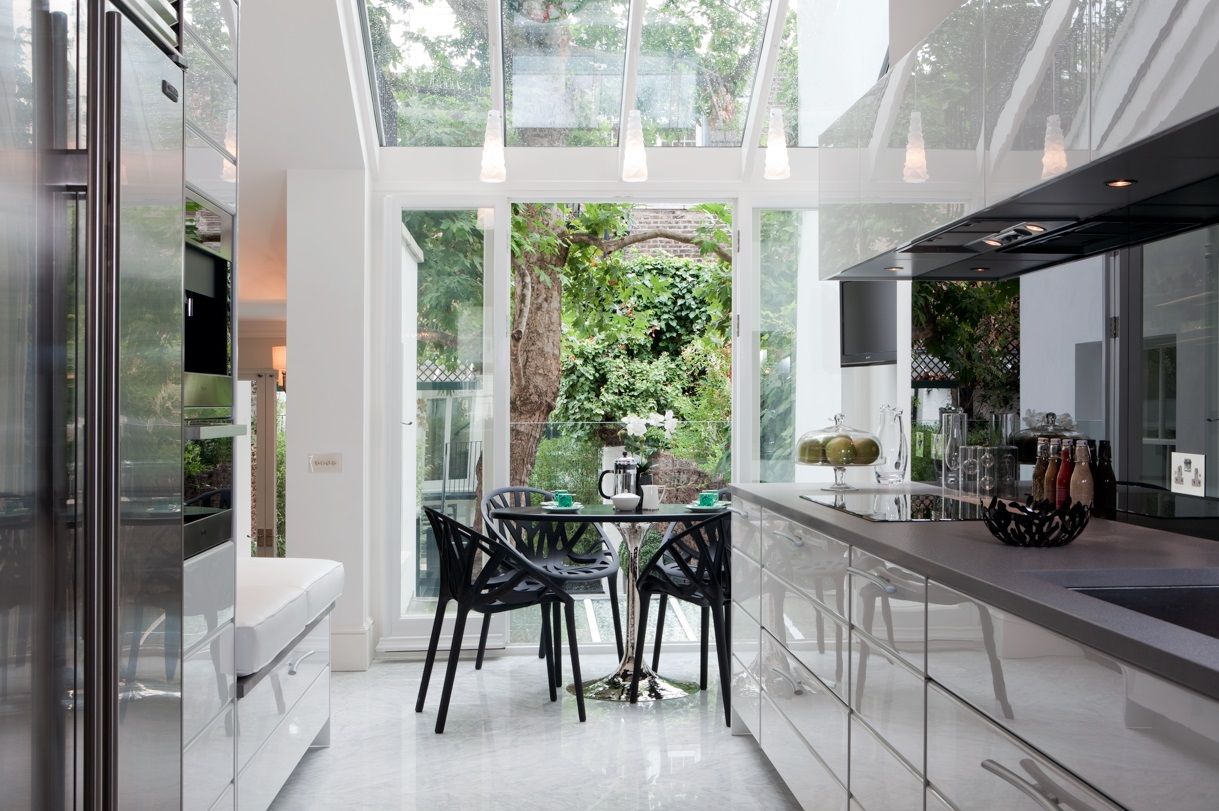 Plastic furniture has a very harmonious look in a modern interior with abundant use of glass, mirrored surfaces. Kitchen cabinets made of MDF covered with a PVC film, which is so often used for the production of built-in kitchen furniture, perfectly stands plastic neighborhood, including material for chairs and stools.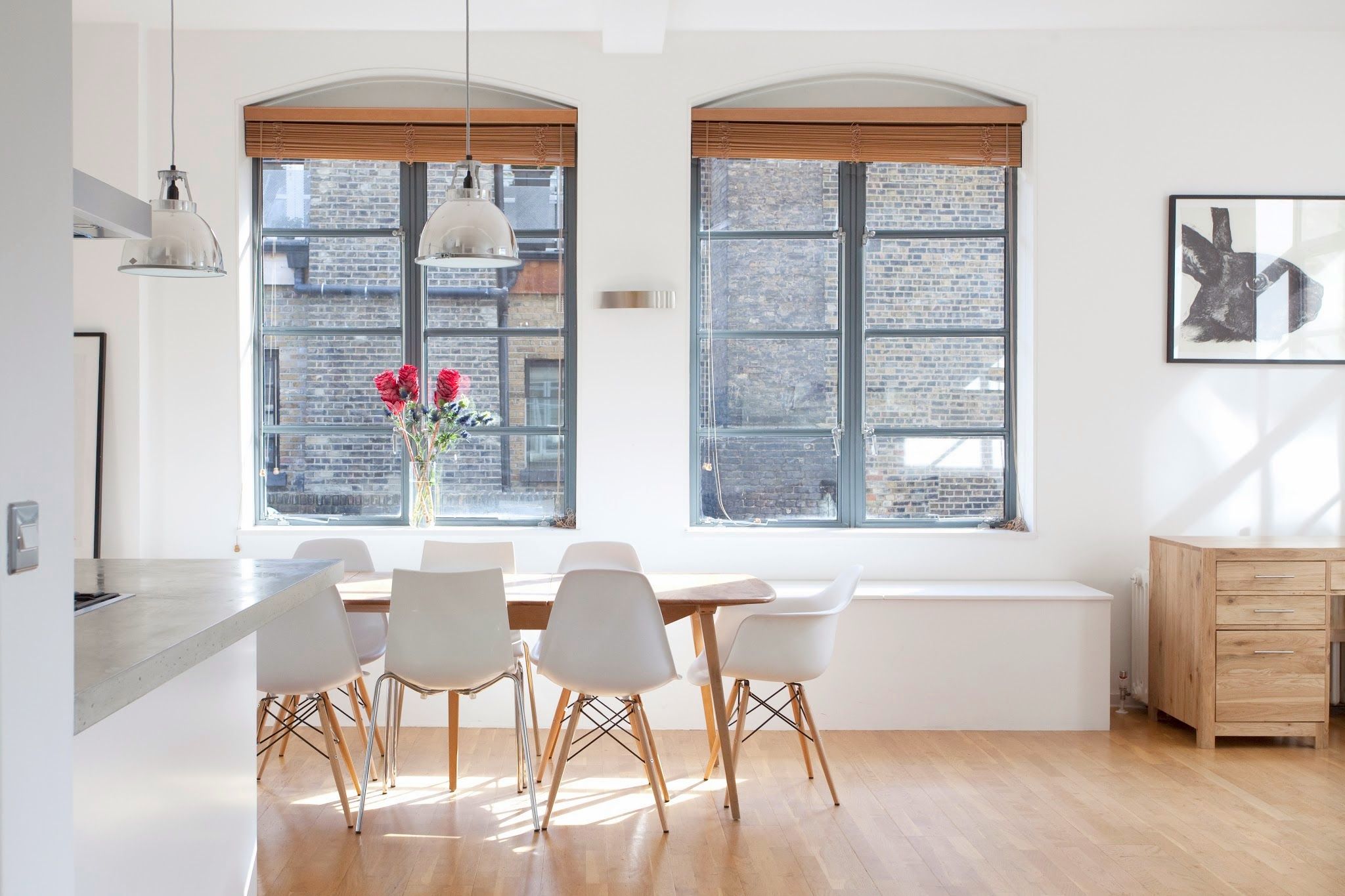 Known worldwide chairs that were invented by the Eames family, have become icons in the field of furniture design, and are popular among homeowners for many decades. Simple, but at the same ergonomic design fits easily into almost any decor. Now such chairs are available with a plastic seat and wooden legs, although initially, the Eames couple produced plywood seats during experiments on the plasticity of this affordable and lightweight material. These lightweight fittings of kitchen chairs look not only appropriate but also advantageous in the bright kitchen.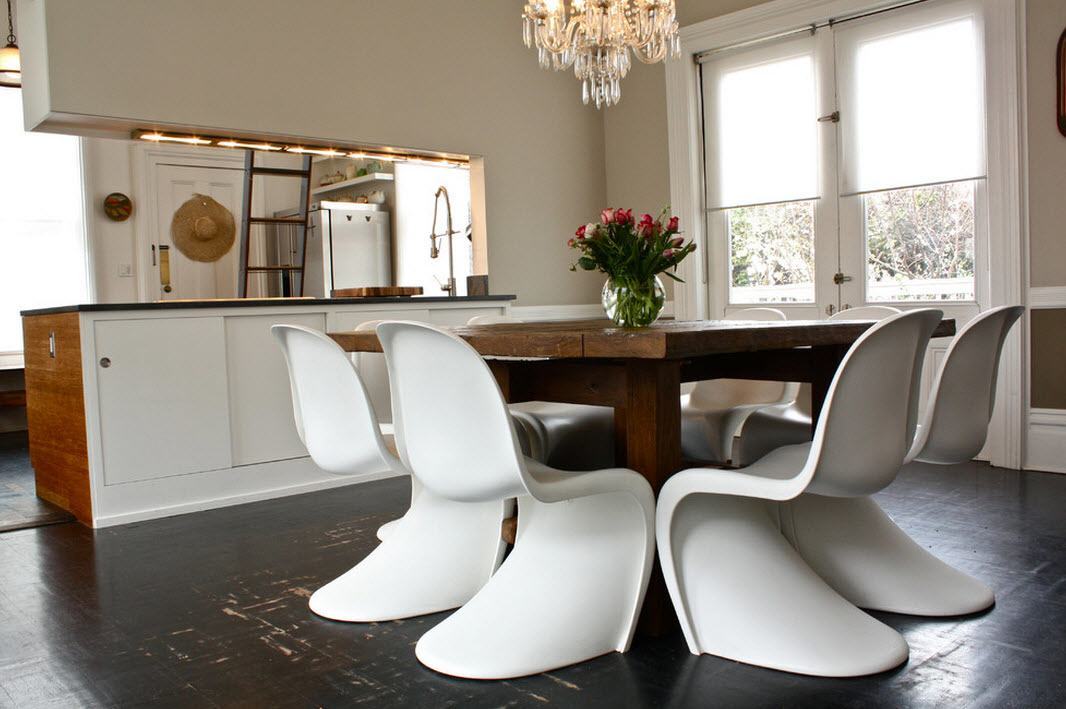 No less famous plastic chairs, which follow the contours of the human body, became a decoration of the dining area with a table in country style.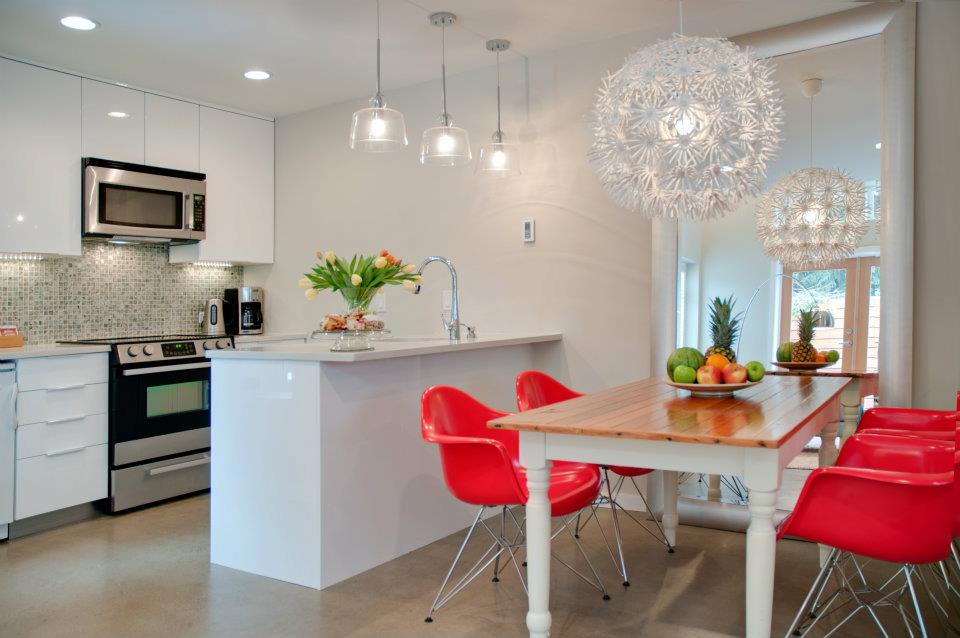 Bright, colorful armchairs made of plastic with metal legs appear as an accentual focus center in this bright kitchen. The original design decision, not only this diluted snow-white palette but also brought a positive attitude to the character of the premises.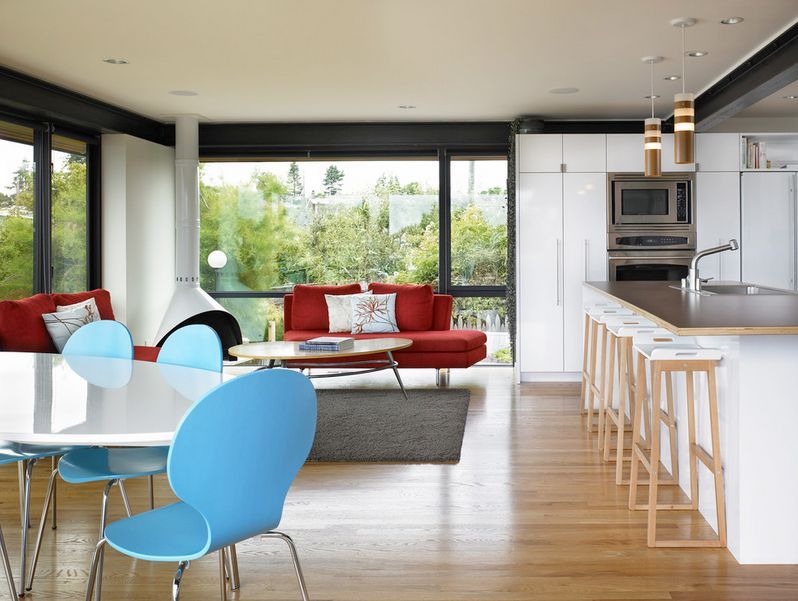 Here we can see another example of how bright plastic chairs with metal legs can change the character of the room. Of course, the deep blue color of the chairs became the focus of the dining area. As for the bar stools at the counter of the kitchen island, their base is made of wood, and seats are also made of plastic.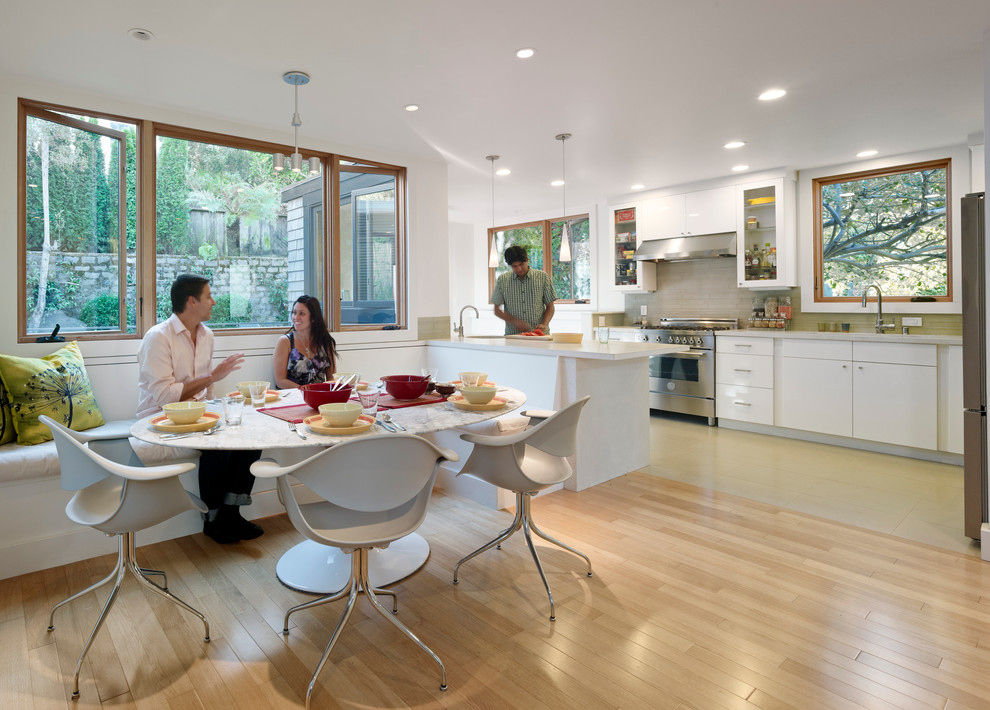 A similar model of plastic chairs with metal legs but in calm, neutral shades have become the decoration of the dining area in a small kitchen space with white glossy surfaces of kitchen cabinets.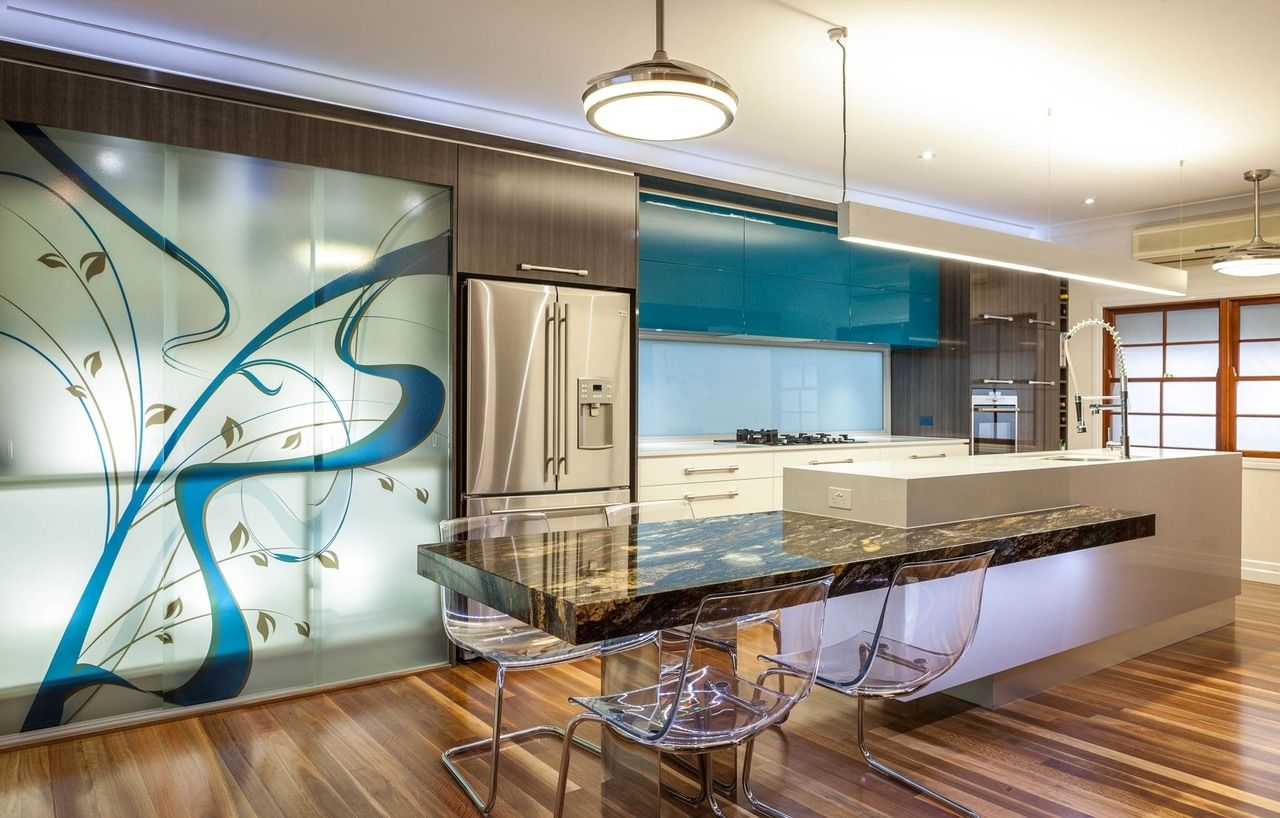 Chairs made of transparent plexiglass or plastic often being purchased for kitchen spaces of small size for obvious reasons – they look weightless, do not load the appearance of the premises and at the same time are easy to maintain and clean. But transparent furniture can also be a godsend for spacious kitchens with original interior design.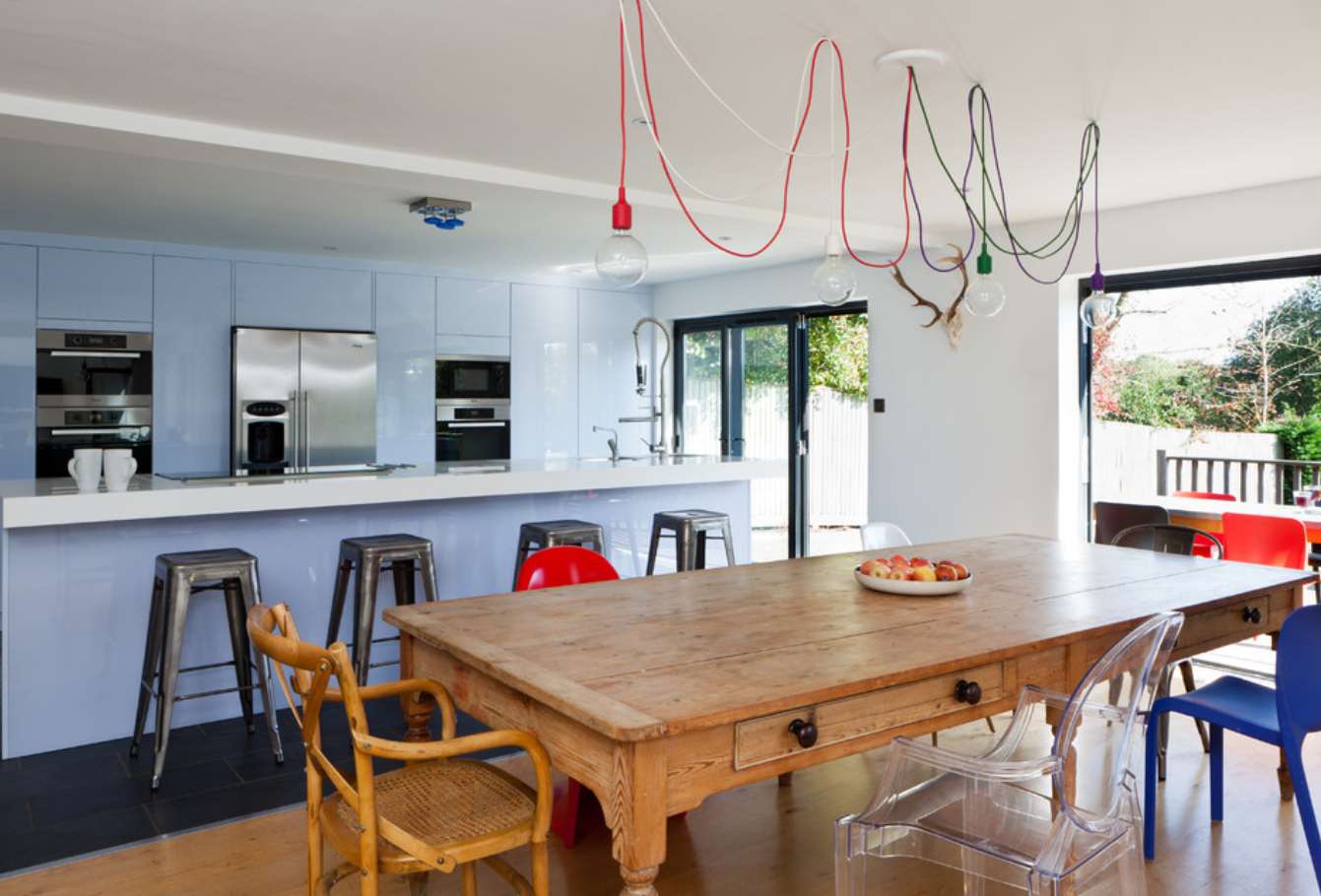 The combination of chairs of not only different colors and designs, but also the manufacturing material of the model may be really extraordinary in a single dining area. This eclectic dining area can be an interesting option for a large family where each household member has its own special chair. So as the open wires and cords could become a really unexpected decorating element of your kitchen.
The Metal Frame for the Kitchen Chairs
The most durable, but also quite an expensive material for the chair's frame is metal. Aluminum and steel structures can withstand high loads, have a long lifespan, and quite simple and convenient to care for. There are both fixed and folding models of kitchen furniture. There are height-adjustable options among the metal bar stools, which is an absolute plus for the family kitchen spaces. Backrest adjustment is also available in some models of chairs.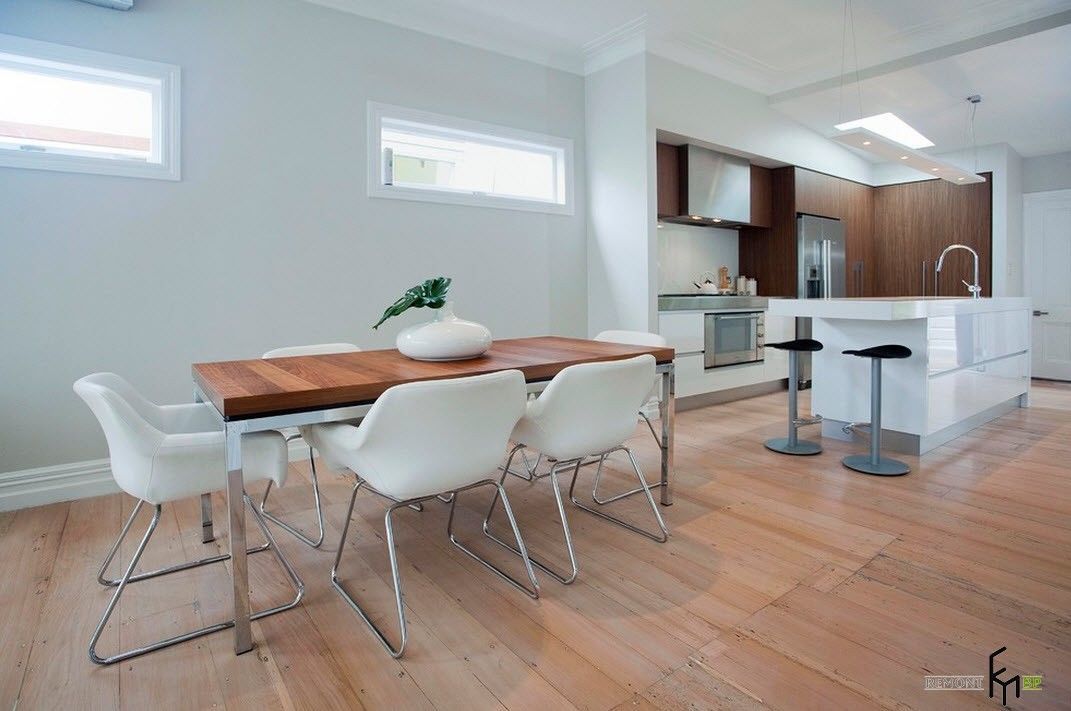 A completely metallic stool is a rather expensive product, while still a very cold one. Therefore, as a rule, chairs, or stools with a metal frame come with soft seats and sometimes back. Seat material can be very different, but it is better to choose textile or material that is easily cleaned, such as the skin, both natural or artificial for the kitchen.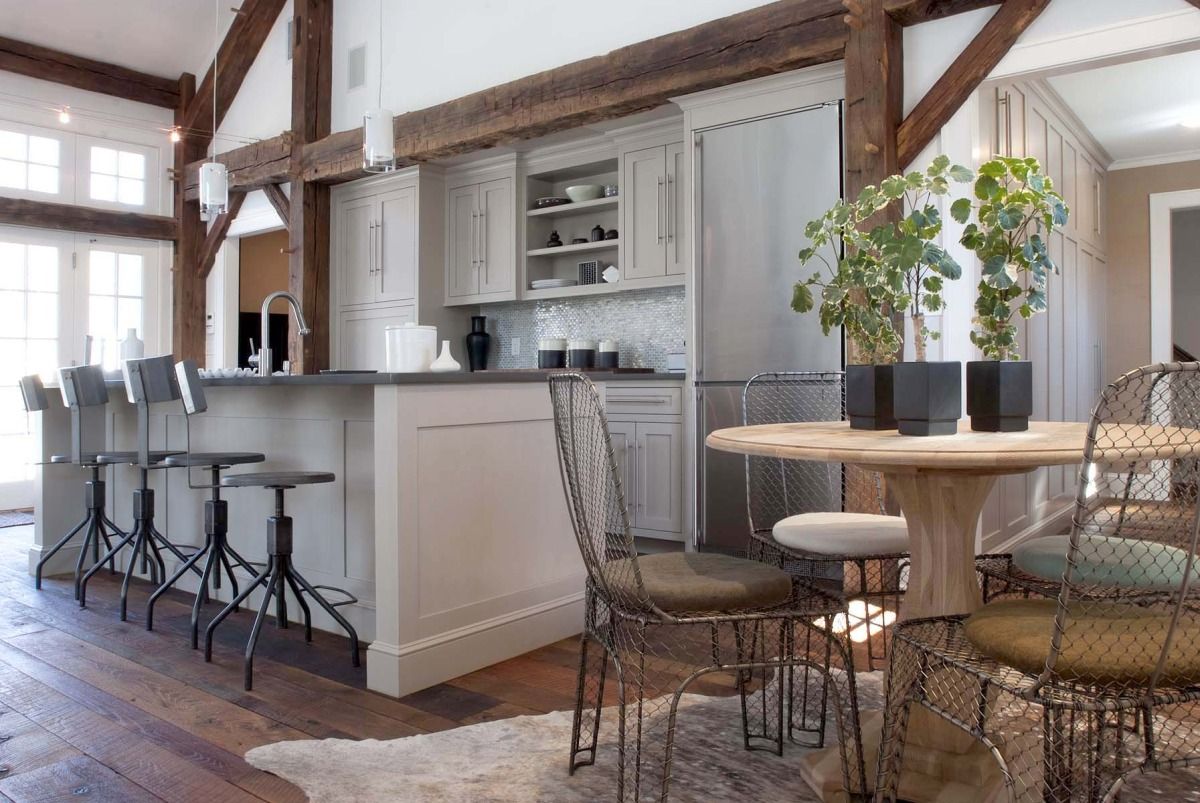 Metal has become the main material for the manufacture of bar stools and chairs for the dining area of ​​this modern kitchen with country elements in the interior. The original chair design has become the hallmark of a nontrivial atmosphere of the kitchen area.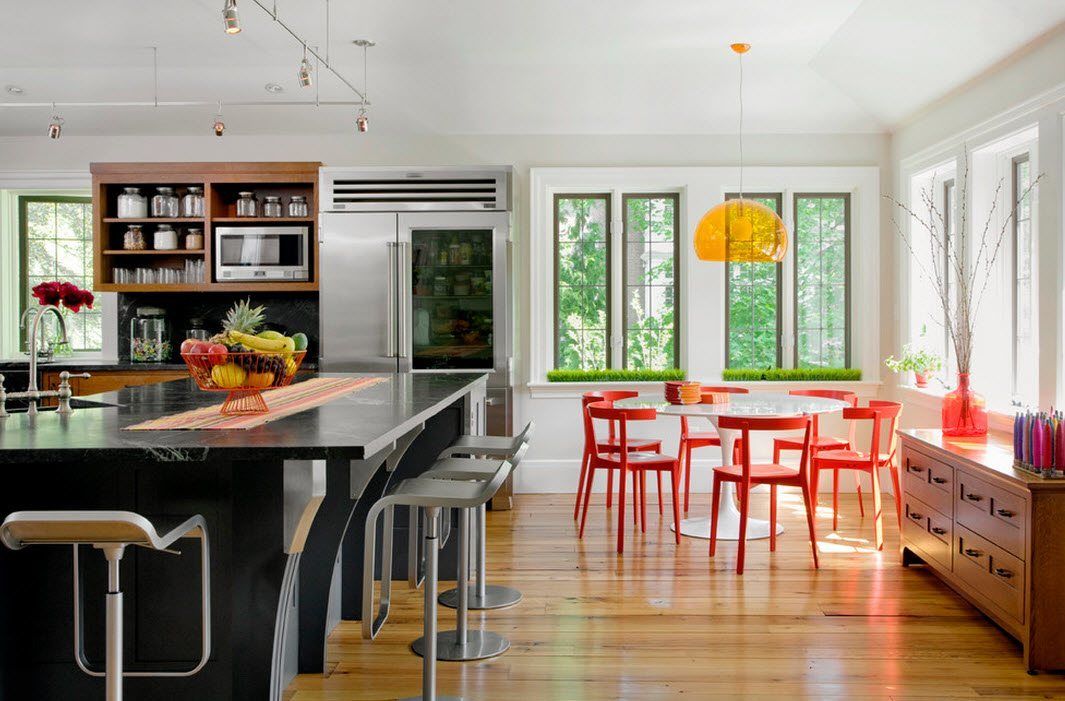 In this kitchen-dining room, we can see a combined composition of bar stools at the kitchen island, – metal frames are combined with plastic elements. The ergonomic model with a slightly supportive seat, equipped with a comfortable footrest. In the dining area, we see bright plastic chairs of orange color, surrounding a table of the same material but in a snow-white palette.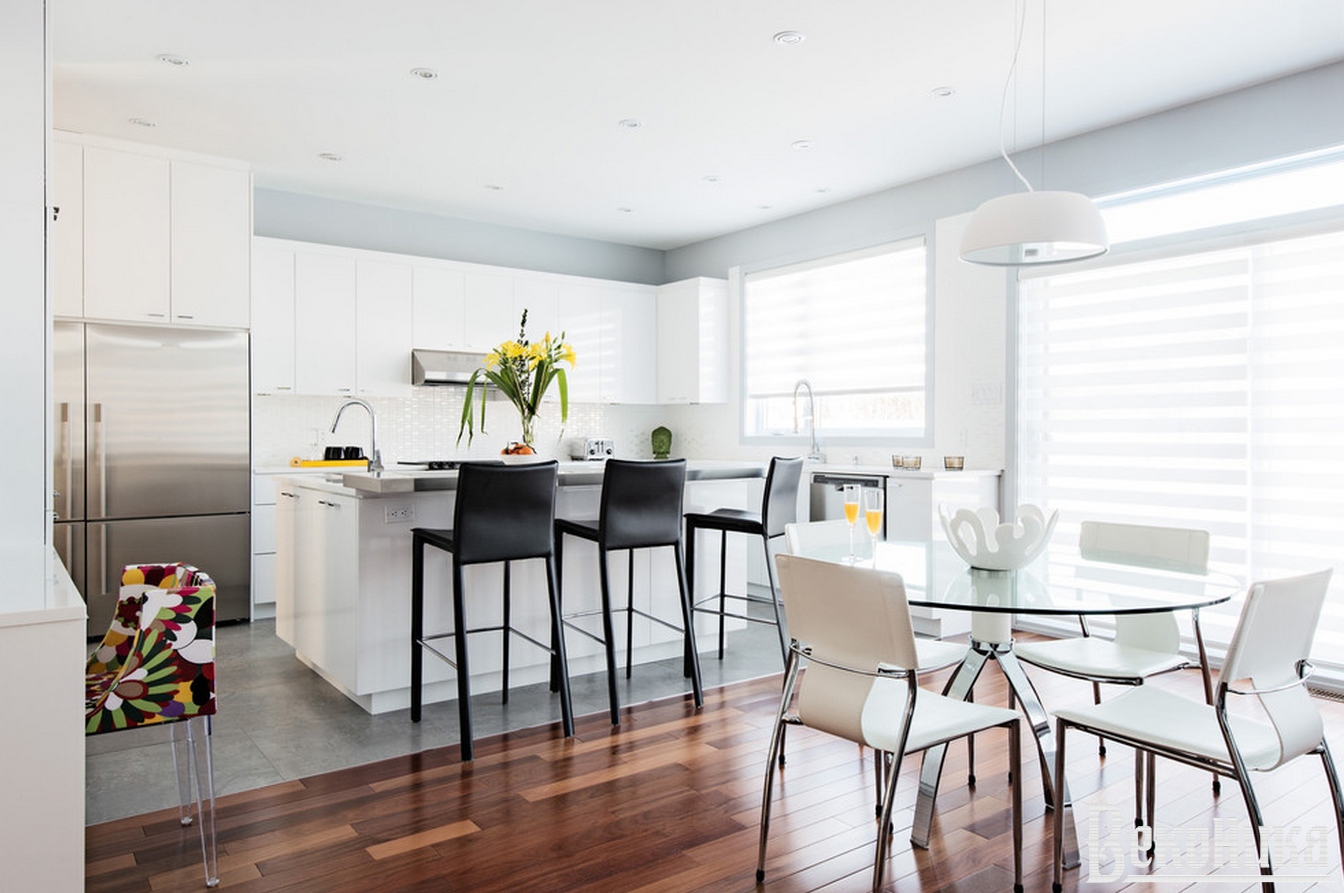 Chairs with metal frame fit modern interior with elements of hi-tech style perfectly. In combination with a transparent glass top of the dining table, the whole group looks luxurious, representatively, and respectable.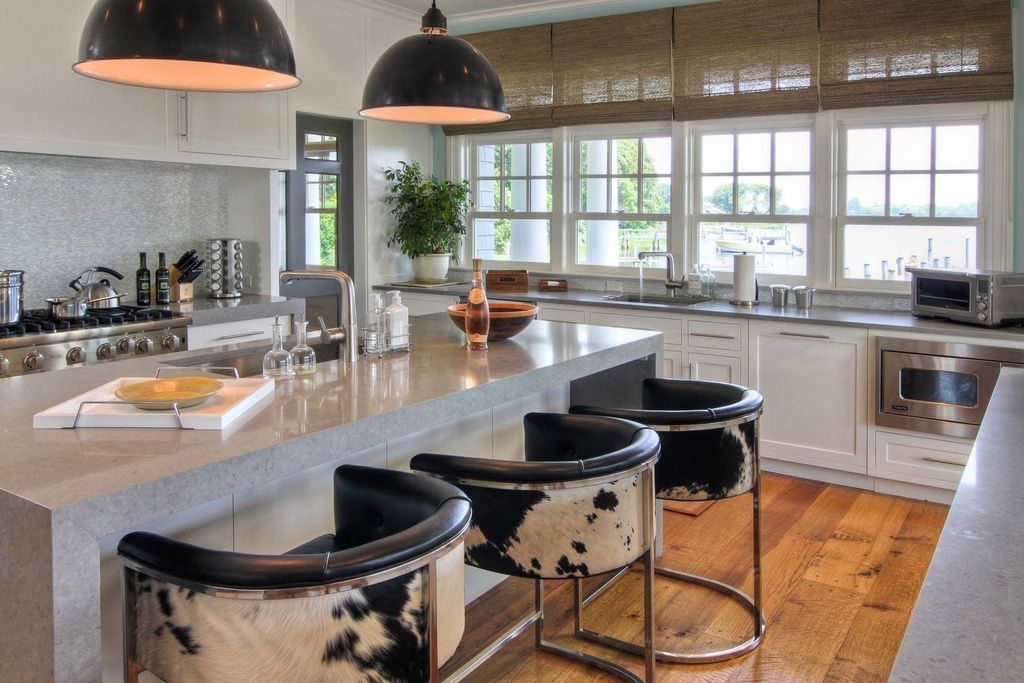 The comfortable bar chairs with a metal frame and soft leather seats are decorated with artificial fur, imitating animal pelts. Contrasting, the black-and-white color of the kitchen chairs was supported with hanging lamps in Art Nouveau style.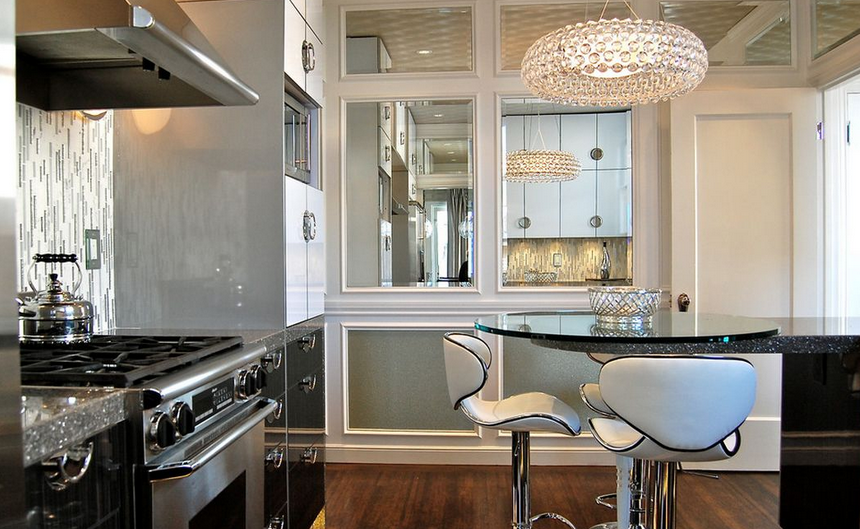 And these bar chairs with metal legs with adjustable height, become a harmonious complement of Art Nouveau elements in a small kitchen space.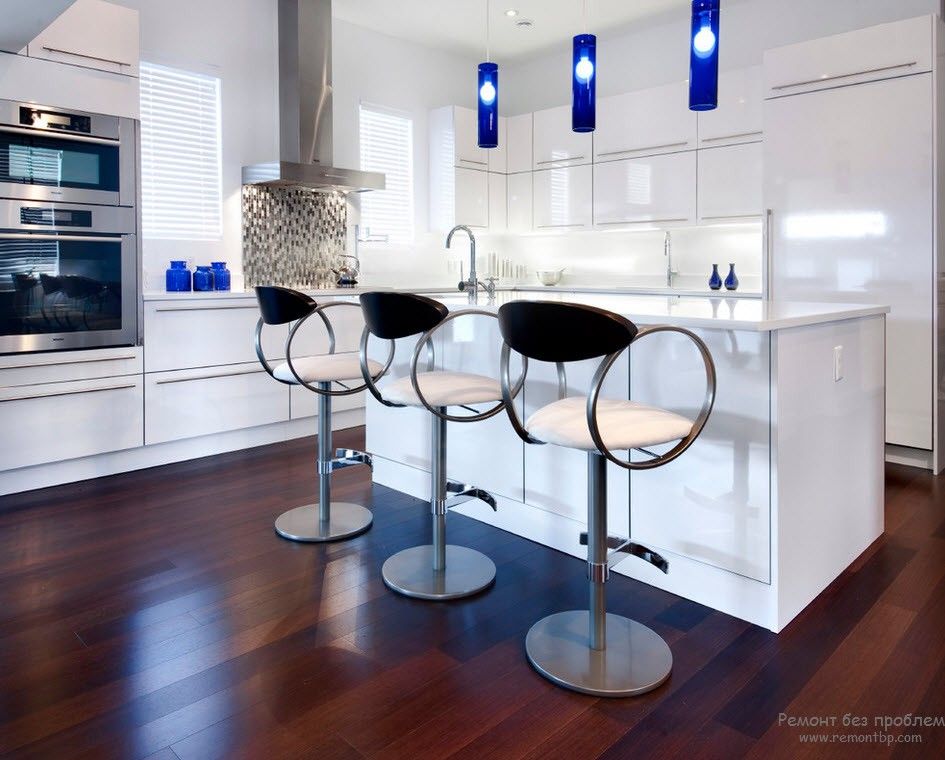 Another example of originally designed bar stools, which can be the hallmark of a modern kitchen with a progressive interior.