Naturally, each person wants to do something original, interesting, in order to realize his or her ideas and fantasies in the bedroom. At the same time, everyone wants to create a unique style that no one else has. However, unfortunately, the layout of the room does not always allow you to realize all your ideas and make something really grandiose here. But today we will review a collection of successful 160 Square Feet Bedroom Interior Decoration Ideas which can show how to create an original design even in the smallest bedroom.
Contents:
Now the market assortment is very wide and design styles do not limit a person's imagination. By correct using of its capabilities, you can create not only a unique design but also visually increase the space, placing the right accents with the help of building materials. It is logical that furniture has a significant influence on the formation of the bedroom too.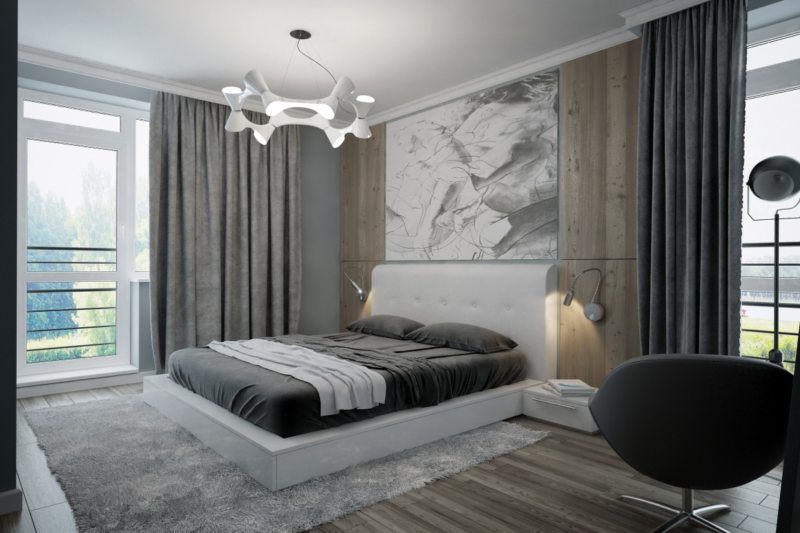 If the bedroom is not big and its size is not more than 160 square feet (about 15 m2), then you need to think in advance of everything that will be installed in it, down to the smallest detail.
Bedroom Layout
First of all, it is necessary to assess the situation, as much depends on the shape of the room. It can be square, elongated, or rectangular.
Based on the particular form of the room in an individual case, it is necessary to plan in advance the project for the arrangement of the bedroom. For example, in a rectangular sleeping room, whose dimensions do not exceed 160 feet, the furniture should be arranged as follows:
The bed should be installed with the headboard on one of the walls. It is better to place the table near the window in order to create natural light at the expense of daylight.
Chest of drawers and closet. They are best placed closer to the door, or they take up free corners to make it look organic. You can also use poufs, which should be placed around the perimeter of the room. Their dignity lies in the fact that all small things can be hidden inside the padded stools.
Sofa. It can be an alternative to a bed. The folding type is especially suitable because it does not take up much space.
Determine the Design of the Bedroom
At the moment there are many different styles and designs: high-tech, modern, classic, baroque, and others. People who are not experienced in this will not be able to correctly use one or any other style because of their inexperience. In order to create an original and unique design, but at the same time adhere to one particular style, you should refer to specialists who will help make the bedroom unique.
If your budget does not allow you to attract a designer from outside, you should rely on your own taste and inner feelings. For greater confidence, you can adjust yourself according to the designs presented in the photo on the Internet and read about the different styles and bedroom decorations at our site.
Colors in the Bedroom
A bedroom is a place of rest, solitude, and freedom from unnecessary thoughts. It is here the place a person can relax, take off the burden of a hard day's work, and enjoy the silence. In order to create a pleasant atmosphere, it is best to use blue color and its shades, which can calm the nervous system, create warmth and comfort in the room.
Taking an orange or similar bright color you can feel the joy and charge yourself with positive energy. However, it often happens that such tones start to annoy and irritate quickly, and this is not to everyone's liking. For maximum comfort and comfort, it is better to use pastel colors that can relieve the nervous system after a hard day.
Do not forget that the bedroom is not only a place to relax but also a place for passion. In this case, it is better to use red colors but it will be more correct to apply them only partially, decorating only one of the walls with this tone.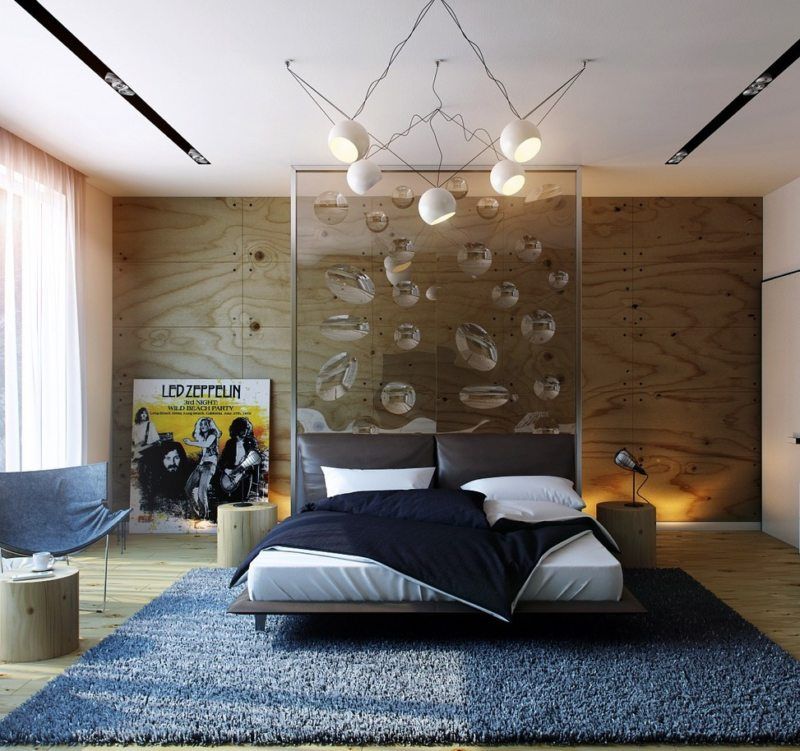 Great popularity is turned back to black color, but this one can bring darkness to the bedroom design. In order to avoid this, you need to provide thorough and bright lighting, capable of shading black tones.
Those, who seek unity with nature and the environment, can use green colors or soft colors. You can supplement this picture with properly selected wallpapers or curtains, photo wallpapers with a view of nature.
Bedroom Accessories
In general, it is worth noting that there are quite a lot of ideas for the design of a small-sized bedroom and it all depends only on the choice of the housing owner. If you go to the right approach, carry out high-quality renovation, and try to stick to one particular style, you can create an interesting and fashionable bedroom. By choosing quality materials, decor elements, and wallpaper with an original look, you can realize your dream – to create a comfortable and cozy bedroom that can please the eye every day for many years.
As soon as the repair is over and the bedroom has the right kind of appearance, it is necessary to deal with the furnishing of the room, correctly placing everything in it. First of all, it is a bed that must be as comfortable as possible, but should not take up much space. Then follows the TV, without which it is difficult to imagine people's lives in the 21st century. Locate it in front of the bed (sofa), placing it opposite the eyes in a sitting position. You can put the TV on the nightstand, or set it on the wall, which will save an extra square meter. It should be borne in mind that the distance should be appropriate. Otherwise, you can damage your eyesight. Please, look at the following table of distance to screen diagonal dependency before choosing TV:
| | |
| --- | --- |
|  TV screen, "     |      The average distance from spectator to TV       |
| 17″ | 1 meter (3,3 feet) |
| 25″ | 2m (6,5ft) |
| 32″ | 2,5m (8,2ft) |
| 37″ | 2,7m (9ft) |
| 40″ | 3m (9,85ft) |
| 50″ | 4m (13,1ft) |
| 55″ | 4,5m (14,76ft) |
| 80″ | 6m  (19,7ft) |
Also, you need to install a chest of drawers or a cabinet here. The mirror should be in order to be able to do makeup. It is best to use a mirror integrated into the chest of drawers, which can replace the table in its turn. Correctly using the functionality of furniture, you can minimize its number, thereby creating a little free space even in a small bedroom.
The armchair and padded stools can be installed at will, depending on how much they are needed. You should pay special attention to the décor: it can be paintings or figurines, decorative flowers, and other elements that create additional comfort in the room.
In general, it is worth noting that the correct layout of a small bedroom is a difficult but possible task. If you provide a responsible approach to this deal and carefully thought out everything at the initial stage, it is possible to create a cozy and modern bedroom with an original design that will delight you for every passed moment.