To renovate the room, we just need to pick up the wall finishing materials (tile, wallpaper, paint, wooden planking, concrete, etc.), floor (laminate, parquet, tile, linoleum, etc.) and ceiling finishing (stretched film, suspended construction, plasterboard… oh, a lot of them!), choose the furniture, come up with its arrangement, think about screens, mirrors, and other interior elements, and not forget about the successful color scheme before blending this all together. Not so easy, right? And what about the electrical scheme in the room, not mentioning the sewage, plumbing, air conditioning, or installing the fireplace? And what about the mistakes if we just miscalculated when planning the amount of some finishing material? It often leads to extra spending. In some cases, it can entail a complete remake of work already done. Therefore, we decided to know more about interior design examples before and after or why we need a designer.
Contents:
Many people indiscriminately call into question the work of designers and think that there is no big difference between renovation following the recommendations and plan of professional and by oneself. We can't say that such a point of view is completely irrelevant. Some people naturally have exquisite taste and can draw a picture of a successful interior right in their imagination. This is especially true for small rooms. One can be inspired by pictures from the Internet and combine a couple of liked interiors into one of his or her dreams. Everybody can make his mind to this question after seeing the photos of successful transformations.
It's important: we don't promote the work of professional designers by this article in any case. Conversely, smalldesignideas.com is strong in the conviction that many decorative options you can DIY. At the same time, we can run a couple of miles to work every day. But the majority of people opt to buy a car instead.
Small Kitchen Before and After Renovation
The "Before and after" photo clearly shows how drastically can constructive ideas and a couple of interesting techniques transform any room. Colors, materials, new flooring, and functional furniture will change the apartment beyond recognition. Narrow premises will appear wider, gloomy objects become pleasant, and there would a place for all things in the same area. Is it magic? Not at all! Just skillful planning of the room and the suitable furniture.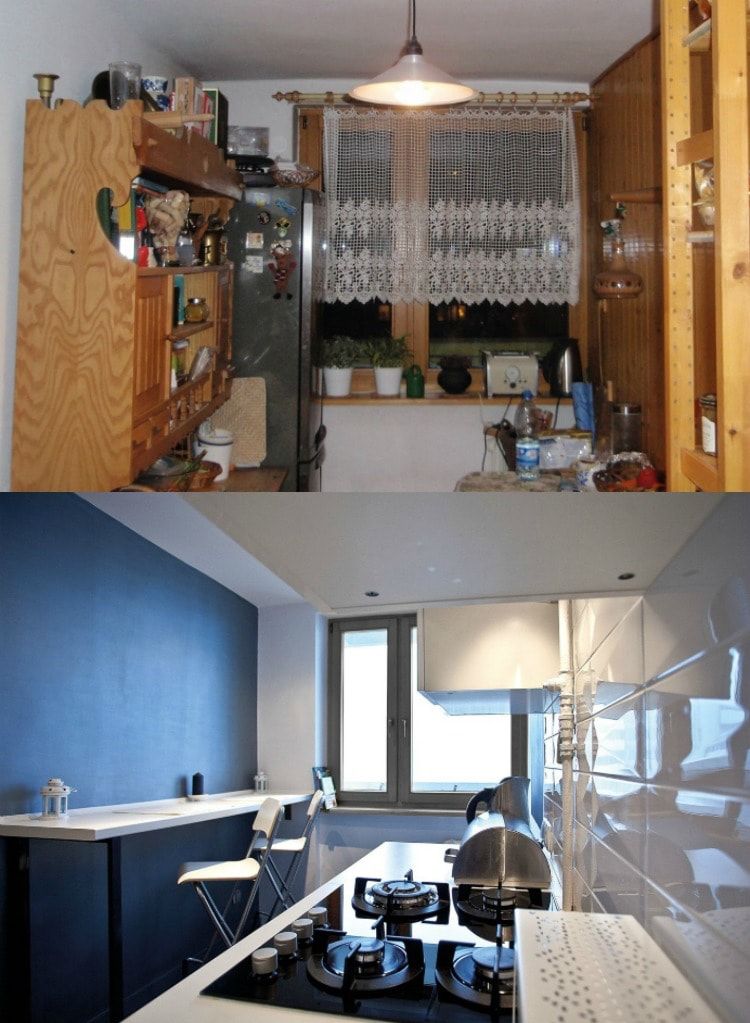 Small Narrow Living Room Renovation Idea
Often the layout of rooms in our apartments leaves much to be desired. The only way out is imagination and creativity. Light pastel colors gave the room a fresh and relaxed mood. Our advice for narrow rooms: give up high furniture like furniture sets and bookcases, visually they take up too much space.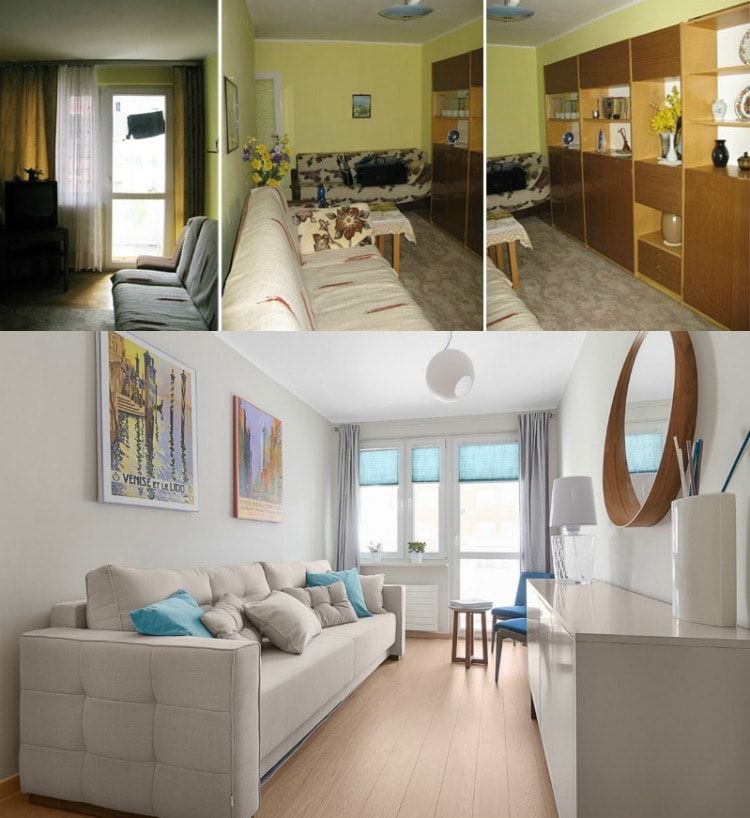 Repair in Small Bedroom
Minimalism is the ideal solution for the interior of a small room. The same color for walls and ceiling, painted white parquet and gray textiles create a uniform image.
Tip: Replace the handles on the cabinets with a push mechanism to open the doors, as in the presented photo. Laconic facades almost merged with the wall and the room seems bigger.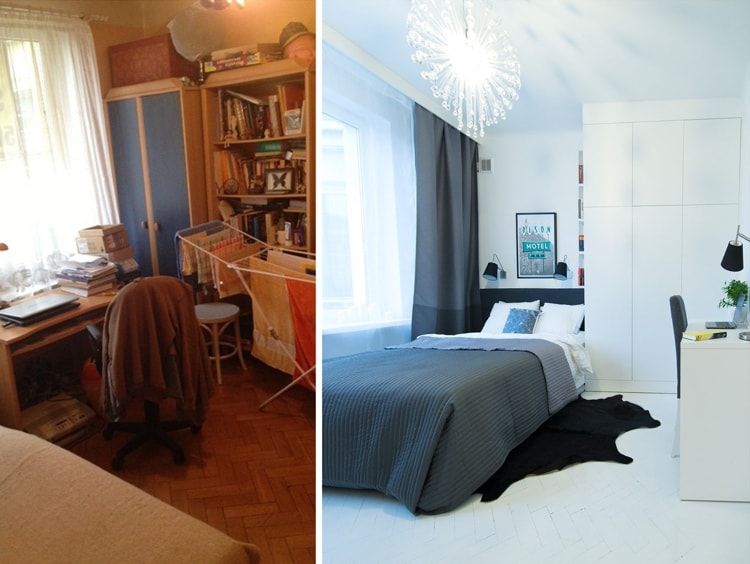 Small Kids' Room for One Child
Most often in the children's' room, we need to find a place for the bed and for the table, and for the closet… Often it turns out that placing the bed prevents us from finding a place for everything else.
Our advice: do not buy ready-made furniture. Order furniture manufacturing for a particular room.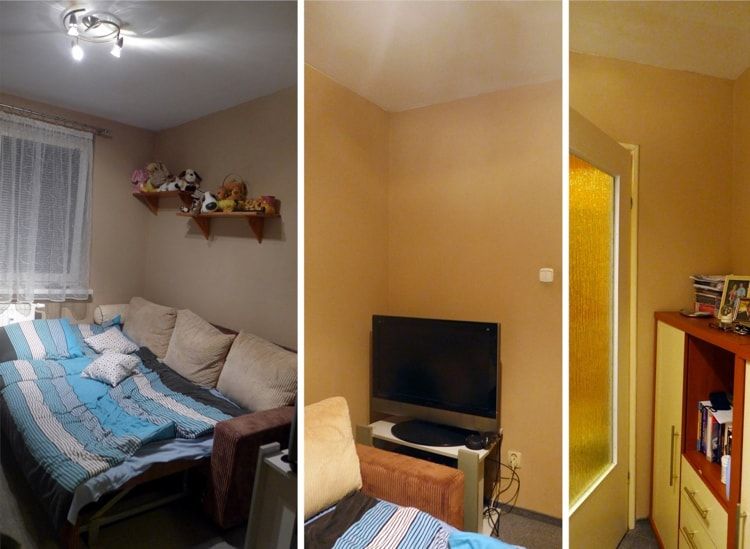 When making furniture to order, you will be based on the individual characteristics of the premises and the needs of the person living in it. You will have an opportunity to optimally use every inch of space. In the photo above you see a built-in wardrobe and shelves in the head of the bed made on an individual project.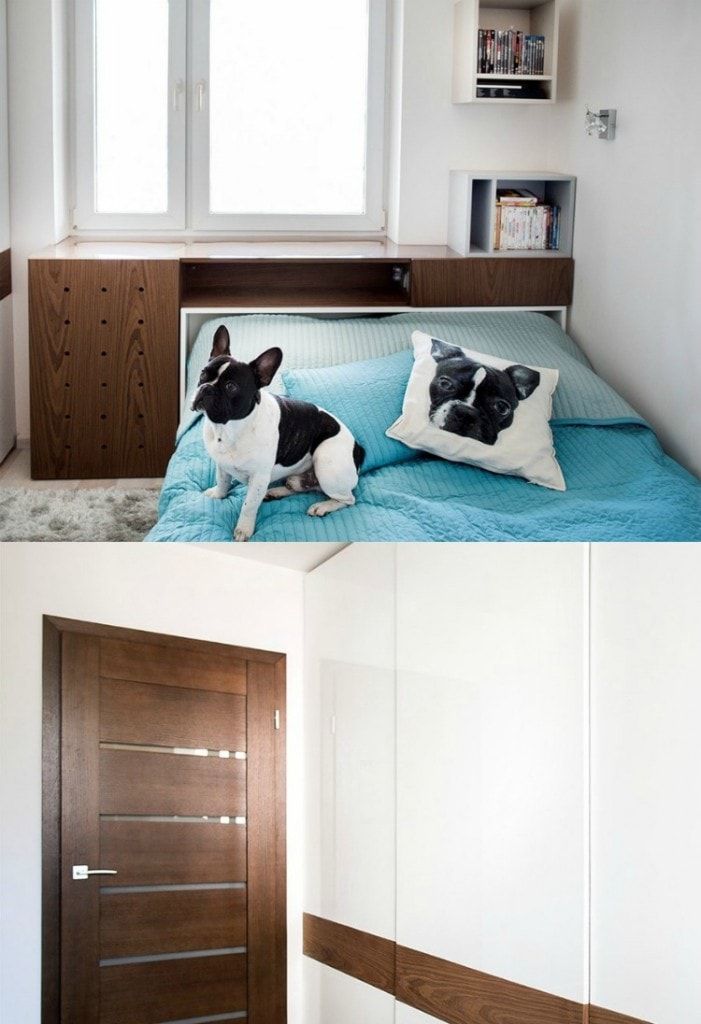 At a certain point in life, all children approach the stage when a person has his own view of what his or her room should be like. The child has constant and serious hobbies, interesting topics for him. And in adolescence, when time passes with bear-print wallpaper, the child wants to participate himself in equipping his own room. A good solution for a teenager's room environment is functional furniture with a simple but practical design and color accents, arranged with the help of individual elements of furniture and textiles.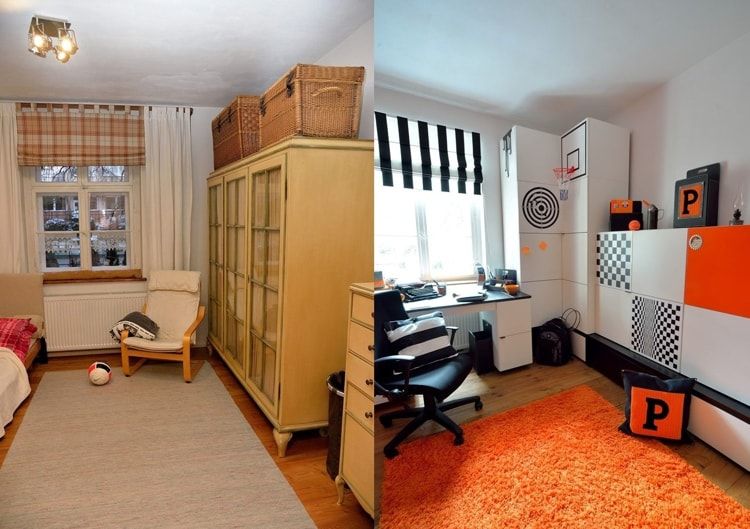 WC Redesign idea
Previously, this toilet had a miserable sight – small, narrow, and dirty. Designers lengthened the room and managed to find a stylish combination of various methods: wall hung toilet bowl, gray-blue color scheme. The floor is now decorated with tiles with ornamentation, one wall is painted in a calm gray tone, the other two are covered with wallpaper, creating the feeling of an infinite perspective.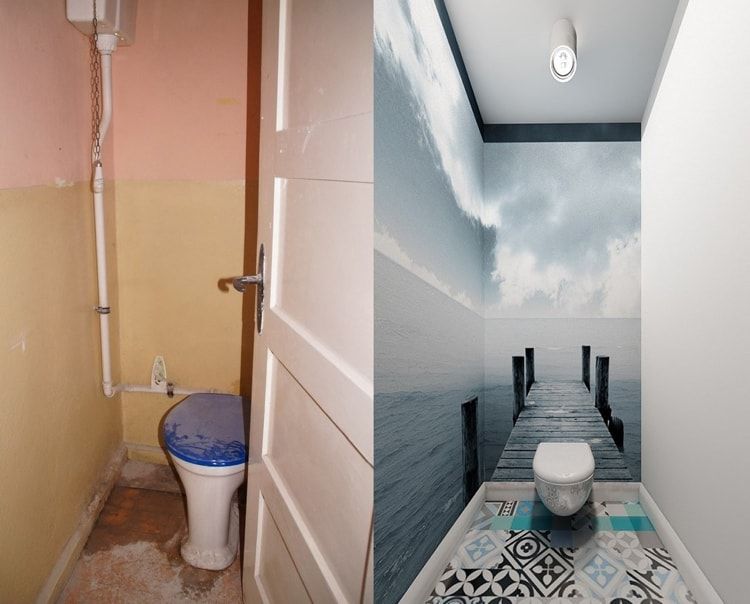 Bathroom Transformation
A narrow bathroom with an uncomfortable layout and a sticking water pipe is not the most attractive sight. Randomly scattered things do not add beauty to them either.
Our advice: combine two well-matched colors.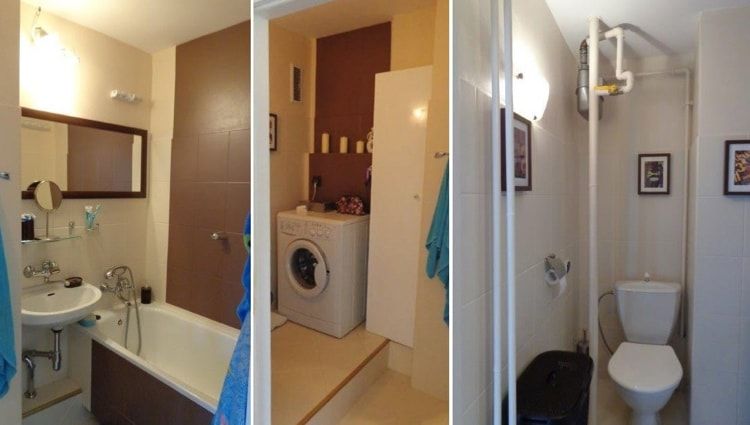 In this project, the designers combined white color and wood, placing them on all surfaces. They also opt for glossy surfaces of white tiles and furniture. Together with the mirror, reflecting the light, they make the room lighter and visually increase it.
Turning Classic into Modern
This project is designed to repair a small bathroom with a limited budget. The white-blue interior looks fresh and modern, and the bathroom looks cozy and beautiful.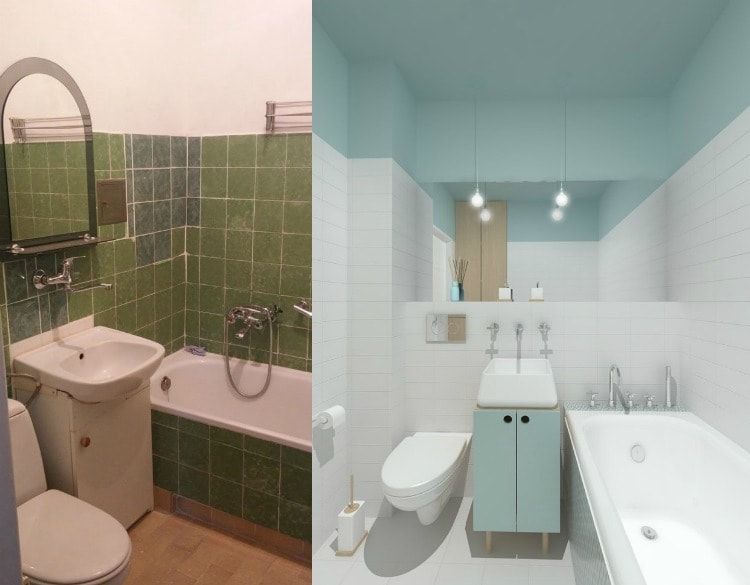 Collateral Lighting and Material Combinations for another Small Bathroom
The idea of indirect lighting is very popular and works wonders, especially in small rooms. Create luminous "stripes" on long elements of the bathroom – on the bathtub, washbasin, or closet. Glossy surfaces will enhance the aesthetics of the effect by reflecting soft light.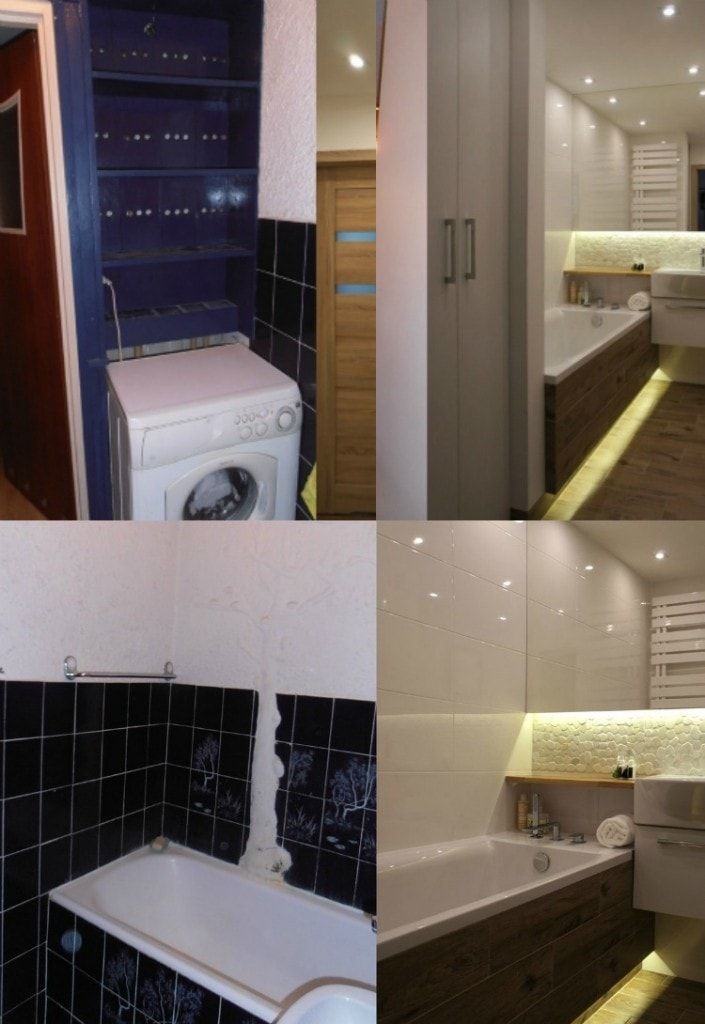 Minimalist Bathroom Interior
A win-win option is the interior of the bathroom in black and white. This design project is an interesting extravagant black floor and unusual for the bathroom brickwork texture of the wall.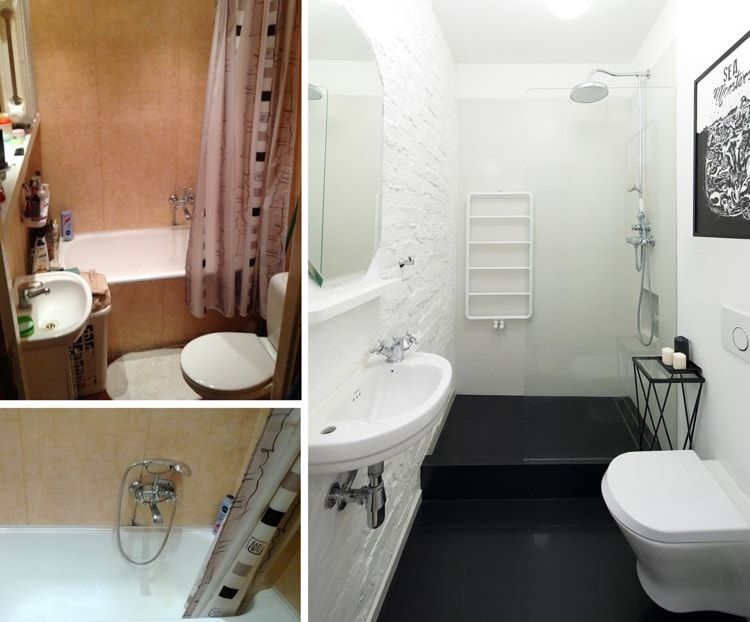 Optimal Utilizing of Space in Small Bathroom
Of course, if you need to place a washing machine in a small bathroom, the room will become even smaller. In this case, you need to find a very clever solution. Designers put the washing machine in a row of built-in closets, combining the entire lower level under one table-top. At the higher tier, there is a hanging whole-wall cabinet with mirrored facades. The interior is decorated in gray and white colors, which could look pretty boring, if not the bright green accents arranged with the help of textiles and trifles.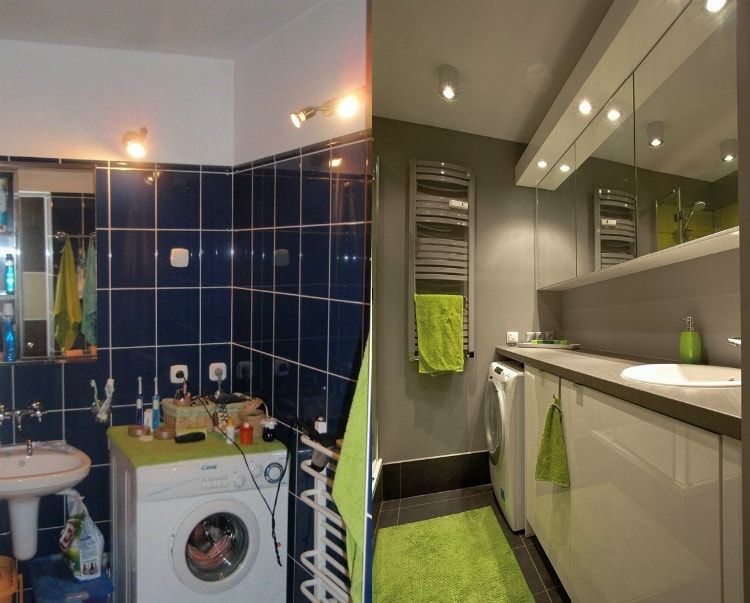 Loft Open Layout Studio
The attic floor is often treated with disregard, generally without using it. But the loft rooms have their own charm, their own individuality. From a technical point of view, it is necessary to carefully consider the waterproofing and window openings, if any.