The bedroom is designed to give rest, coziness, and warmth. A good bedroom does not let everyday chores, anxieties, and working negativity into its quarters – all this remains beyond the threshold. Here, the interior, the decor, and the whole general atmosphere should contribute to relaxation, a good mood, and the strength of family ties. After all, the heart of the hearth is in the bedroom. And where, if not in the eastern style, we look for such an atmosphere. In short, we've gathered some bright examples of Japanese bedroom decoration and arrangement ideas that would probably get in handy if you are looking to renovate your room according to this oriental style.
Contents: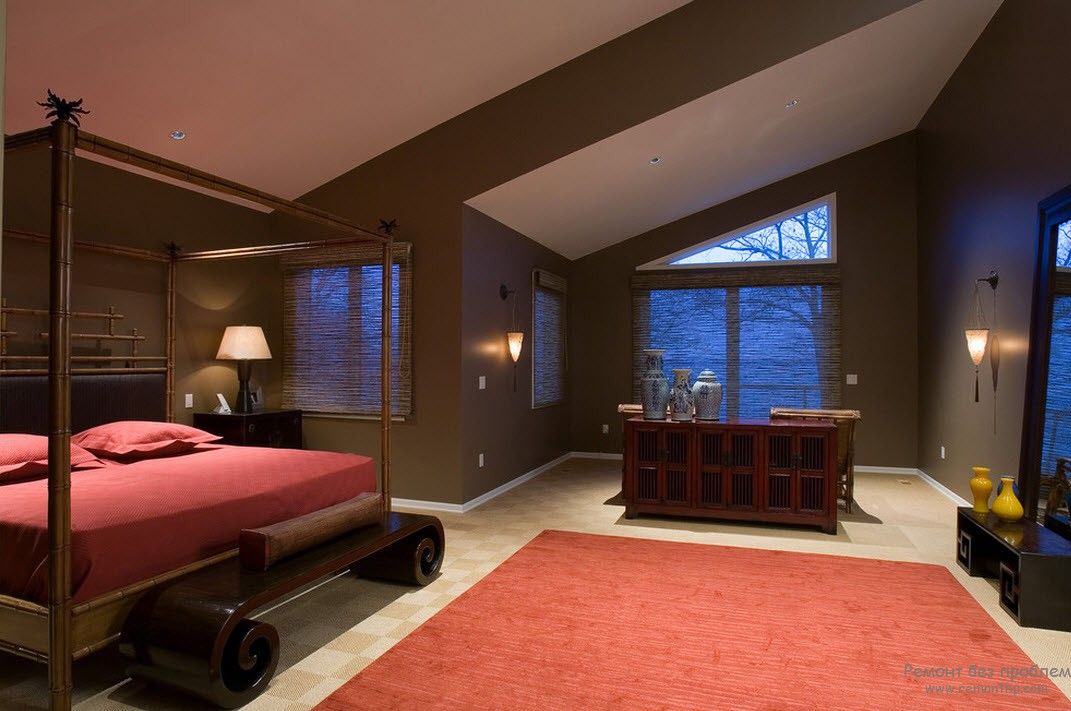 The bedroom in Japanese style is the most refined and unobtrusive. There is a lot of air and light here, and the interior is necessarily made of natural materials in a minimalist design. Consequently, in such a bedroom almost necessarily we find a lot of free space, otherwise positive energy will be difficult to move. The Japanese bedroom is the embodiment of nature, naturalness.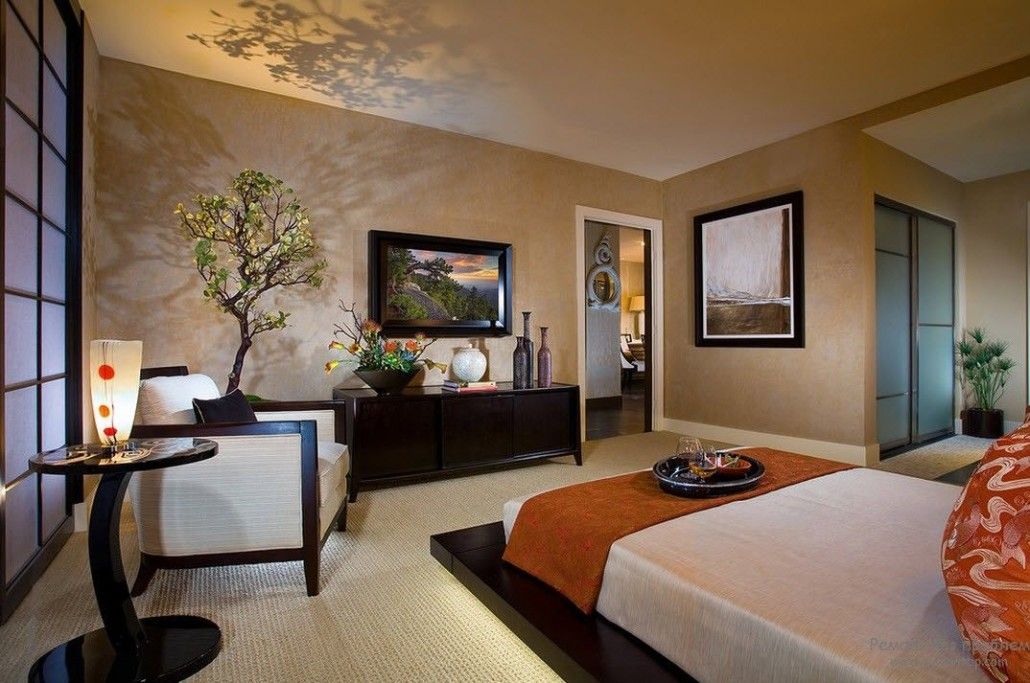 The natural origin of the finishing materials is a prerequisite for the Eastern bedroom. Such materials are wood, bamboo wallpaper, brick, and plaster. The first thing that comes to mind when you think about the East is a lot of pillows. This is true. The inhabitants of the Middle Kingdom do not like high beds, sofas, and armchairs. They are characterized by low furniture and, of course, an abundance of pillows for a comfortable and pleasant reclining.
If you want to create an interior of a truly Japanese bedroom, then start thinking like the Japanese. Their culture is quite original. Japanese refer to their habitation as a living one. Therefore, Eastern people do not litter their house with unnecessary or accidental things; everything is only necessary and functional.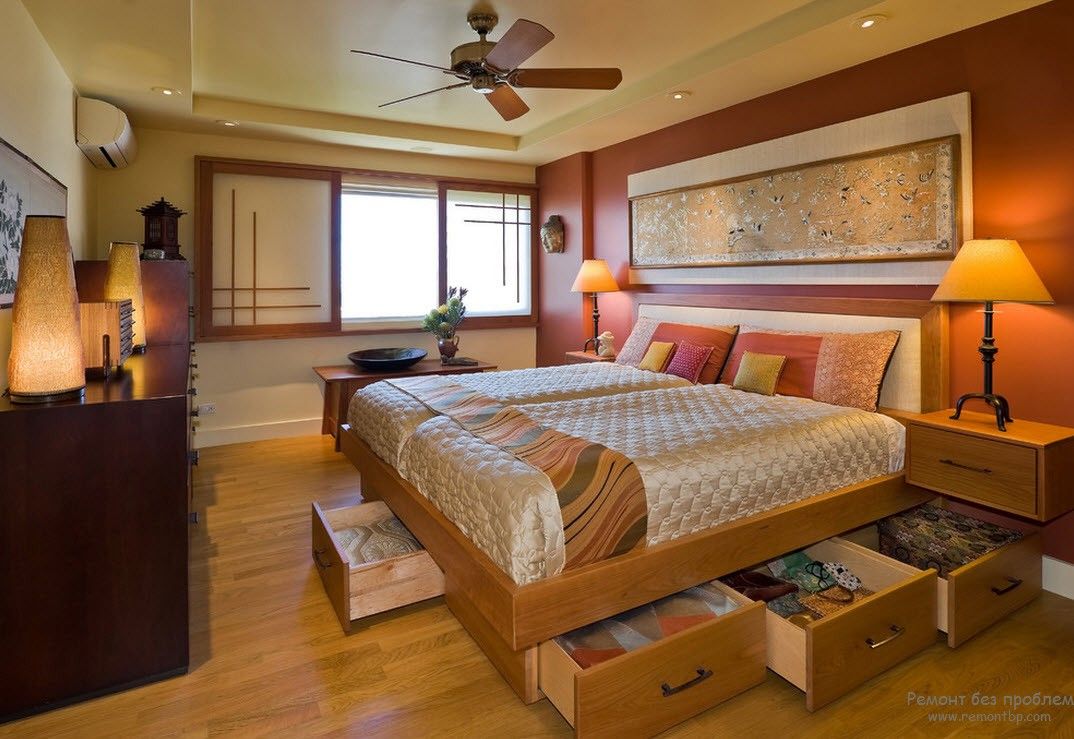 All the elements of the bedroom in the oriental style are simple and comfortable.
Furniture in the Japanese Bedroom
If you chose the interior of a Japanese bedroom, then everything should be concise, the forms of furniture geometric, no pretentiousness. The back of the bed should be simple, ascetic. The very eastern bed is low, resembling a mattress lying on the floor.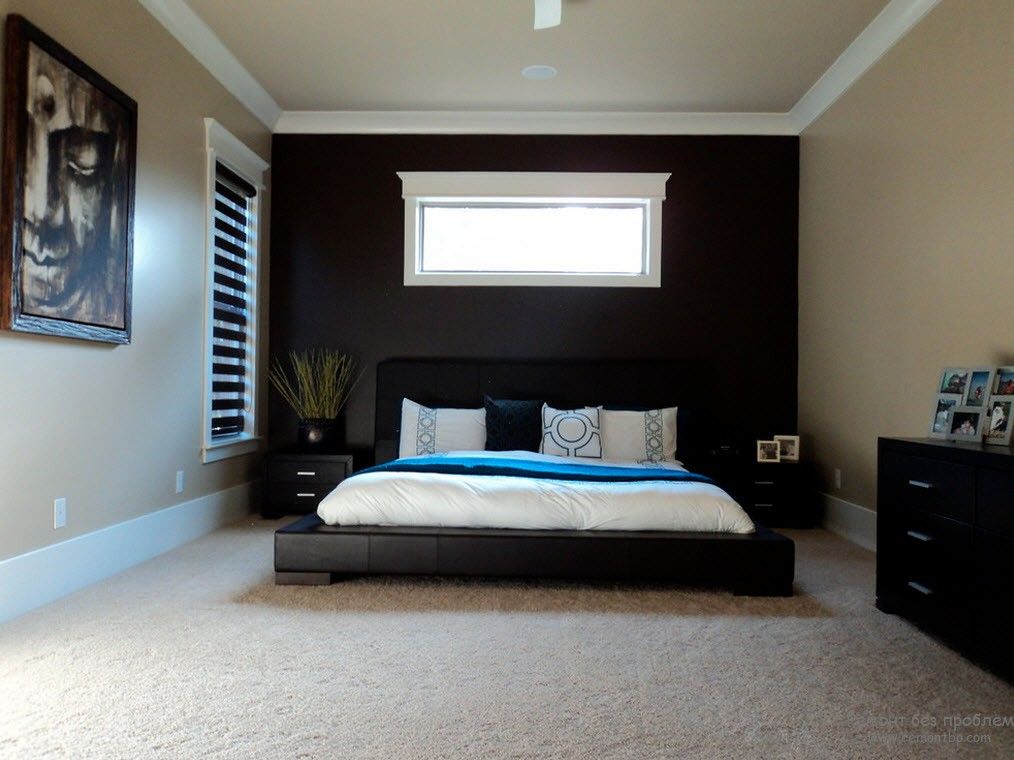 But another interesting and unusual option is possible. The bed -pedestal on the steps. It looks very original, reviving the situation with its extravagance.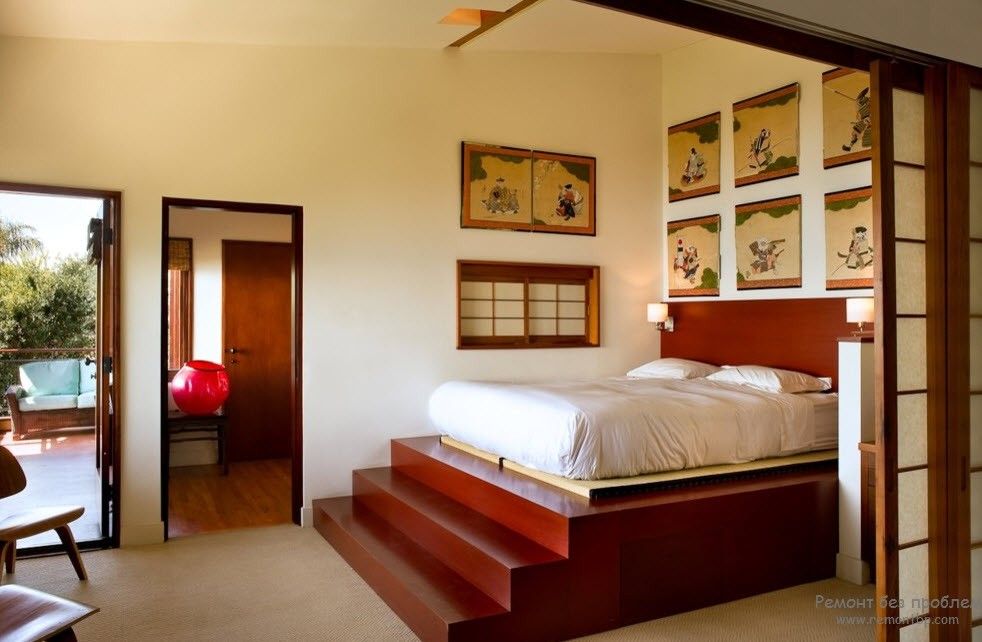 In addition to the furniture composition, you can place small and necessarily low tables of a simple form near the bed.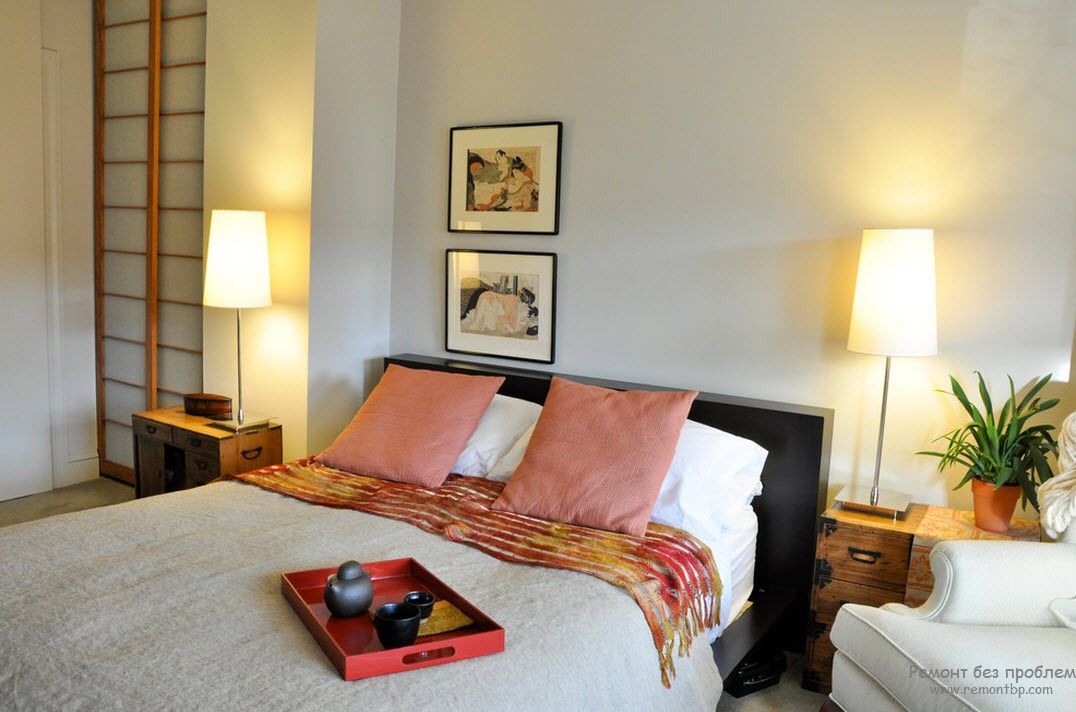 And, of course, no wardrobes and even cabinets are allowed. For the eastern bedroom, only light niches or small shelves attached to the wall will be relevant. For fans of ancient ages and for those who want to maximally bring their Japanese bedroom to the original, it is worth paying attention to the sliding partitions that were encountered in every house of the inhabitants of the East.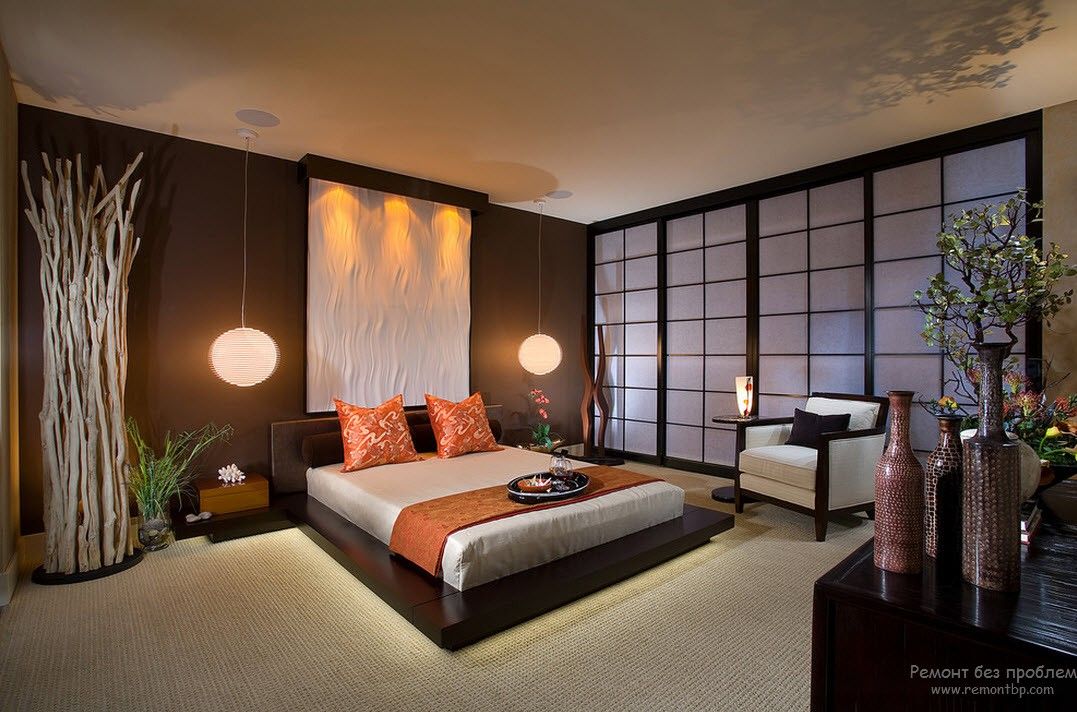 Also, you can make a door in the form of sliding partitions. It looks interesting, beautiful, and genuinely Japanese. This eastern element can be made of rice paper, matte or clear glass, with a wood used for the frame.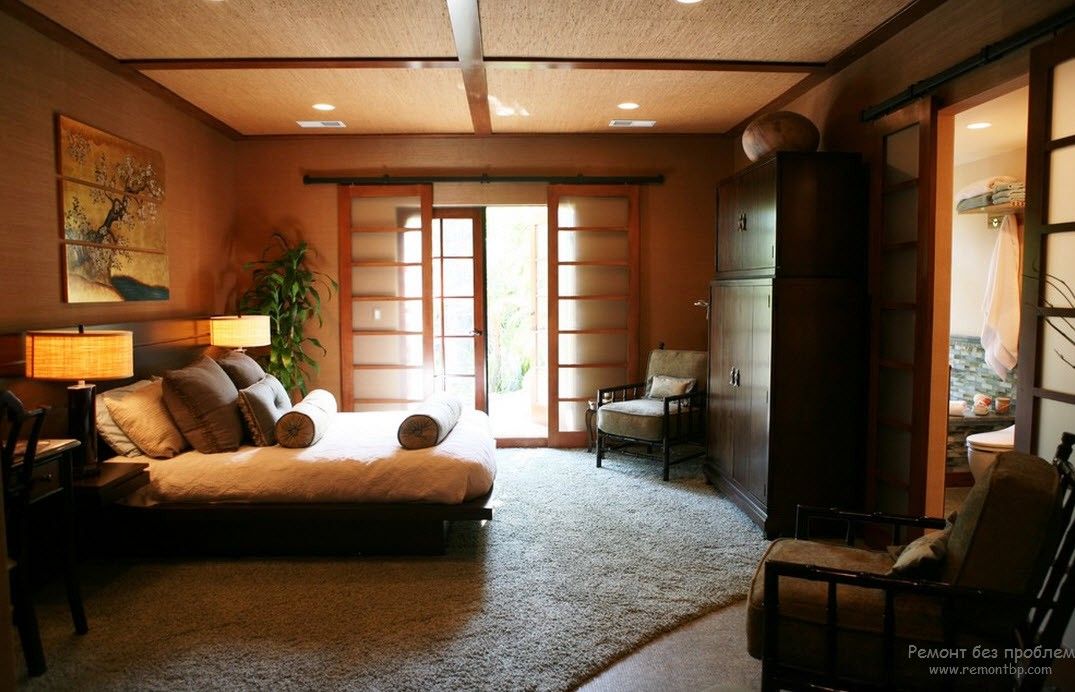 Choose dark walnut, black ash, mahogany as materials for furniture. And you can give preference to a light birch or beech. Textiles for the bedroom in the oriental style add refinement and sophistication. It is preferable to choose natural fabrics and colors, such as bulk alpaca, cotton, and unbleached flax. In the modern oriental style, one can find a fabric with a picture of bamboo, flowers in a small amount on a smooth field. Take bright and juicy colors, namely: cherry blossoms (Sakura), birds, and pagoda for an interior of a more traditional Japanese design.
Wall Decoration in Japanese Bedroom
For walls in the oriental style, choose calm and restrained shades, no riot of colors allowed. No need to combine many different colors, just choose one or two. Designers are often advised to make the walls of the Japanese bedroom calm and cover them with a white emulsion. And also it can be the colors of a pastel palette.
Or the walls can be made in a darker version.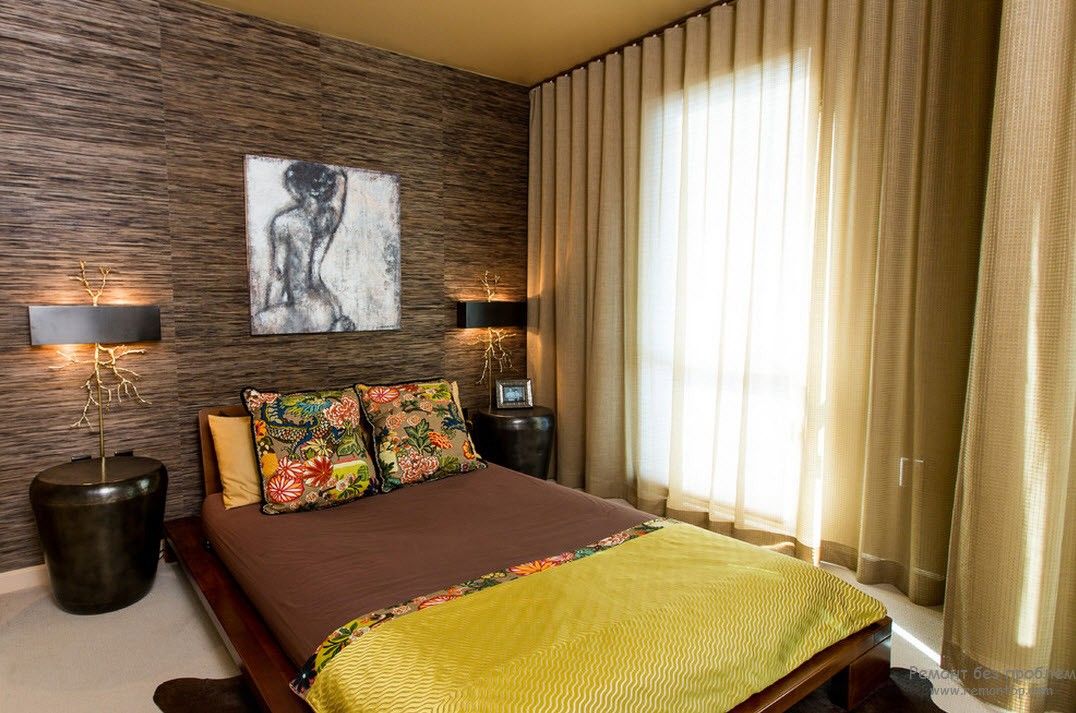 Specialists often choose shades of red for the eastern bedroom though. This color, more than others, found in Japanese subjects.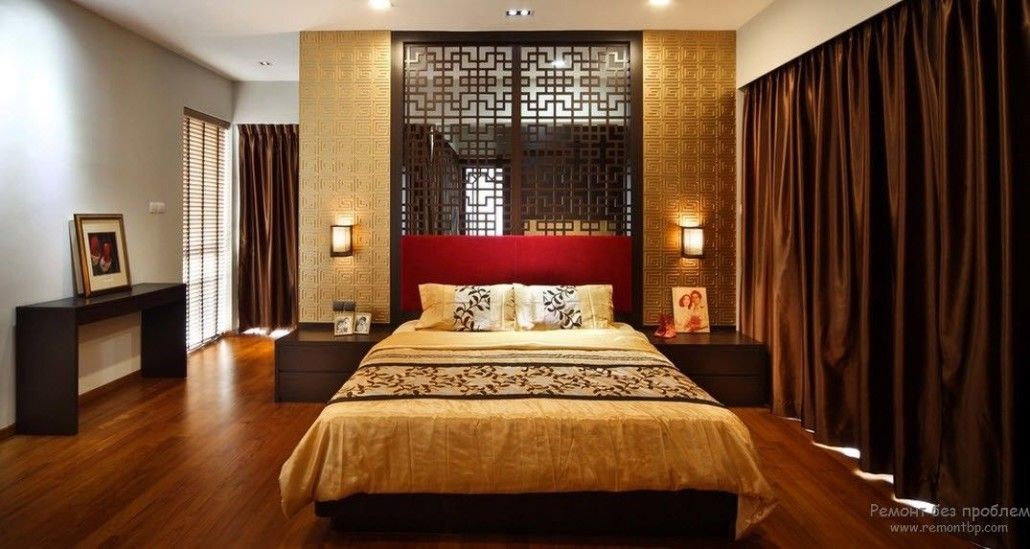 Floor
The floor in the Japanese bedroom sets the character to all of the settings. The main material is parquet and laminate, they give a feeling of airiness, naturalness, and some kind of freedom. Although at your discretion, you can make a floor of tiles or marble – this is also not a mistake, such options are quite appropriate in this room. Japanese style implies the absence of carpet. But you can use a rug of a neutral shade.
Decor in the East-Japanese Bedroom
Despite the dislike of the inhabitants of the East for "excessive" jewelry, there are items that are very appropriate in the bedroom. These can be traditional accessories and ornaments of Japan. Here you can include all your imagination and experiment as you wish. You can place on the bed Japanese fans, which depict Mount Fuji, or spring Sakura flowers. As a figurine, dolls or sculptures in traditional kimono are suitable. Bamboo mats and paper lanterns will create the right and appropriate color. And the latter will envelop your eastern bedroom with soft, enchanting light, creating an ascetic atmosphere. You can also hang a picture with an image of bamboo, and let there be Japanese patterns on floor lamps.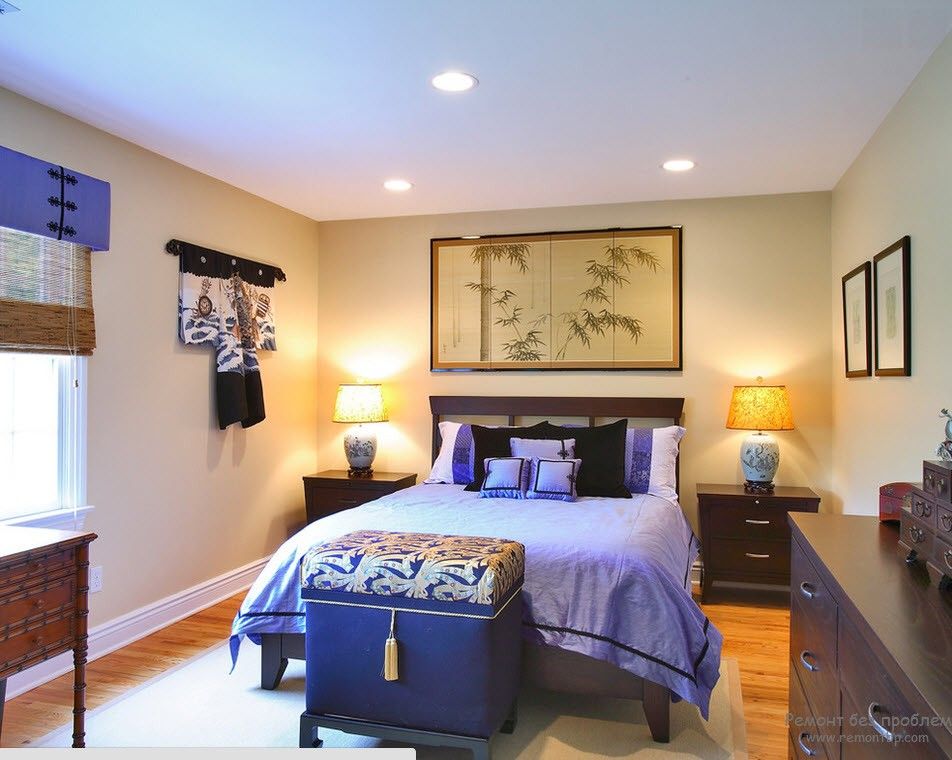 Lighting in the Japanese Bedroom
The Japanese bedroom is open for a lot of light, but do not make lighting sharp. Here everything should be soft, smooth. If you choose a chandelier, then give preference to wooden models. Although, ordinary bulbs in a paper lampshade or several built-in lamps will be enough.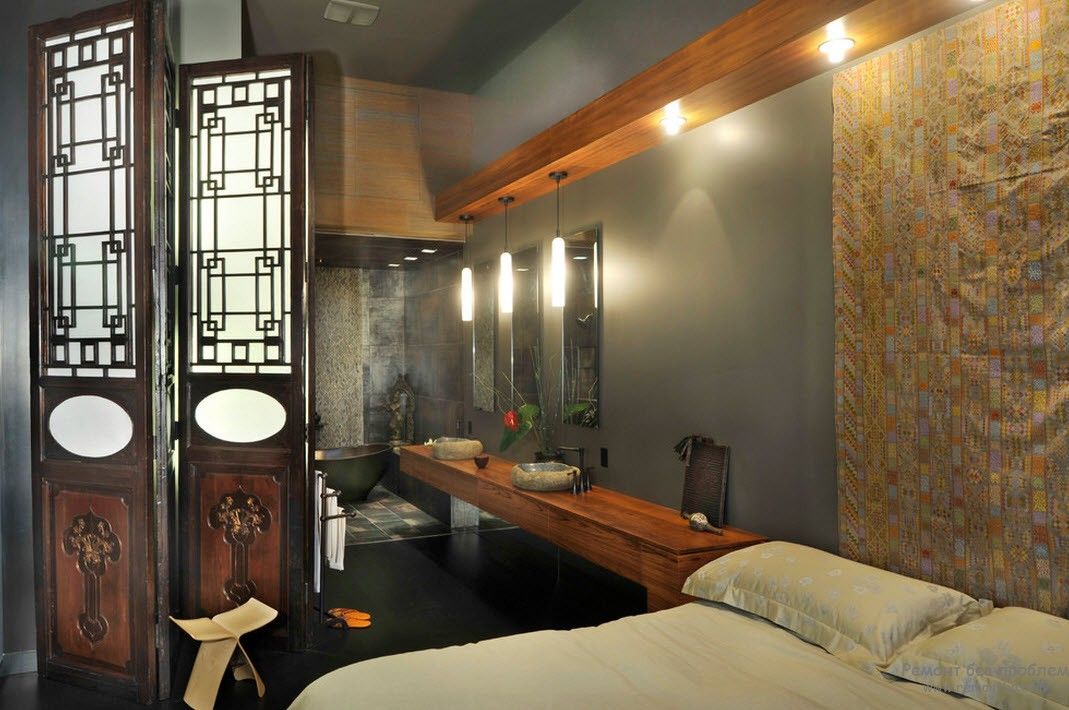 The Japanese bedroom is a unique atmosphere of magic that enchants us, enveloping us with its softness and mystery.