A staircase is a place that is visible to everyone. Every person who comes to the house stumbles upon it wanting to get to the upper floors. Therefore, the appearance of the stairs often determines the character of the whole house. Underneath, however, there is usually space left that requires smart allocation. If you don't have enough space at home to store your favorite items, and the last closet is occupied, stop and think as you can easily use a practical storage area under the stairs. This way, you will be sure to use the maximum space while successfully developing every corner of your home.
Content: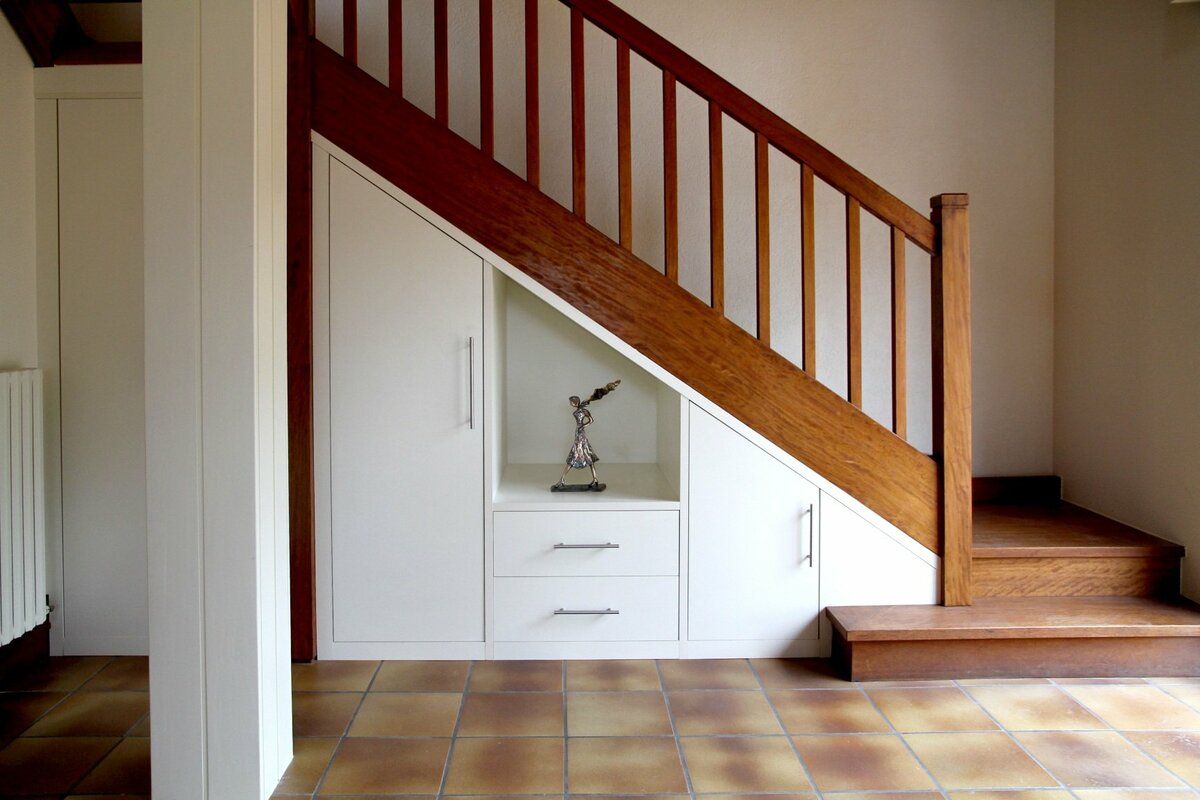 Storage Space under the Stairs: the Best Solution
A place under the stairs is the easiest way to master the free space in an apartment or house. Use the available area wisely:
install shelves under the stairs;
install hooks for hanging clothes;
create space with sliding panels
There are many possibilities, as the space under the stairs can be a practical storage room, a bookcase, a bar for fine drinks. In apartments or houses of a small area, you can arrange kitchen furniture and even a mini-bedroom.
Despite the common opinion, a small area is not a limitation, as the clever design allows every square centimeter of space to be used. What are the most popular ideas for organizing understairs storage? To make the best use of the space under the stairs, you must first estimate its size and then think about what will be most useful. Undoubtedly, there is always a lack of storage space in every home. You can easily place custom-made shelving under the stairs where you can neatly arrange all the necessary items, as well as decorations or plants.
Storage System under the Stairs – Practical Dressing Room
If your house has not yet had a dressing room, nothing prevents you from creating one yourself. An understairs walk-in closet is a very functional idea because it allows you to use empty space while still accommodating any outerwear. It can also take the form of a locked room. After all, women need some extra storage for all pairs of shoes, accessories, handbags, and evening dresses.
Traditionally, open sashes require much more space and this should be taken into account when designing. The closet under the stairs needs to be thought out. Custom wardrobes are the most practical solution, allowing you to adapt the interior of the wardrobe to the individual needs of residents. It is also an interesting idea to install large drawers under the stairs, which can hold clothes, underwear, accessories, as well as many other items, for example, towels, bed linen, tablecloths, and other home accessories.
It is good to use drawers even under the steps on the stairs, perfect for different types of things.
Understairs Cabinet – Extra Storage Space
Do you dream of a spacious dressing room, but you do not have the opportunity to allocate a separate room for clothes, shoes, and accessories? Arranging a staircase is a great solution since you can place many items under it and make a practical storage place here. There are many ideas for organizing a closet, and the most popular of them are building a frame with shelves, installing sliding or traditional open doors, and a hanger bar. The solution, related to the classic built-in wardrobes, allows you to store not only clothes but also other items. It is worth considering the type of door installed – the sliding option is ideal for narrow aisles and confined spaces.
The wardrobe under the stairs is an original idea. It will look especially good when things are in order and well organized.
Pantry under the Stairs – Ideal for Winter Canned Goods
The space under the stairs can also be used as a storage area for storing food, jam jars, spices, coffee, tea, and bulk goods. The free space should be used by installing pull-out racks or cargo baskets on special rails. These types of systems allow you to make every inch of space use and you can use the area conveniently – just slide out the drawer and thus get access to all stored products. However, it is not always necessary to invest in complex systems, as in most cases traditional shelves and sliding doors are sufficient.
Storage under the Stairs in a Private House
Basements and pantry rooms are not present in all homes. A recess under the stairs would be an excellent exit. It is in it that you will hide all the things that should not remain in plain sight. There you can also create a mini-laundry by separating it with an elegant curtain. However, if you need a warehouse for storing sports equipment, various types of liquids, for example, detergents, then such a place is ideal.
A "utility room" under the stairs is an ideal storage area for essential household appliances, including a vacuum cleaner, tumble dryer, iron, ironing board, mops, scoop and broom, and more.
Of course, it's also a great place to store food. To do this, you can use a variety of containers and special ceramic products. However, the correct air temperature should be ensured. If you are a wine connoisseur, opt for attractive shelves that stock many bottles of alcohol.
Due to inadequate design or careless planning, the space under the stairs is usually left unsettled. However, this area can be used in many ways, making it an essential part of any home. There you can successfully arrange a home bar, workspace, cloakroom, winter garden, small bathroom, storage rooms. It is not to mention a place for displaying works of art or plants.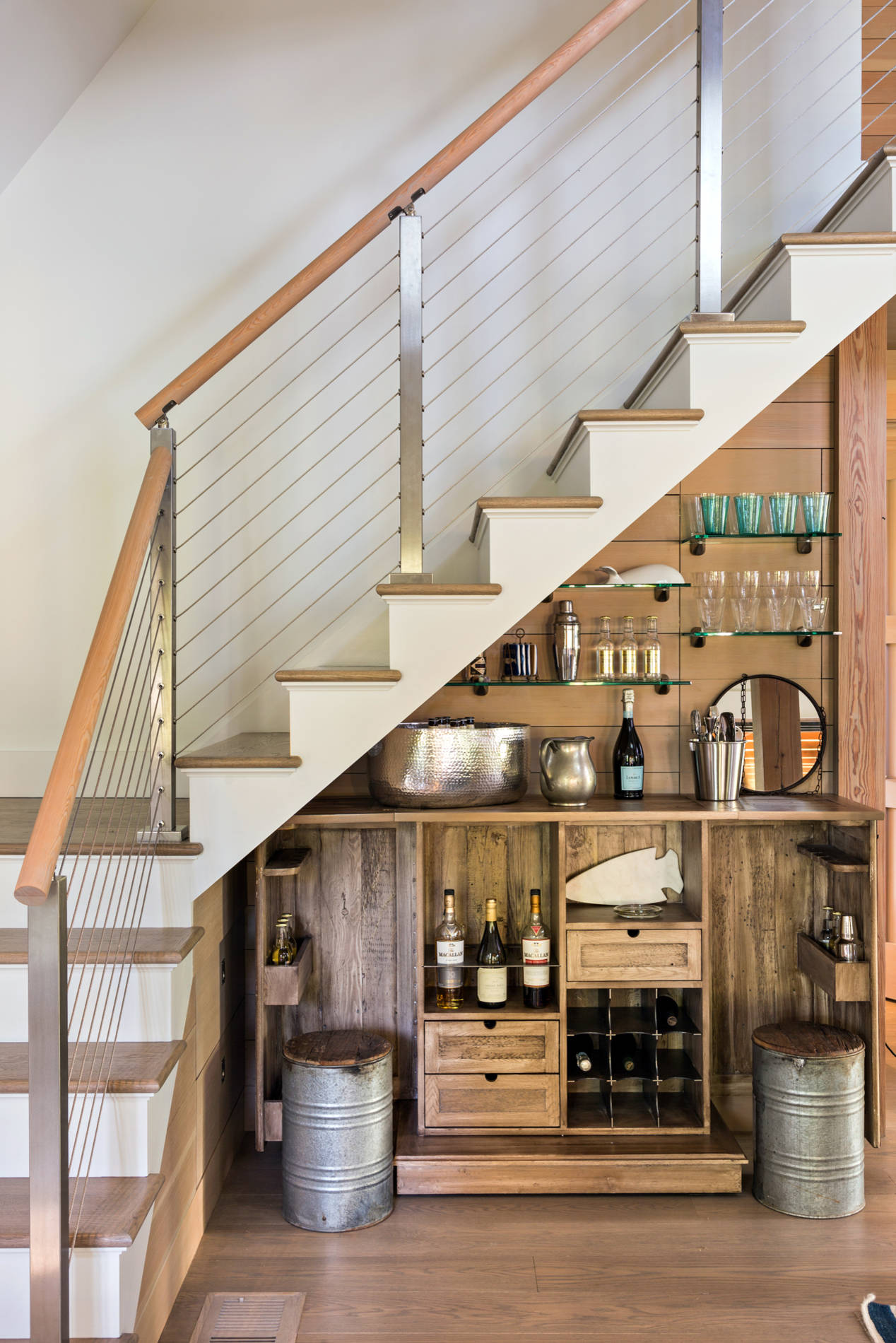 Storage under the Stairs – Home Library
If you can't imagine a day without a good book, then a spacious library full of bulky volumes will surely make your dreams come true. So if you're wondering how to use the area under the stairs, consider a functional library. You can put there a rack or separate shelves with interesting shapes and designs. Then you will receive an unusual decoration that all guests will definitely pay attention to.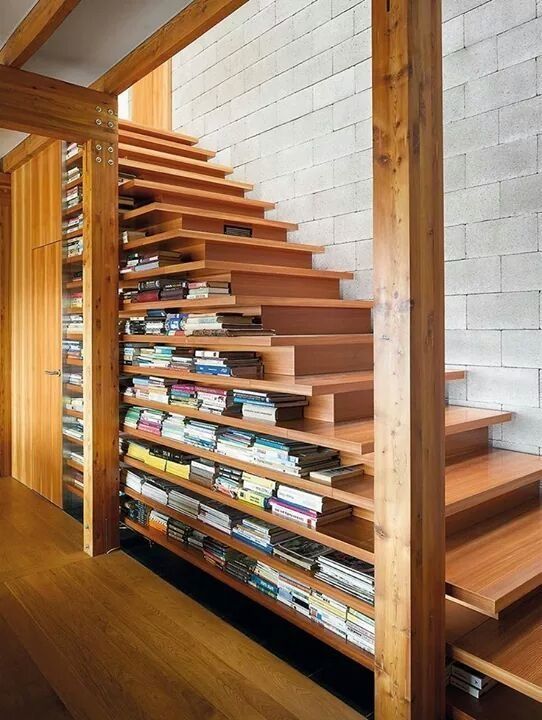 If you do not want books to be stored collecting dust (this is especially important for allergy sufferers), then you can think of a glass door for the shelves, which will also give the structure an elegant look. The bookcase will be a win-win solution when you set up a spot under the stairs in the living room because it perfectly matches the classic atmosphere.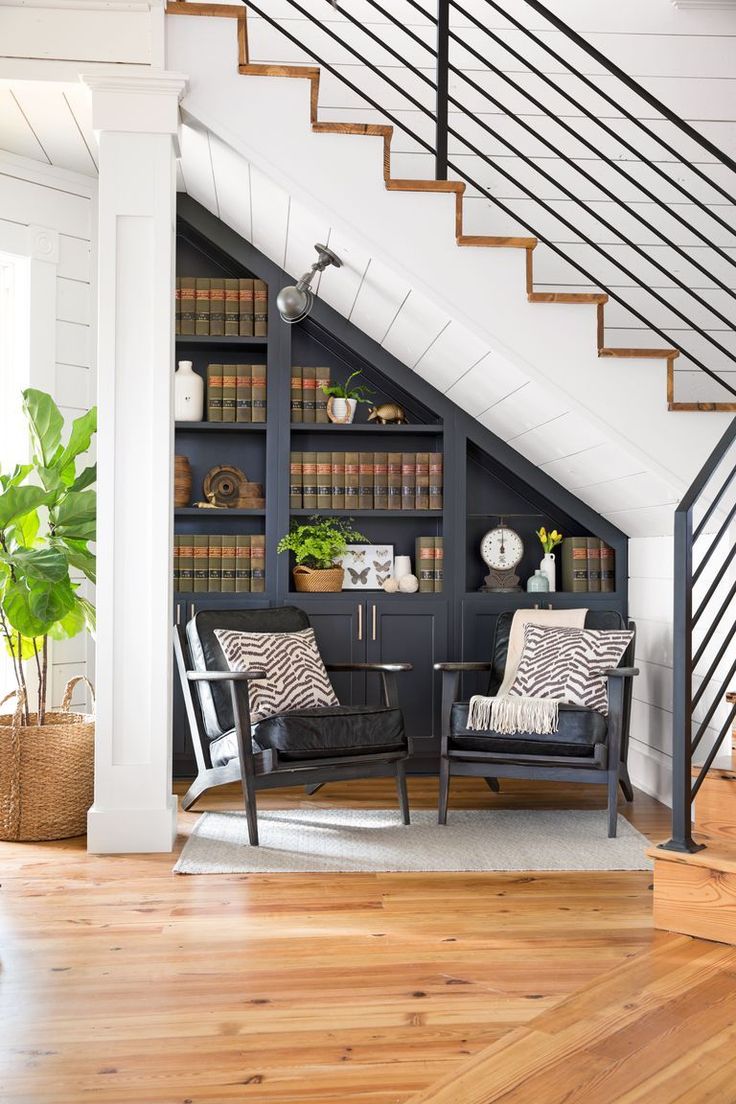 The space under the stairs is an extra space that can be used in an original way. Are you wondering what the most popular storage methods under the stairs are? Are they roomy wardrobe, practical storage room, utility room, or maybe a bar? The most interesting inspirations are presented in photographs of real interiors.