Wallpaper is not only in fashion, it is one of the main trends of 2020. By using it on walls or ceilings, you can easily change the character of your interior. For bold arrangements, it is best to choose large format wallpapers that resemble paintings, or models decorated with rich floral, geometric, or art deco patterns. In natural and minimalist interiors, wallpaper in neutral colors or with an ombre effect is well suited. What trendy wallpapers 2020 are sure to appear in the latest offers from manufacturers? How should they be characterized?
Content: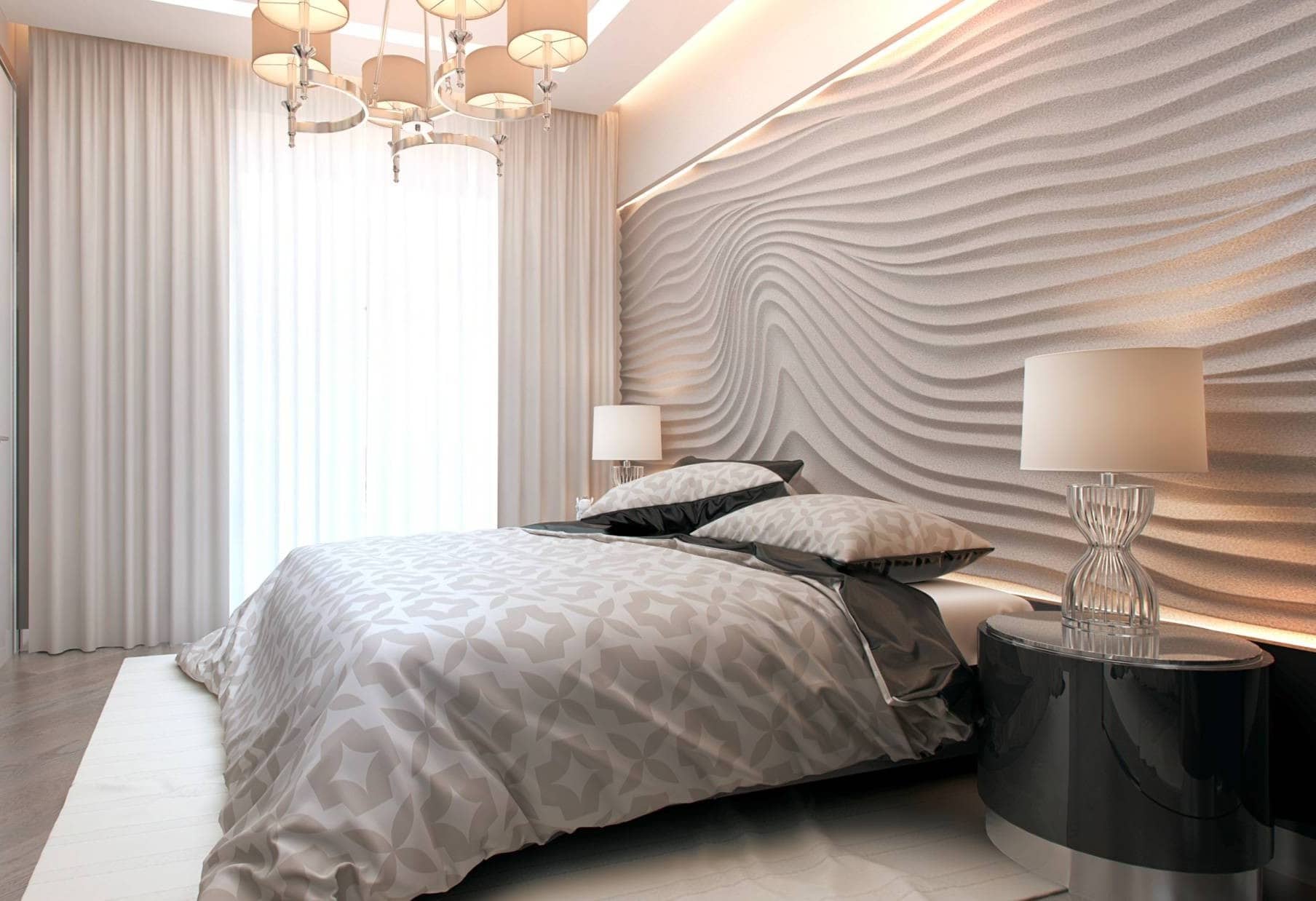 Wallpaper for the Bedroom: Design 2020 Large Format
Among the proposals of wallpaper manufacturers for 2020, many large-format options called murals have appeared. Unlike photomurals that have been popular for many years, models with hand reproductions, especially watercolors, for example, with genre scenes or nature, are popular this season. This category will also be very trendy and will be inspired by the Japanese philosophy of wabi-sabi, imitating a damaged wall, for example, with plaster falling off, smudges, or worn paint.
Fashionable Wallpaper Design 2020 in the style of the 50s and 60s. – Geometric Patterns
According to interior designers, the use of an ordered structure of geometric patterns in arrangements is quite appropriate. In 2020, wallpaper manufacturers will definitely offer models inspired by the style of the mid-century modern and, therefore, the mid-20th century. Which trendy wallpaper designs 2020 is worth considering? Along with intricate patterns in pastel colors, among the new products, there will also be wallpapers in simple patterns based on circles or curves, in strong and very fashionable colors taken from a previous era.
Consider options in colors such as mustard yellow, terracotta orange, navy blue, olive green, jade green, and chocolate brown or warm gray. Monochrome wallpapers with geometric patterns, such as repeating or asymmetrical patterns will also appear among the hits of 2020. Black and white wallpaper is a particularly good choice for people who want to liven up an interior without necessarily bringing in color.
Flowers and Leaves – Floral Wallpaper for 2020
Floral wallpapers have been in the interior design for several seasons. Have manufacturers in this category prepared new items in 2020? Definitely yes, as the images move away from old-fashioned Victorian intricate plant patterns in favor of large and strong decorations with flowers or leaves in the lead. Interestingly, more and more often they are abandoning floral wallpapers in strong dark colors in favor of pastel colors.
On wallpaper 2020, you can find especially trendy shades of yellow (for example, mustard, whitewashed), pink (powdery) and green (mint, sage). Among the proposals, with trendy peony or banana leaf flowers, we can see primarily wildflowers such as sweet peas, lilacs, ferns, poppies, and even thistles. At the height of popularity will also be patterned depicting duets of plants and animals. Therefore, in the collections for 2020 there is no shortage of wallpapers with hummingbirds, parrots, peacocks, or flamingos among exotic vegetation, as well as with butterflies flying in flowers.
Nature Inspiration – Wallpaper in Neutral Tones
For those who don't like glamor, rich colors and rich patterns, wallpaper manufacturers have prepared a large selection of delicate, neutral options. Wallpaper in light and light colors (bleached greens, warm gray, sparkling silver in sky blue, light coral or brown in the color of coffee with milk) is fashionable.
Fashionable 2020 wallpapers in neutral colors will in most cases be devoid of rich patterns. However, to avoid boredom, they will be decorated with a subtle texture inspired by natural materials. In 2020, the stores will surely have wallpapers with the texture of rattan, marble, jasper, field stones, wood, coral or suede. Among the neutral wallpapers in pastel colors of the collections for 2020, there will certainly be no shortage of models with a repeating pattern and texture of cracks, scratches or scuffs, as well as smudges.
2020 Wallpaper with Metallic Sheen
The metal boom will accompany interior designers in 2020 in almost all interiors. In the bathroom, it can be found on the tiles; in the kitchen, and in the living room, study or bedroom on the wallpaper. Fashionable wallpapers for the living room or for the bedroom 2020 are models that imitate metal surfaces, for example, a sheet or plate made of copper, brass or gold. In the upcoming season, along with warm-colored metals, there will certainly be tin. The use of wallpaper with vegetal, multi-convex patterns, enriched with elements painted with glossy, gold or brass paint will be more and more popular in 2020.
Another way to choose metallic elements for your wallpaper is to use art deco fashion. All well-known wallpaper manufacturers have prepared products with glittering patterns in the style of the 20s of the XX century in their proposals for 2020. Trendy wallpaper for walls includes models with a dark (for example, dark blue, dark green, black) or light (for example, creamy, beige or light green) backgrounds with attractive, sophisticated, subtle, shiny strokes but with symmetrical and repeatable geometric patterns.
3D Mural Wallpaper Trends 2020
In 2020, among the trends in wall decor, three-dimensional wallpapers often appear. In the proposals of manufacturers you can find not only large-format frescoes of nature but also options depicting real-looking and three-dimensional spaces or objects, such as doors or windows. Among the new wallpapers for 2020, geometric 3D wallpapers are mainly in rage. With the correct application of colors, shapes, play of light and shadow, when applied to walls, it seems that a flat surface becomes convex. This type of decor is best used in spacious rooms and only on one accent wall, such as in the living room by the sofa, in the dining room at the table, or in the bedroom behind the headboard.
Terrazzo – Wallpaper with Mosaic Floor Imitation: new Design 2020
Terrazzo will accompany you in interior design in 2020. People who do not want to invest in this rather expensive wall decoration or want to easily change the interior design in the future can opt for wallpaper with a terrazzo pattern. Which terrazzo patterns will dominate the 2020 season? Most manufacturers offer options in light pastel colors. A neutral background, such as beige or a warm gray shade, makes it possible to brilliantly display printed small colored stones – pink, white, dark gray, orange, blue or green ones.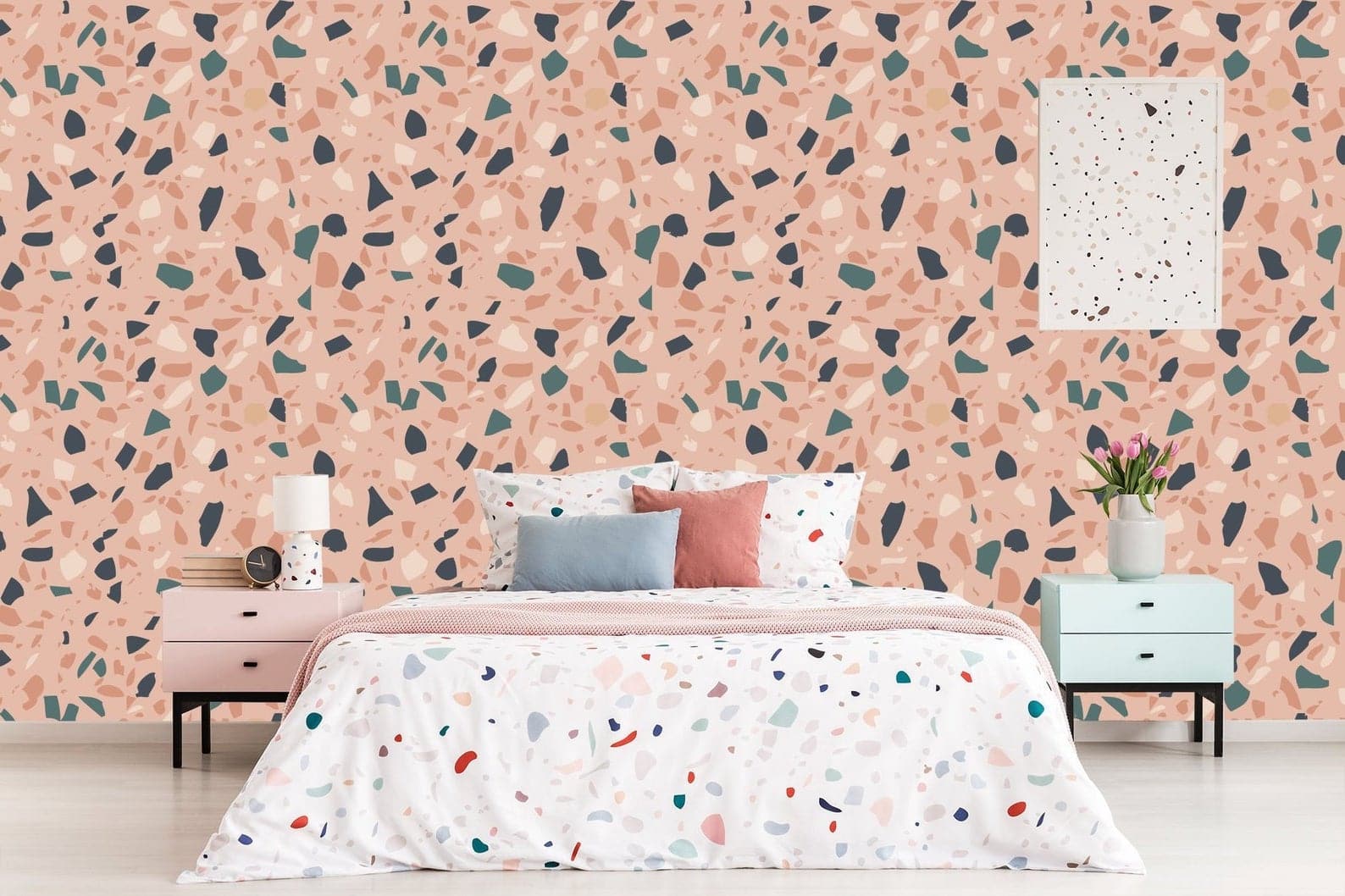 There are many interesting options awaiting you in the wallpaper category in 2020. Choose it according to your taste to decorate any room in the house interestingly.