Regardless of the size of the hallway, everything in this room should be organized as comfortably as possible. Of course, you should definitely buy special storage for outerwear. At the same time, a custom shoe rack would be the best option for shoes. With it, you can not only properly organize the space in the hallway, but also save space that is needed for storage.
Contents:
DIY Shoe Rack: Key Benefits
Of course, there are many options for storing shoes, but nevertheless, the classic shoe racks still remain relevant. That's all because they have several advantages. The cost of such products is in the first place. No doubt, this design can have an impressive price tag. But do not forget that the shelf for shoes can be made with your own hands. This is a great alternative in terms of budget savings.
It should be noted that it is very important to choose similar style details in the design of the interior. Only in this case, the room will look harmonious as a whole. The same goes for shoe racks. If you plan to do it yourself, you should take into account all the nuances, including the color scheme and even the shape of the structure. For example, lovers of the Provence style should pay attention to the wood as the main material. Rooms in the style of minimalism or high-tech are much more up to the design of modern materials.
If desired, you can only use environmentally friendly and safe materials in the process of creating the rack. After all, you can buy them yourself in a specialty store. In addition, the rack can be made not only classic wooden but also with metal or even cardboard. It all depends on your personal preferences and financial capabilities.
The undoubted advantage of handwork is the ability to carefully think over all the details. For example, a shelf for shoes will be exposed or closed. You can also make fewer or more extra compartments. All this is very important, especially if the hallway is not too large.
Unusual Rack for Shoes Made of Cardboard
Standard boxes take up quite a lot of space. Therefore, we propose to convert them a little and make an unusual custom shoe rack. Unlike the classic version, in this case, it will be possible to store much more pairs.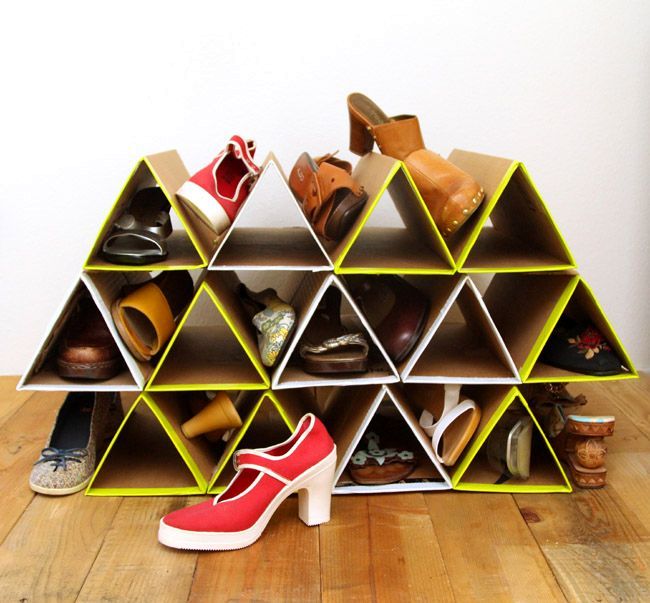 To begin, cut the boxes into squares of the same size. We also make two folds at an equal distance on each blank.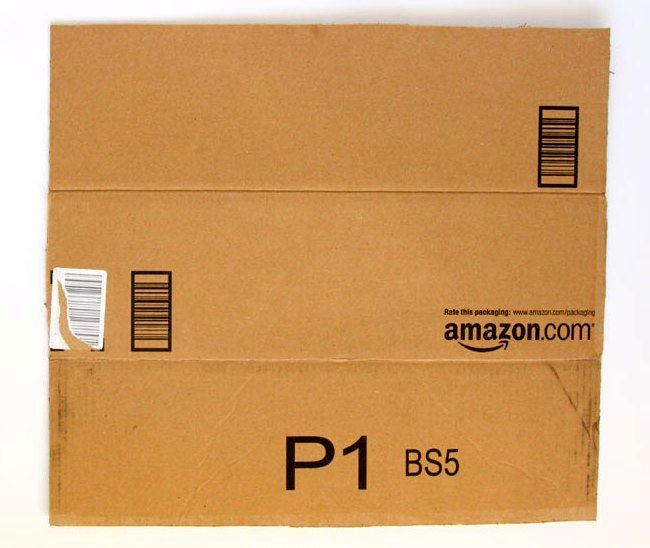 On the front side, we glue a piece of scotch tape of bright color.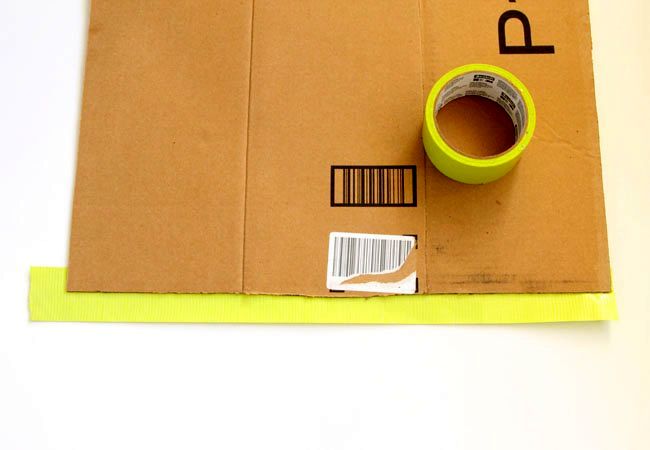 We fold the cardboard blank on the folds and fix it on top with adhesive tape.
In the same way, we make several triangular blanks and put them in a row. Glue them together with tape, and on top, we put a sheet of cardboard of a suitable size. From above we place another row of blanks and a sheet of cardboard. The number of rows depends only on the desired height of the shoe rack.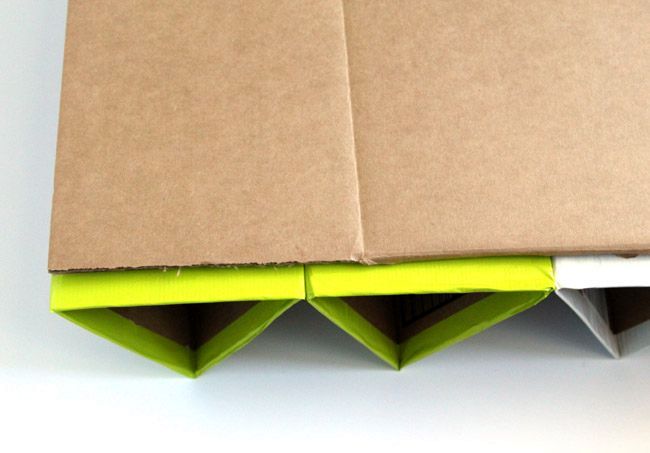 In this embodiment, one shoe can be placed in each triangle. If desired, you can make larger blanks so that they fit a whole pair.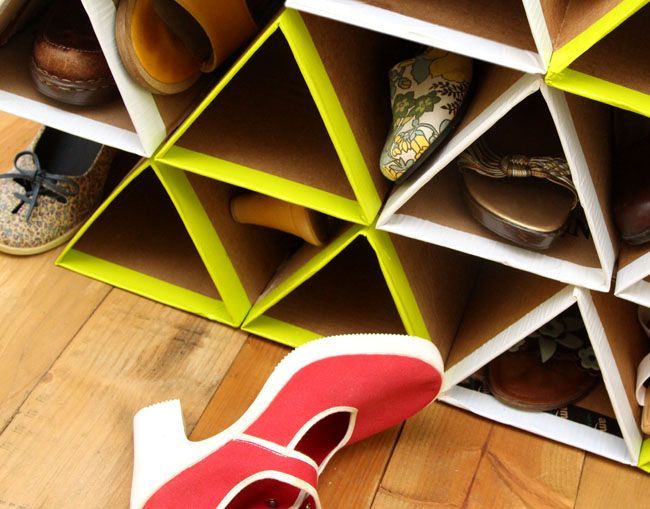 In any case, such a custom shoe rack looks fresh, bright, and unusual. Therefore, it will definitely not be ignored by your guests.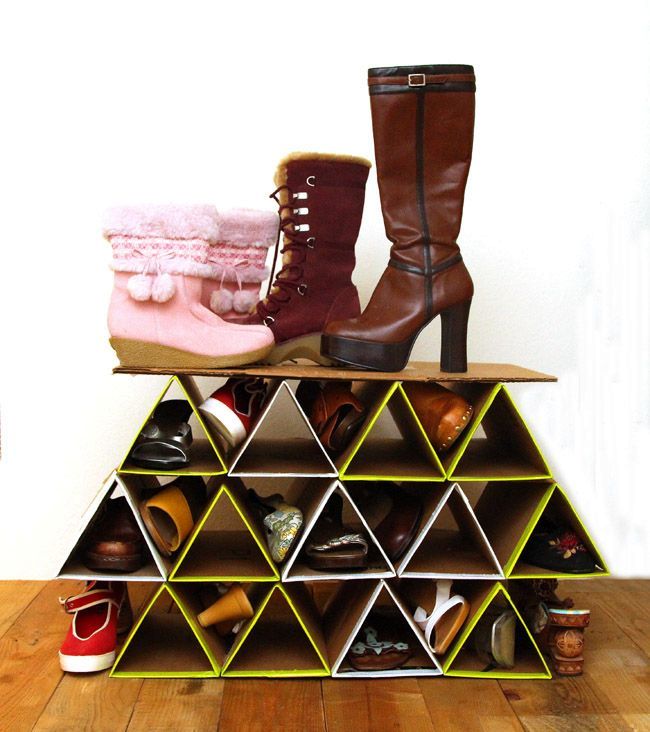 Shoe Rack from Pallet
Every year, unusual furniture and decor items made from pallets are gaining more and more popularity. It would seem that a simple shipping/storing material, but nevertheless much can be done from it, even a shelf for shoes.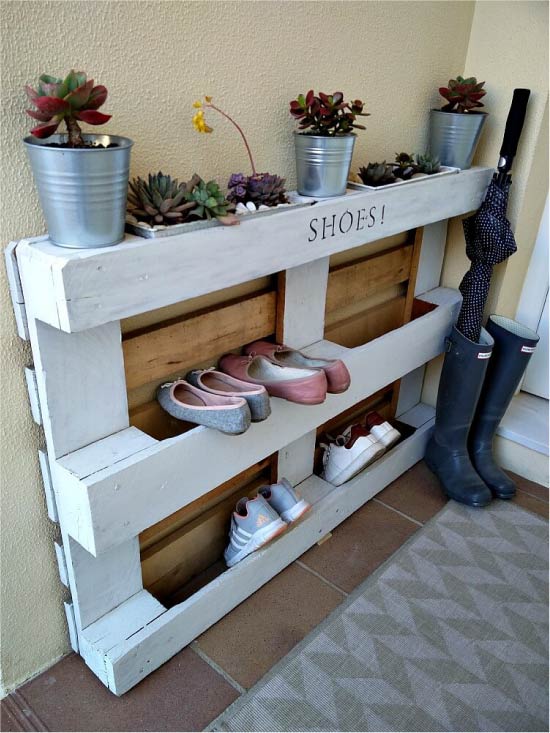 Necessary materials:
wooden pallet;
sander;
sandpaper;
dust mask;
waterproof primer for wood;
gloves;
stain or paint;
brush;
soft rags;
matt lacquer;
brush.
If necessary, clean the pallet from dust and dirt. After that, process it with sandpaper to remove bumps. We brush away all the dust with a brush and wipe the pallet with a damp cloth.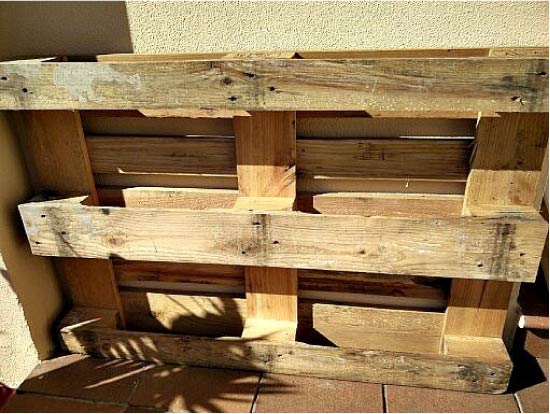 Apply a primer to the entire surface of the pallet. This is necessary in order to protect it from moisture and prepare it for painting. After complete drying, apply a thin layer of paint and leave for a few hours.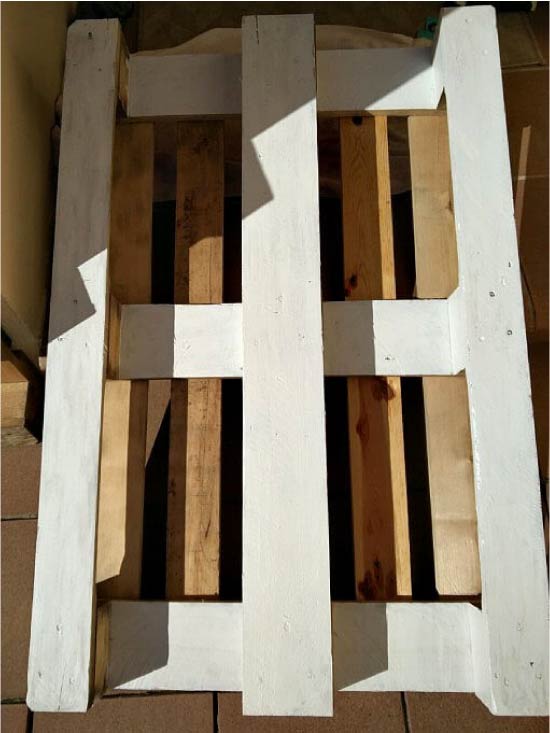 We cover the pallet with a matt varnish. After drying, you can apply a drawing or text using a stencil, paint, and brush.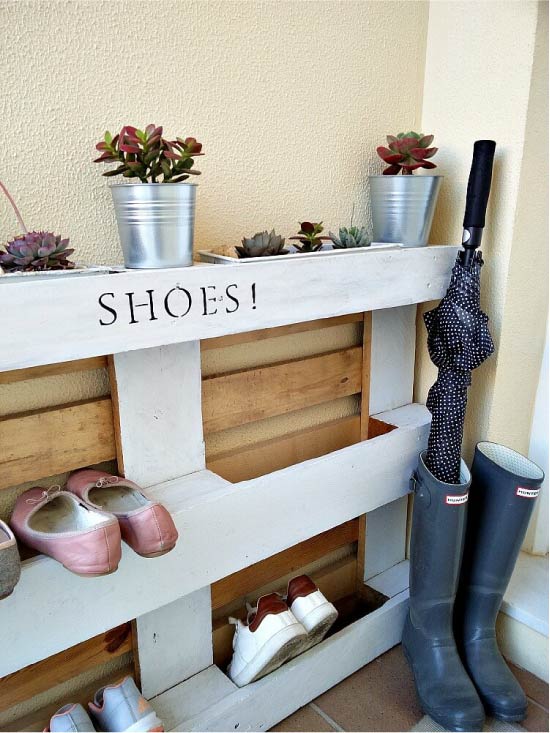 If desired, the upper part of the shelf can be decorated with stones, plants or other decorative elements.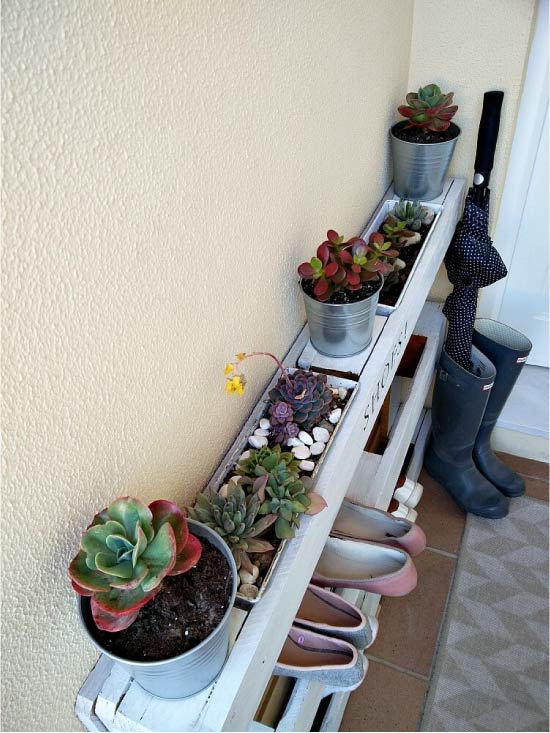 Bench Shelf for Shoes
If desired, even old things can be transformed and achieve a second life. In this case, we offer a simple bench to convert into a more modern design for the hallway.
The process will require the following:
bench with shelf;
paint;
brush;
batting;
foam rubber;
knife;
furniture stapler;
upholstery fabric;
push pins (optional);
hammer.
Paint the surface of the bench with black paint and leave for a few hours until completely dry.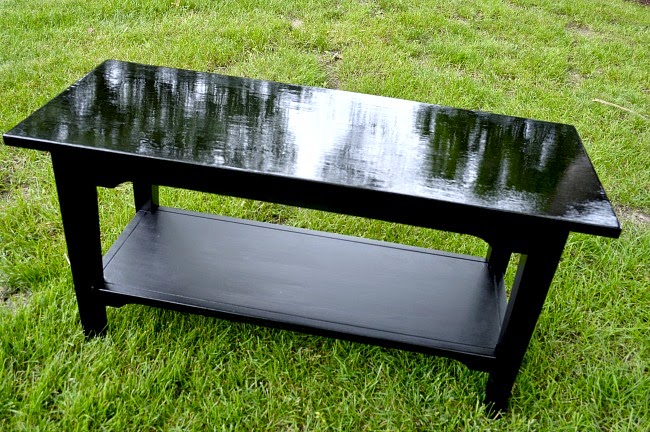 Cut off a piece of foam considering the size of the bench. Keep in mind that the size should match perfectly.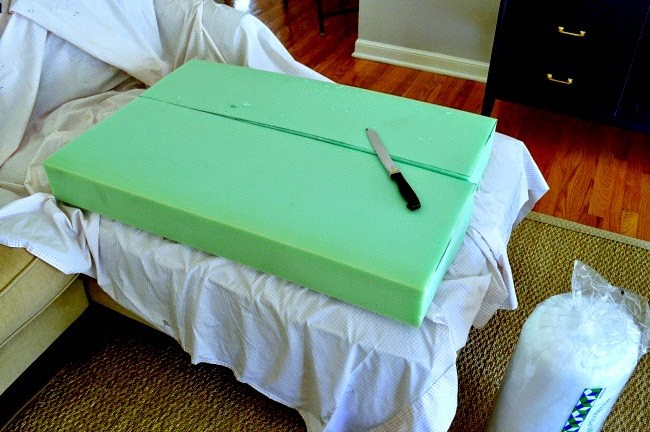 On the work surface, we put a fairly large piece of batting. Place foam on top and put a bench on it. We stretch the batting and fix it with a construction stapler.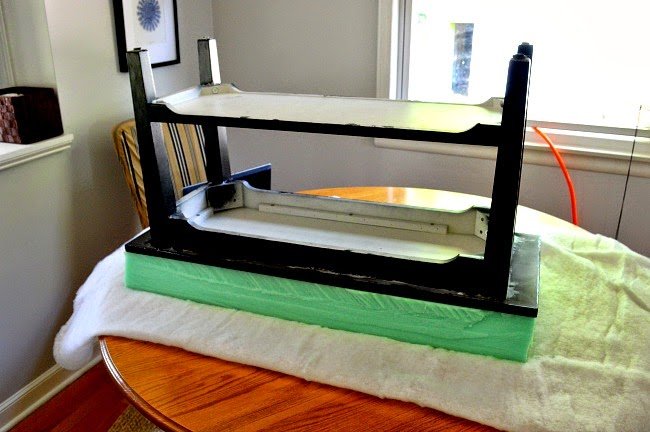 This should be done especially carefully so that there are no unnecessary folds on the surface.
Place the upholstery fabric on the work surface and a bench on top. At this stage, you should not hurry, so that the main fabric is as smooth as possible, without creases, and well stretched. Fix it with a stapler.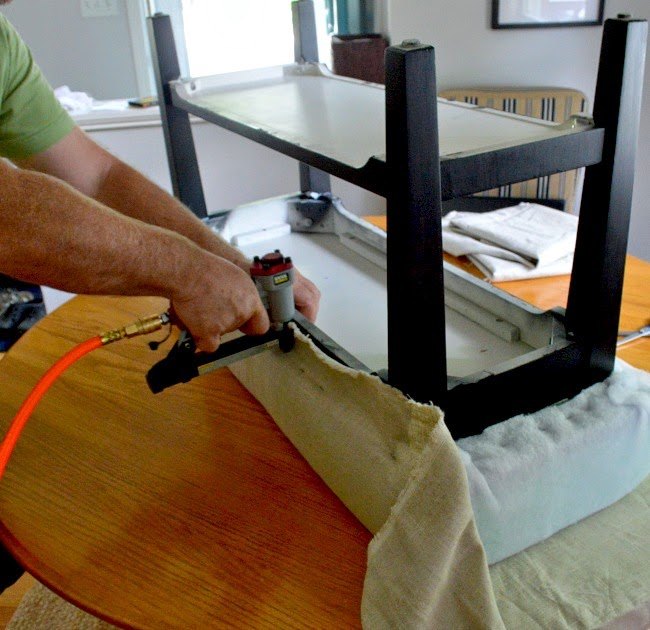 The corners look best if they are wrapped in an envelope. If desired, the bench shelf can be decorated with black pins.
The result is an original and functional bench-shelf.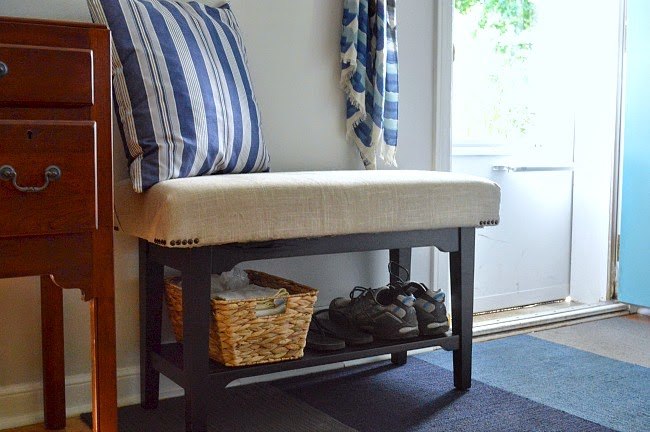 Custom Shoe Racks: the Best Ideas
Thanks to a wide variety of ideas, everyone will be able to choose the most suitable option for himself. In addition, it is not necessary to replicate it completely. Add your own details and experiment with the decor.