A kitchen is a place where every family spends a lot of time. It is worth making the room so that it is functional but also pleasing to the eyes. Provencal style is a very friendly decoration of the kitchen, which gives warmth and comfort, so be sure to consider this arrangement during the renovation of a house or apartment. Residents of Provence live in harmony with nature, sip local wines and enjoy aromatic dishes. Such an idyll can be created in your own kitchen thanks to several tricks that we will review below.
Content: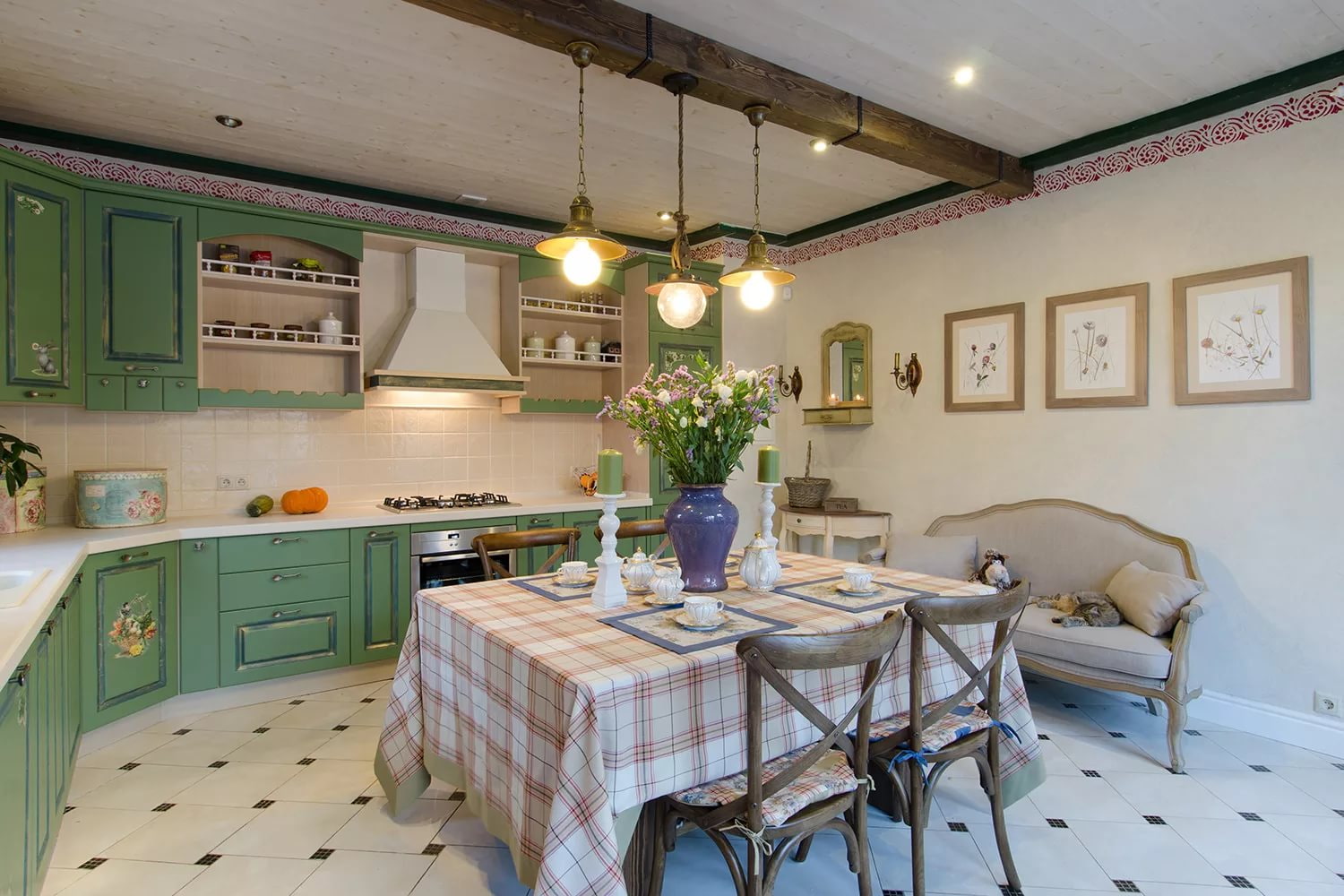 Provence Style Kitchen Interior: Origins
Southern France abounds in charming villages surrounded by lavender fields. Provencal houses are truly warm and cozy. They have ocher-shaded walls and roofs, and shiny, faded wooden or tiled floors. What will you find inside? These are reflections from glazed ceramics, the rays of the sun that illuminate cotton tablecloths. The Provence region has always produced suitable materials for construction, painting, and home decoration. For more than two thousand years, local artists have worked to create an authentic Provencal style that will reflect their unique lifestyle – fun and unhurried, community-based.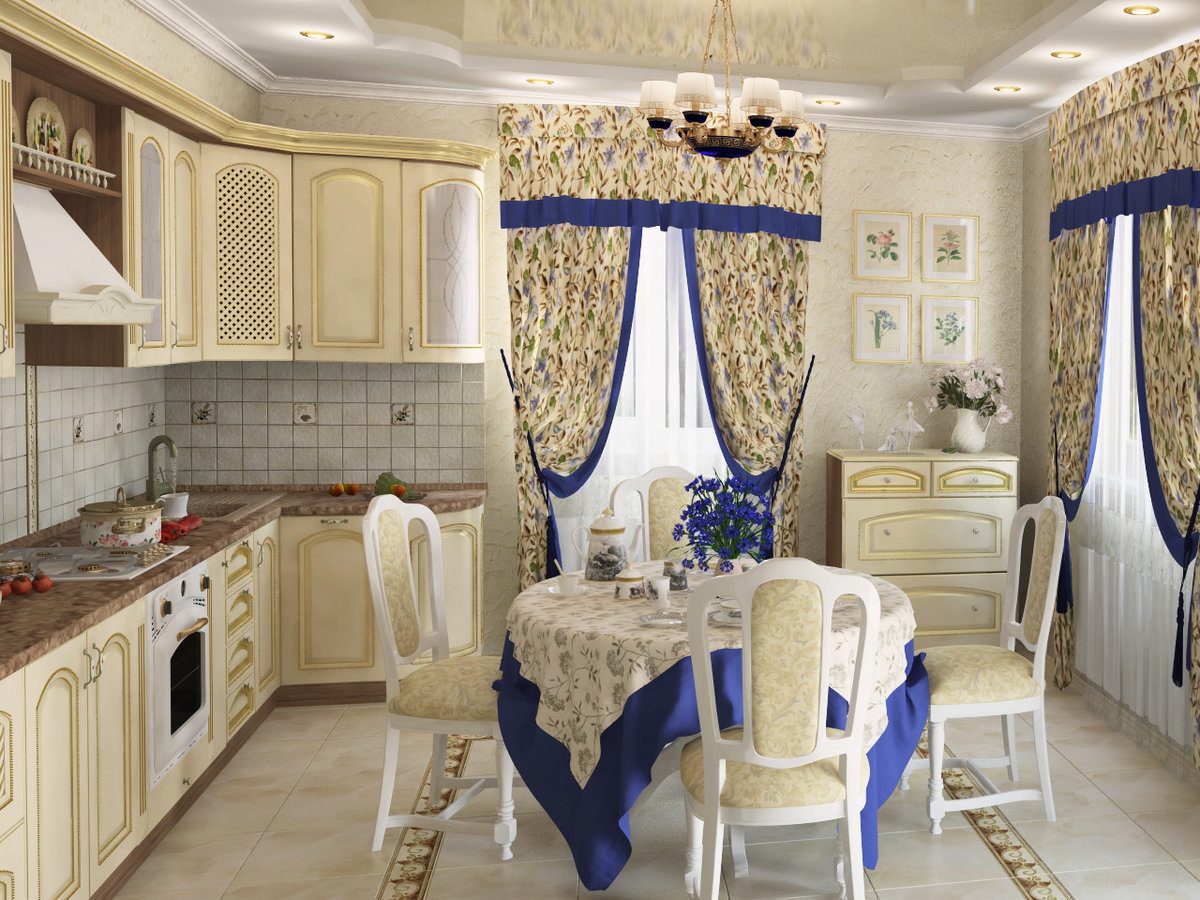 Modern people want to incorporate this characteristic joy of life into interiors. In search of ideas for decorating a Provence-style kitchen, you can be inspired by the beautiful French countryside scenery, the smell of delicious dishes, and fresh or dried flowers. Provencal-style kitchens are universal, and French design solutions expand the capabilities of small spaces. The rooms look charming, romantic, warm, and friendly. Natural colors, user-friendly design, and well-chosen accessories are the perfect recipe for creating a beautiful, functional, and modern space.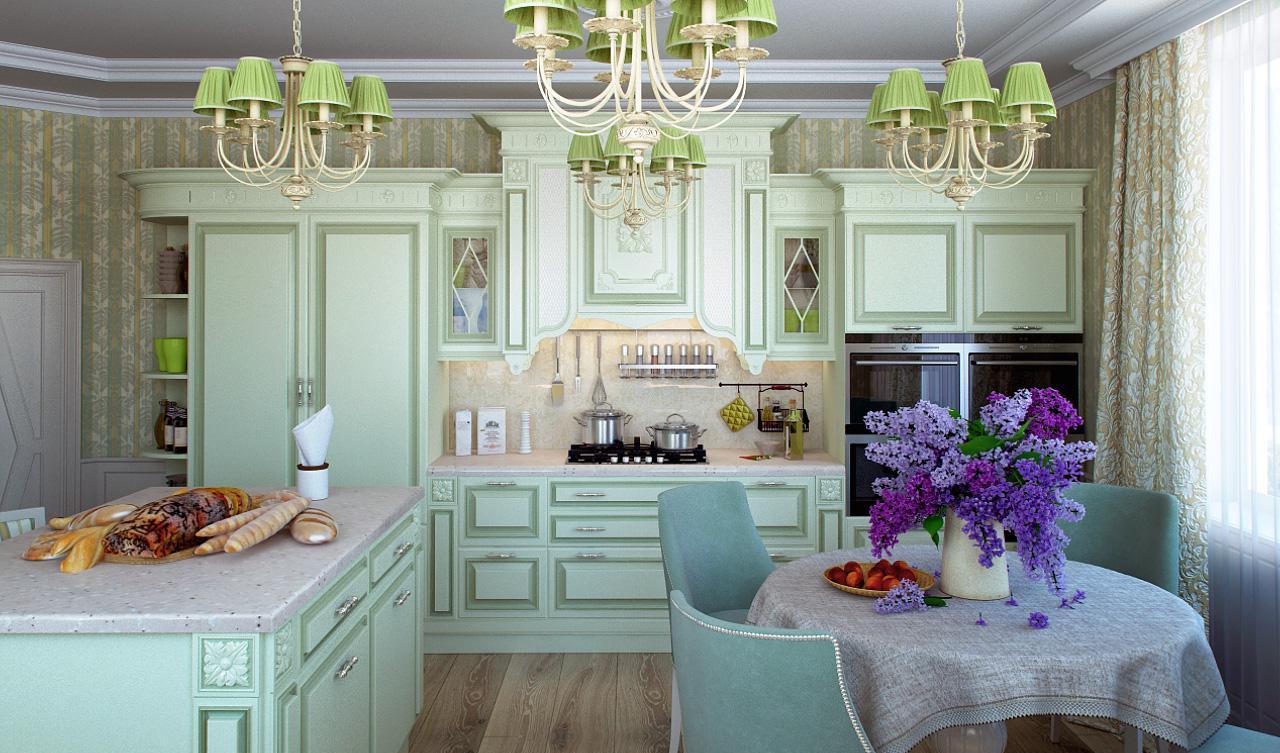 Provence Style Kitchen:  Photos of the Main Characteristics
The Provencal-style kitchen reflects the natural beauty of the south of France. At the beginning of spring and summer, nature gives great inspiration to the modern Provence-styled kitchen, offering beautiful colors and floral motifs for unique interior design.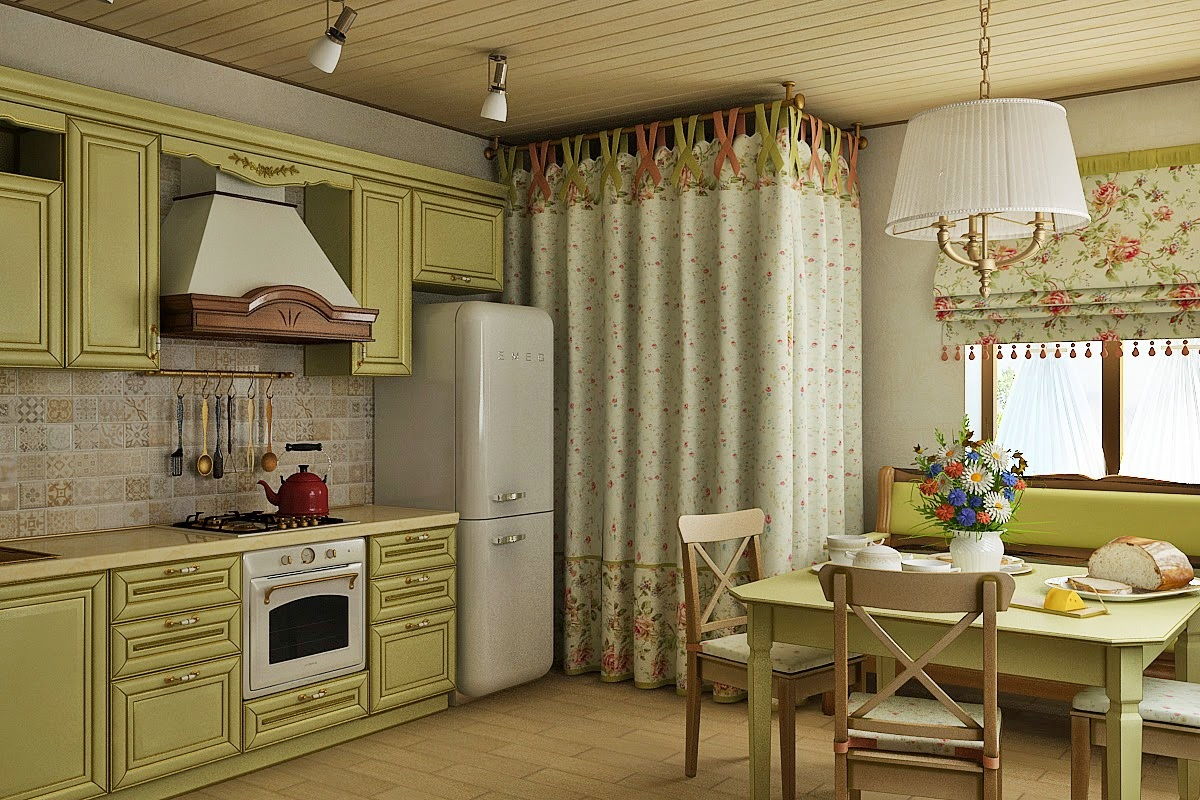 Considerable alterations or redecorations are not required since you will get the desired effect even with the help of small decorative elements. Creating a Provencal style in your kitchen is easy thanks to the right choice of colors, equipment, and finishes. You can use the entire palette of the following shades:
white
cream;
sandy beige;
lavender;
indigo;
terracotta
pastel gray
It is best if these colors are not pure, but with imitation of dust and fading in the sun. In the classic Provencal style, there is no place for dark colors. However, its urban version may include the addition of black leather stools or contrasting household appliances. After all, you are not in a French village, aren't you?
Kitchen Design in Provence Style in Detail
Creating a Provencal-style kitchen is the art of transforming ordinary spaces with fine details and simple tricks. Inexpensive decoration in this decor looks impressive, emphasizing the modern interior design. Bright kitchen accessories, handmade jewelry, and embroidered or woven elements are perfect for modern Provencal kitchen space. It is also a great way to easily transform a cozy dining and cooking area. From plates to storage baskets – décor in this style should be both beautiful and functional. We must not forget about the most important addition, which is textiles. Tablecloths, wraps and napkins, light curtains, and pillows for seats or blinds with lavender flowers are perfect. All these elements bring Provencal lavender fields to the kitchen and create an attractive decor.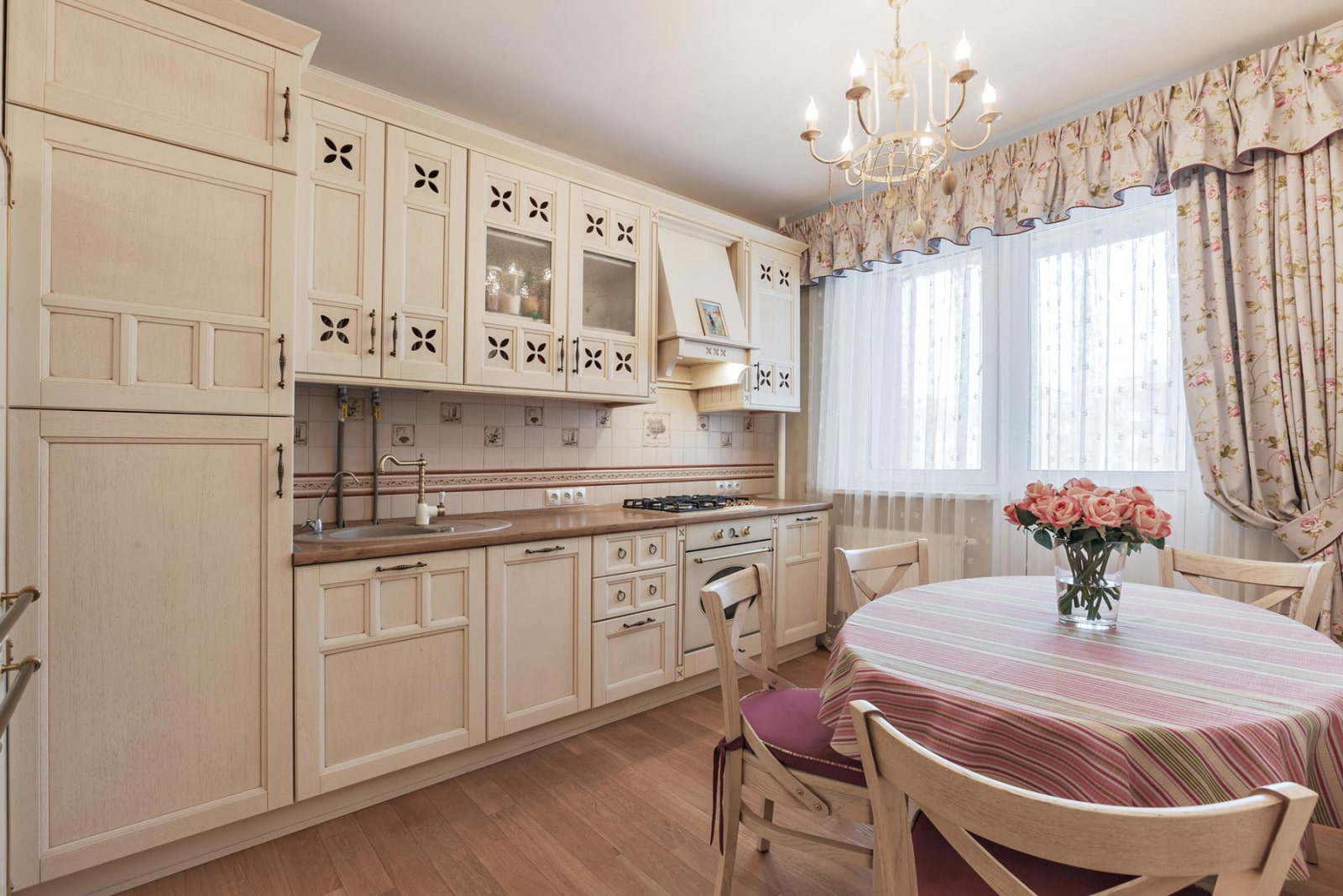 Dry and fresh herbs fill the Provence style with a wonderful aroma. Elements of wrought iron and decorative wood create beautiful, warm, and cozy kitchens that resemble a vintage style. Decorative elements made of ceramics and iron, wooden kitchen furniture and cabinets, glass jars, and beautiful fabrics look great in combination with simple modern chairs and a luxurious chandelier.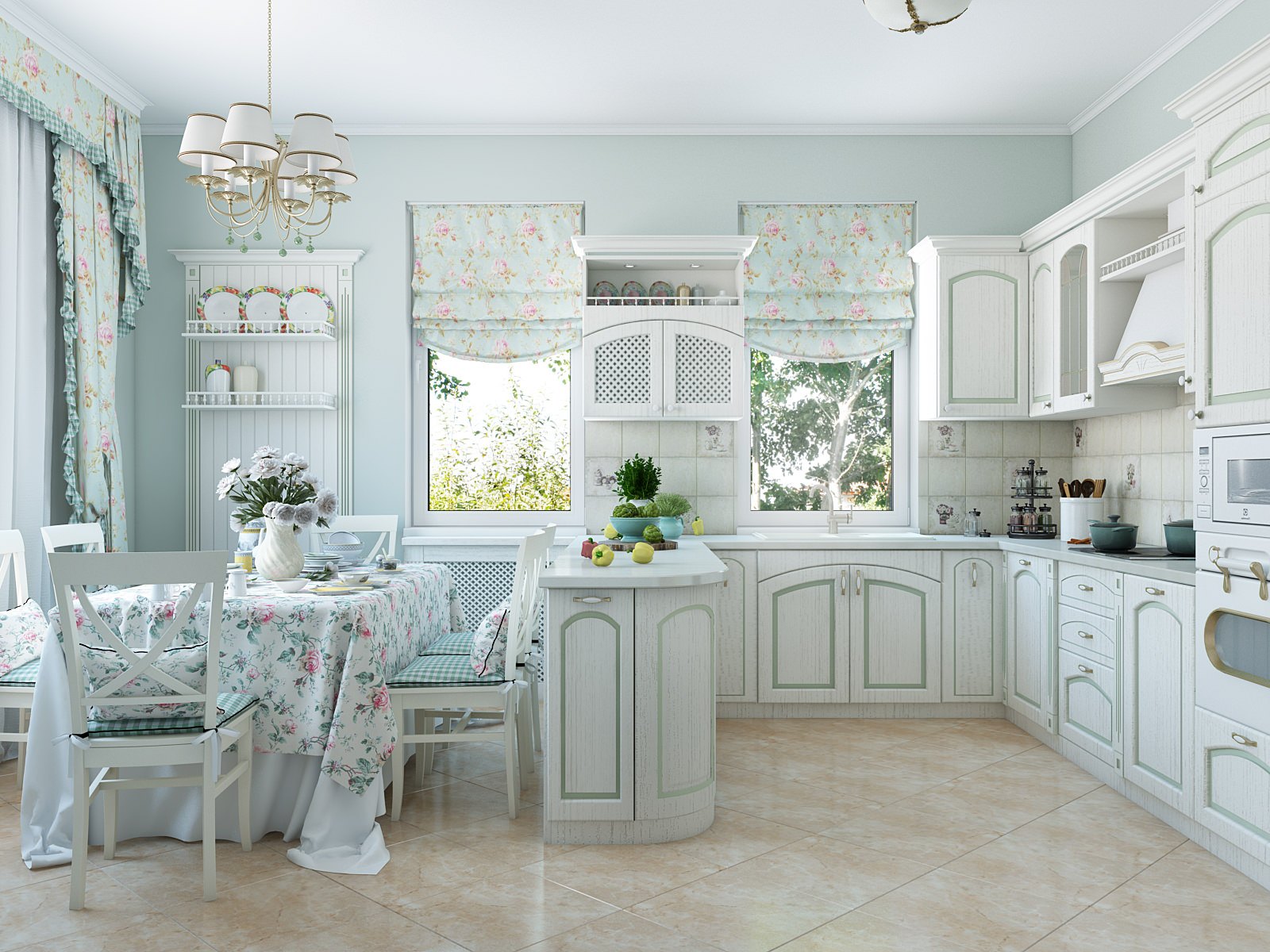 Suitable Materials for Decoration, Furniture, and Accessories
Provencal style also consists of antique furniture with the effect of aging or stylized handles. You can also be inspired by the solutions used in shabby chic – scuffing, uneven paint or intentional scratches, and unprocessed concrete are ideal allies in styling. The use of materials such as ceramic walls and floor panels, stone, white plaster is also typical. Rely on natural finishes:
The Provence-style kitchen is a joy, at once looking calm and cozy.
Wall Colors in Provencal Kitchen
The Provencal-style kitchen is an interior that is fully controlled by white, brings coolness on hot days, and positively affects the feeling of space. Very often it is adjacent to the flowers that dominate the natural landscape of Provence. These are mainly such as:
lavender;
olive green;
sandy beige.
All shades of blue and gray that sparkle on the Mediterranean Sea and in the sky above the lavender fields can also be presented at the Provencal-style kitchen.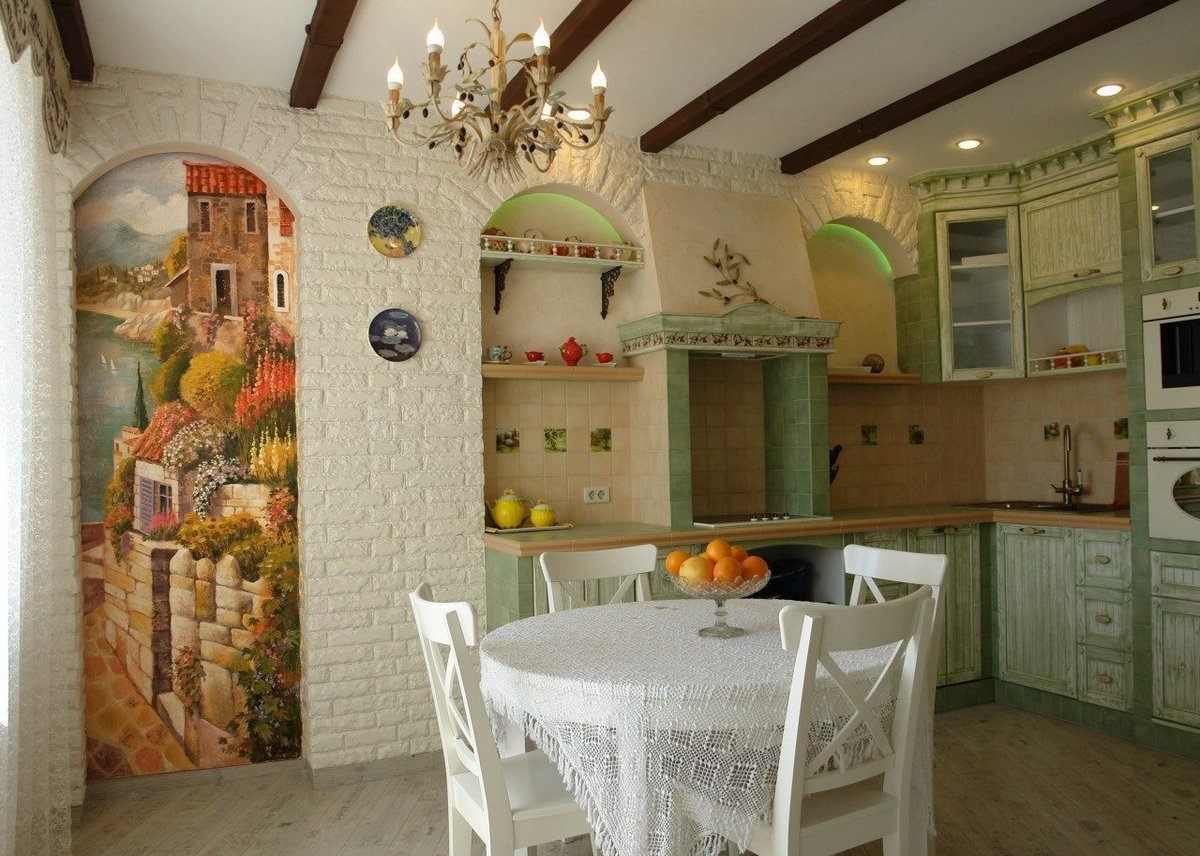 Provence Style Kitchen in the House
The modern interior design in the Provence style can combine cozy, simple, and functional ideas for decor, handmade fabrics and natural materials, antique furniture, and decorative accessories. These are rich colors and pastel shades inspired by lavender meadows and the French province. A practical approach and elegance make the Provencal-style kitchen timeless, allowing you to enjoy calm, joyful, stress-free life and relax without leaving your own home.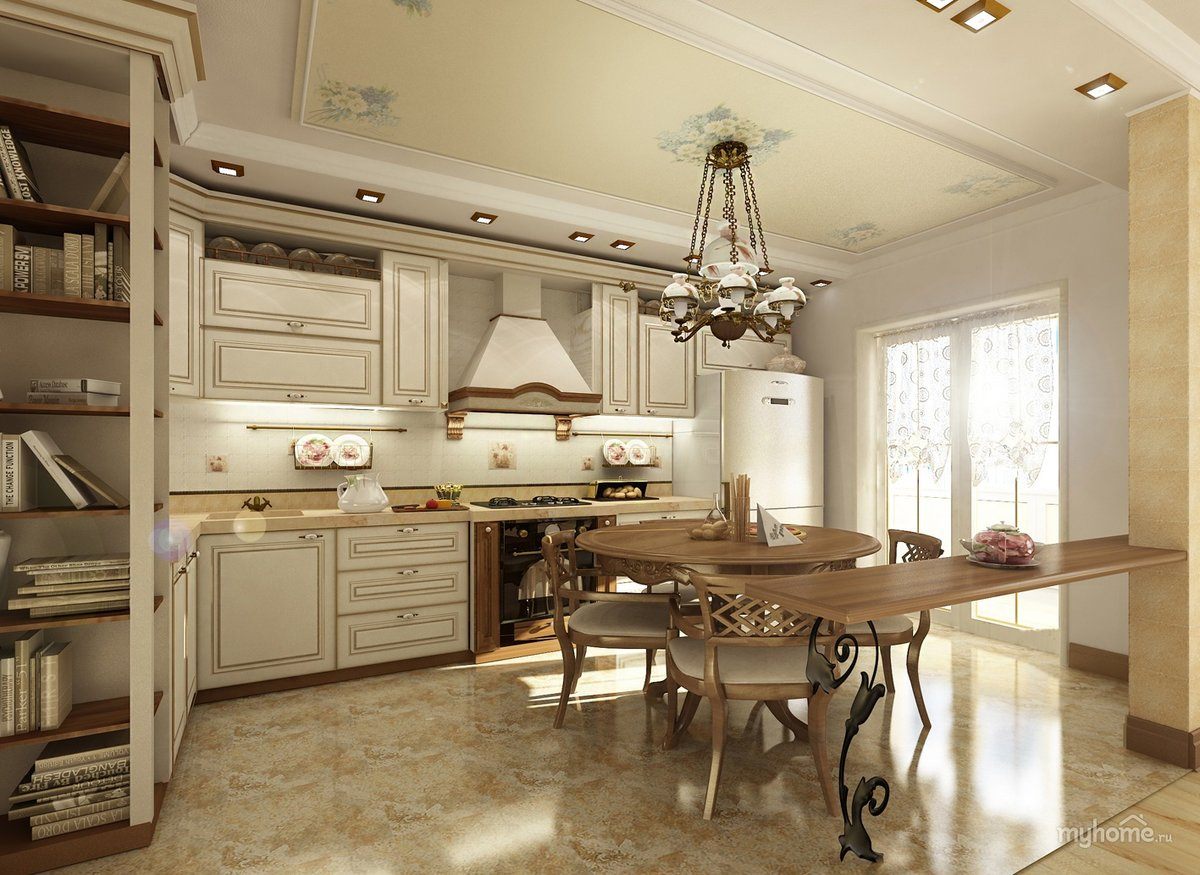 Choosing Furniture for the House
Kitchen furniture in a Provencal kitchen is usually a freestanding model:
auxiliary countertops;
kitchen islands;
pantries;
sideboards;
kitchen cabinets;
hanging shelves;
folding and dining tables.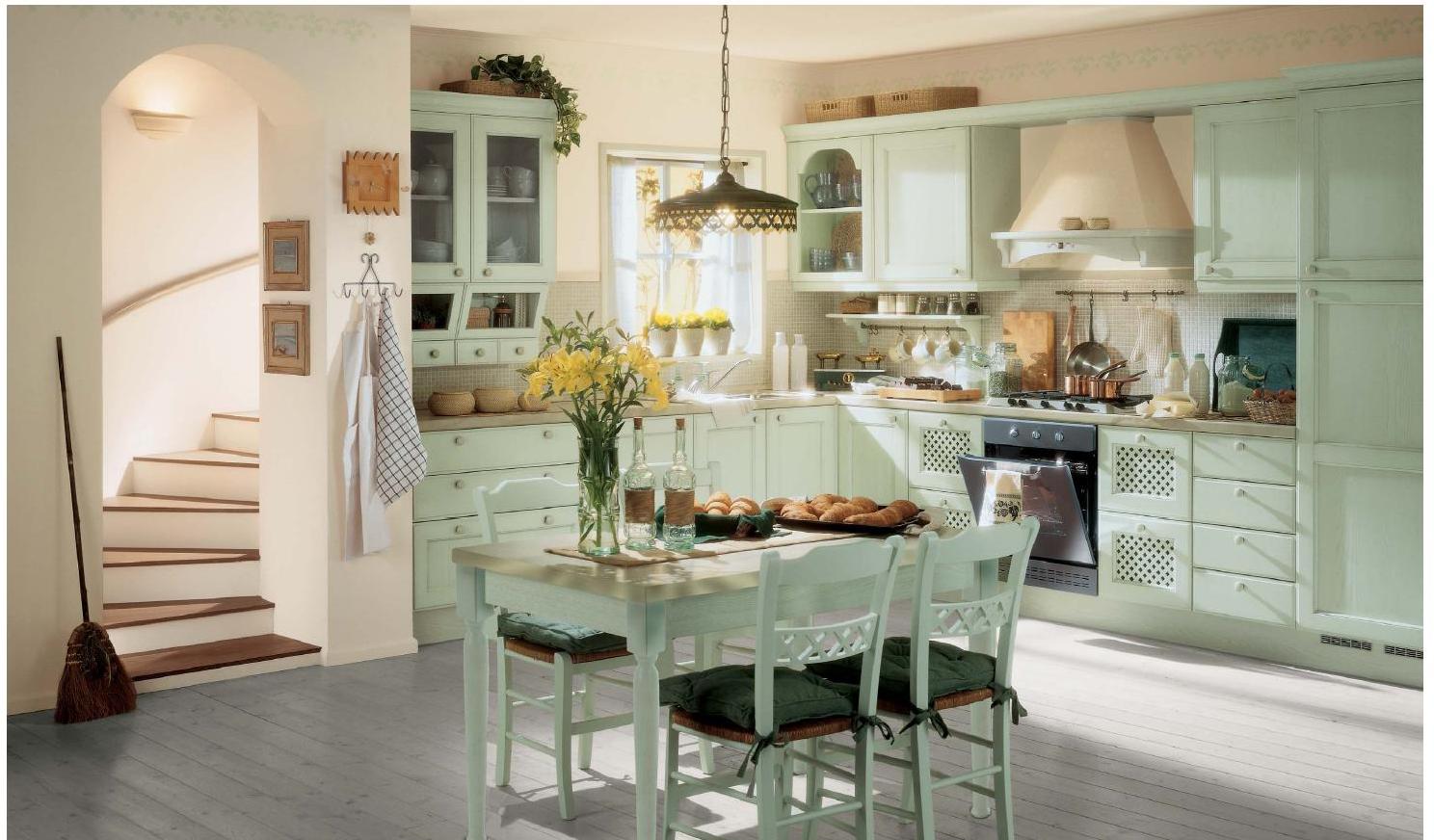 It is also wooden furniture, as predominantly natural materials should reign in the Provence style kitchen. Today you will find a great selection of wooden kitchens that will serve you for many years. Furniture sets are extremely functional and beautiful:
they have roomy shelves, cabinets, drawers, which are also very decorative;
decorations are characteristic of furniture of past years;
furniture design refers to the countryside of southern France.
Offered kitchen furniture is the quintessence of beauty, harmony, and functionality. If you are looking for furniture that will bring Provencal style, idyllic charm, and rural atmosphere to your kitchen, you will find it without difficulty. With the help of ready-made models or bespoke kitchens, you'll create a cozy kitchen, a stylish interior of which will inspire you to cook.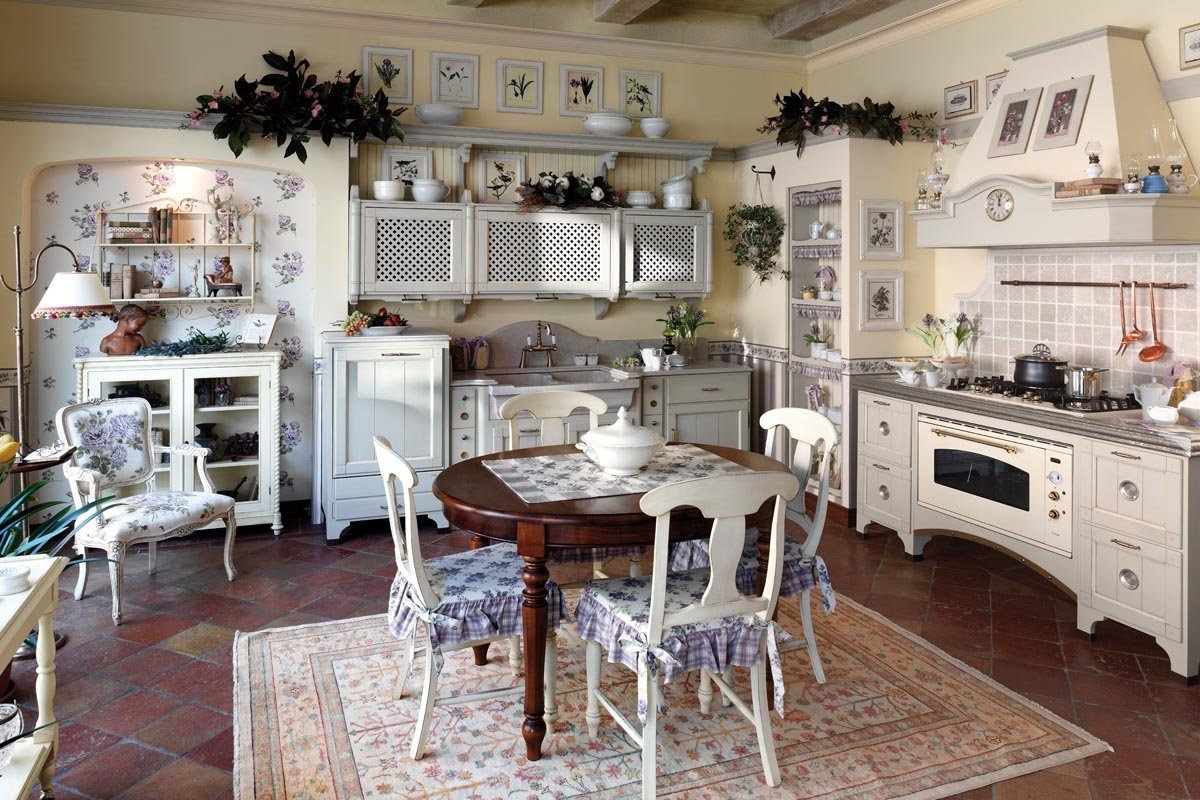 If you are looking for shabby chic furniture, choose a finish using the aging and patination method. This finish will add a vintage touch to a shabby chic style. If you dream of furniture decorated to emphasize the charm of natural wood, then it is advisable to dwell on wax or matte design: this method gives the wood a structure with thin recesses, palpable under the finger and perfectly emphasizing the beauty of the material.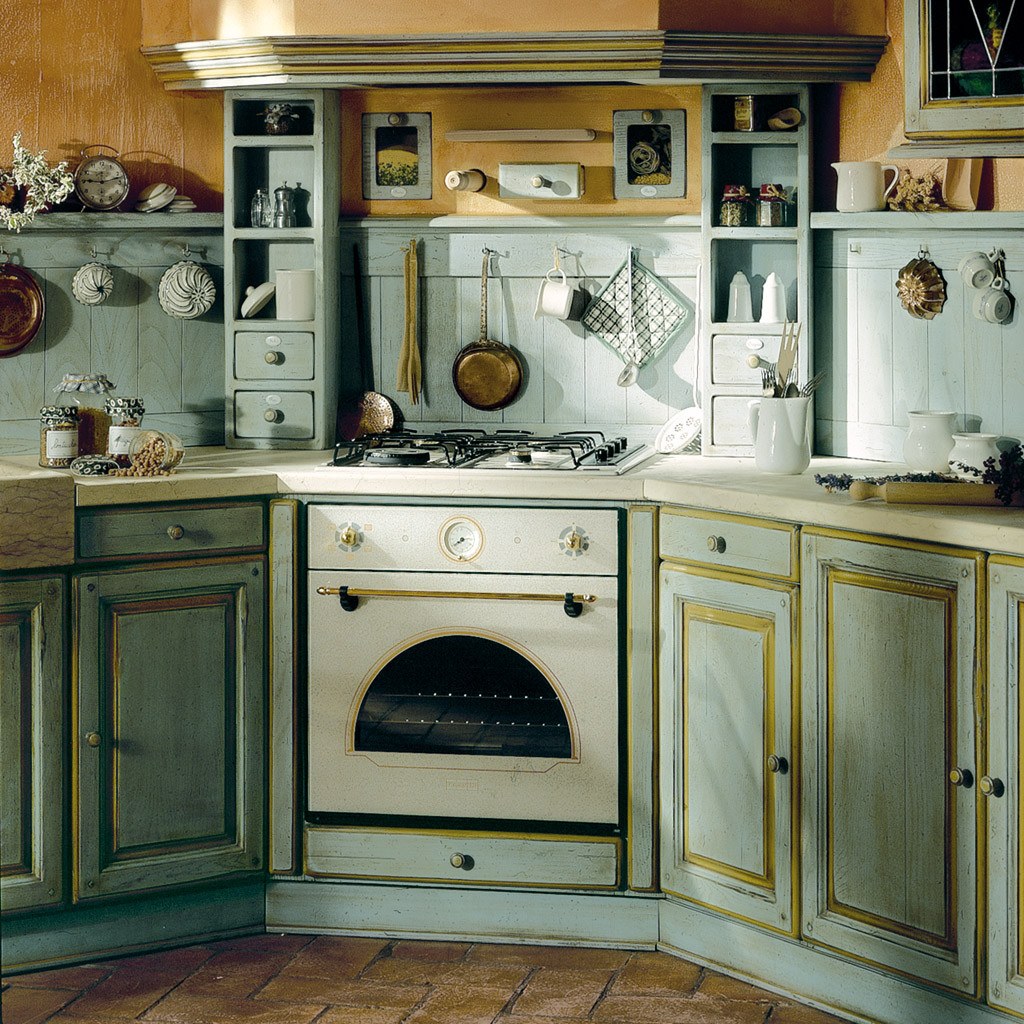 Provence Style Kitchens in the Apartment: which Add-ons Work Best?
Provencal-style kitchens in an apartment are rooms full of soft baskets, napkins with flowers, porcelain elements, and elegant ceramics. It is these elements that allow us to feel the climate of southern France, warm and sunny.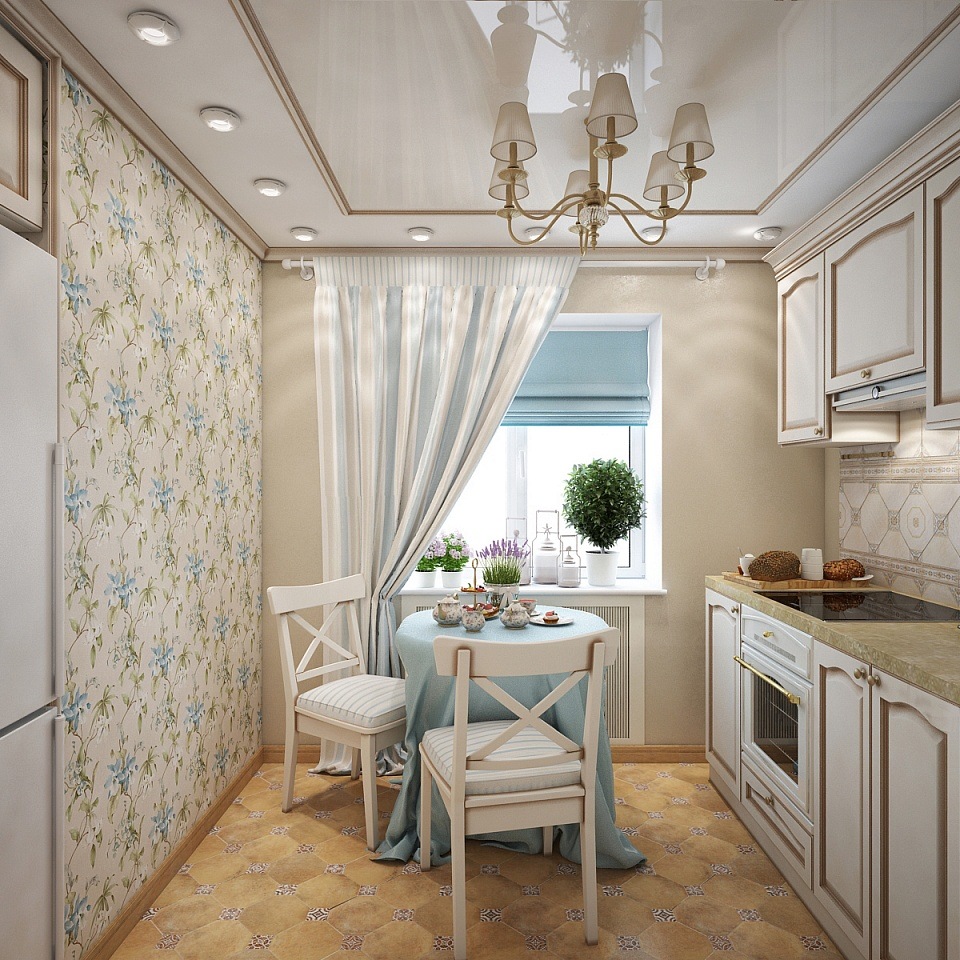 Provencal Style Accessories – Baskets
Take a closer look at the baskets. The Provencal-style kitchen must be fully equipped. Baskets are intended not only for serving bread on the table, but also for storage. In many kitchens, cabinets have open shelves, and they have baskets that hide various kitchen treasures. You can choose baskets of ambiguous shapes and sizes, open and closed. They are most often found in the color of natural wood, although Provencal accessories can also be white, lavender, or slightly green.
Usually, baskets are lined with material. Its presence gives them charm, and the type of material can match the colors present in the kitchen. The most popular, of course, is linen in a natural color. An additional advantage of filling baskets is that the material can be removed and washed.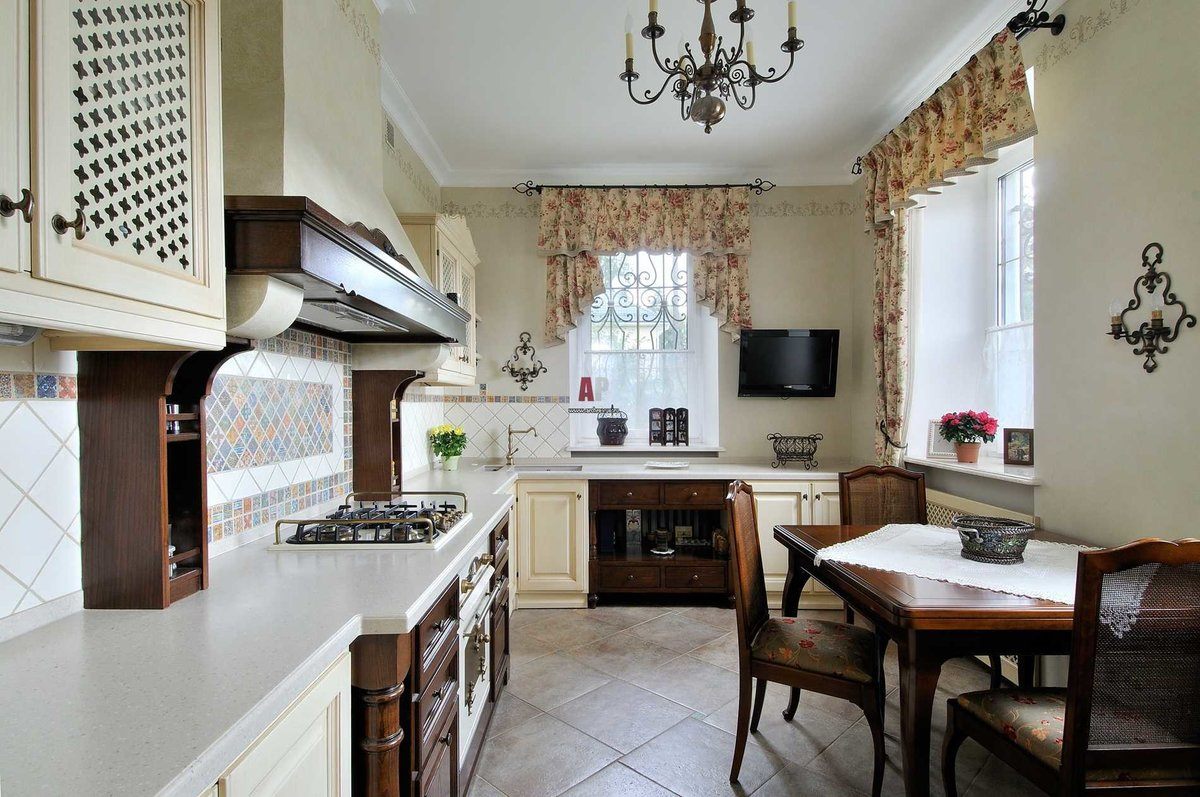 Provencal Accessories – Ceramics
In addition to baskets, the Provencal-style kitchen and dining room should be equipped with ceramics. Here, first of all, we are talking about white ceramics, decorated with floral motifs or small botanical elements. However, in this interior, products from baked clay are not only useful but also decorative. That is why you will also find ceramics in jewelry, for example, in the form of porcelain pendants formed as angels or birds.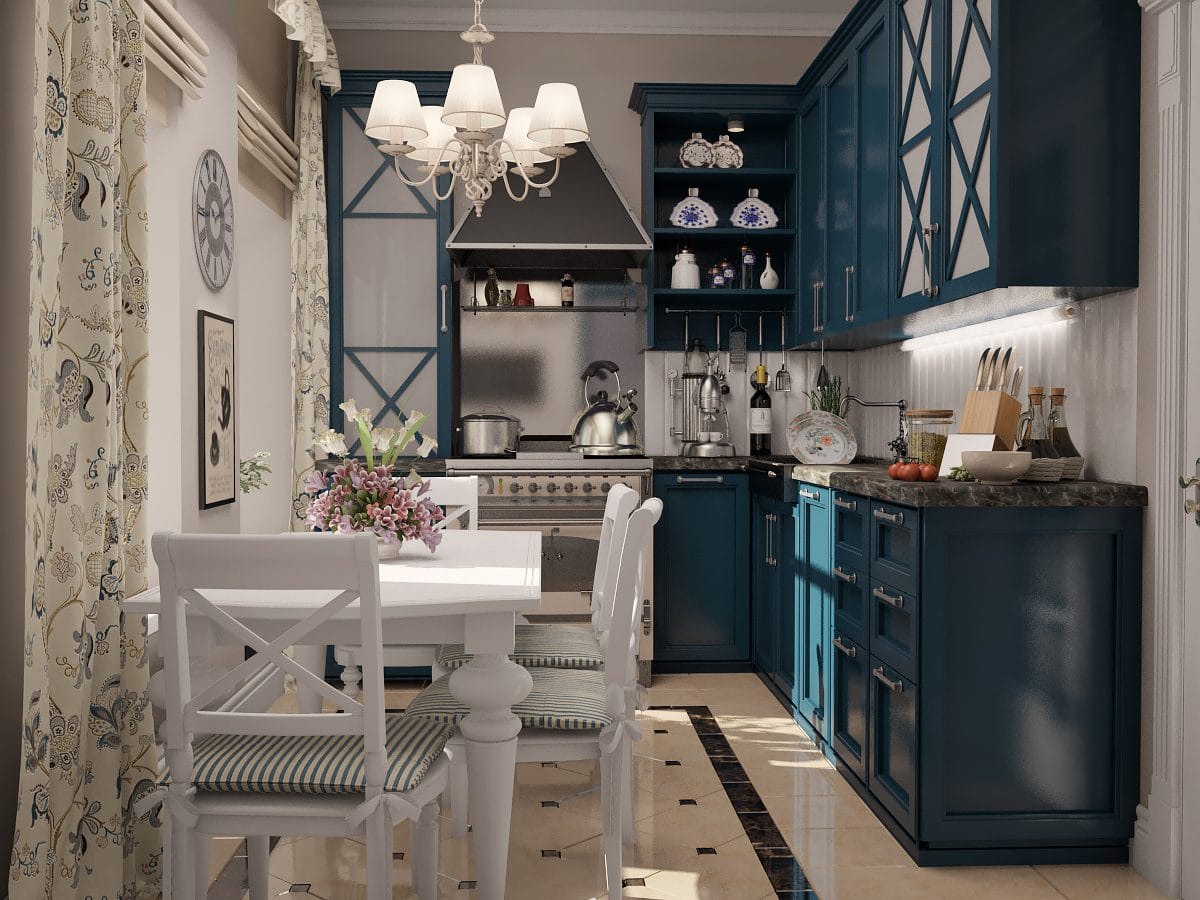 Ceramic cups, bowls, or jugs appear not only in glass-facade cabinets, which is typical for interiors in this style. They are also located on open shelves, which are often present in a Provence-style kitchen. Interestingly, the ceramics typical of Provencal interiors are almost exclusively white. Sometimes you will find a cup or mug of cream color, but you will not see more intense colors or patterns.
Jugs are typical for Provencal-style kitchens. Not only they appear ceramic, but also metal. In general, metal, along with ceramics, is one of the main materials from which the tableware is made. Such containers are used in the form of cans for bulk products, jugs, or pots for herbs and flowers.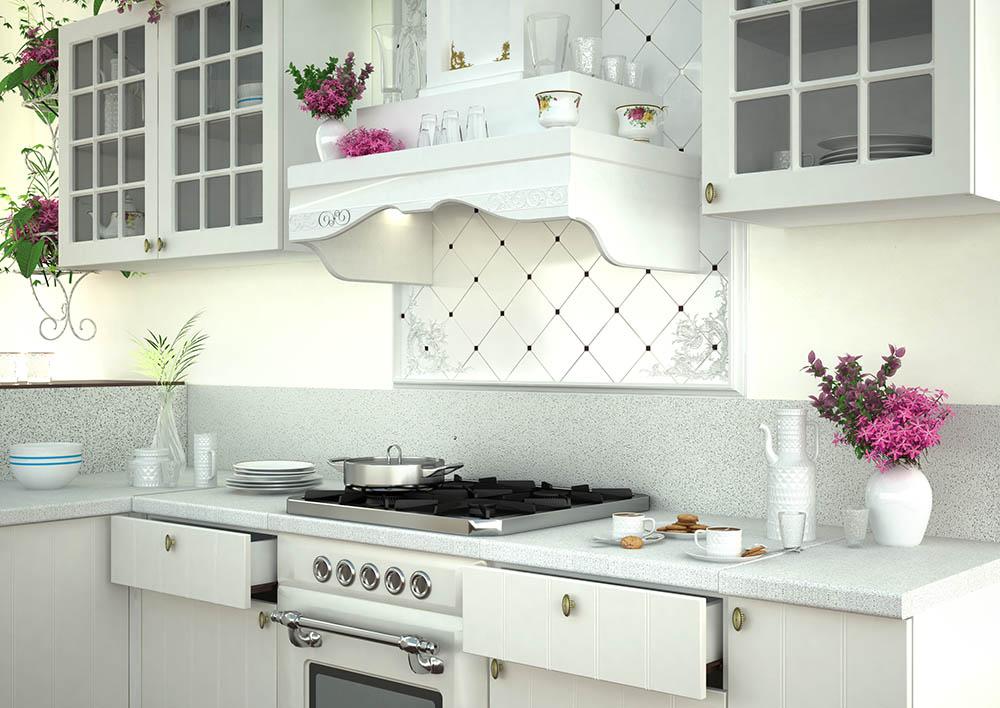 Curtains in the Kitchen in the Style of Provence and other Textiles
An important element of the Provencal interior is also textile. Without a doubt, it should decorate the kitchen window. Curtains, drapes with lambrequins, or in the form of Roman blinds appear on the windows. Choose additions as lace, frills, embroidery, or fringe. This decor adds coziness to the interior and makes a person feel good in it.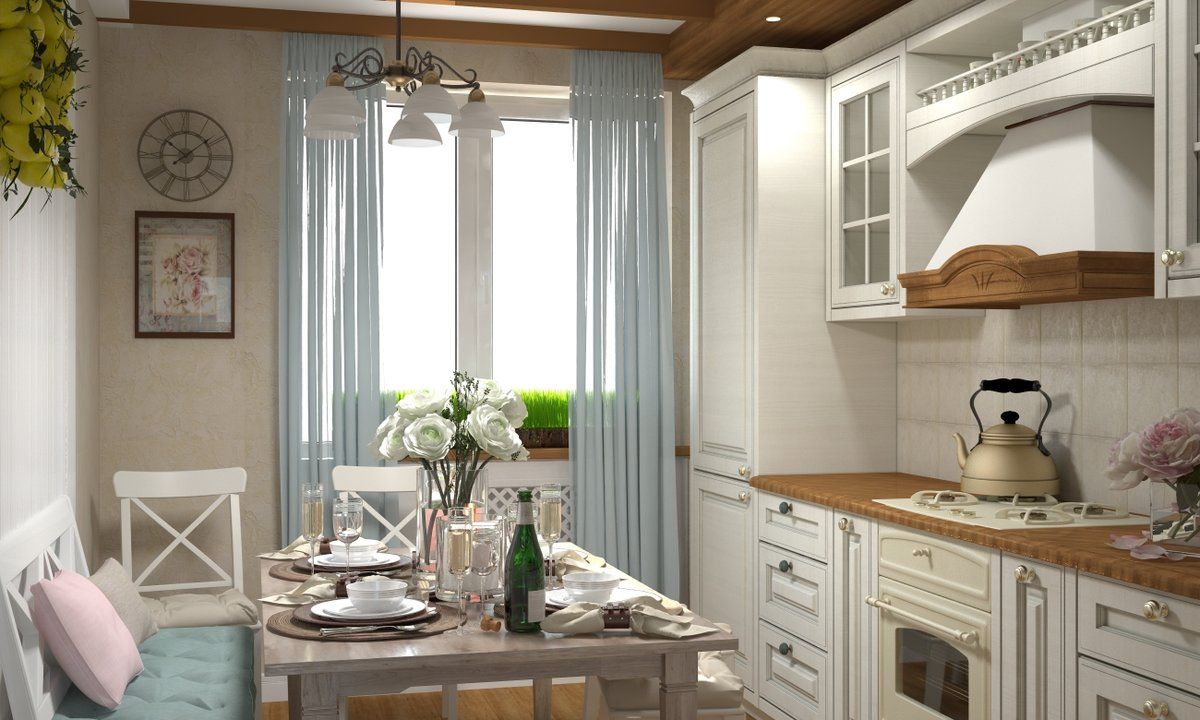 Textiles are also presented in the form of fabrics, kitchen gloves, and aprons. In some Provence kitchens, you will even find fabric as kitchen cabinet doors, because curtains often simply replace them. The patterns are dominated by drawings with plant and animal motifs. You will find all kinds of flowers, twigs, and birds on them. The colors are delicate, pastel and natural materials are linen and cotton.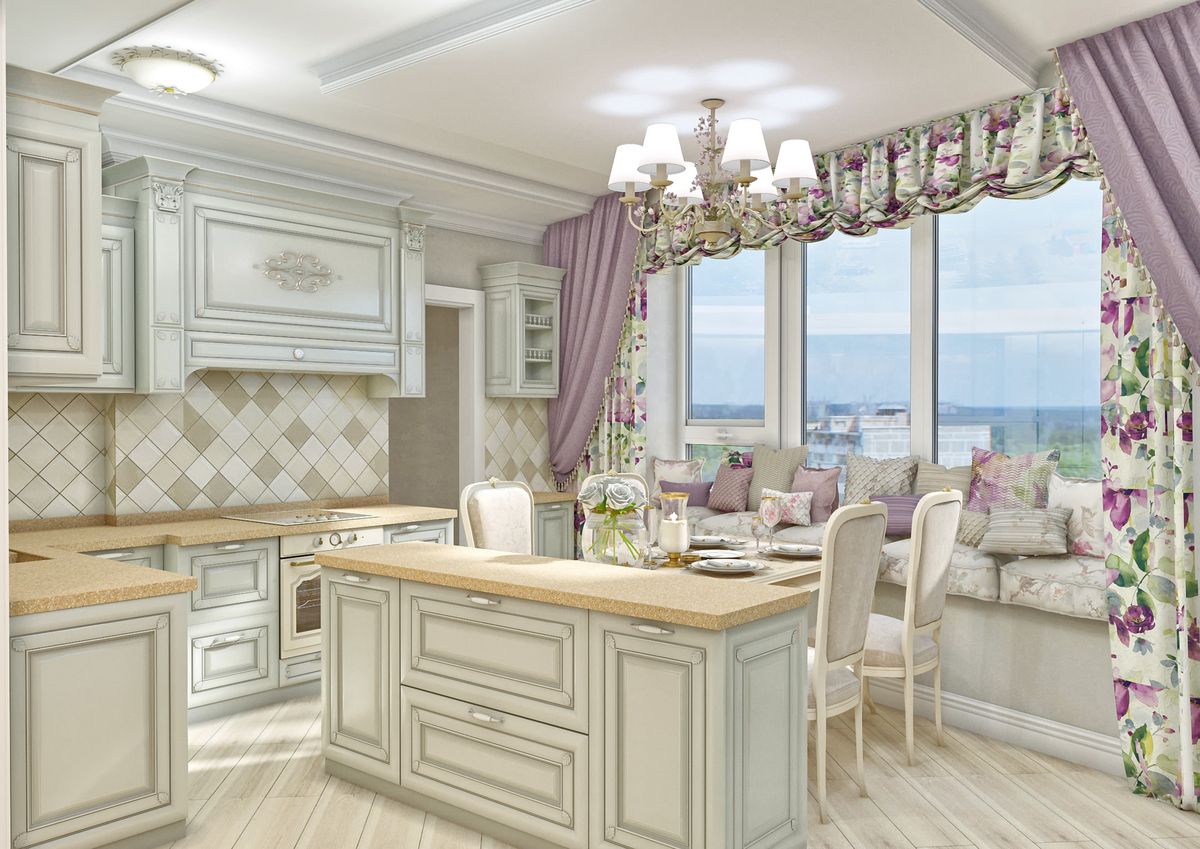 Small Provence Kitchen: Wall Decoration
The atmosphere of the Provencal kitchen can be expressed both in a country cottage and in an apartment of a multi-story building, even with a small area. All you need is the right choice of finishing materials, furniture, and decoration, which together will create the quintessence of French elegance in its most beautiful form.
There is a lot of romanticism in the Provencal-style kitchen. After all, every interior is worth a bit of magic to make everyday life magical and better. We bring some of this Provence charm to life in a small kitchen, choosing furniture and accessories in size.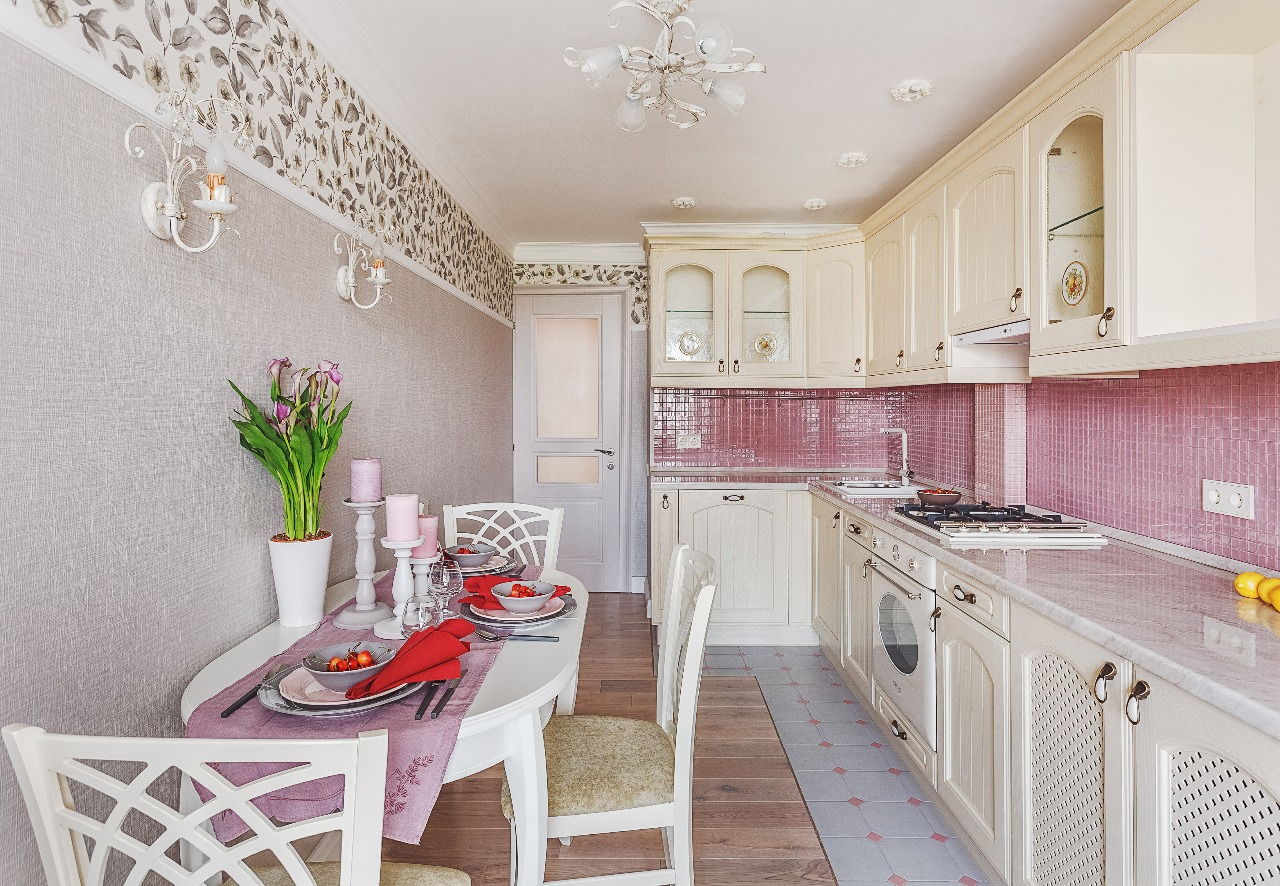 A Provencal-style kitchen may also contain wall decorations. It is on them that ceramic plates or other porcelain elements can be hung. Those that correspond to simple elegance filling the sideboard will look best. The walls will also look great with images of fruits, vegetables, or still life, but in a small kitchen, it is better to cover them with light monochromatic paint. Be sure to decorate it in the Classic style. They will be interesting with slightly aged furniture.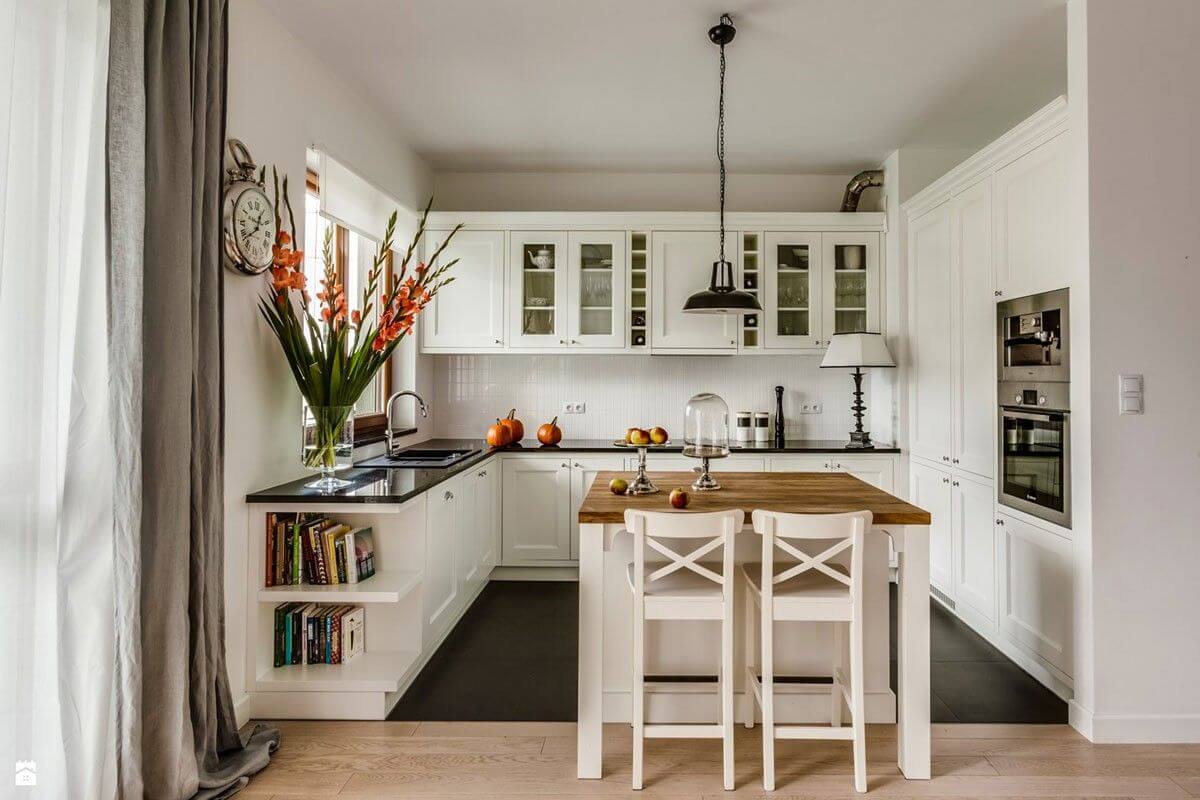 White Provence Style Kitchen: Fashionable Arrangement
A Provence-style kitchen is a perfect base for any romantic arrangement. The white interior is perfect, charming, dazzling, so it will definitely captivate you. Modern kitchen furniture can refer to a traditional design, refreshing it and showing it in a new light. Kitchen Provence is an example of the modernization of the classics. White furniture looks very modern, and at the same time, it has that retro charm, which is so appreciated in interiors and arrangements.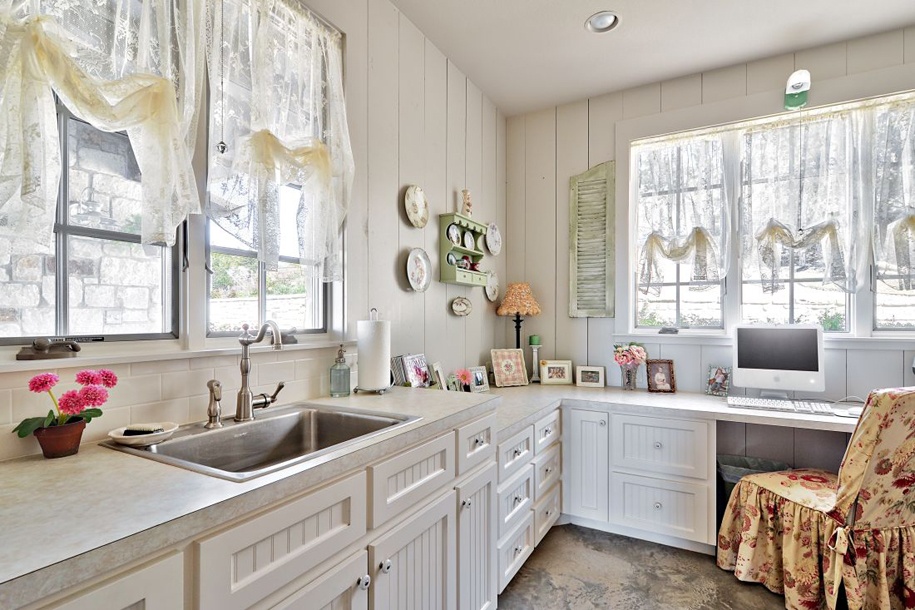 Undoubtedly, the elements of furniture that distinguish the Provence kitchen and make it characteristic are charming showcases. Those associated with the old interiors and their eternal charm. Recreate the snow-white beauty in a modern kitchen is really worth it.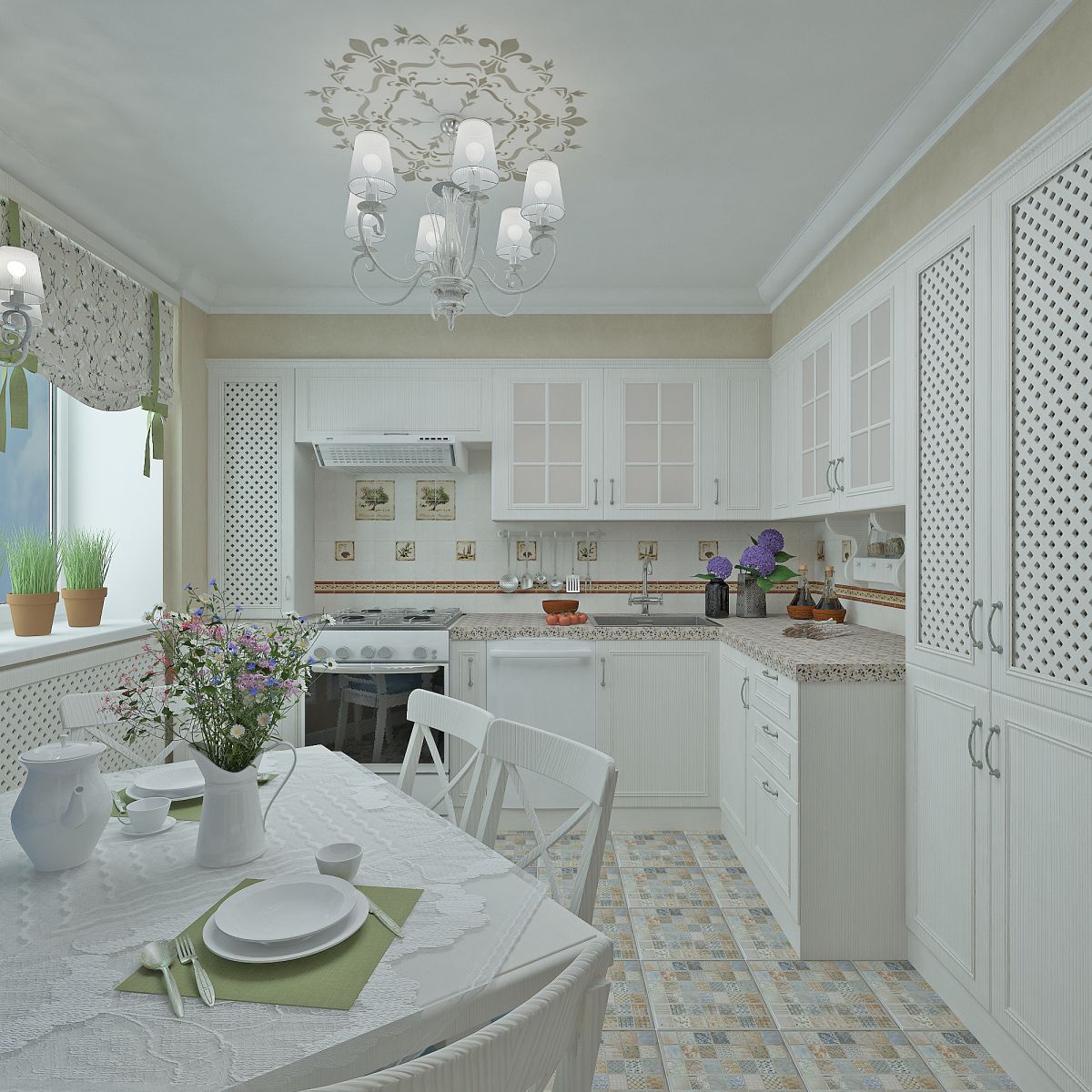 Lavender Colored Provence Style Kitchen
White Provencal-style kitchen furniture is the best backdrop for styling lavender, which leads directly to picturesque Provence. Purple accessories and whiteness are a great combination that is worth repeating in modern kitchens. Lavender can appear anywhere in such an interior: in baskets on a Provencal cabinet, as well as in photographs or as motifs for decorating dishes or tablecloths.
DIY Provence Style Kitchen: Bright, Idyllic, Natural
The Provencal style kitchen is bright, natural, and comfortable. It is a combination of elegance and atmosphere that reigns in the south of France. The Provencal style is feminine, romantic, but at the same time a little austere and old-fashioned. If you want to independently recreate such an arrangement in the kitchen, then remember that the Provencal style welcomes rough-treated floors and exquisite accessories, as well as furniture. Such an original combination creates a very exciting composition. In the Provencal kitchen, inspiration comes mainly from nature. This type of arrangement is also a combination of several styles:
The Provence style has been fashionable for several decades but continues to increase its fans. Why? The kitchen in this design is bright, warm and very charming, so everyone wants to stay here.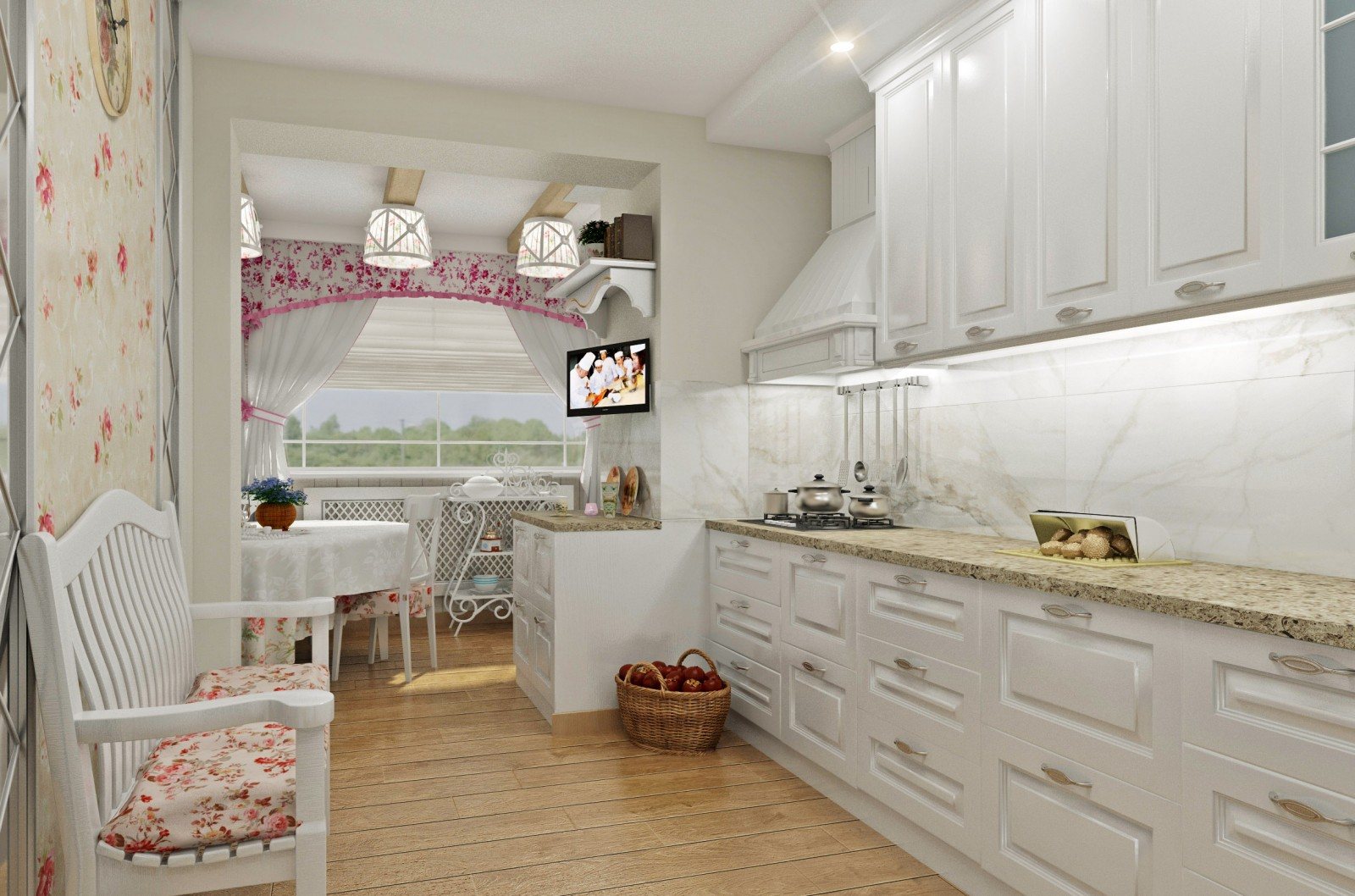 To decorate the kitchen in the Provencal style, you should pay attention to bright colors. Usually white dominates. A little gray can be added. Monochrome coloring is often enlivened by pastel:
blue;
When it comes to flooring, you should choose between stone, ceramics, and wood. The Provencal-style kitchen is careless since there is no need to take care of the perfect finish. Vice versa, there should be signs of use in the room. The walls should be made rather rough; in some places, they can be uneven and carelessly painted. All elements of the kitchen should create a special, very homely atmosphere.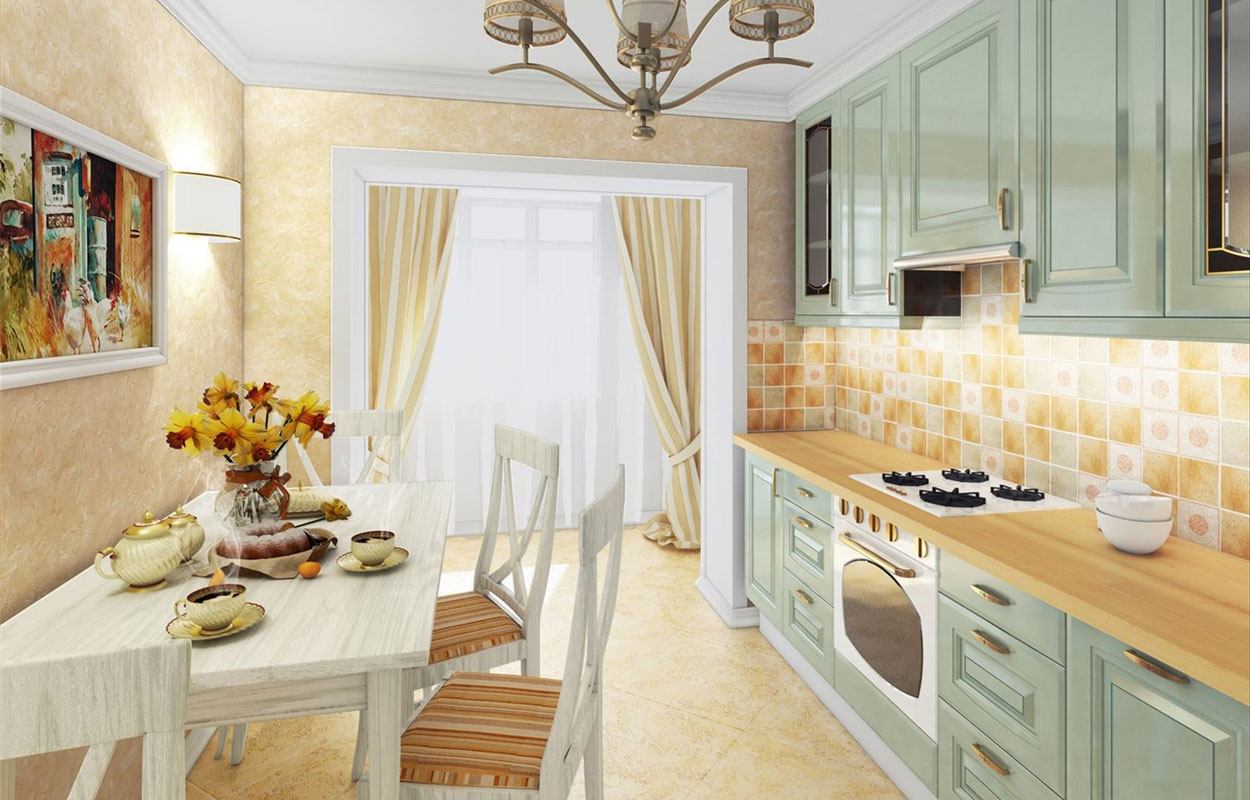 Furniture & Accessories
In the kitchen, you should deal not only with the color of the walls and floor but with furniture and accessories. Furniture cabinets should be bright. Retro sideboards with interesting carved facades are ideal here. Furniture can be specially aged, which will give it even more charm. It is worth betting on the motives that are associated with Provence. Olive twigs or lavender flowers are a great choice. As for the add-ons, there are no restrictions. Provence-style kitchen loves an artistic mess. It is worth stocking up with frames, decorative vases, linen tablecloths, or wicker baskets. Herb pots, garlic braids or watering cans, and wildflower fillings are also great. It's the additions that will help create a real Provence-style kitchen with a soul.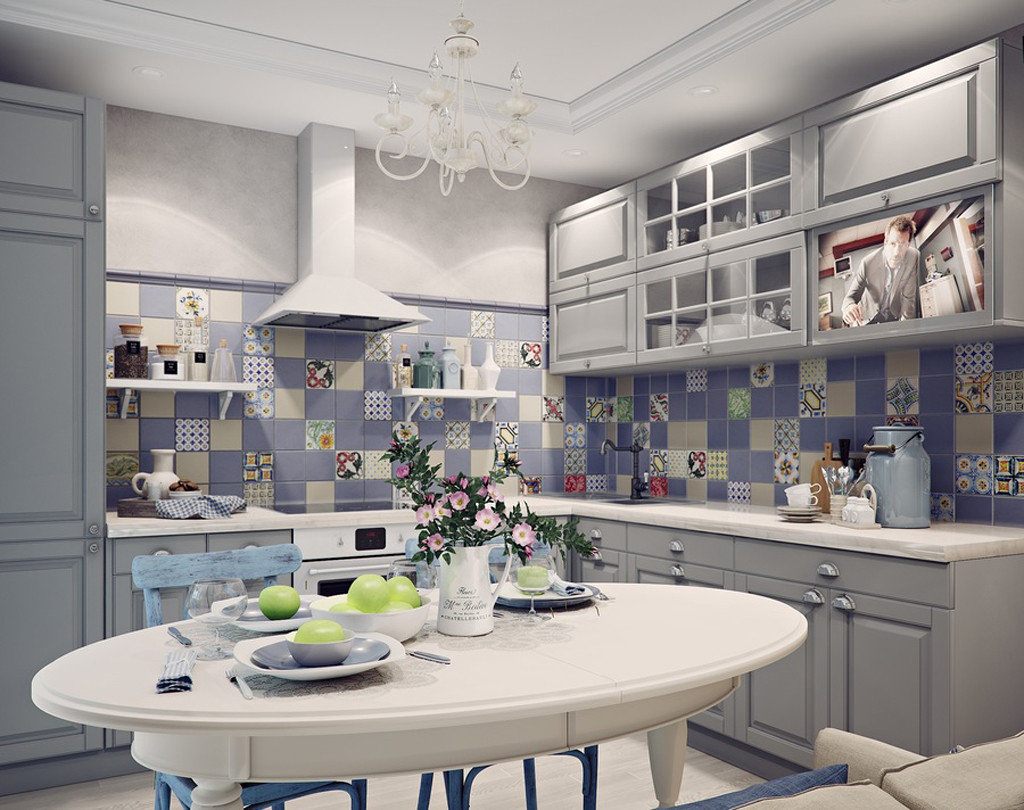 Provence Style Wooden Kitchens – Inspiration
Provence style kitchen is a romantic place full of charm, decorated with herbs and lavender. It reflects the atmosphere of a country cottage by the sea and despite the cool colors, it becomes a refuge in the house. How to arrange a Provencal style in the kitchen?
Provencal style inspired by interior design trends from southeastern France. Provence is a sunny land located at the seashore of the Mediterranean Sea. It is covered with evergreen vegetation, stripes of lavender fields that are forever inscribed in the landscape of this region. The Provencal style of the house reflects the idyllic atmosphere of the promenade, which in the holiday season becomes the favorite place of the French and more. The soul of a Provencal house is a living wooden kitchen, from which you can often go directly to the illuminated terrace or to the patio. An open and spacious Provence-style kitchen will look perfect if it is even partially finished with wood.