Luxury, elegance, high quality, sentimentalism – this is how art deco style can be characterized. On the one hand, this refers to the past, on the other, the direction looks to the future, looking for new and, above all, and functional solutions. The art deco style was created in the sad interwar period, but what is it today? Learn how to decorate the living room according to the style canons.
Content: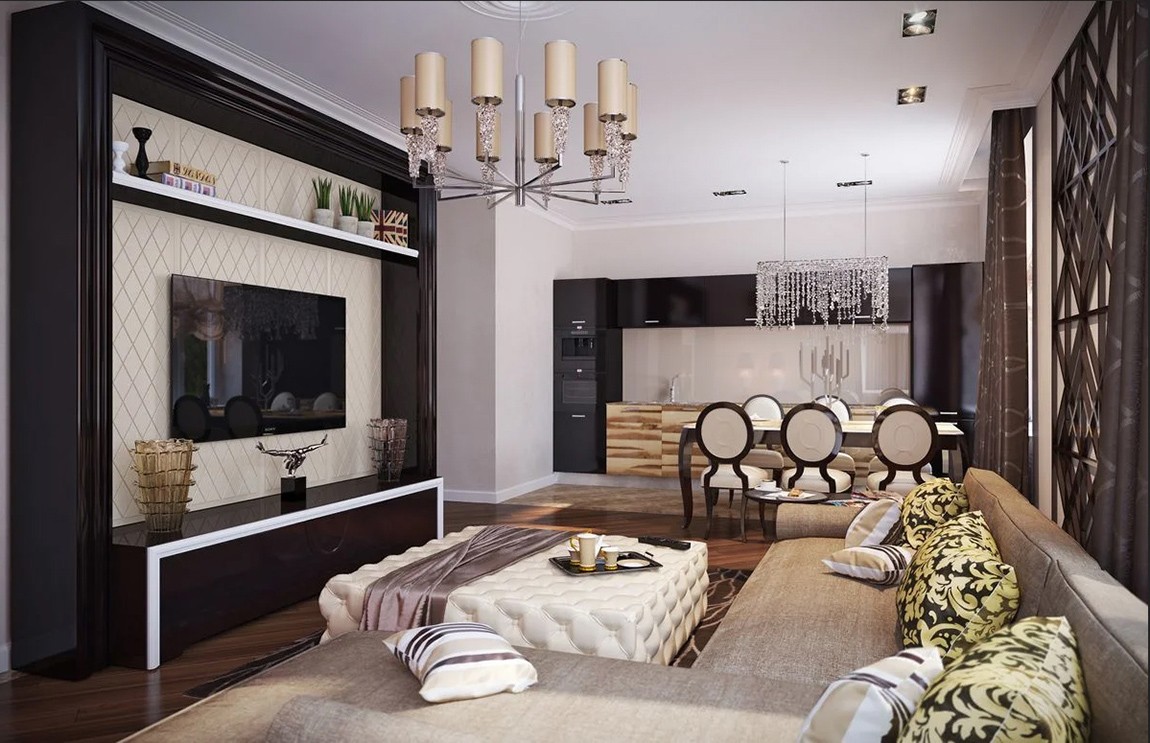 Living Room in Art Deco Style: Photos of Stylish Solutions
Art Deco style is a special art movement. First of all, it is associated with a passion for antiques, which gives the interiors charm and increases their prestige. In addition, style is a kind of nod to history and cultural values.
When decorating an apartment in this style direction, you should also pay attention to other things that at first glance may seem commonplace, but it is these details that made art deco a real property of the living room. It is primarily about the use of rounded shapes, glossy textures, and elegant, richly decorated materials. In the Art Deco style, it is best to use wood tiles in a darker shade or imitating marble texture. These materials enhance the prestige of the interior, making it elegant and luxurious. Mosaic is another interesting solution that works great for art deco. It is widely known that this is one of the most luxurious and impressive finishes. When it comes to interiors such as the living room, it is best to use wooden planks on the floor. To give them an even more sophisticated character, it is worth placing the herringbone decoration material or giving it cubic shapes.
Art Deco Kitchen-Living Room
The art deco style is a combination of elegance and mystery. This is still an inspiration for those who are looking for a unique aesthetic that is rich in style and sophistication. The characteristic elements of art deco allow you to create creative interior solutions in which a dreamy atmosphere blends the best of classics and avant-garde. What to look for when developing the interior of your dream kitchen-living room inspired by the art deco style? Review the photos and follow the tips below.
Art Deco Style Living Room Interior: Refined Furniture and Shiny Accessories
Full of elegance, style and sublime mystery, the art deco style with unflagging popularity fills modern living rooms. This direction is either loved or avoided. This style requires a lot of discipline and consistency in execution. There are no random objects since everything should be full of meaning. However, if you follow the strict canons of art deco style in interior design, the effect will please even the completest skeptic.
It is worth focusing on high quality and timeless elegance, but not only that. Functionality is also important. In addition, furniture in art deco has its own distinctive features. These are streamlined shapes, quilting in the upholstery, fashionable velour, and leather which are most welcome in this direction.
Art Deco Living Room Design: Interesting Details
Exquisite, even carved, detailed decoration, furniture, and decor in the art deco style is a true showcase of style. Beautiful, delicate mirrors or vertical glazing of stylish lampshades – this is just the tip of the iceberg. Geometric but intricate lines (based on Art Nouveau elements) look like ornaments on wallpaper and fabrics. They appear in every art deco living room interior design. You will get elegance, style, and glamor.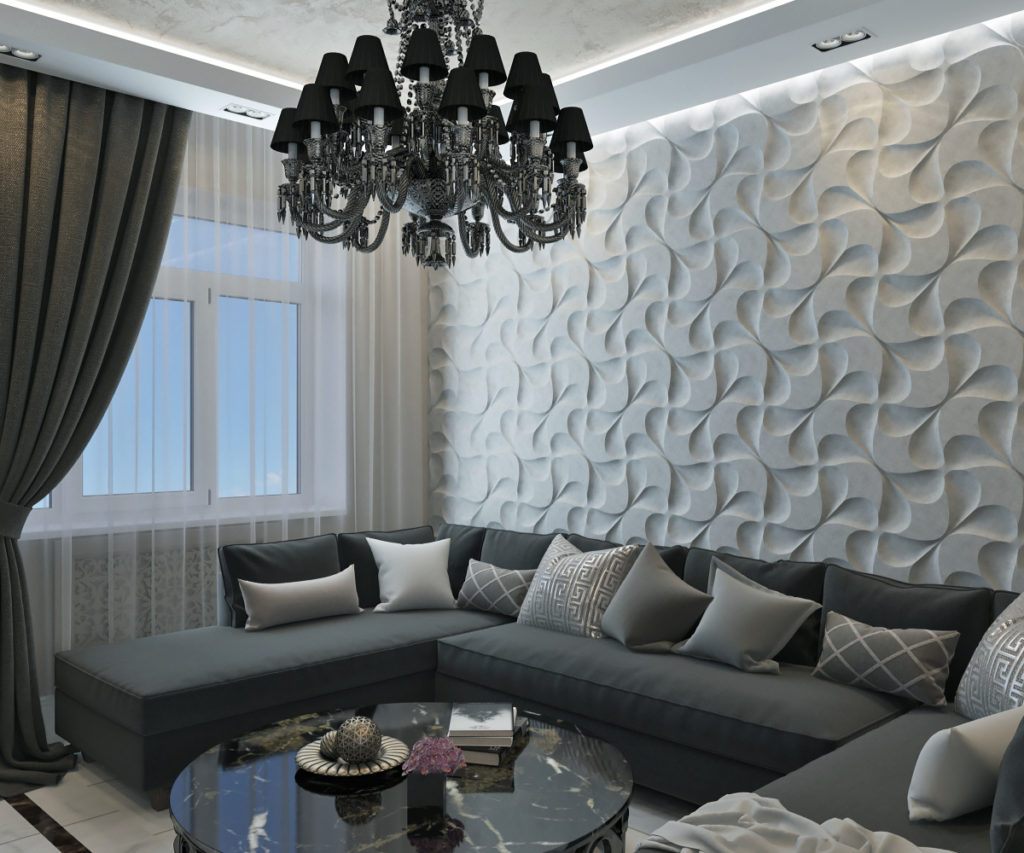 In art deco, crystal chandeliers fill the living room. An exclusive, previously designed for jewelry and precious works of art, the duet of gold and black is intertwined in everyday objects: a coffee service or toiletries.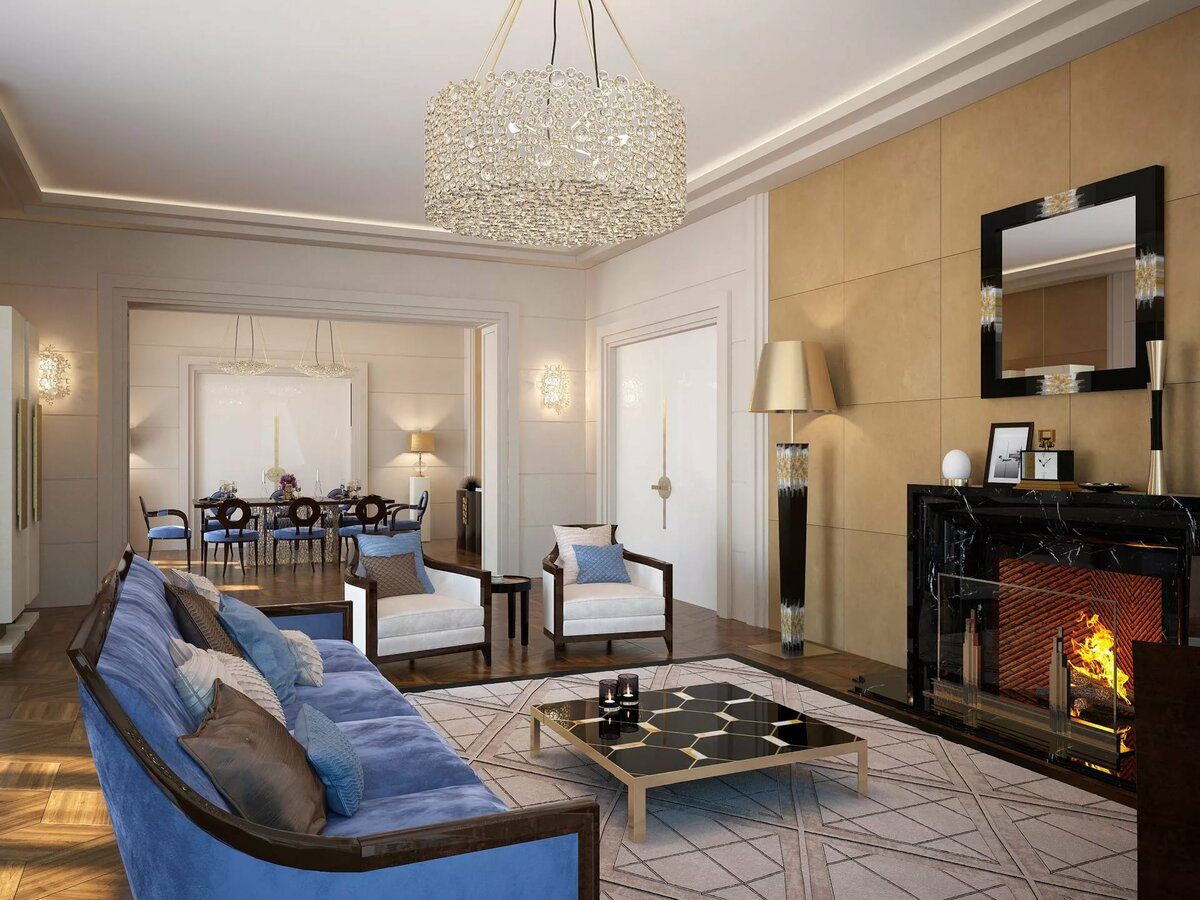 The carpet perfectly complements the floor. Patterned models will work best in this trend. Geometric patterns, even folk or oriental, are welcome.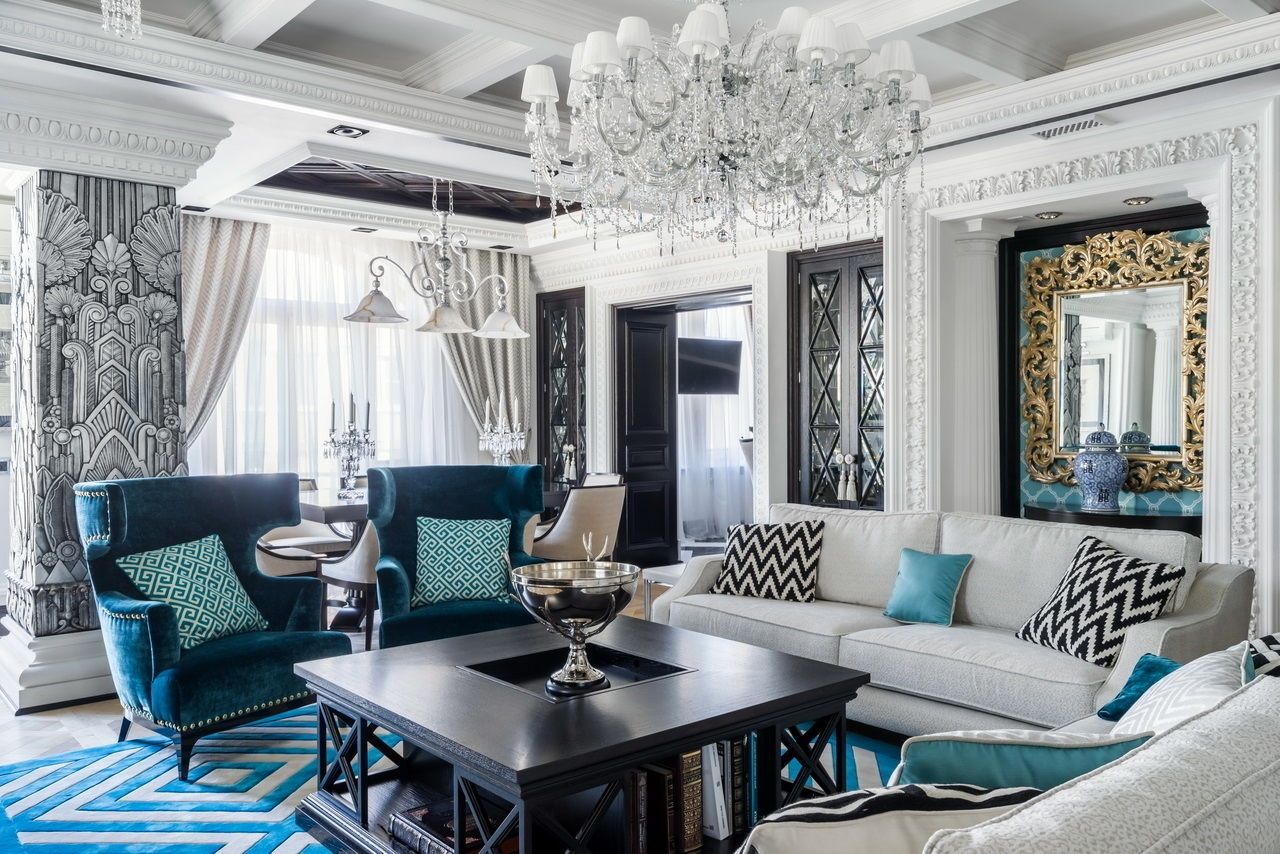 Art Deco Living Room: Preferred Color Photos
No wonder black and white is a duet of style and classic elegance. This combination has transferred its properties to the art deco living room design. Black and white floors and their variations (for example, with Moorish patterns or in the mosaic version) are a win-win choice. The gold trim sparkling all over the place adds an element of luxury and mystery to the interior style. Deep dark blue, deep burgundy and dark green are also intrinsic art deco colors.
Art Deco Interior Style Materials
Nobleness and naturalness are the main features of the style. Art Deco furniture is a massive model made of the hardest wood. If we speak about the wood, then you should choose the lining of a beautiful nut with the abstract grain. If curtains and material, then velvet or silk. No synthetics, no fakes. Original marble can be found in the living room in the art deco style, not only on the countertops but also on the walls or floor. Crystal chandeliers are already standard lighting for the main room of the house.
When it comes to decorating walls, you should either apply light paint in shades of white and beige or give preference to elegant wallpaper. Floral motifs are a real sensation in this style. How about a spring or winter garden? Another interesting idea is the stucco molding, which will decorate even the living room of the apartment. Soft quilted walls are a more modern solution.
Art Deco Lighting
An important element of arranging in an Art Deco atmosphere is lighting, which should be as impressive as the rest of the room. We are not talking about minimalist light points that are not noticeable at all. Lamps should be primarily "rich". Since massive wooden chandeliers with light bulbs imitating candles, or models full of crystals and mirror surfaces, are usually purchased. Characteristic lamps with large green shades are another great idea. An alternative offer is stained glass chandeliers that look extremely impressive and elegant.
The art deco style is rich and luxurious, so all lovers of the glamorous decor of the living room should consider this area of ​​design of the living room.