Flowers have long been very popular, as they enliven the interior and allow everyone to have a little greenery in their apartment. To better demonstrate living plants, it is advisable to consider using flower stands in the interior. They are made from various materials. Products blend perfectly with any type of color. Plastic, wooden and ceramic pots are great for coasters.
Content: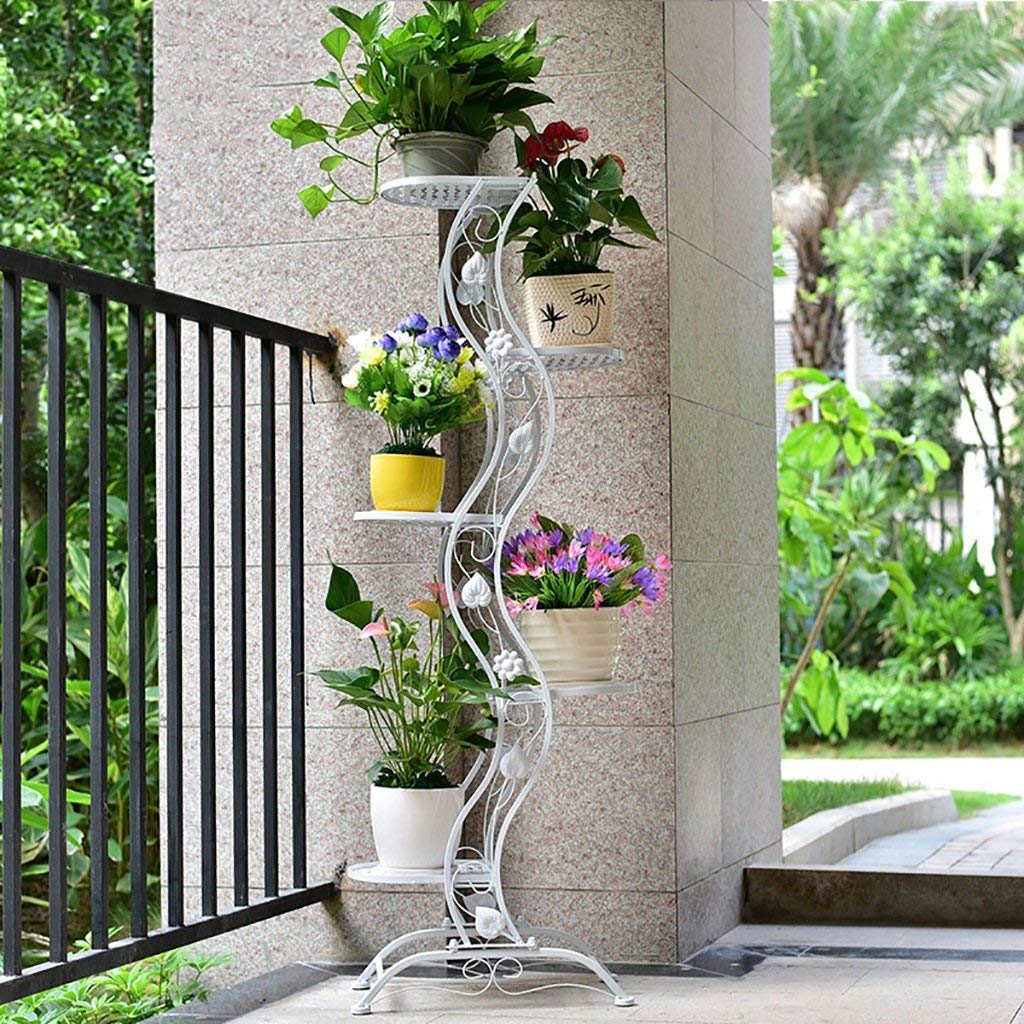 Flower Stand in the Interior: Beautiful Decoration of the Living Area
The flower beds in the living room improve the mood and make the interior more comfortable. However, most often flowers are placed on the windowsill. Meanwhile, with the help of beautiful coasters, you can bring a unique natural decoration to the living room.
Flower stands will revive any interior, and their universal character will suit even the most demanding people. They can be freely placed in space, and robust construction ensures durability. If you are a flower lover and are looking for unusual design solutions that will naturally enliven the interior of your home (apartment or office), then be sure to look through the stands for flower pots.
Flower Stand in the Interior: Photo of Metal Structures
The metal flower stand is suitable for any interior: from modern to classic. Their brass color can only emphasize the style of antique furniture. When choosing a metal version, check that it is heavy and stable. Plants installed on it should not be able to capsize, especially when the design has an unusual shape.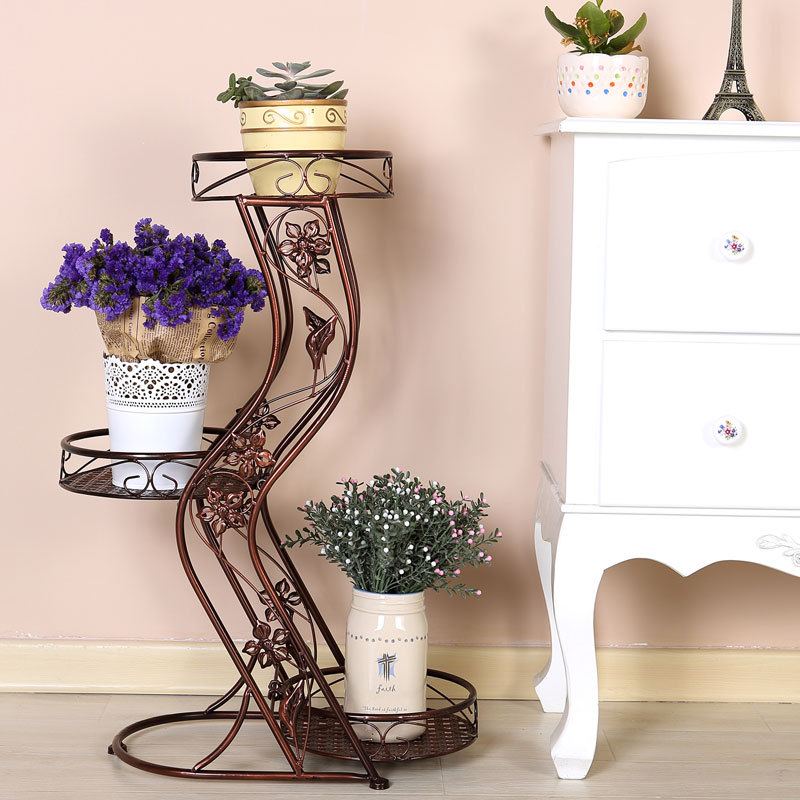 Metal flower beds, in addition to the decorative ability to accommodate flowers, have unique decorations. The model can be braided with leaves, small flowers or form roundings from rods. The unusual flower stand is something original in the room by itself.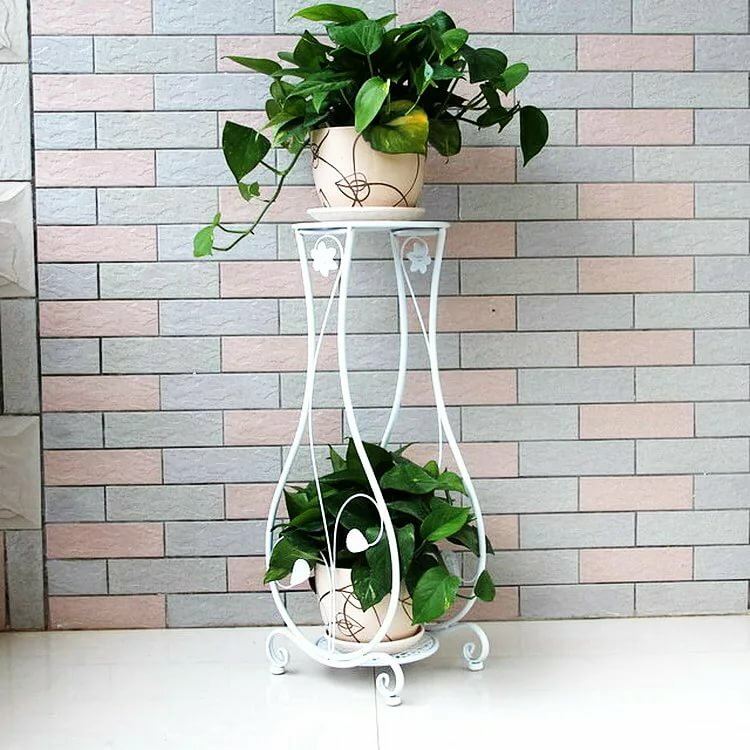 Metal flower stands are made of stainless steel, which guarantees stability, sufficient carrying capacity, and long service life. They are resistant to moisture and cold not only in home interiors but also in winter gardens, on verandas, terraces or even in the open air. Most models of flower stands are offered in different styles: prestigious gold and a nostalgic patina for black and white, which makes it easy to choose the perfect modern flower bed for any type of interior.
The advantage of metal beds is the ability to put them in the summer in the open air. Plants will look unique on the terrace or on the balcony.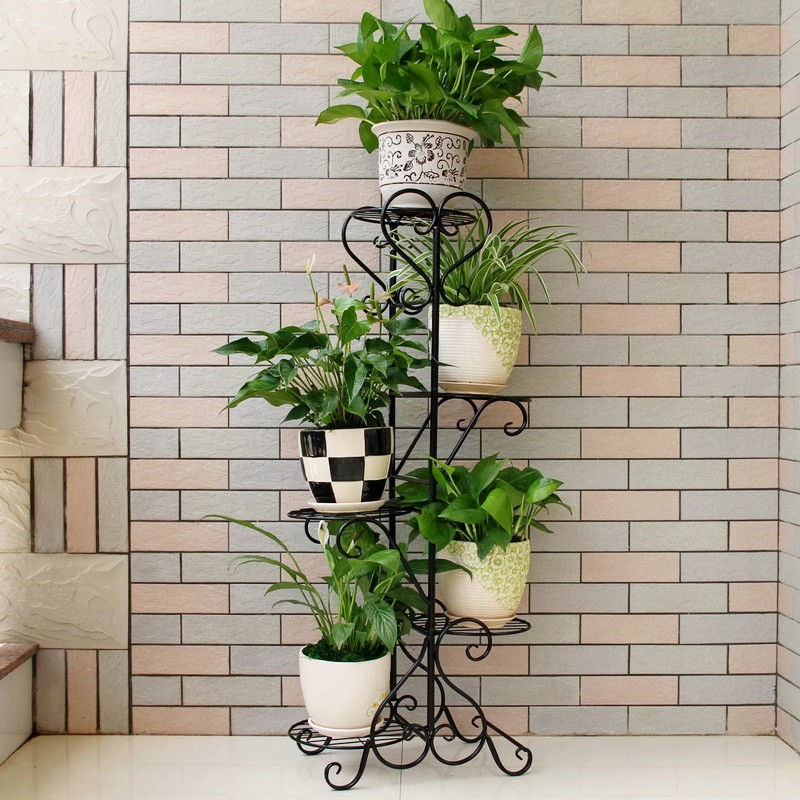 Chic Interior: Wooden Flower Stand
Wooden flower stands in the interior should also be very stable. In addition, they must be protected from excessive amounts of water. Despite the fact that the wood of the item is covered with waterproof varnish, it should be wiped dry after watering the flower. It will let coasters made from natural raw materials last much longer.
Single Flower Stand: Floor-Standing Version in the Interior
The lush plant, located on one counter, resembling a pillar, set against a light wall, makes the interior take on a new expression. If you place three separate racks of different heights next to each other, then the resulting effect may pleasantly surprise you. Spreading plants, which will be located in the corner of the room, will be an excellent natural decoration of the living room.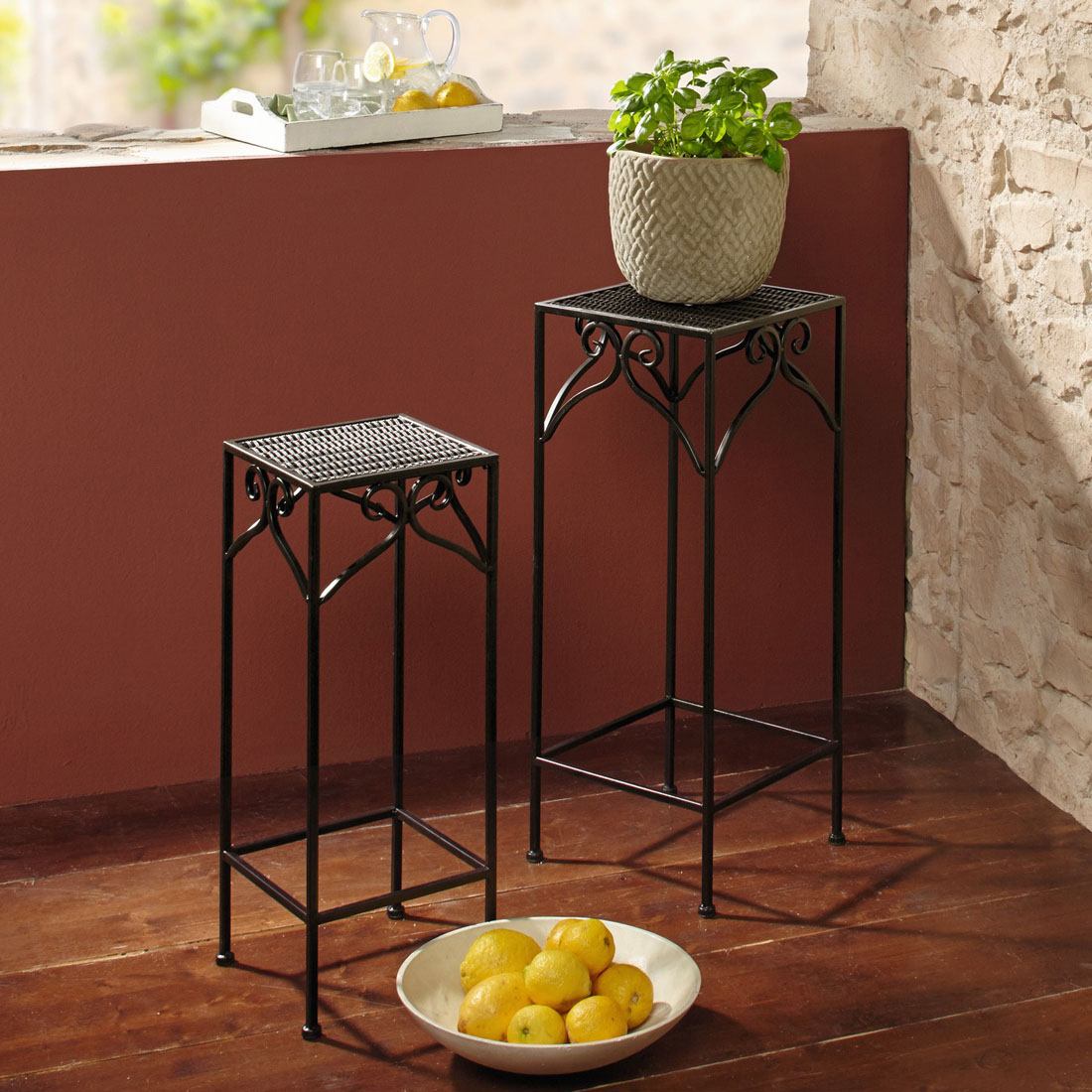 A large fern or climbing plant will definitely look better when you remove it from a tall cabinet and place it on a one-floor flower stand. The leaves will expand, have extra light and grow faster. They will cover the pot and create a natural sculpture that catches your eye.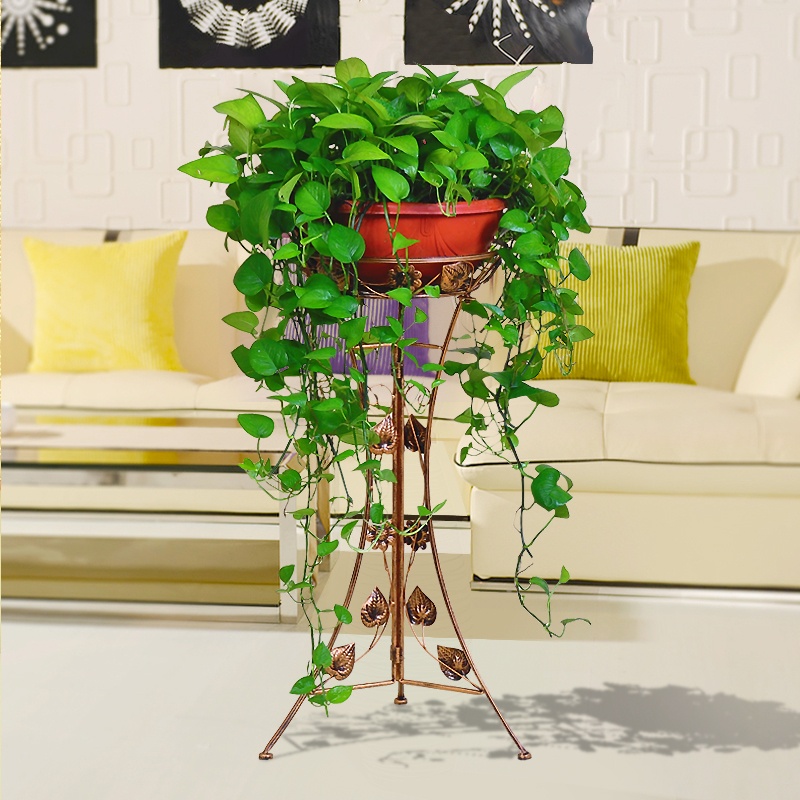 Triple Flower Stands in the Interior
With triple flower stands in the interior, it is possible to create a unique composition in your own living room. Choose plants of different shades of green and place them on the sofa. In addition, pick up decorative pillowcases in green and orange. The living room in this embodiment will receive an additional dose of energy.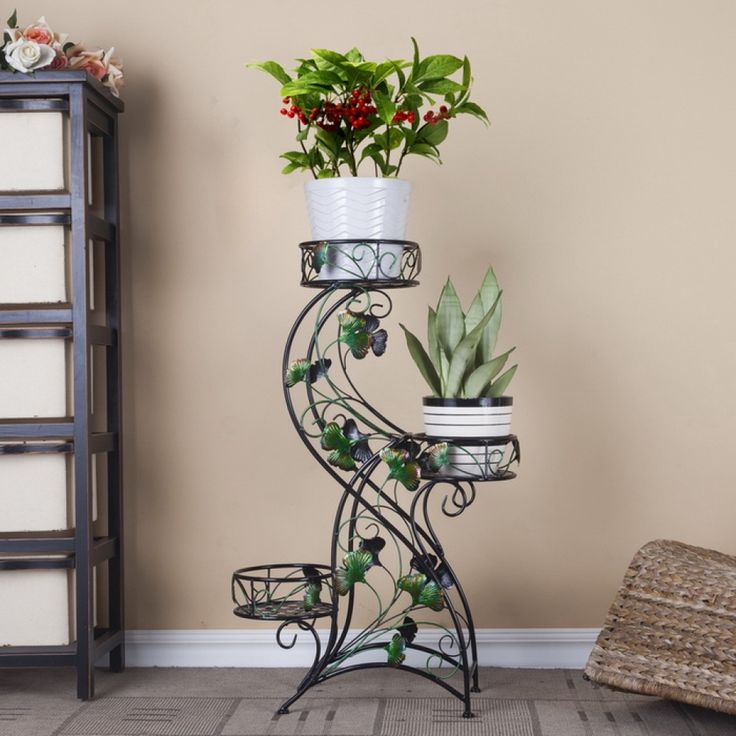 Especially interesting are the flowers on the triple stand, when the pots are at different heights. There are also metal racks in the form of three steps (from wider below to narrower above). Such designs fit perfectly into the corner of the room to create a two-tier wall of plants there.
Benefits of a Flower Stand
A flower stand in the interior will optimally arrange the greens in your home. You do not need to convince anyone of the benefits of having plants and indoor flowers in your apartment – a soothing appearance, clean air, natural beauty – all this makes a person feel better. The correct demonstration of samples in pots is a real problem that can be solved thanks to flower beds and stands for plants. This is an interesting decoration in your home, on the balcony or in the garden.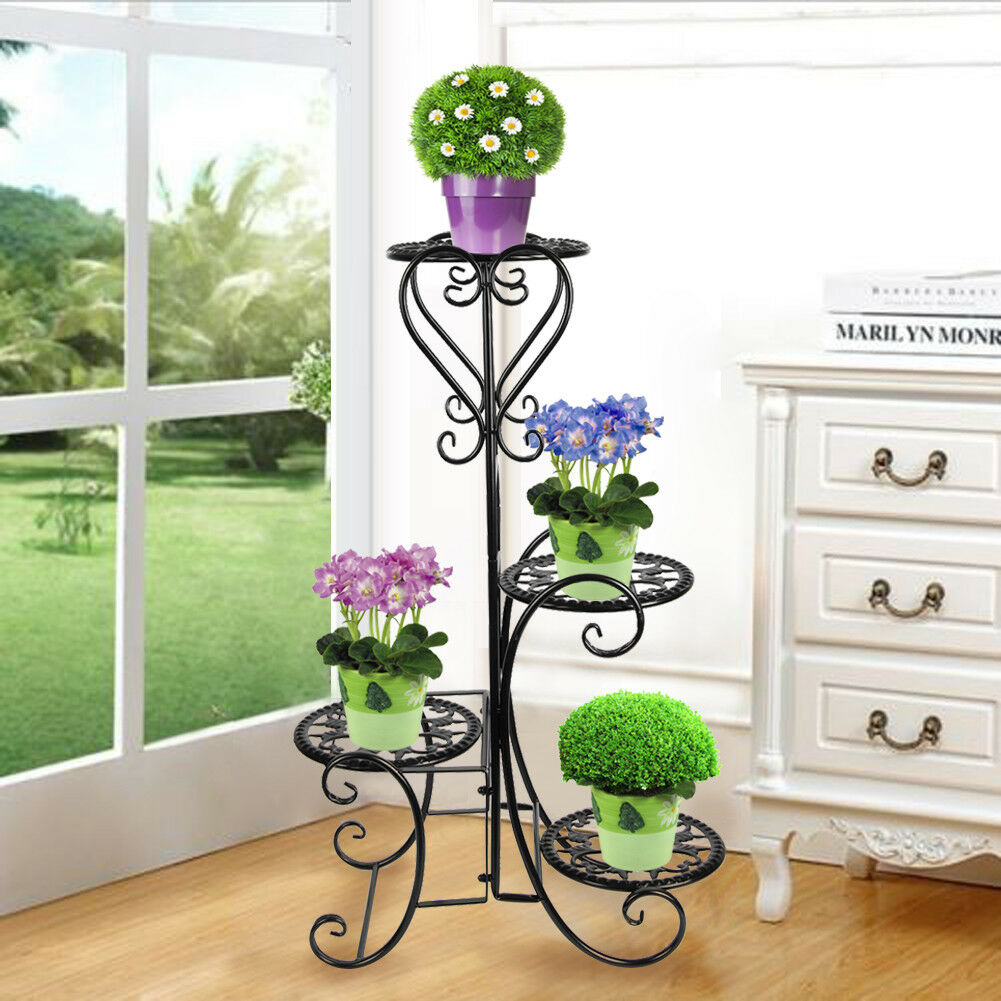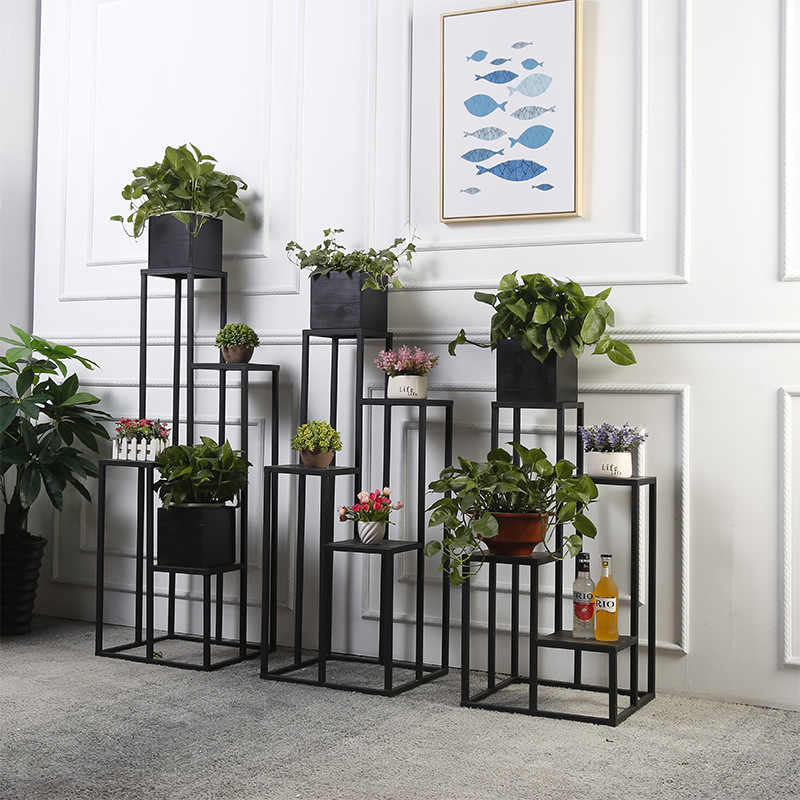 The flower stand in the interior is an elegant design that allows you to place indoor plants at different levels: from the floor, and often to the ceiling. Botanical patterns located in three-dimensional space can complement each other or be in contrast. Modern models of flower beds can be recommended for minimalist interiors, and artistic metal coasters, decorated with ornaments in the form of leaves and flowers, are perfect for stylish living rooms and bedrooms in a romantic and idyllic style.
Every home or public space should have a place for flowers, as they create an atmosphere of comfort and enliven the room. Plants look even more spectacular on unusual handmade flower beds. The flower stand in the interior of metal, wood or plastic is an excellent solution for both classic and modern apartments and houses. A variety of shapes, as well as the size of flower beds, makes everyone find a product for themselves.