Men's interiors have a number of certain differences. The concept of home improvement has its own characteristics. It is important to take into account many nuances. After all, a house for a bachelor should not represent space with a mass of heaped things. You can organize a convenient and functional housing that will appeal to a man.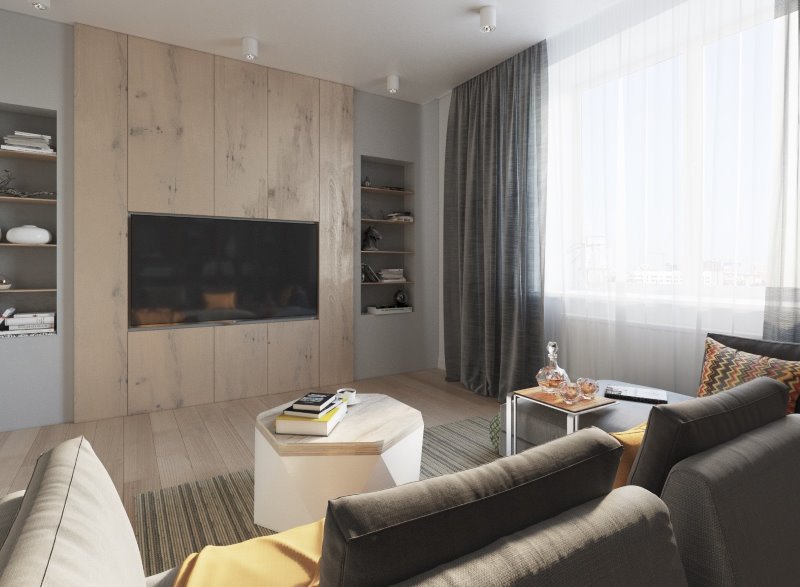 Contents
Masculine interior. Bachelor's apartment
In the living space, it is important to reflect the individuality of its occupant. Details that give the interior originality should be necessarily present. Therefore, you should consider many different options in order to choose the most suitable one for the lifestyle and personality of the owner.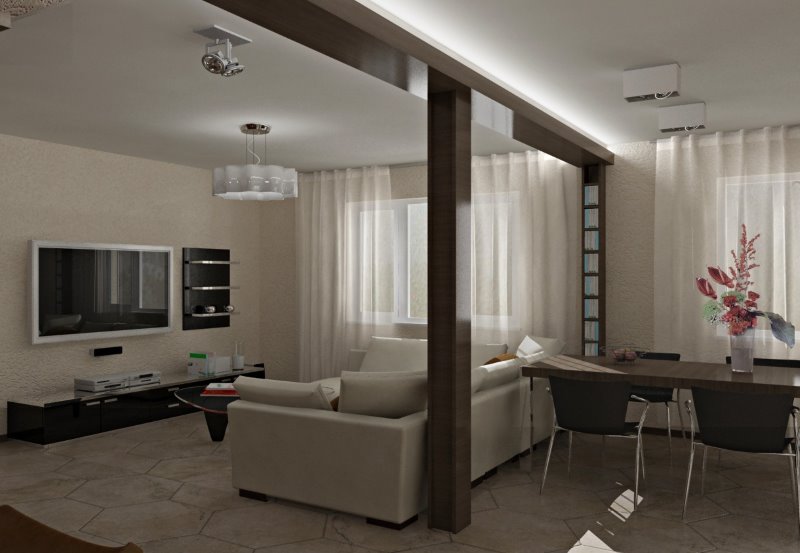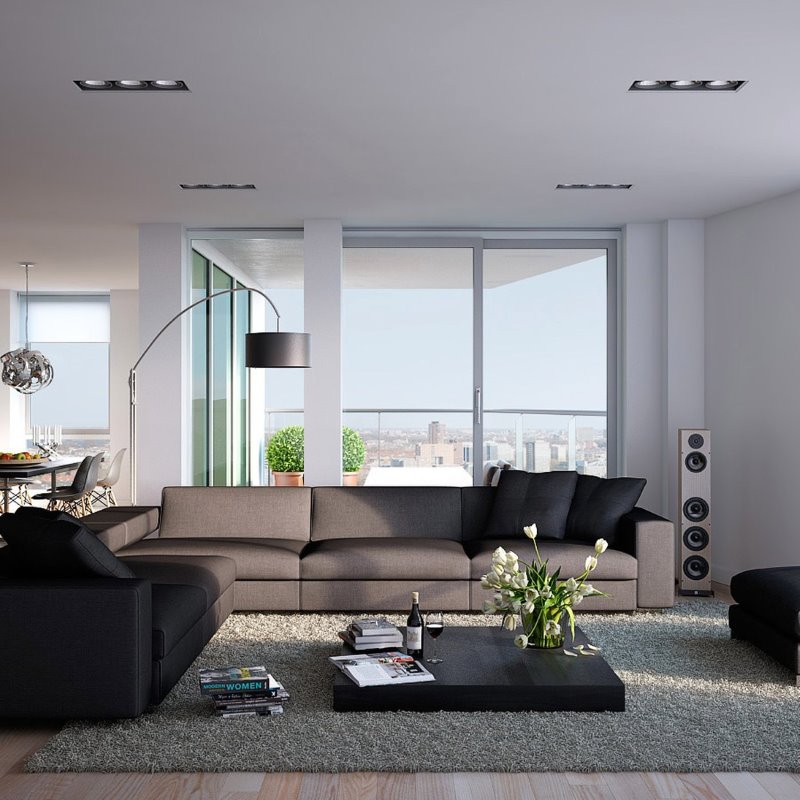 Elegance Bordering on Masculinity
With competent design thinking, you can embody elegance in a house that does not violate or undermine the general atmosphere of "masculinity". To do this, select objects and coatings that create a peaceful look. Neutral colors will help you relax after a hard day. Masculinity will be embodied in the right combination of lighting and materials.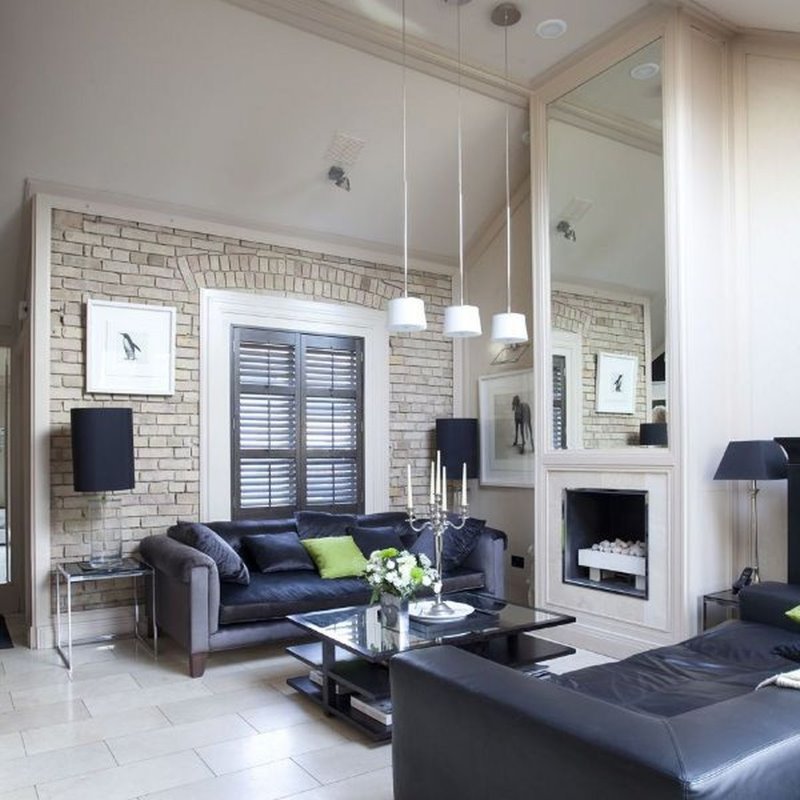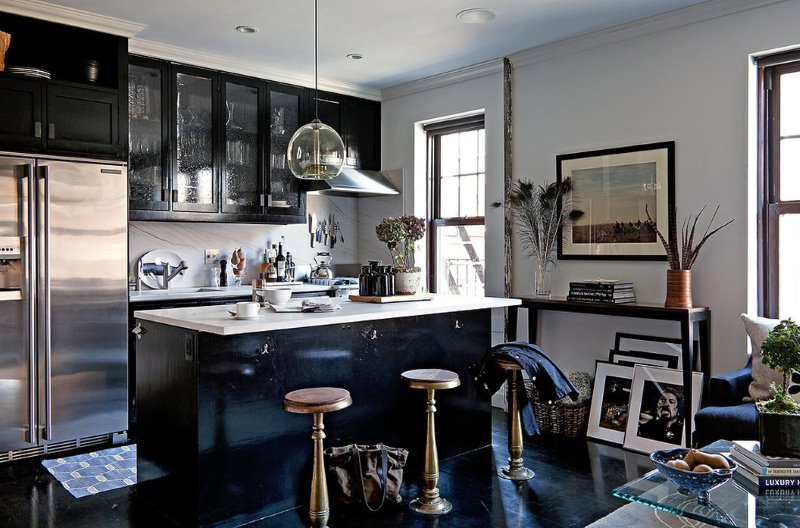 The Correct Combination of Details
Accent details can indicate who owns it. Distinctive features of the men's room will be geometric patterns on the floor and the presence of a chair with metal elements. If the owner is a creative person, it is recommended to supplement the space with a hexagonal mirror and an original painting.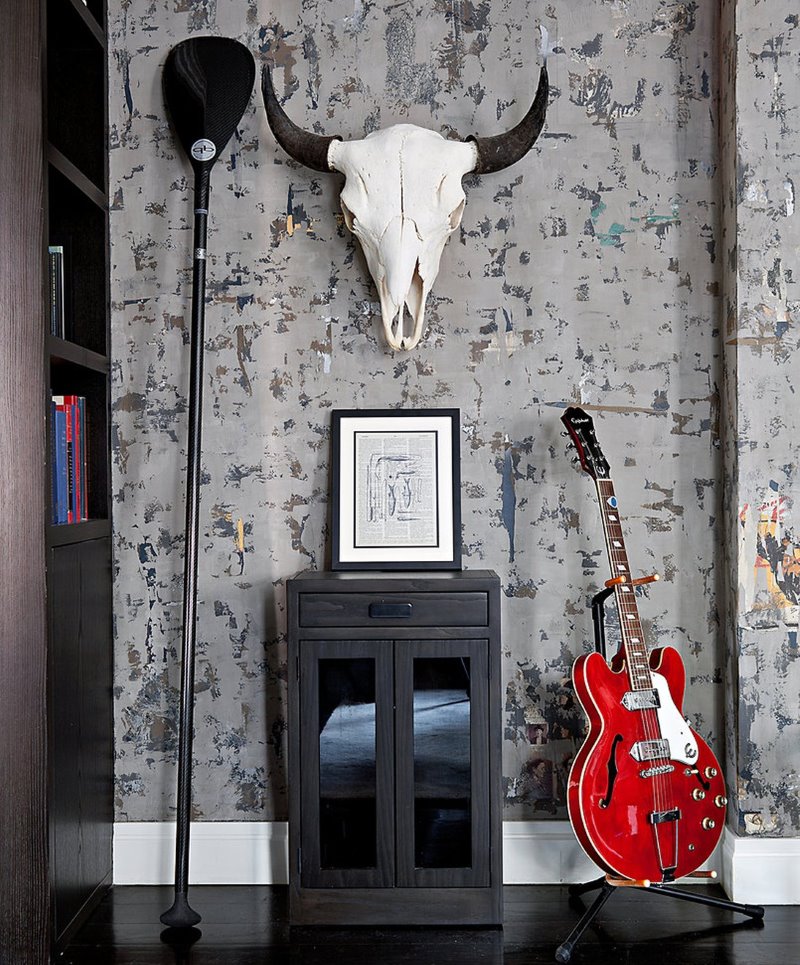 Simplicity and Functionality
You can organize a modern design, the basis of which will become a bachelor's hobby. Combine the simplicity and functionality of all items. In the best way, the combination of black and white represents classic and austerity.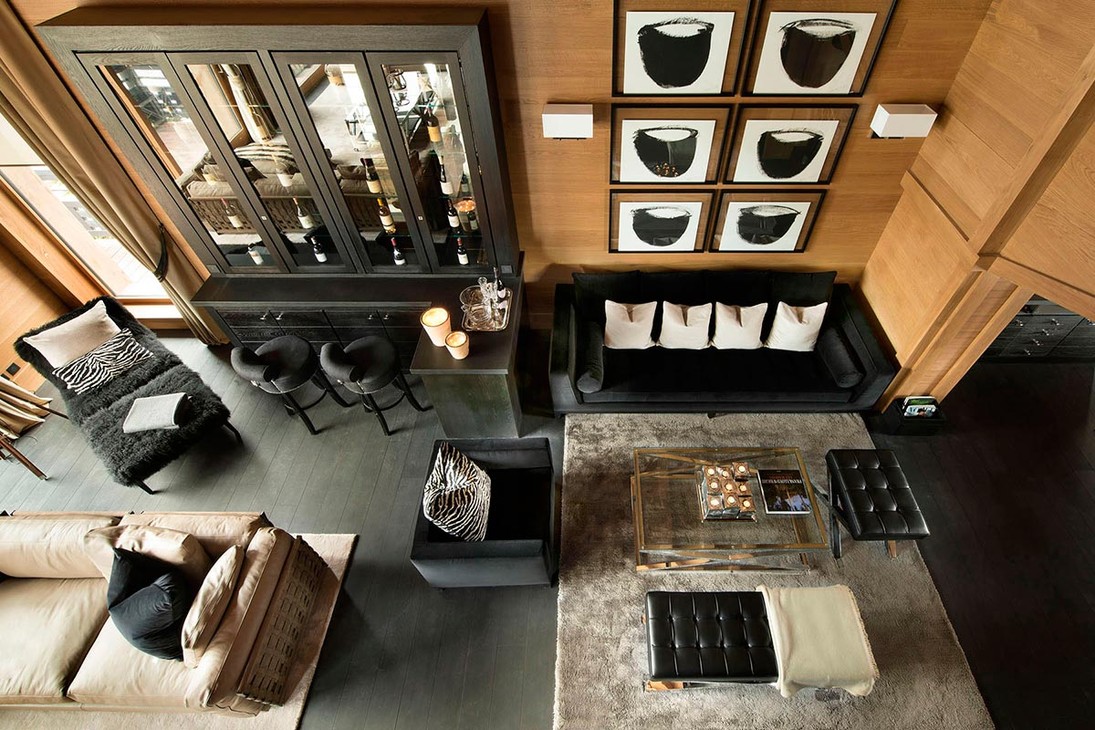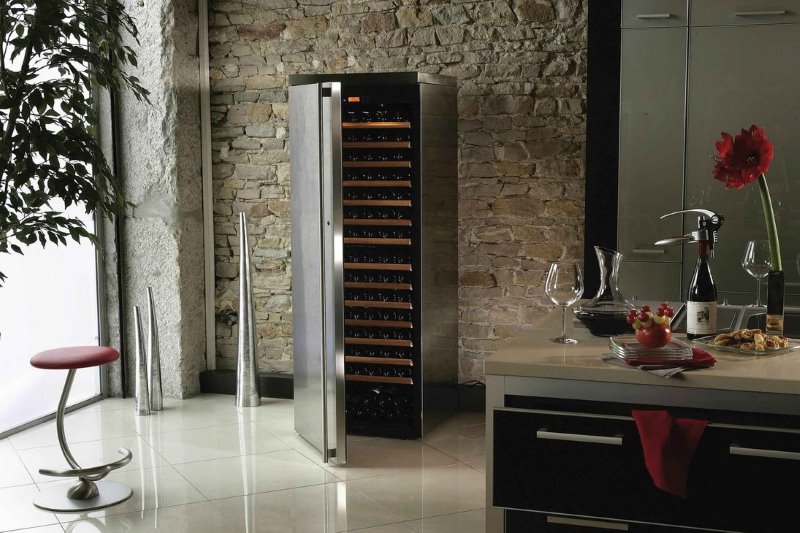 Striving for Mystery
If the landlord loves mystery, he should consider the option of organizing a museum similarity. The neutral gamut is the basis, and the style should reflect luxury. Parts present must be unique. The walls can be covered with masonry, and dim lights add mystery.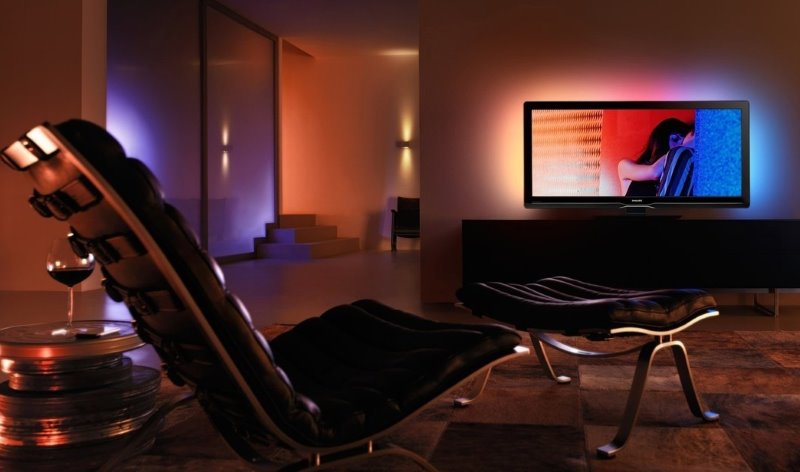 The Landscape outside the Window as Part of the Interior
If the room has a large window opening with a beautiful view from it, it is worth making it a detail of the interior. This will add more natural light, remove monotony. Every day in the room there will be a wide variety of colors.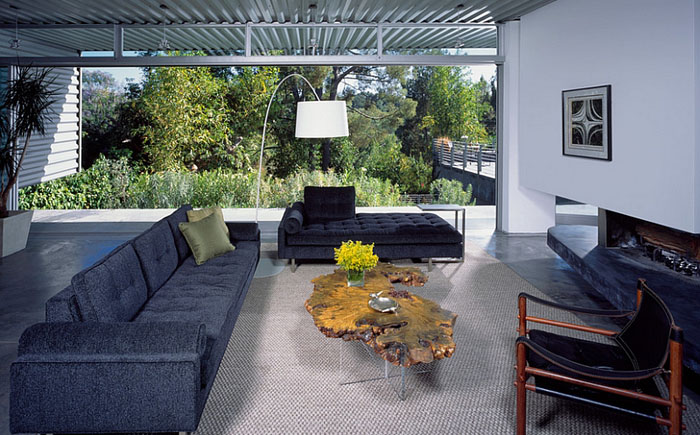 An ideal option is a sea or tropical landscape. Nature will balance the clear lines of the interior and dilute the dark tones of the male home. If a neighboring house is observed from the window, this can also be successfully played around. However, this will take more time to think through everything to the smallest detail.
The Differences Between the Male Living Room from the Female One
Male interiors are different from female ones. Differences come down to the color palette and decor. Form and shades are always the defining elements of the male or female home. Men prefer simple lines, straight and clear shapes. Girls prefer patterns, sensual bends, and grace. But do not take too much of these differences too literally. Do not overload the apartment with squares and triangles.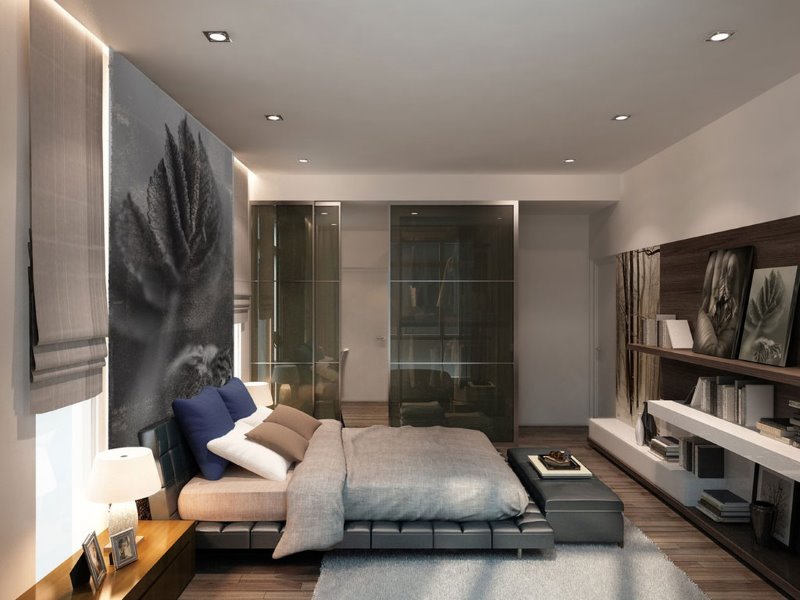 It is recommended to complement the overall design with massive objects, including a large table made of wood or metal. This will add masculinity.
Modernity and Classicism
A separate stage is the selection of a suitable style. There are modern trends and always actual classics. The first option is suitable for a bachelor's den. However, these areas can quickly become boring due to their simplicity. Therefore, you should add a little comfort to the room, so that being in it was always comfortable. Complement the interior with a chic carpet, living plants. A sofa or chair in a suitable, attractive range will help to renew the look of space.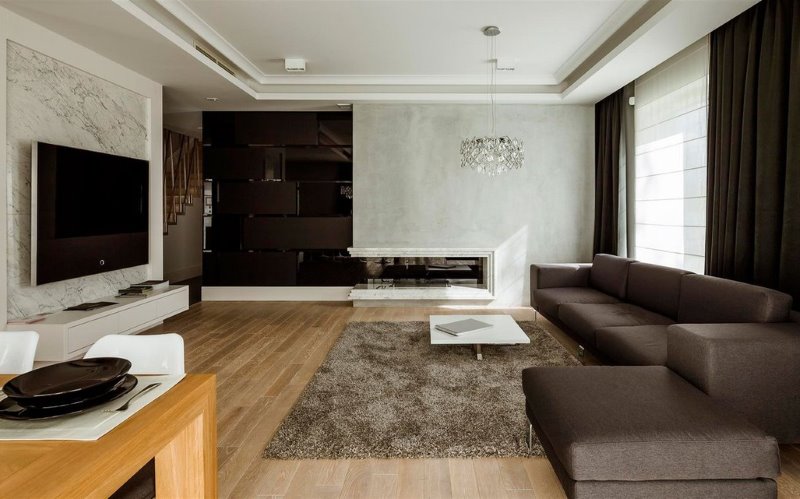 When choosing a design, it is important to consider the features of the room. If the area is small, you should select options that effectively solve a similar problem:
Interroom partition with the possibility of rotation. It can become suitable support for the TV or turn into a bookshelf.
Retractable bed model. Space in the room will remain free for all day. Special cables lift the structure and fix it under the ceiling.
Folding dining table. When not in use, it can be folded, which will free up enough space.
Free space around the window. Each meter should be useful, including this area. Shelves can be installed.
Corner sofa. It is easily converted to a bed. Therefore, it performs several functions and you may get by installing an additional design.
Console picture on the wall. If there is not enough room for it, you can create a visual effect of its presence. This will significantly transform the room.
Mobile bed. It has the appearance of a cube that looks very original in the interior.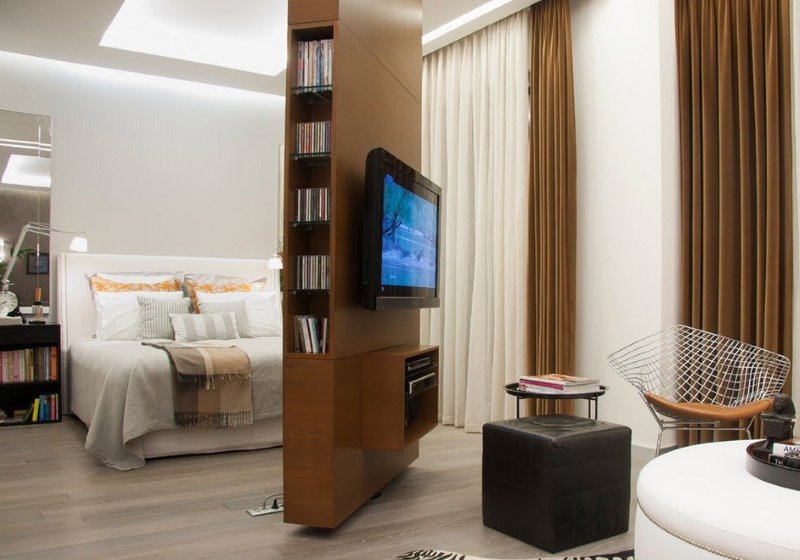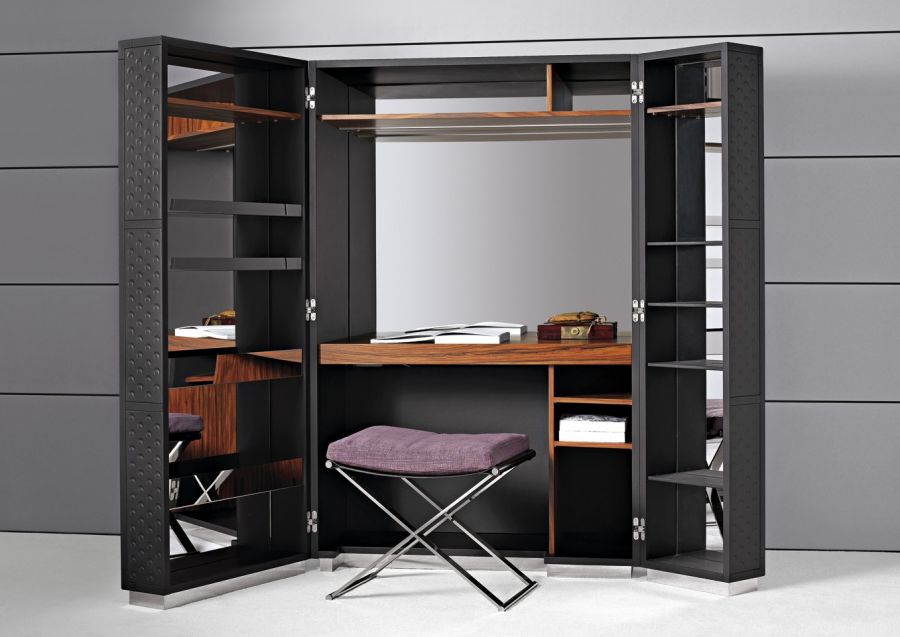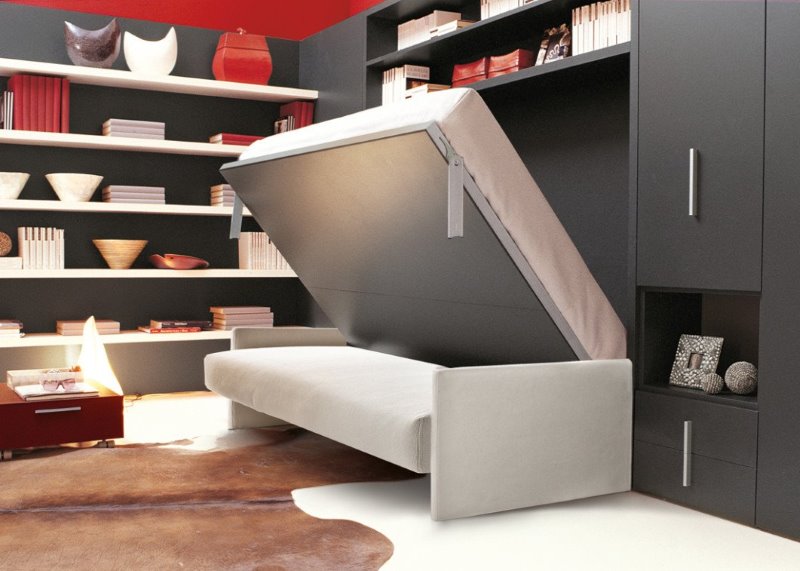 Masculine Bedroom: Possible Styles
The interior of a men's bedroom needs to be thought through to the smallest detail. There are several most suitable options:
Minimalism. It is considered one of the suitable for a bachelor. Differs in laconicism, restraint and the minimum quantity of details. It is recommended to divide the space into several distinct zones. Recreational, entertainment zones, storage systems, the work area should be among the segments. Necessarily clear lines, a minimum of decorative elements; prevailing of neutral, blue, gray, brown tones.
Hi-tech. A distinctive feature is a manufacturability. It is important to dose textile, decor and color schemes correctly. Otherwise, the room will be cold and uncomfortable. Rationality and conciseness prevail. More mirror, metal surfaces. Stone, concrete, and granite are among the decoration materials.
Art Deco. Wealth connects with art. It features a wide variety of textures, shapes and decorative details. The key element is the bed. It can be decorated with stones, crystals. The range includes golden, silver tones, burgundy, pastel palette. Only refined and expensive material should be used, including velvet, satin and others.
Classics features versatility. It combines beauty and luxury. Particular attention is paid to decorative objects, accessories. The basis will be beauty, wealth and dark masculine tones. It is worth adding a little light gamut for diversity.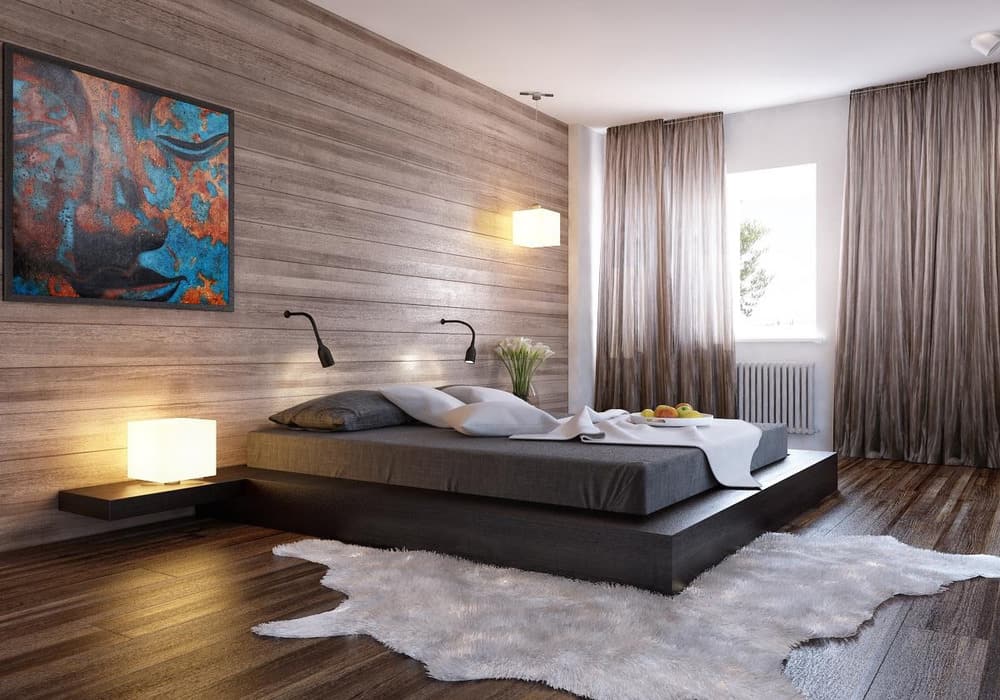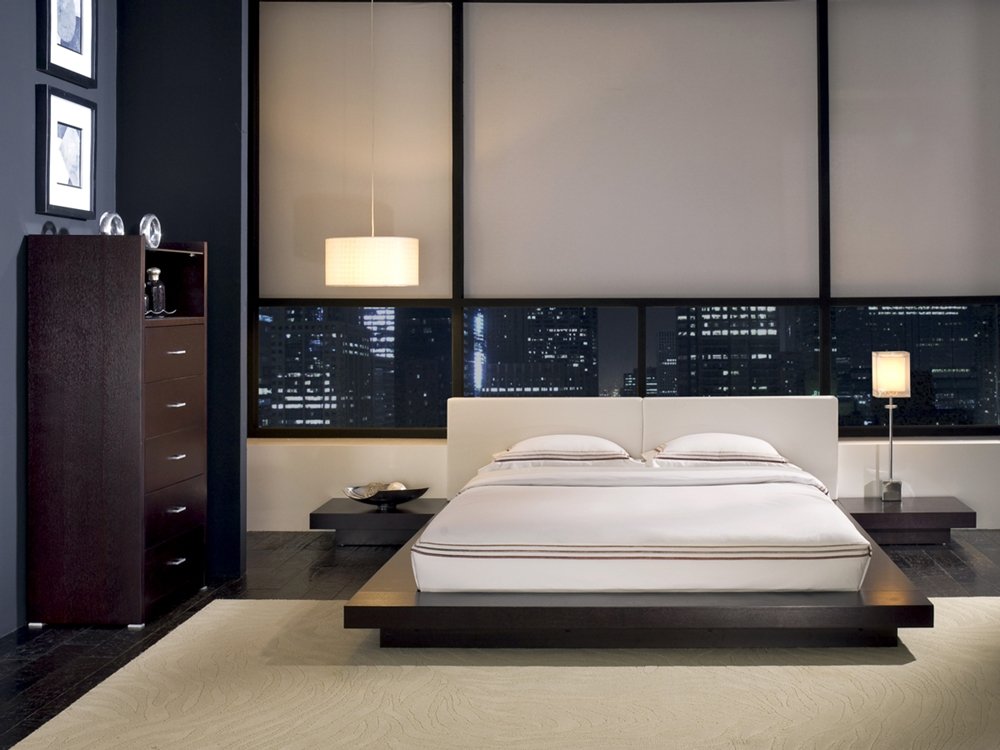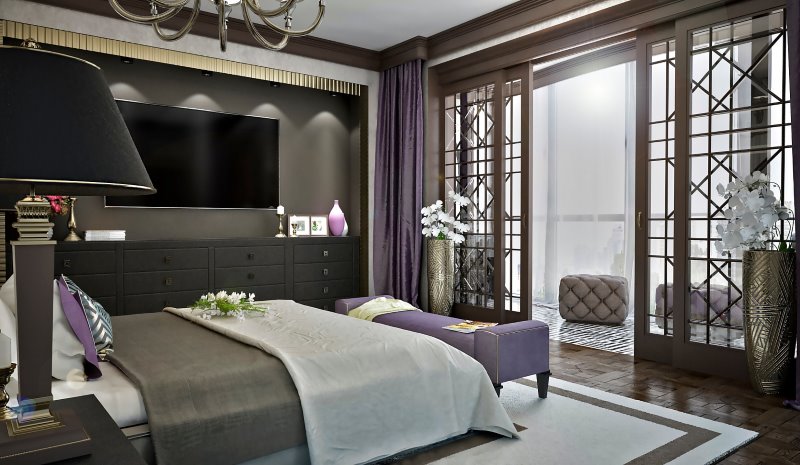 Interior of a Men's Bedroom: What to Consider?
In the bedroom of a man, everything should be at hand. No unnecessary parts that do not carry any functional load. It is definitely worth adding a table, a comfortable armchair, a bed and several curbstones and lockers to the room. A lot of light should permeate the room, both natural and artificial.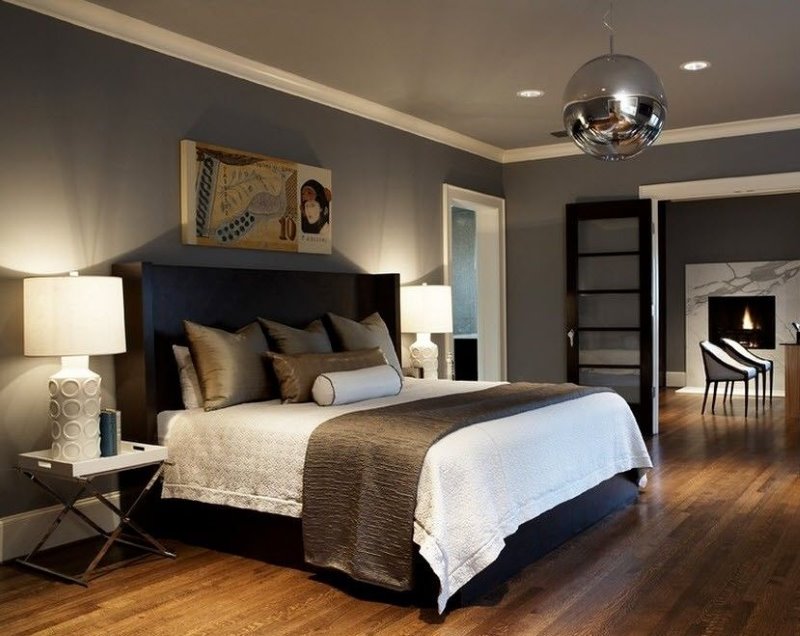 The furniture should be comfortable, preferably with orthopedic properties. Choose multifunctional models that save space. Complete everything with a wardrobe, which allows you to correctly organize the storage of things.
Bedroom Design for a Young Guy
A combination of practicality and comfort is imperative. A separate hobby area should be reserved. If he likes to draw, then place an easel in the room. The reader will be glad about a bookcase and a comfortable, easy chair nearby.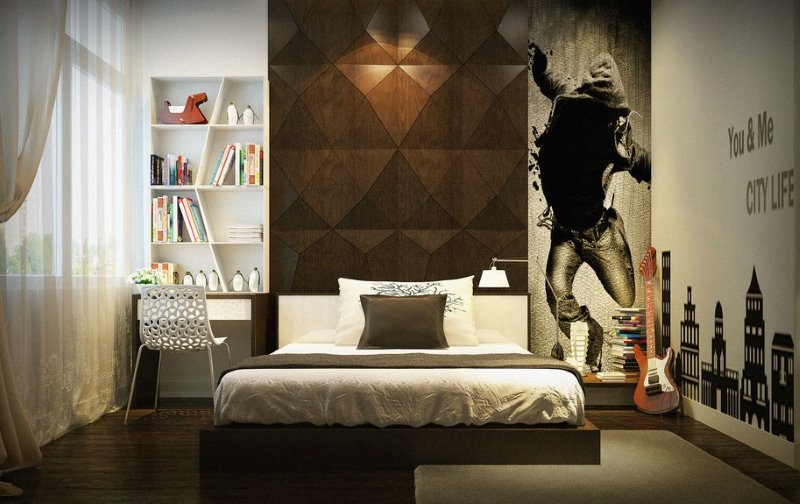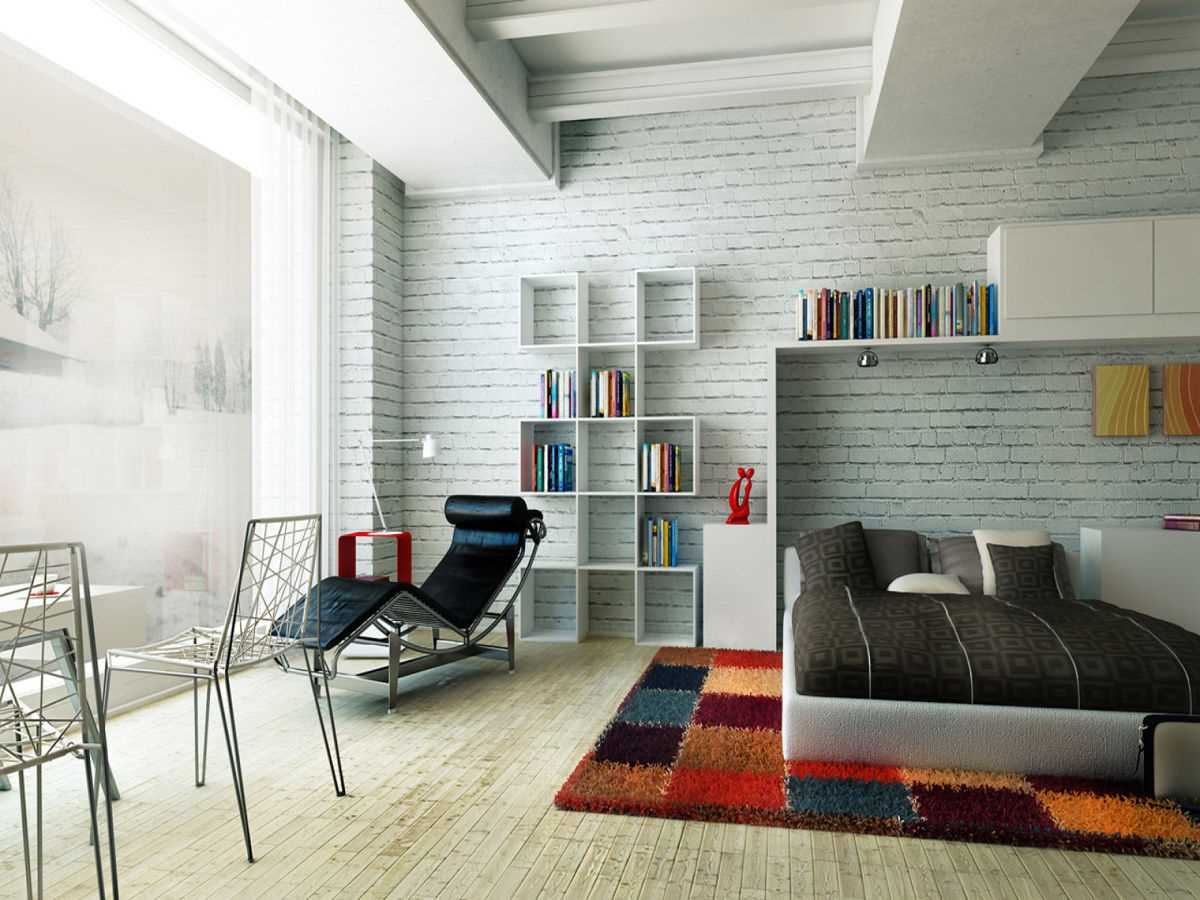 Among the shades, it is worthwhile to focus on blue, beige, brown or gray. A site should be allocated for the working segment. There, a young man will be able to study or work. Be sure to have a functional table where all the necessary items will comfortably fit.
The Bedroom of Two Boys
If the area allows, you should divide the space into two parts using visual details. This will create their own world and individual interior for each occupant of the room. If this is not possible, then all the selected items should save space as much as possible. A bunk bed that uses the free space at the room top is suitable.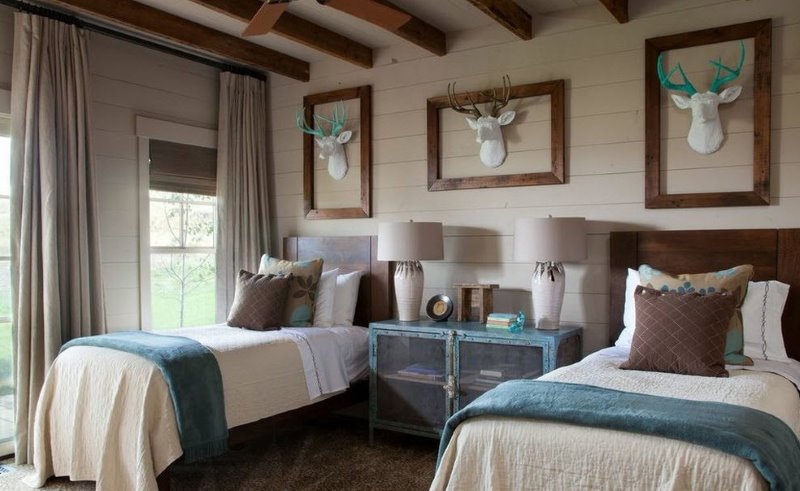 There are many interesting and practical models for rooms where several people live at once.
Black Color in the Interior
It is popular, in particular in the design of men's spaces. If everything is done correctly, there will be no trace of gloom and mourning in the room. Complete the range with natural wood and muted surfaces for rigor and conciseness.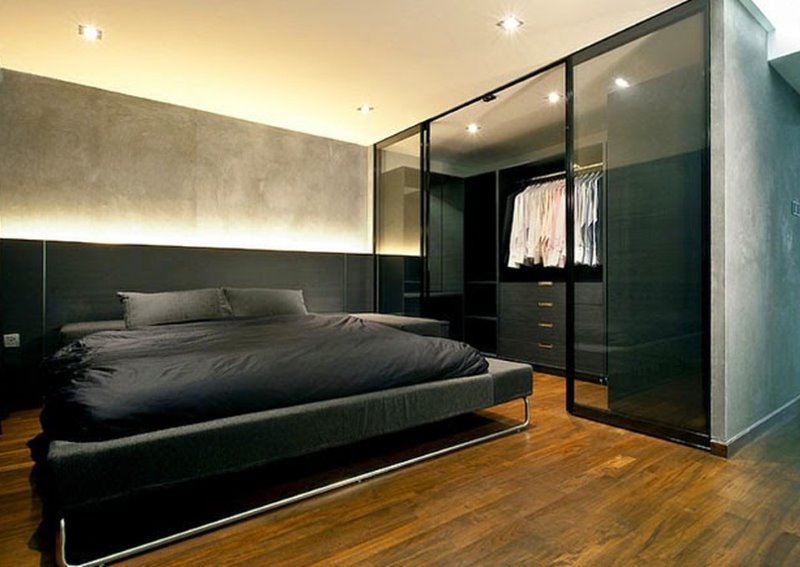 Black is versatile, which allows it to remain a popular shade for decoration. Do not completely cover the room with a similar tone. It must be diluted, introduced in a dosed manner so as not to turn a bachelor's place into a dark kingdom. Add lighting of different levels, light fabrics, and glass surfaces to give room airiness.