The colonial style is a classic decor and exotic additions. This combination is the result of colonial history, creating a special style that has survived to this day. The interiors of colonial style kitchens are elegant but also functional. The colonial trend is a combination of classic design with exotic additions. This space is characterized by elegance, style, and a high degree of functionality.
Content: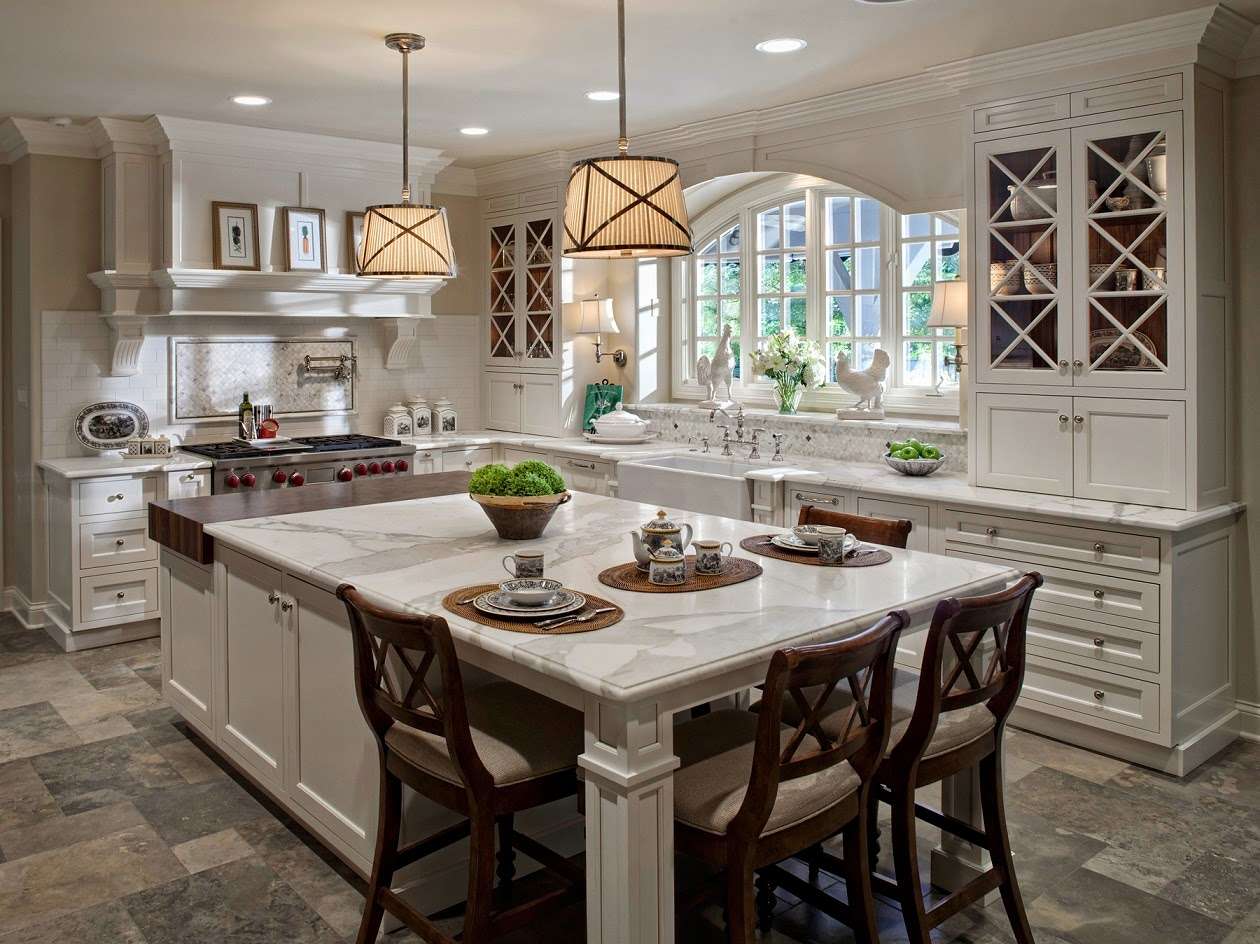 Colonial Style in the Kitchen – a Combination of Exotic and Classic
Modern colonial style interiors are predominantly a reference to 19th-century African homes. Interiors decorated in this direction combine classic elements with African and Indian notes. Most often, this style is visible in kitchens and living rooms. It is characterized by massive furniture and accessories taken directly from the Victorian era. Classical and elegant elements complemented by oriental decorations.
The classic, diluted with exotic in the form of oriental additions, gives a new interesting quality in the form of a colonial style. The most commonly selected types of furniture are mahogany, ebony, teak, rosewood. Such kitchens are characterized by dark wood. Colonial-style furniture is massive and heavy. Very often, it also has carved elements. Colonial furniture sets made of natural wood are very expensive, but there is a cheaper alternative produced from artificial materials.
Lovely Fusion of Cultures
The colonial style was created at the end of the 18th century thanks to British colonization. The British, longing for the local Victorian style, decided to transfer it to the colonized lands of India or Africa. However, the transportation of equipment from their home countries was extremely difficult, so the furniture was made from materials available abroad. Initially, it was believed that they would be an exact copy of European ones, but over time it became clear that local performers can combine massive, classical forms with regional ornaments. Thanks to this, solid furniture from the finest exotic woods have acquired a brand new dimension. They were decorated with intricate floral motifs, oriental symbols, and attractive details. Therefore, a colonial-style kitchen is a place where European elegance and exotic originality are harmoniously combined.
Materials  for Colonial Kitchen
Wooden floors are also welcome in this type of interior. Additionally, muted colors with natural shades should appear on the walls. They can be painted and wallpapered. A very desirable effect is a warm and cozy interior, which you will get using gold or copper additives, as well as warm brown and green colors. They are also associated with the specifics of the place since the style includes natural tropical landscapes. The frequent motif of flowers and leaves is also related to such scenery.
Colors and Patterns
A colonial-style kitchen should have earth tones. Delicate beige, pastel green, or fuzzy cream shades will make heavy, exotic furniture not overloading the interior. People who love glamor can afford embossed wallpaper with exotic patterns. The colonial-style kitchen is filled with natural materials. Therefore, bamboo table mats, baskets of seagrass, or linen on the window would be a good idea. Fabrics can have oriental patterns, such as Persian paisley, leopard spots or floral accents.
Colonial-style spaces, despite their sophistication, are very comfortable. This is due to subtle colors combined with wood. The cozy atmosphere is also associated with the appearance of references to nature, both in additions and in colors. Colonial kitchen is perfect for a juicy green color that can be used as a tablecloth, curtains, or blinds. Integrity will also be emphasized by exotic decorations and oriental sculptures.
The colors that make space cozy and comfortable will be copper, gold, and warm browns. It is worth taking care of small accents in the form of floral or leaf motifs, which will immediately be associated with tropical landscapes.
Colonial-Style Kitchen – Furniture and Accessories
The colonial-style kitchen cannot do without heavy furniture made of dark exotic wood. So choose a table in mahogany or ebony with leather seats, a sideboard with an openwork door decorated with fittings. Remember that a colonial-style kitchen is fond of accessories. It can be figurines of exotic animals, clay vases, a rattan lamp, or an ancient globe. You should hang a graphic reminiscent of the movie "Out of Africa" or ethnic masks on the wall, and also put a bowl with mother of pearl filled with shells on the windowsill. The more extras associated with tropical expeditions, the better.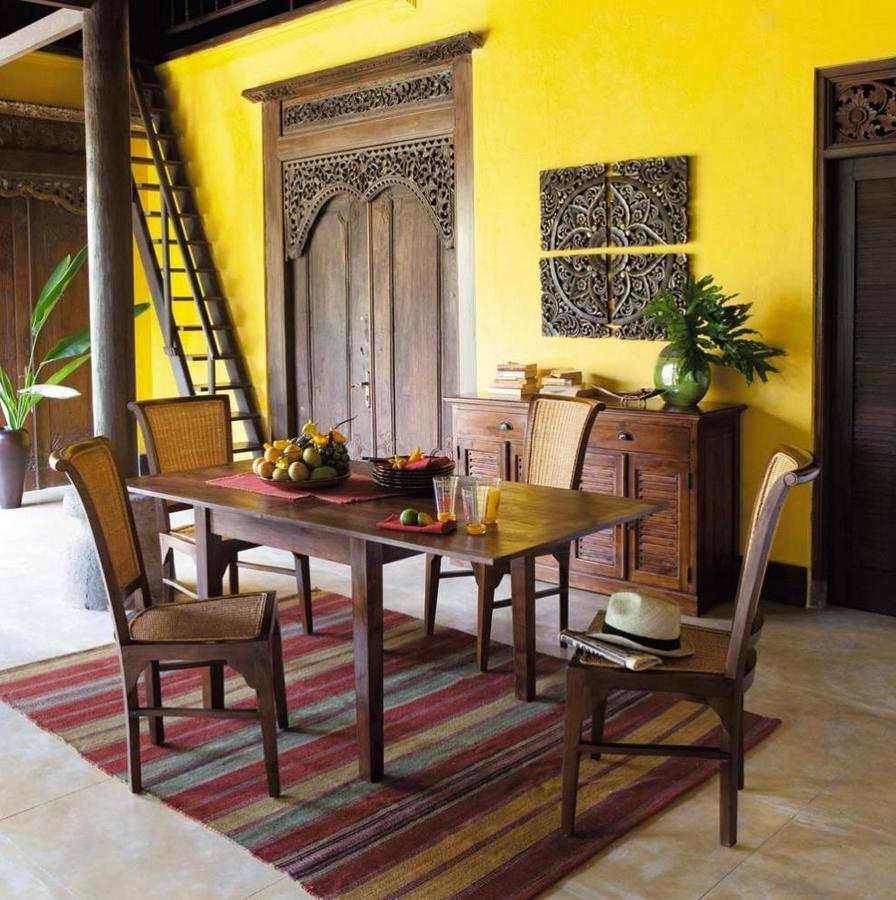 Furniture is the most important element of any colonial-style kitchen. They are characterized by massiveness and heaviness. Most often, the kitchen is made of wood, such as red, black, teak, or rosewood. Colonial kitchen furniture is also characterized by a dark color, although their brighter counterparts can be found more often. The colonial kitchen has carved elements that make the kitchen furniture extremely elegant.
When choosing a colonial-style kitchen, you should pay attention to accessories associated with former colonies. And therefore, a great idea would be to use Indian lamps, elements modeled from ivory, colorful stripes, etc. You should strive for closeness with nature, decorating the kitchen with living plants.
A colonial-style kitchen should be a place full of hidden meanings and symbols: a lotus flower looking out of a decorative tablecloth, a sandalwood statuette of a Buddha, and an elephant incense stand. All these nuances will make you instantly feel like in a former British colony in central India.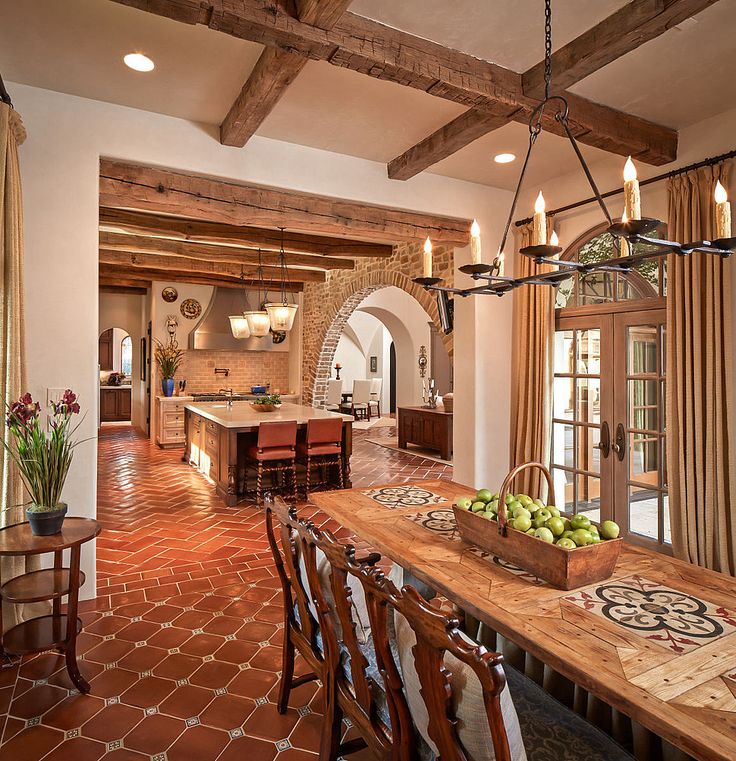 Who will Appreciate Colonial Kitchen?
Colonial style is a great offer for people who feel good in elegant interiors and love classic solutions. This aesthetic, thanks to massive furniture, will be best represented in large spaces. In small kitchens, the Colonial style can be supplemented with accessories.
Colonial-Style Kitchen – Celebrity Choice
Colonial style is said to be the essence of the typical "American dream." Hollywood stars have long adored him and are trying to fill their homes with it. Fashion designer Ralph Lauren, top model Cindy Crawford or American singer Cheryl Crowe decorate the villas with exotic accessories. For them, the lobby, dining room, or colonial-style kitchen are unmatched.
Modern Colonial Style Kitchen with a Touch of the Tropics
Currently, the fashion trend is a combination of colonial and tropical style directions. Exotic motifs of plants and birds, as well as patterns of predatory animals, appear on fabrics and walls. Living room or bedroom are interiors in which colonial notes are very widespread, but the kitchen is no exception. This is not surprising, because this style is the quintessence of comfort. And what should a colonial-style kitchen look like? The photo gallery will show this in detail.
On the photographs, you will find non-standard colonial kitchen interiors that will allow you to create an extremely functional room in your favorite style. Check out the finished projects.