Complex combinations used in the arrangement of the kitchen are one of the most interesting, unusual, and amazing ways for a fashionable interior. A very individual, warm, and atmospheric Fusion style offers many possibilities, thanks to which the kitchen becomes an extremely attractive central part of the house. Are you an individualist or maybe you are drawn to unusual, amazing combinations in the design of rooms? Do you hate boredom? Consider reading the following article about fusion-style kitchen interior design: features and arrangement ideas that will not leave you indifferent in any case.
Content: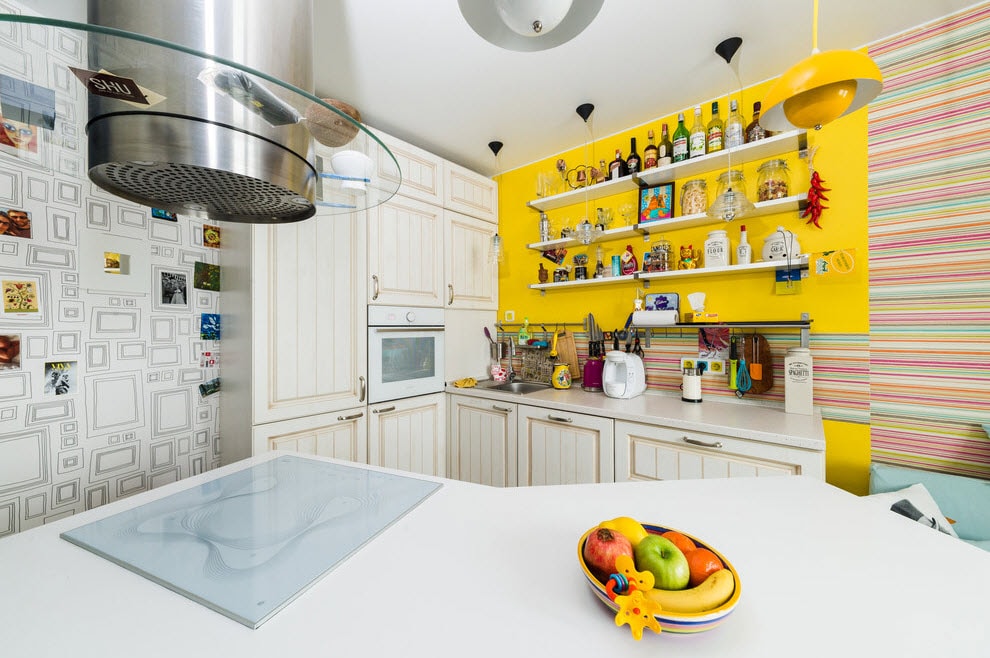 What is Fusion Style in Short?
Fusion is nothing more than a combination of seemingly inappropriate elements, colors, decoration materials, etc. Amazing mergers create a bold and at the same time filled with a sense of humor interior, ideal for people with an unconventional personality. Mankind owes to Philip Stark for the founding of the fusion style. He designed the chair, reminiscent of the style of Louis XVI, but from bright plexiglass.
Remember that the fusion kitchen should be unusual, colorful, fun, warm, but with sensitivity and moderation.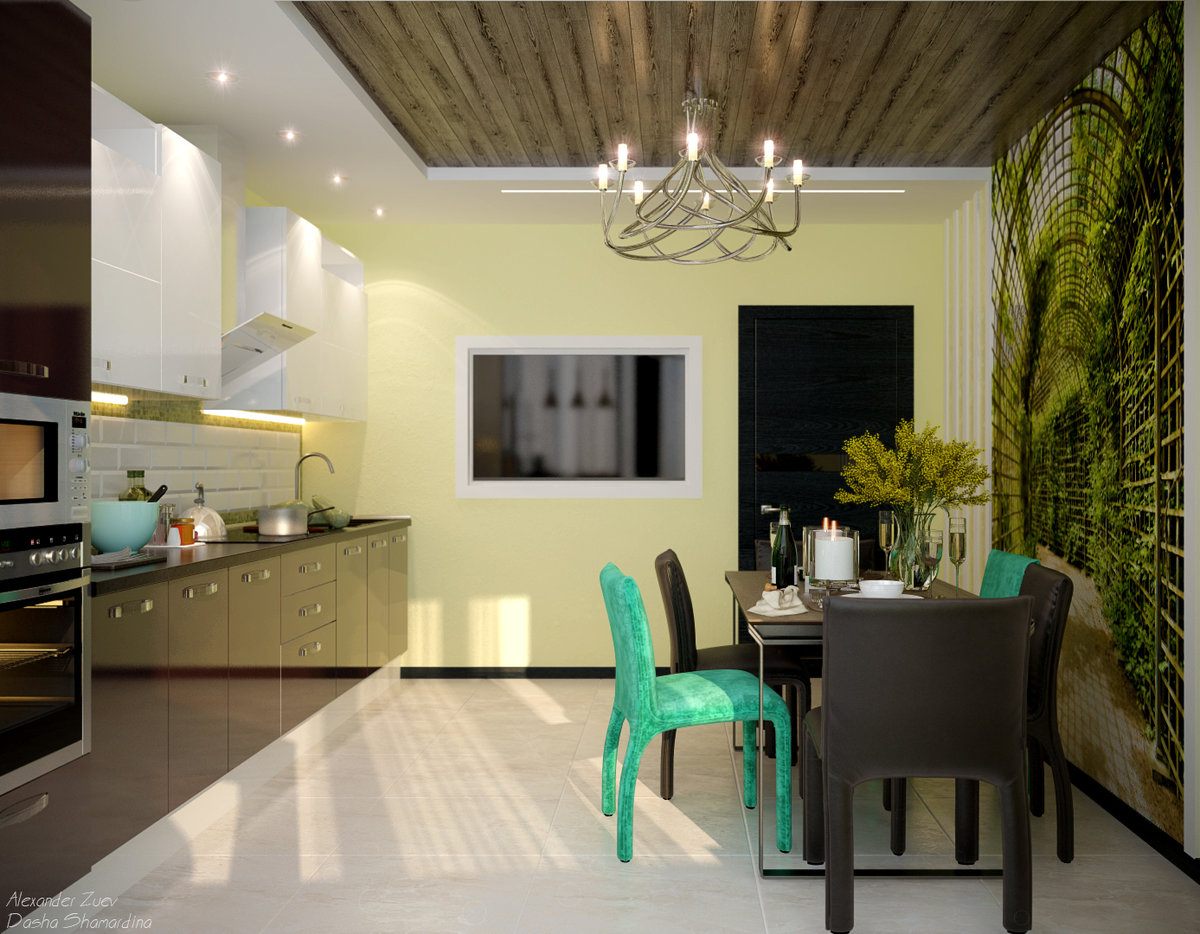 The Main Features of Fusion Kitchen: Everything is allowed in the Arrangement of the Room
A characteristic feature of fusion is the combination of forms and expensive materials with cheap, noble, and ordinary products of interior design. This style draws inspiration from ethnic motifs, especially bright, beautiful colors that should be present in the fusion design. In this kitchen, almost all decorative and compositional combinations are allowed:
you can successfully combine a beautiful stylized table with leather chairs;
a retro-style sink will look good in combination with a modern induction stove;
minimalist furniture can be complemented by additions in very bright colors;
do not miss the opportunity to buy a crystal chandelier in bright green color and combine it with a cabinet of your grandmother.
In fact, any madness is allowed, even Kitsch, provided that you do not overdo it.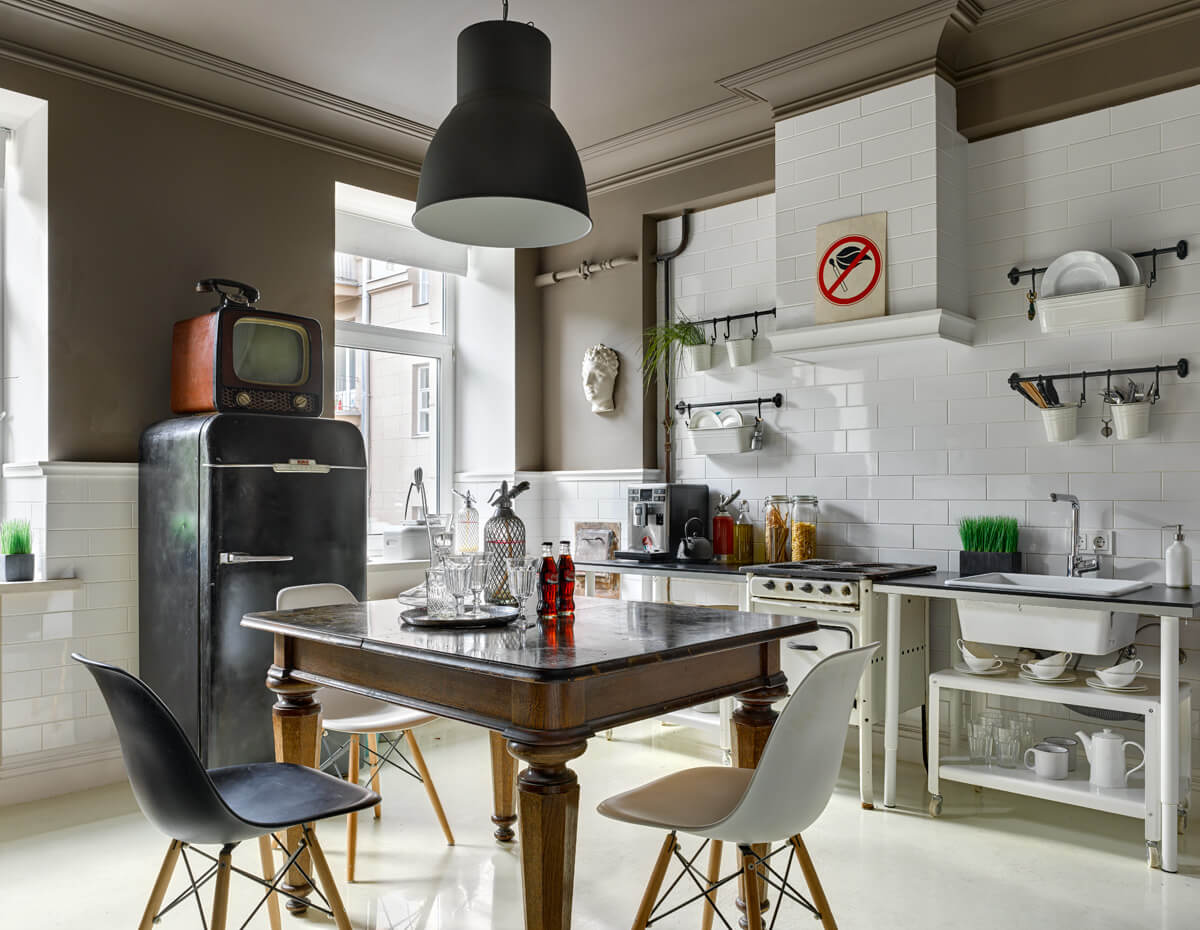 Features:
combination of seemingly inappropriate elements;
the opposite of minimalism;
bright colors;
a selection of old and new, Baroque with modern;
a combination of expensive and cheap, exclusive and common materials;
bold and unusual treatment of the kitchen interior;
kitsch is allowed given adequate control and taste.
Modern Fusion Style Kitchen Interiors
In the fusion aesthetics that are far from minimalism, it is permissible to use different parts in a traditional, Scandinavian, industrial, bohemian, eclectic, and rustic direction. Furniture from different eras is combined with modern equipment. A style in which there are no rules is fusion based on the contrasts of very diverse elements.
The richness of shapes, colors and seemingly inappropriate additives create the most amazing bindings, playing the main role in the fusion-style kitchen. Unconventional interiors look like they were created over the years. Meanwhile, in order to equip a room in this way, you need to be careful, because in this case, the limit of overload with additives and intrusive kitsch is extremely small.
Choosing the Right Fusion Kitchen Furniture
Fusion style is primarily a combination of contrasts and various elements that are not initially combined with each other. This variant combines modernity with tradition. At first glance, such interiors look a bit chaotic and inconsistent, but they are created with a refined and avant-garde aroma.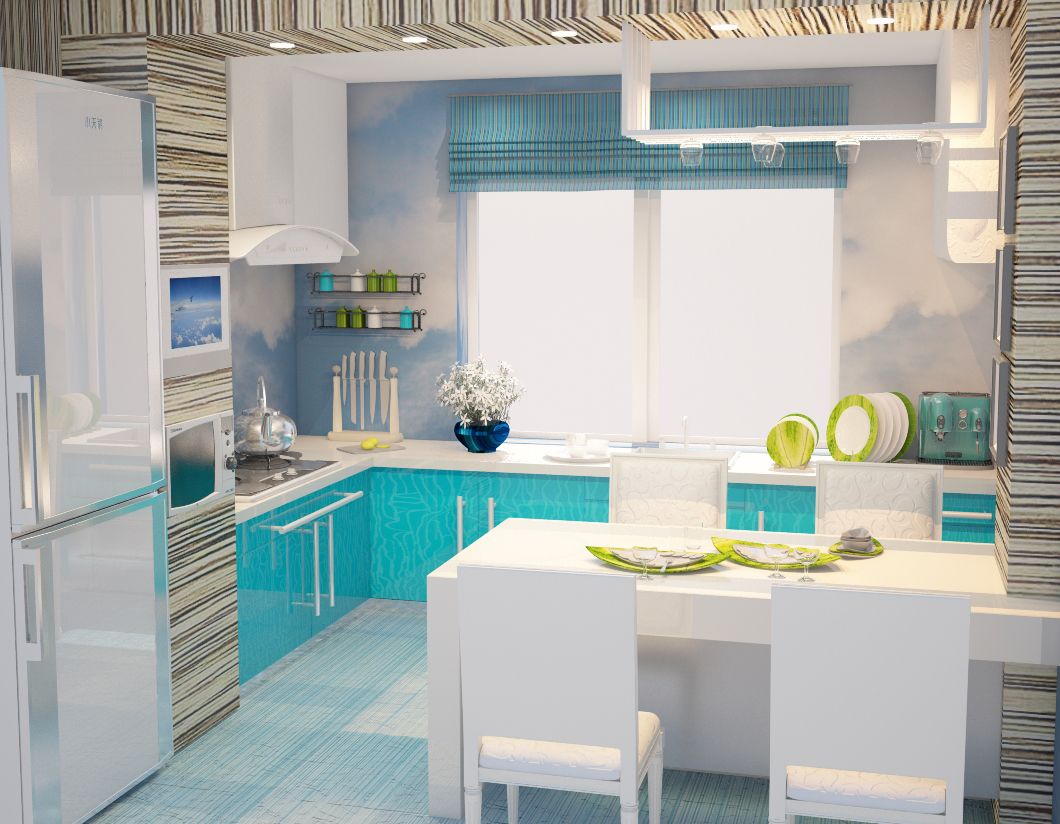 Combine old kitchen furniture from your older relatives with simple, modern forms in the kitchen and create a unique interior – a real art. Nevertheless, more and more people prefer to combine modernity with classics, creating interiors in fusion style. A classic wooden table in combination with modern plastic chairs is a brilliant decision in this style. The luxurious decoration that is filled with ethnic elements and modern details can also be present here.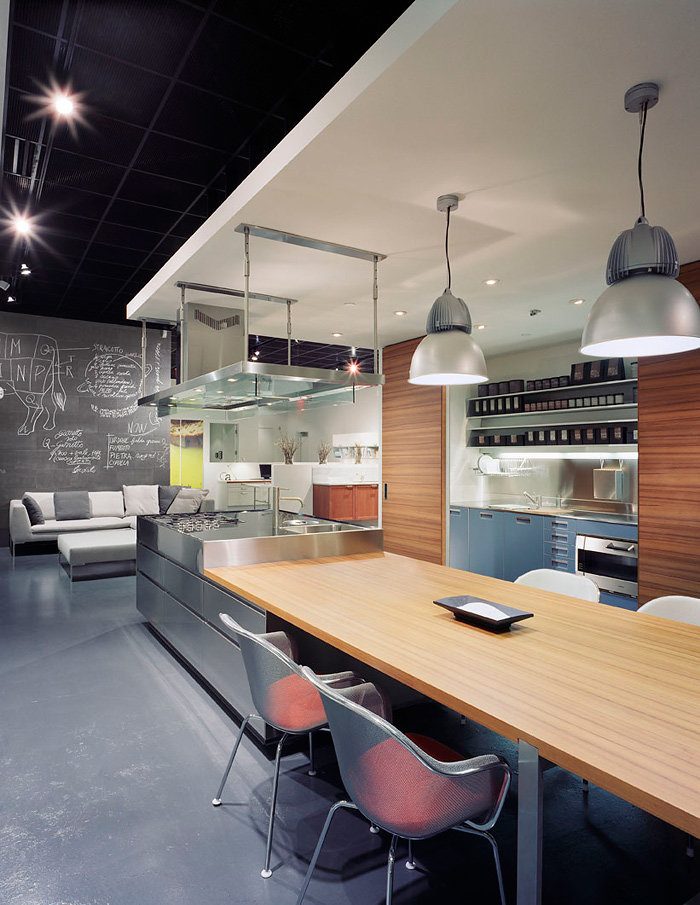 Expensive Home Appliances in a Fashionable Style
In every kitchen, even in the fusion style, you cannot miss quality home appliances. But how to combine the modern stylistics of the devices with a style that denies minimalism? There is nothing easier. Simple forms of usually expensive and designer equipment are ideal for plastic figures, accessories found at a flea market for a penny, or a floral rug that remembers the times of past decades. A modern kitchen cannot do without functional devices that will become not only a part of its decor but also equipment that facilitates everyday kitchen activities.
Fusion Kitchen-Living Room: Control the Filling of the Room
Fusion style is a combination of various motifs and elements from different styles. This is a kind of madness in the kitchen-living room, it personalizes the space, becomes a reflection of the owner's soul, as it is unusual and unique. However, in order not to create household clutter and compositional chaos, it is necessary to have a basic idea that will guide you at every stage of the work during the arrangement. Separate elements that seem to be something from other worlds should combine things that characterize the owner and his personality. Like him, the kitchen-living room will be spontaneous and crazy, bold and full of experiments in its expression. But in the end, the room should also be finished with a sense of proportion and taste.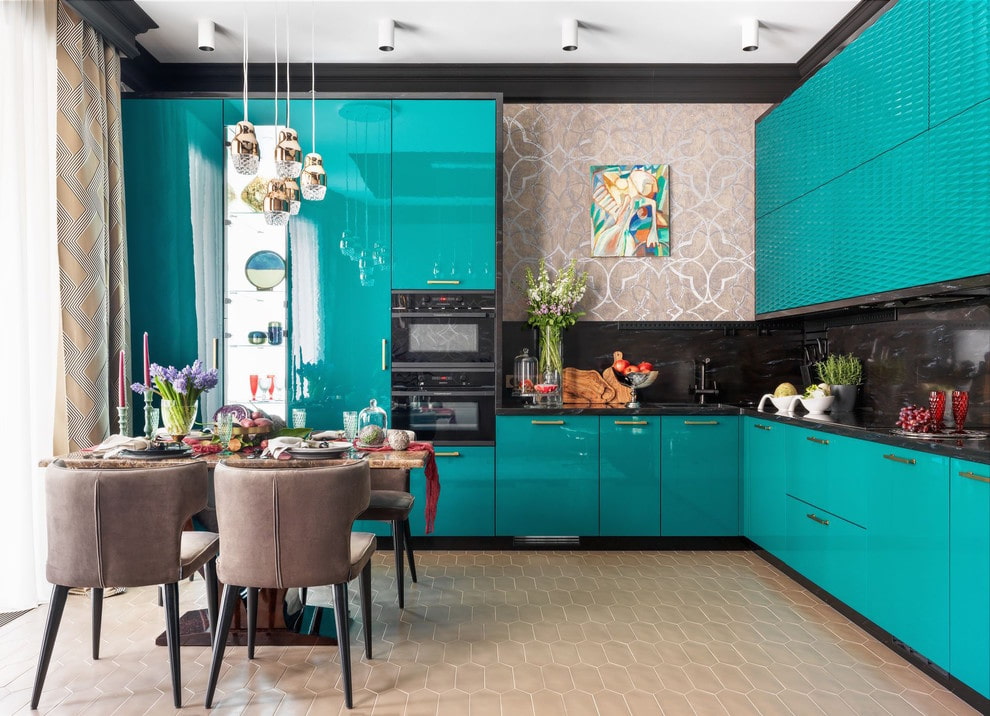 DIY Fusion Kitchen: Budget Options
The indisputable advantage of fusion is the fact that a kitchen in this style can be arranged at a very low price. All you need is grandma's old furniture found in the attic, some additions in the form of plastic decorative elements and a huge amount of imagination. Old cabinets can be slightly repaired or simply cleaned in combination with modern wallpaper with unusual patterns. Add some colorful, kitsch accessories bought for a penny to finish the look. An excellent solution is the effect of masonry. A simple minimalist table, in turn, will look good with chairs from the old times, in which it is enough to replace only the upholstery. Decorate a modern poster in a gold-framed vintage mirror in the Baroque style, and put the herbs in charming multi-colored pots on the window.