When looking at the carpets, most people see their use on the floor. It is understandable as the most obvious location of this element of the interior is exactly under your feet. However, it turns out that this is not the only design option. An interesting solution is also a wall-located carpet. Should I hang a colorful woven product on the wall? In what situations will it work, and when will it prove to be an outdated supplement?
Content:
Carpet history
Advantages and disadvantages
Modern option
For different rooms
Style selection
How to hang?
Where to place?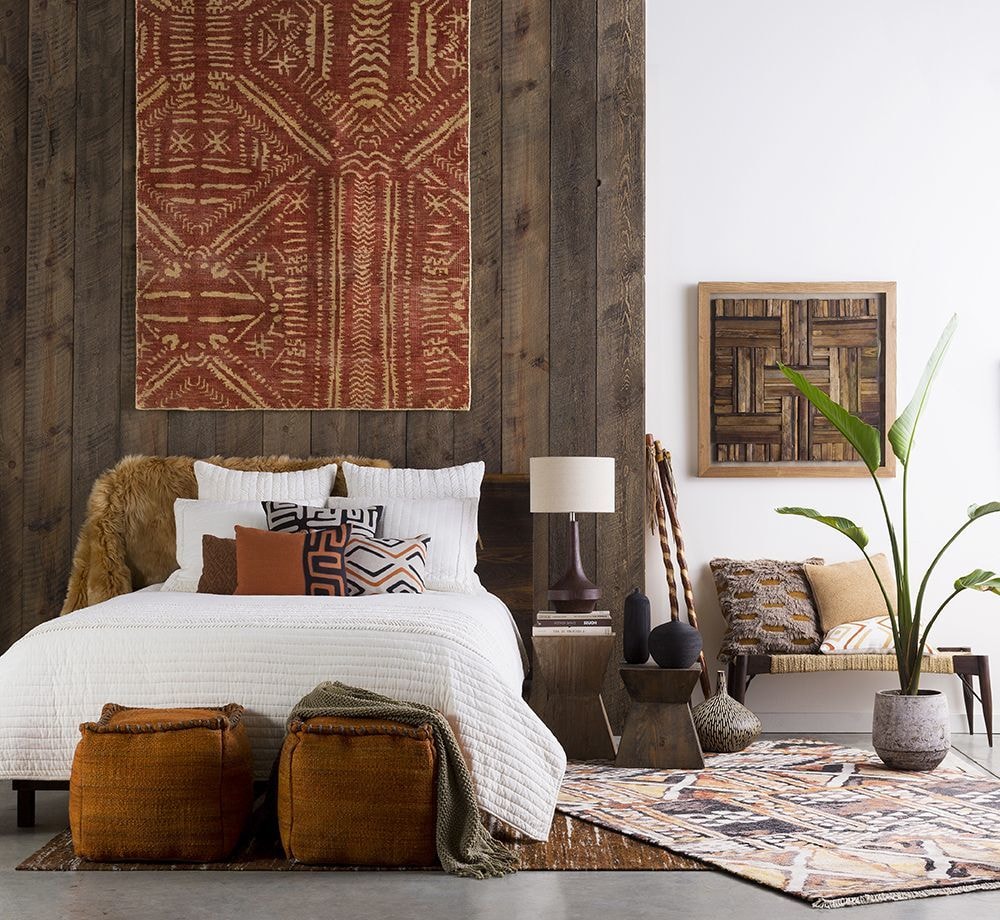 Carpet on the Wall: a Bit of History
If you think about the history of carpets, Persia (modern Iran) will probably come to the minds of many. And indeed, it was from there (and from other countries of the Middle East) that the tapestries came. Interestingly, this trend reached Europe at the turn of the 15th and 16th centuries, when carpets were synonymous with luxury. Even today, expensive models of this type of interior textiles indicate wealth and good taste.
Since carpets cost a fortune, they were therefore treated with great respect. They were passed down from generation to generation, and in order to maintain quality, people of that time decided to hang this item on the wall. If someone had previously had a luxurious carpet at home, then he always made a big impression.
Russia also plays an important role in popularizing wall-mounted carpets. In Soviet times, they were hung not so much for decoration as for better insulation of apartments and houses. Carpets against the wall were well insulated from the cold, and in addition, helped to soundproof the room. However, they were still accessible to wealthier people.
Carpet on the Wall: the Most Notable Pros and Cons
The wall mat was widespread in Russia, where it served as an important decoration of the room. That's why the wall mat is often called the Russian style, increasingly representing an outdated design.
Carpet on the wall, of course, is not suitable for rooms inspired by the modern or minimalist style. In the end, classic models still have a number of uses. If you're looking for tips and inspiration, leaf through the photos in this article.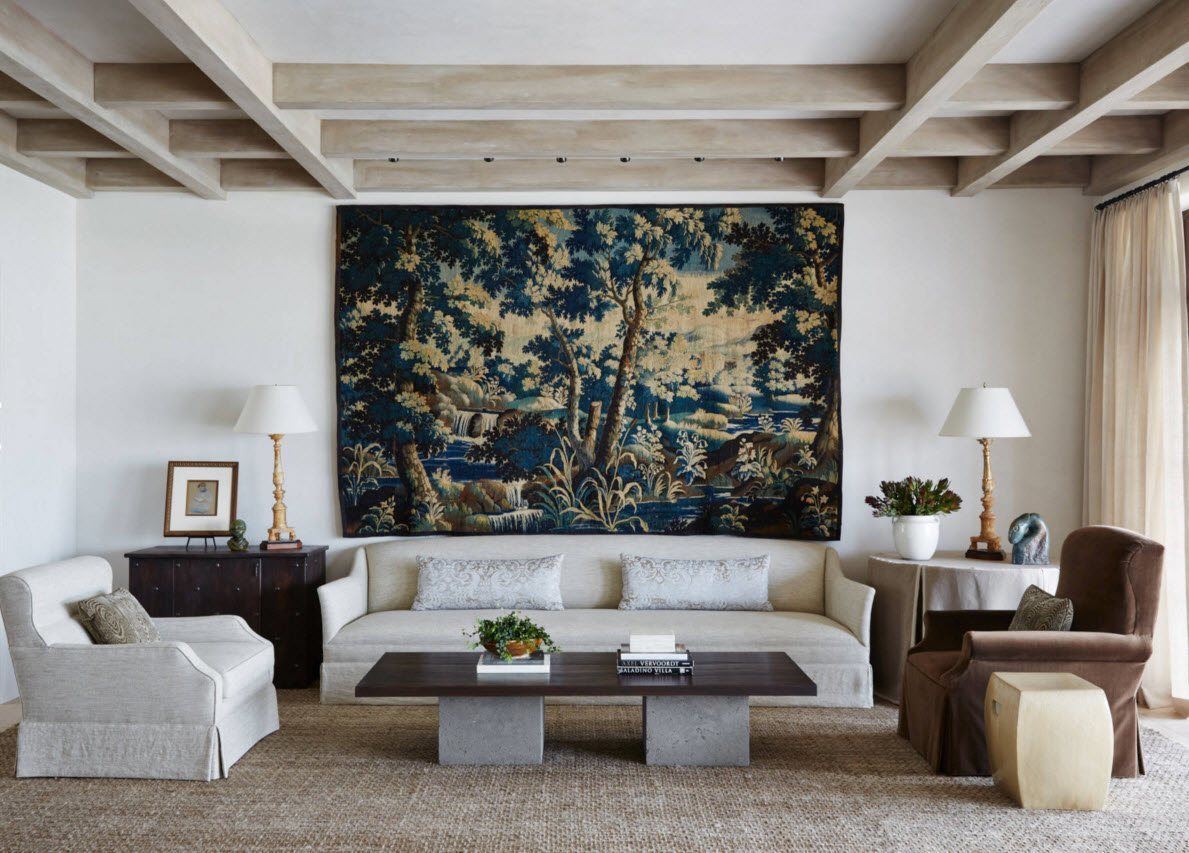 The carpet can become an elegant decoration of rooms marked with a rustic style. Some models are quite elegant, and a colorful carpet can impressively emphasize the character of the room.
It is also worth adding that classic rugs placed on the wall perform the function of additional wall insulation. As a result, they can increase the comfort of using poorly insulated houses.
Decorative Carpet on the Wall: Modern Choice
A decorative wall-mounted carpet does not have to be associated with dubious elegance and a relic of bygone times. Commercial offers also include very elegant and even luxurious models that effectively decorate modern walls.
A wall carpet made of natural material is called kilim. This is a popular term for woolen thread and double-sided jewelry. The colorful version on the wall is often associated with oriental motifs. This type of stylization can be a wonderful way to overcome the monotony in the arrangement of residential premises.
When choosing a decorative wall mat, you will be interested in East Persian products. Natural carpet with geometric, intensely colored patterns is also becoming increasingly popular.
Carpet on the Wall in the Interior for Different Rooms
It turns out that the decorative wall carpet has not yet been forgotten. True, old models that were in use several decades ago are not in fashion. However, their place was taken by more elegant products with an oriental character.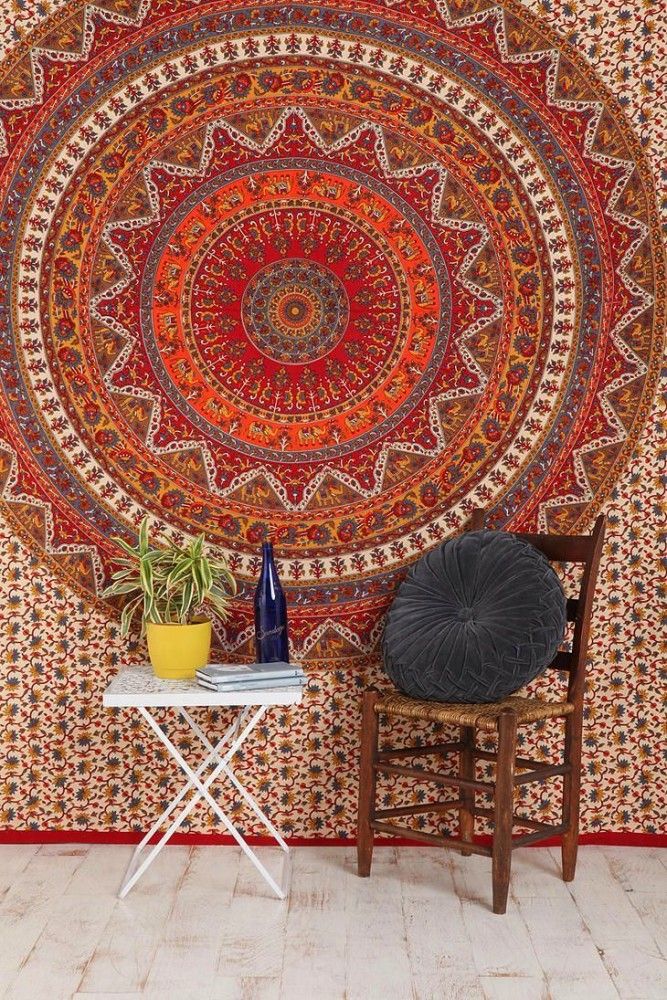 Colored carpet on the wall is becoming increasingly popular. This type of decoration works well in the living room with a fireplace, in the studio and in the bedroom. An oriental pattern will emphasize the unusual character of the composition.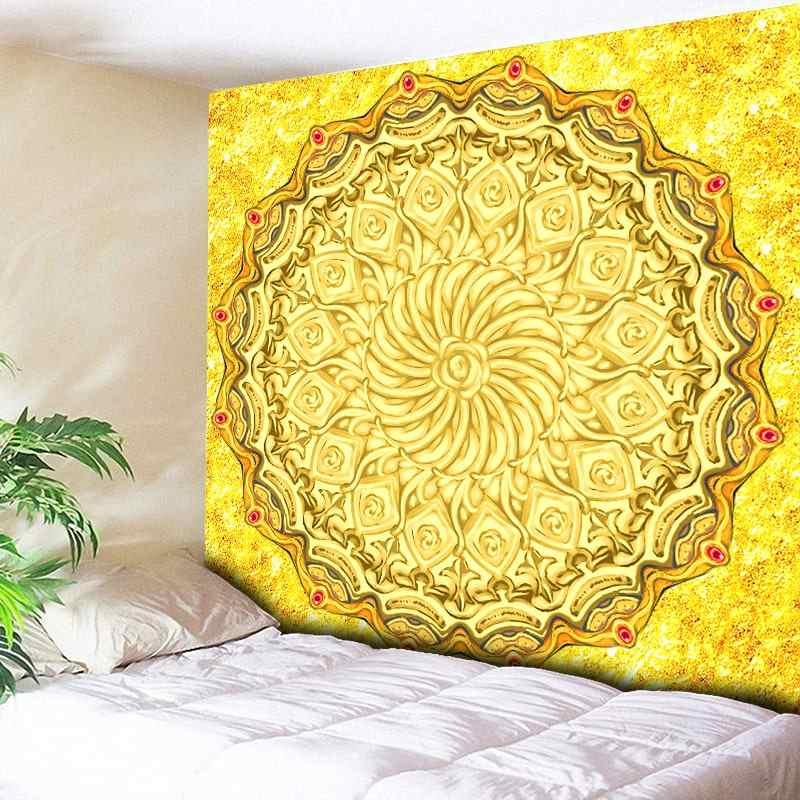 A colorful carpet on the wall can be a very good way to emphasize the ethnic or oriental style. Some modern models with vibrant colors will also look great in rooms inspired by modern style.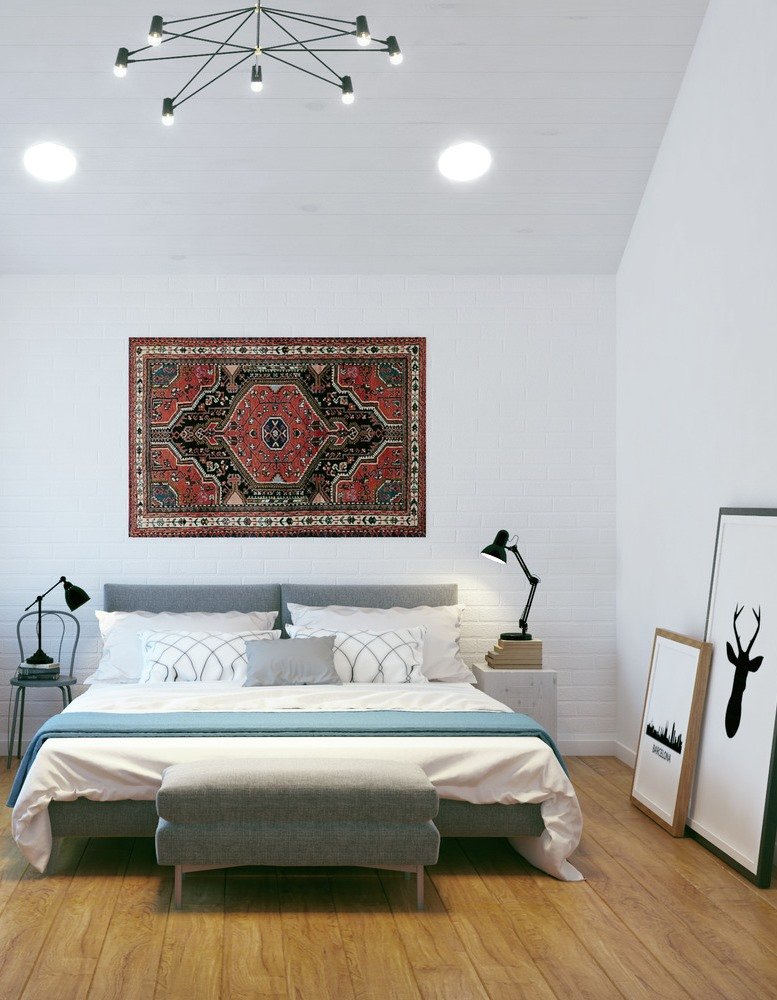 In the spacious living room, you can hang one rug on the wall or use several small ones, which will increase the feeling of correct geometry. The choice of design and models is very wide. Thanks to this, everyone will find a wall-mounted carpet that meets the requirements of the style of design and size of the room.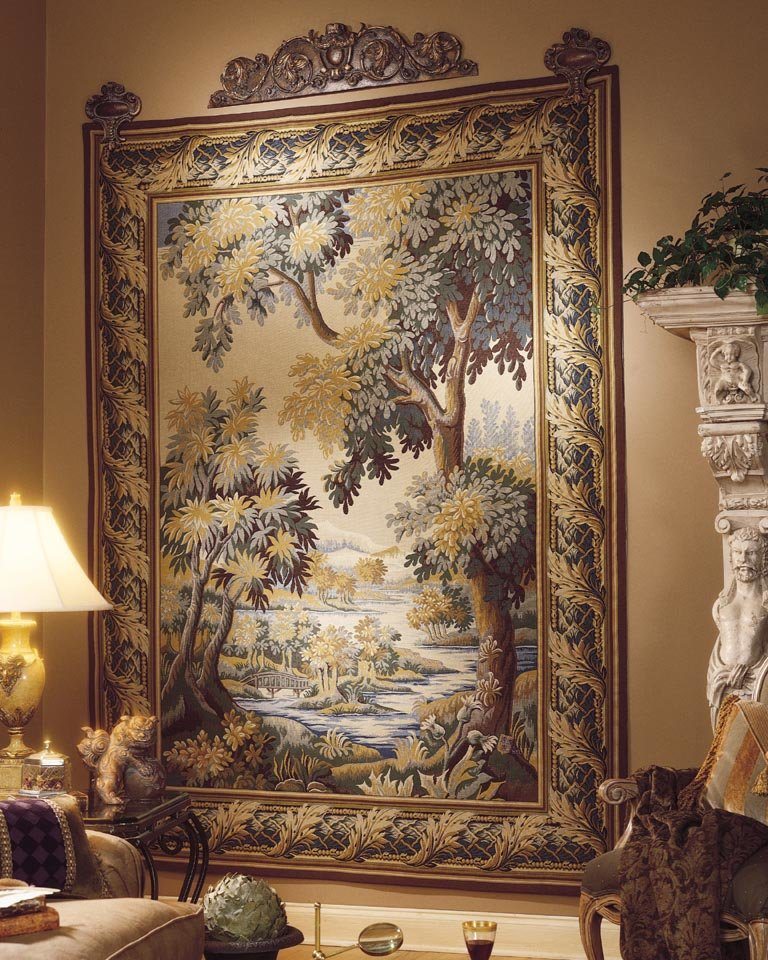 It is worth remembering that a fashionable, colorful carpet should be made of natural fabrics. Cheap synthetic products are not the best idea to emphasize the elegance of a living room.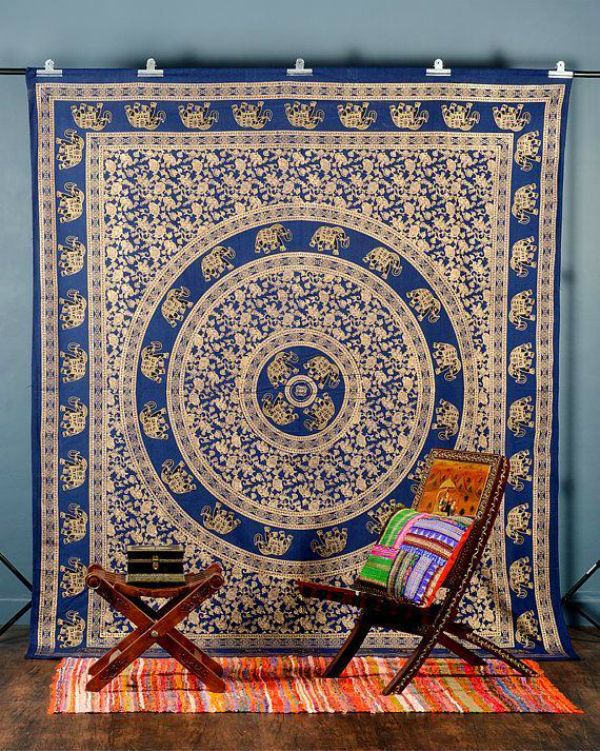 Interior Style and Carpet on the Wall
The rug on the wall fits well in almost any interior. Of course, choosing the right model is the key to success. A little attention should be paid to such directions as glamor or Provencal style since wall carpets here are not always a good choice.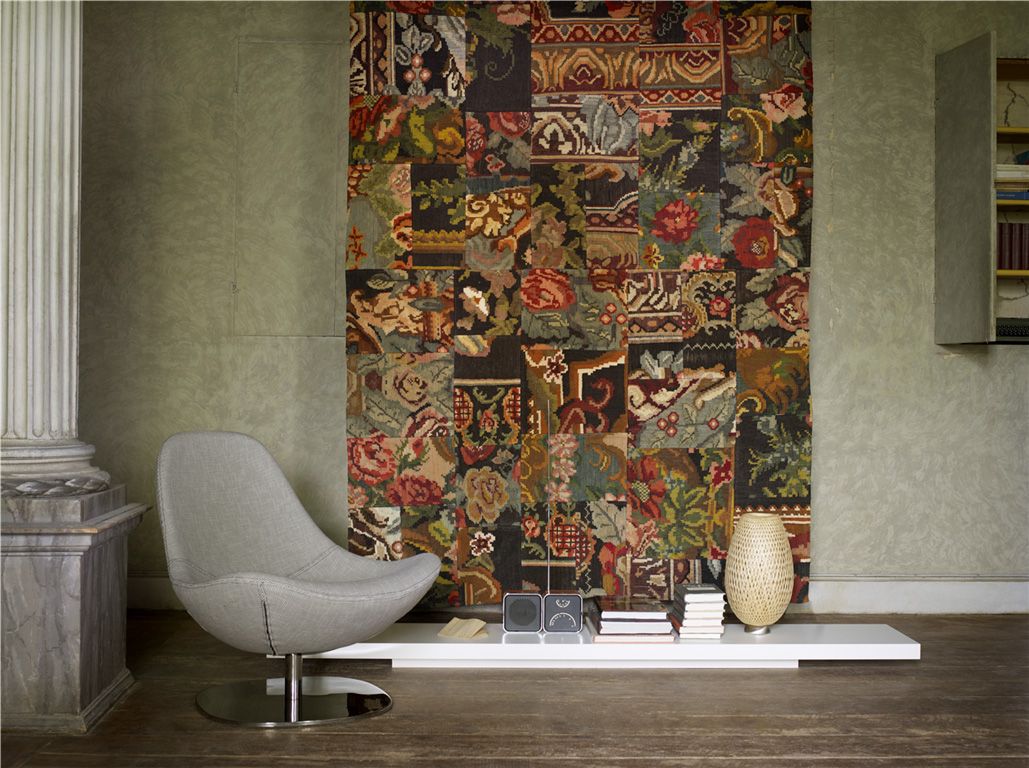 Scandinavian style – the carpet on the wall subtly breaks the cool color palette, pleasantly enlivens the decor. Nevertheless, it is worthwhile to skillfully approach the color combination so that it is not too bright. This can break the harmony of the interior.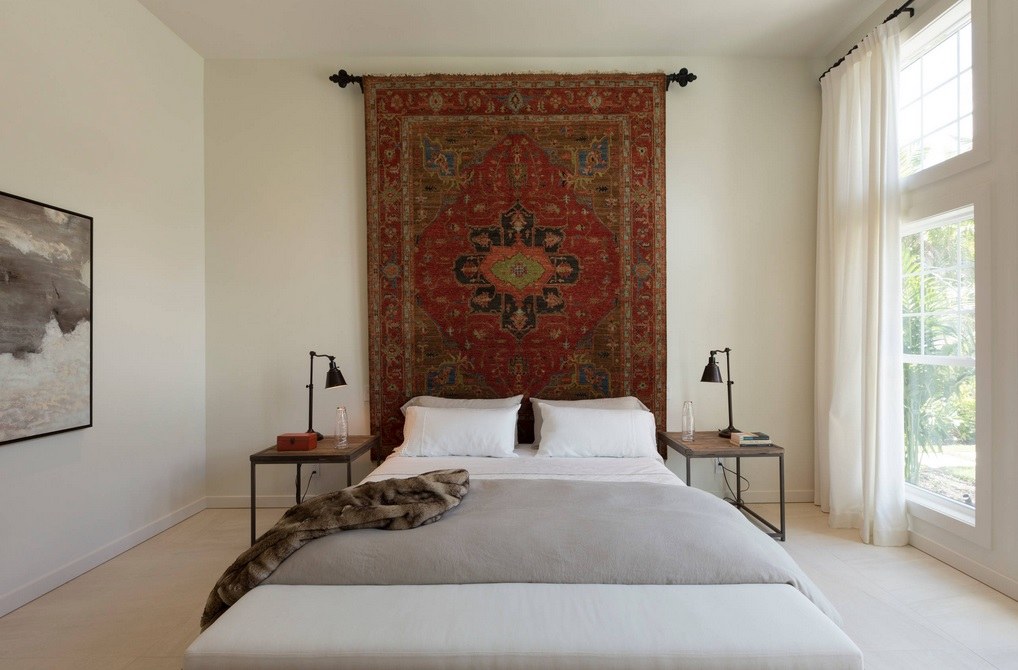 Modern style – a wall mat with geometric patterns and expressive colors is perfect here. You can also think of a model that relates to works of modern art.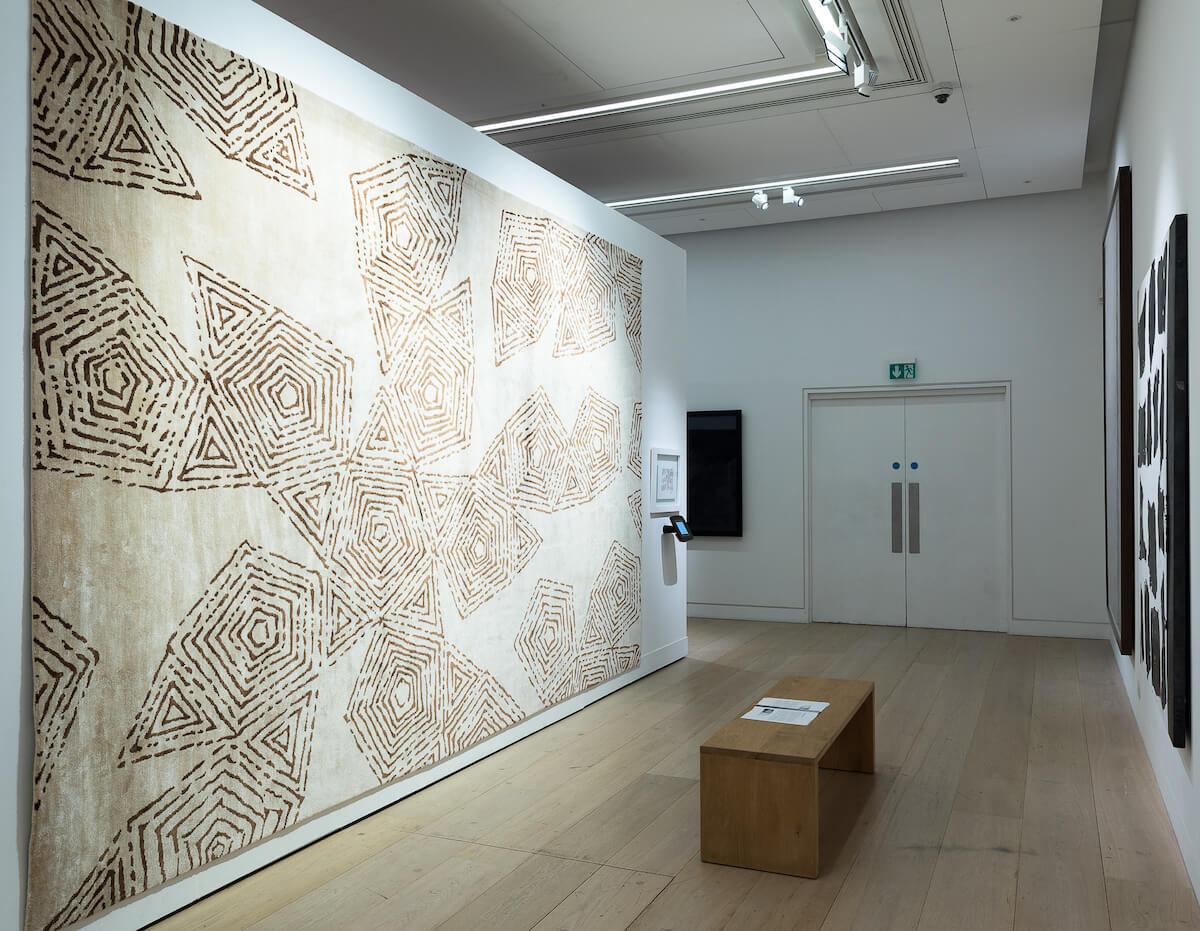 Loft style – large rugs for walls require space, and it is always enough in industrial interiors. In addition, a pleasant to the touch fabric easily violates the rigor of the decor. You can equally achieve both modern design and classic jewelry.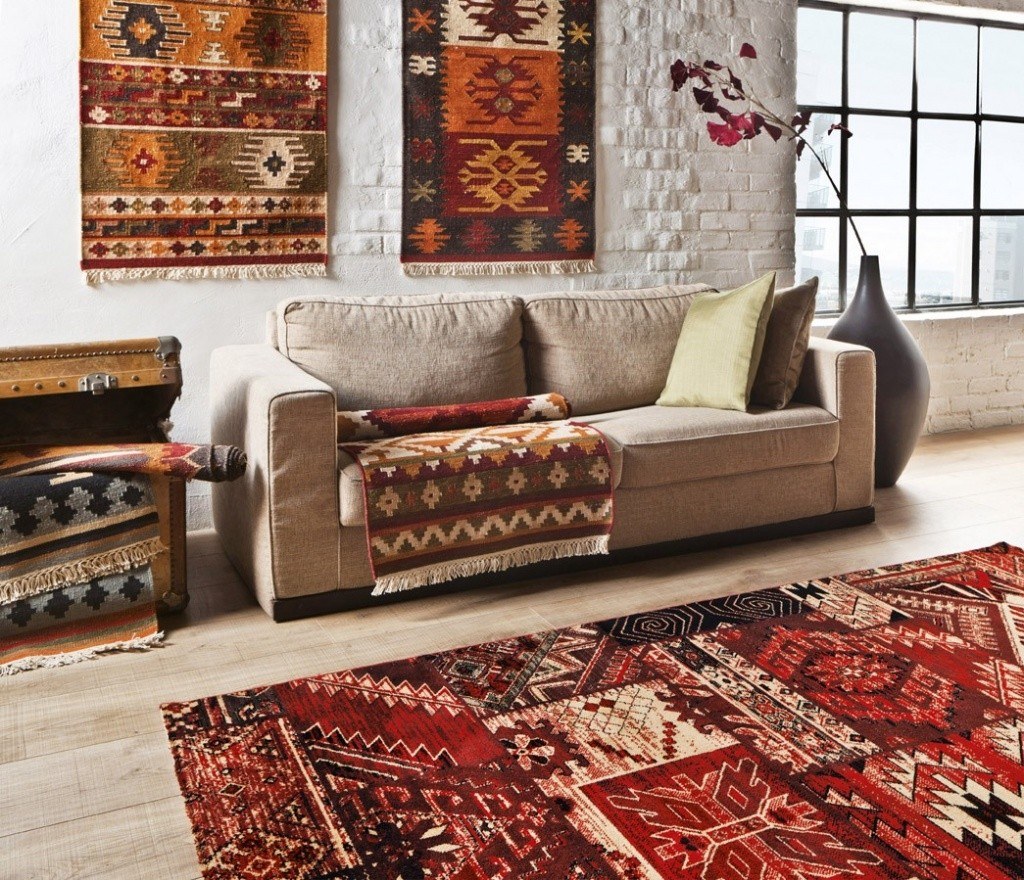 Classic style – you should be careful not to combine carpets with too excessive decoration and patterned fabrics.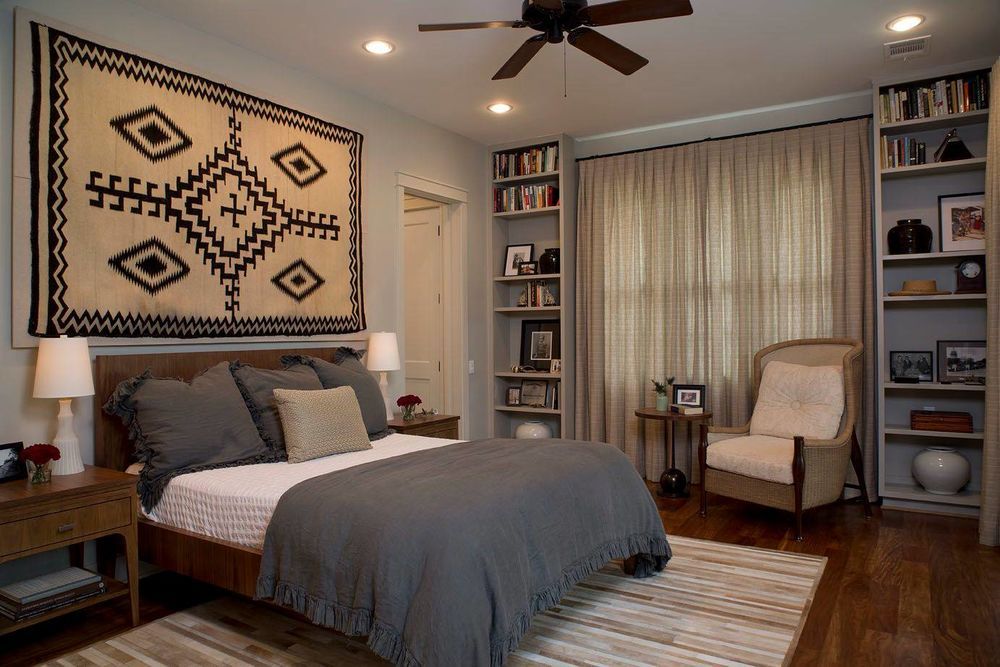 Eclectic style – you could even say that someone came up with it just to hang carpets on the walls. Creative hash in the interior is a great decoration for upholstery.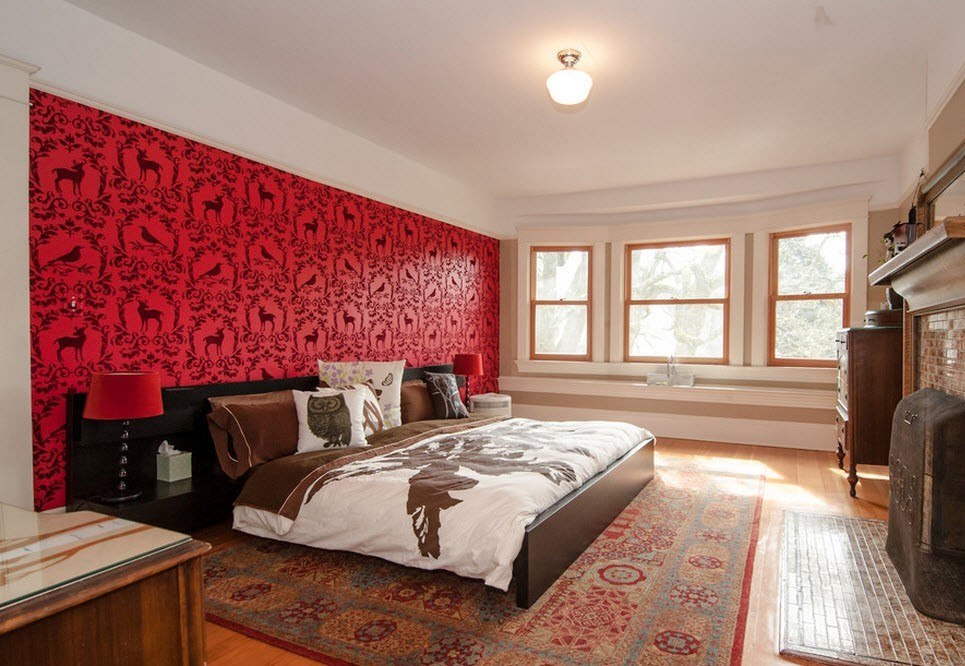 How to Hang a Carpet on the Wall?
Carpets for the wall today can be found in many interior design stores. They are specially prepared for hanging, so the loops are sewn into them. Their size is similar to large images, for example, in the form of 200×200, 120×200 or 50×70 cm. A wall mat is usually a little lighter and thinner than the one you put on the floor.
Carpet on the Wall: Decoration is Worth Attention
The wall mat should have a distinct decor. It performs the function of graphics, and therefore it is the emphasis that perfectly enlivens the interior, warms it, and gives comfort. Modern models usually contain mosaics and colorful patterns, and sometimes also animals, floral or geometric motifs. Prices show how luxurious it is. Original silk options are expensive. Of course, such a huge amount of money is paid for craftwork.
Creating a handmade carpet takes from one to four years.
Where to Hang a Carpet?
There are two rooms that are ideally suited for this: living room and bedroom. Carpets hanging over a sofa or bed will enliven the interior and give the impression of a homely family atmosphere. They will attract attention but will not dominate the room.
Some people consider the carpets on the walls a symbol of kitsch and not the best memory of past decades. However, such thinking should be abandoned, especially since carpets in many forms are a fashionable solution, and wall options successfully replace graphics or wallpapers.