This was hard to create an article as we did try to push as much information and pure sifted facts into the piece as possible. Many questions have arisen immediately: what is a sustainable house, which parts and elements should it combine, what differs it from a smart, green, or energy-efficient house? Moreover, it was just the beginning. Many details are just waiting to be revealed. We bet many people are struggling with the lacking or unsystematic of information. Let's dive deeper into the exploration of what a sustainable house really is. Also, we will overview some successful comfortable sustainable house designs that you'll love to be the owner of.
Contents:
Definition of "Sustainable house"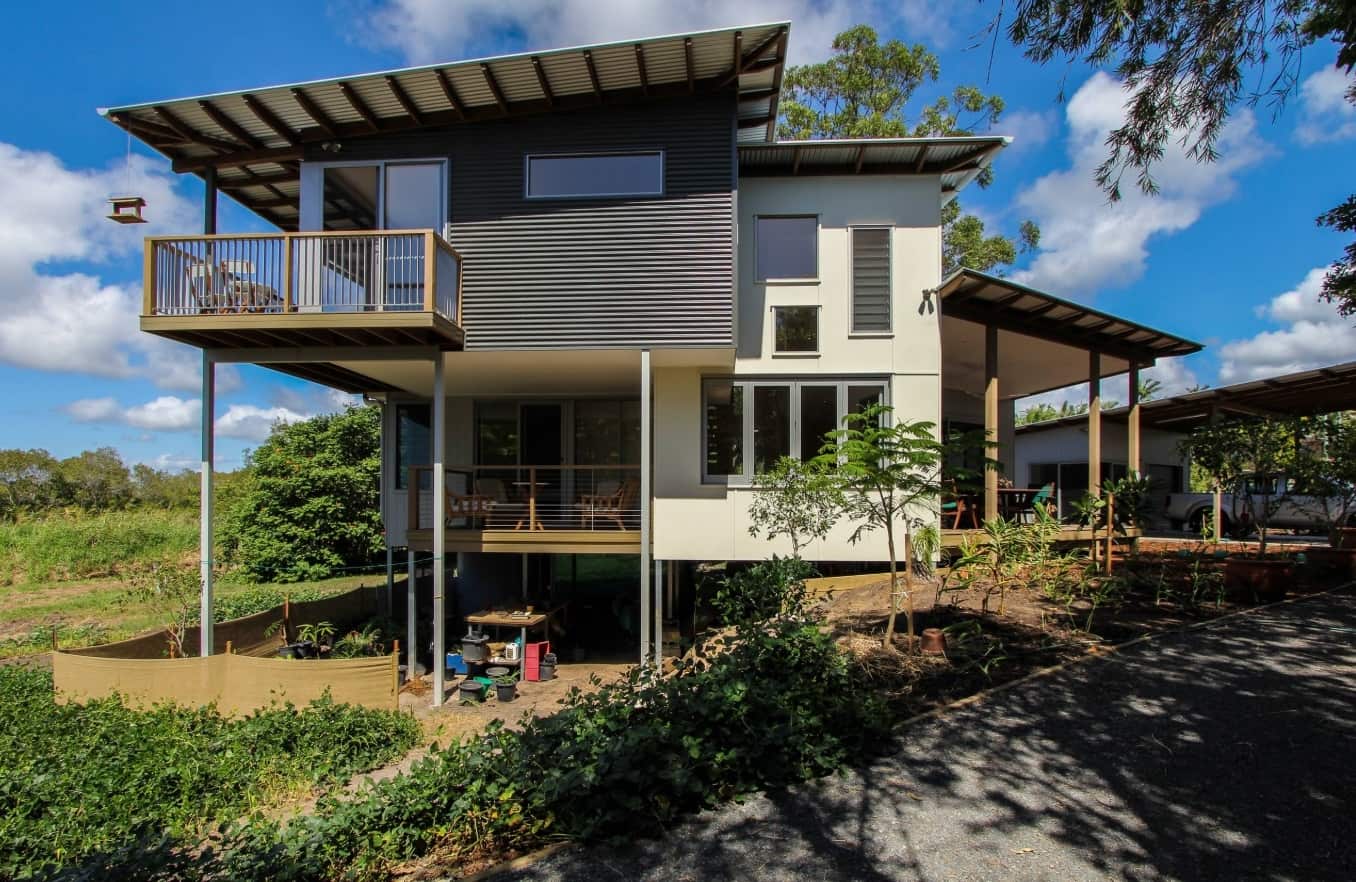 The Definition
Enough of introductory words. If we keep it maximally simple, a sustainable house is one that combines all the best architectural practices, green technologies, eco-friendly materials, and being energy-efficient all-in-one.  Sounds simple, right? But how we can provide and adhere to technology wanting to achieve a sustainable house as a result? This way has three basic steps: eco-friendliness, sustainable design, and economy of the project (during the projecting, building, and exploitation). We will now review all the sustainable house features in more detail.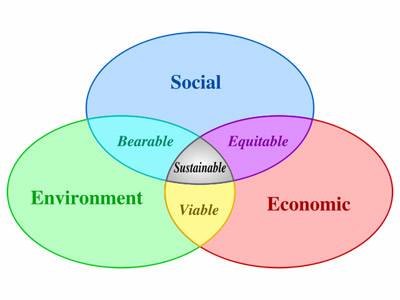 Photo by http://www1.indstate.edu/facilities/sustainability/
1. Environmental Friendliness
Eco-Friendly Materials
There is no doubt that if we speak about naturalness and environmental auspiciousness, we can't omit to say about the importance of building materials. Primarily, clay and sand can be attributed to the most widespread eco-materials. Red, white bricks, and many other, less popular building blocks are great for obtaining economical proficiency together with the great visual appearance of the building. So, what else materials are widely in use:
Tip! Depending on the region, there probably is some local widespread material for building homes. For example, it can be cedar or rock for Colorado, limestone on Australia, or shell rock in Southern Europe.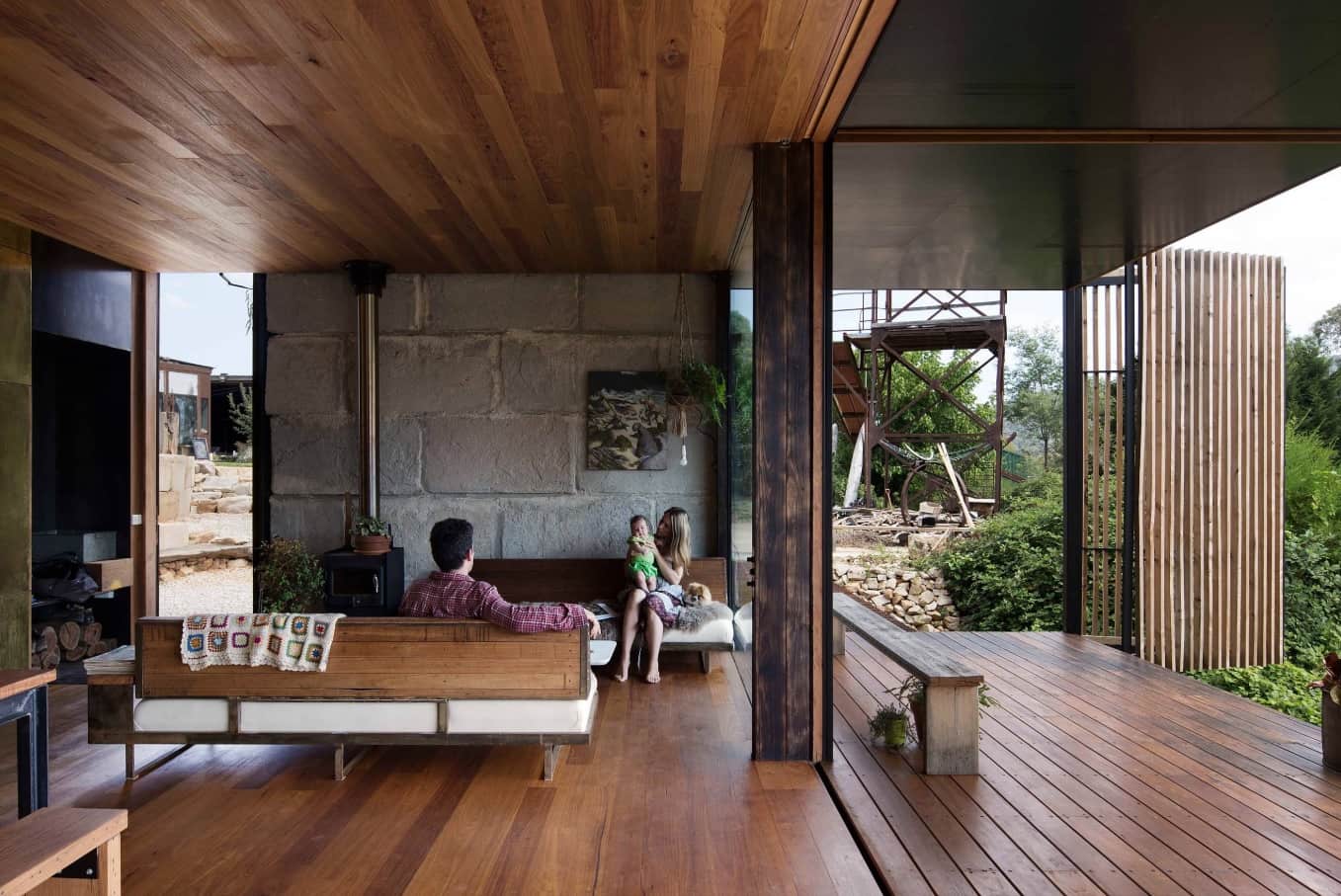 Sustainable Energy
Building an energy-efficient house is one of the main goals during planning the construction. Of course, at this stage, it is crucial to add all the necessary elements and design practices that will provide maximum efficiency. It will not also be superfluous to mention that large windows and LED lighting greatly impact your overall energy savings.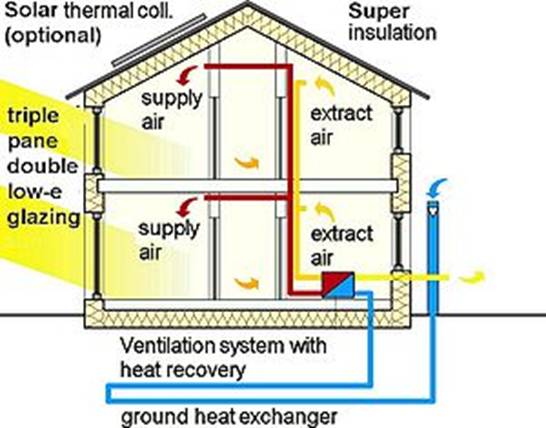 Photo by http://www.gf.uns.ac.rs/~wus/wus09/Sustainable%20House%20web%20page.doc%202.htm
Alternative Energy
Solar panels on the roof are one of the most popular ways to make your house energy-independent. It already became a trend in most developed countries. Also, it is an essential condition to turn your house into a sustainable building. However, what else can help us in the projecting of such a house?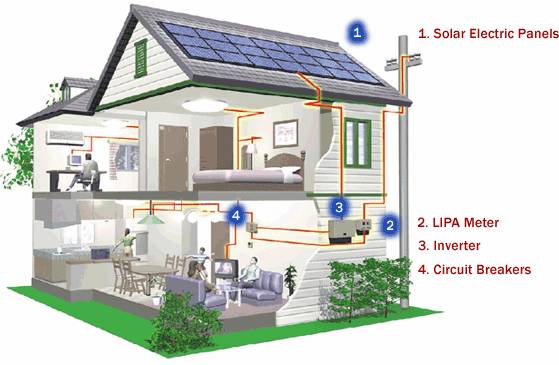 Photo credit: http://www.lipower.org/Efficiency/solar-works.html
Wind turbines are another key element that works in pair with solar power. In the late fall and winter, when the sun activity is lacking but there are usually strong winds, the wind turbine will support the work of solar panels.
In addition, if we speak about the extra possibilities to keep energy maximally utilized, solar water heating can make it really easy to have hot water. Especially in the summer period. Just locate a water tank at the roof or near the house and connect it to your water supplying system. Also, you'll need to have a switch between the boiler and the solar water heating tank to control the process.
Moreover, we will also get to know some more options for alternative energy applications further.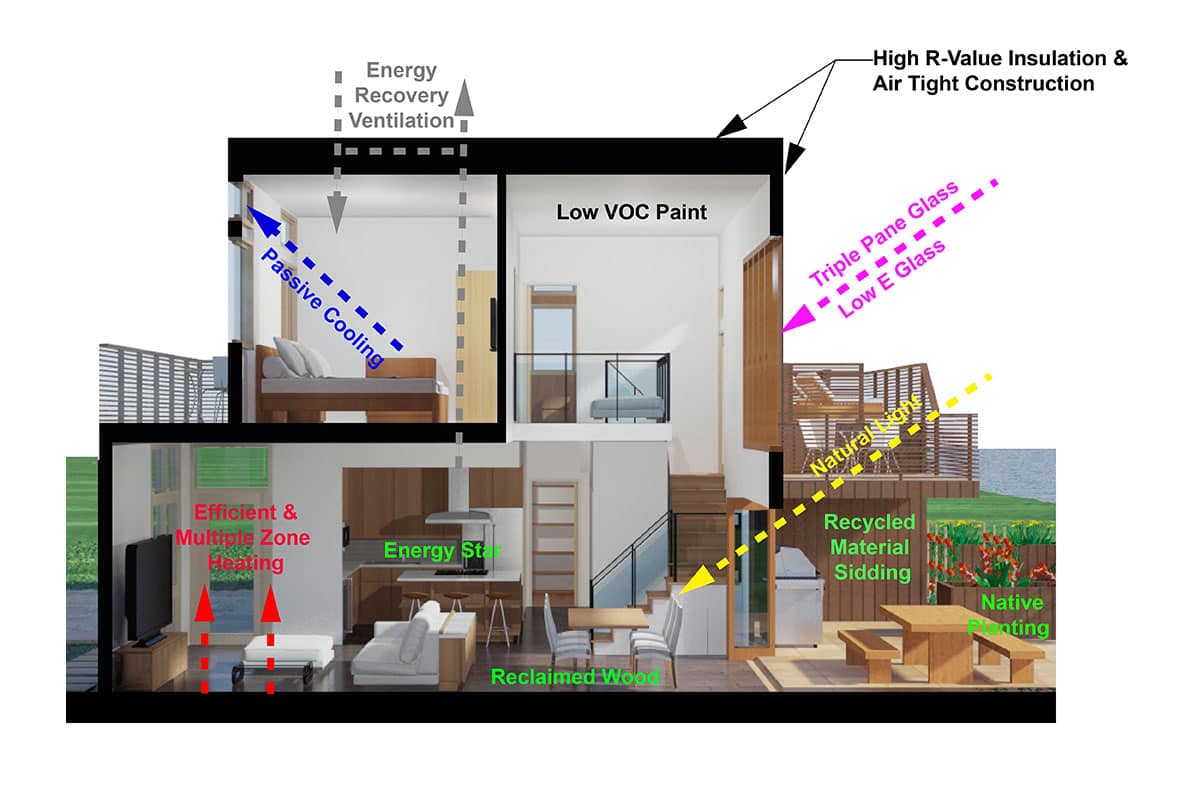 Photo by Fontan Architecture
Green Insulation
As it goes with building materials, insulation should be eco-friendly too. However, many builders use more widespread and cheap insulation like fiberglass. Instead of it, we recommend using such types of insulation as:
Wool;
Jeans;
The last option is an alternative that only connoisseurs will find great. Nevertheless, we can go even further and propose building a whole house right under the ground.
2. Design
Sustainable design includes many features which deserve a separate article. In any case, we'll try to briefly enumerate the most important concepts to follow. First of all, you should provide recreational spaces, comfort, and abilities for all age categories of dwellers. If you have elderly people (your parents or relatives) living with you, it is important to provide them with a walk-through shower right near their room. Other people should not experience a lack of comfortable sleeping and entertaining/working places as well.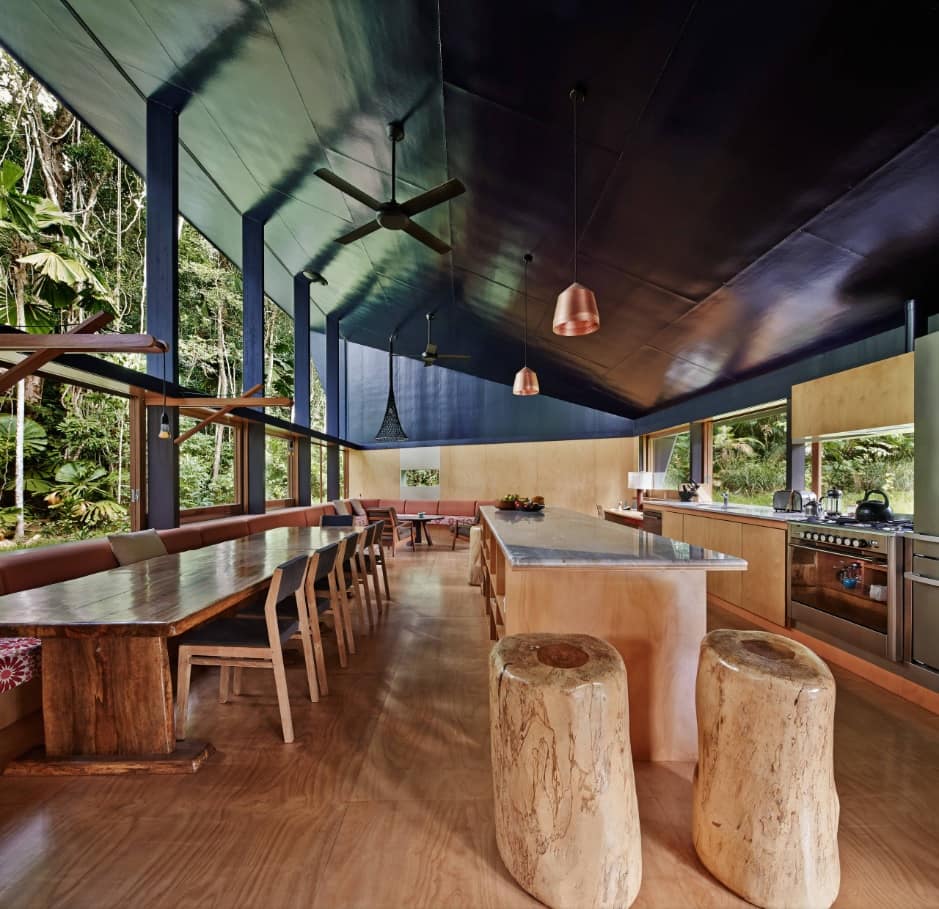 Ideas? Resort to the productive home office, sunroom, sitting room, lounge room, rest zones at the patio deck, or near the pool. Design your basement accordingly. You can have a panic room or even organize an escape room to entertain your children.
Walls, Windows, Flooring
The construction of a sustainable house should respond to higher demands of soundproofing and heat insulation. That's why you'll probably need some extra finishing and wall paneling after erecting the walls.
PVC windows are the most energy-efficient and require low maintenance. Though such windows are a compromise to the surrounding ecosystem load, most modern window producers minimizing the harmful effects of PVC in their windows. Unlike wooden, PVC windows are in no need of painting but also do not emit harmful substances.
Use cork, bamboo, or wooden flooring. Some manufacturers are able to produce eco-friendly linoleum of toxic-free resins.
Smart Home
Here is where we join an effective design with modern technology. Thoughtful home automation allows the homeowner much more. It is not only about Wi-fi controlled lighting, Bluetooth remote control of the home theater, etc. With modern appliances, it is easy to warm up or cook dishes or even start washing your clothes when you are not even at home. Don't forget to install surveillance cameras to react quickly in any case of emergency. However, automation can't predict all possible issues and you'll have to refer to professionals as emergency plumber, police, firemen, and others.
Efficient Technologies
Also, we can bring the house to an absolutely new level of comfort and function with advanced techniques. For example, if it is possible and expedient, you can have a rainwater collector. This will drastically lower your water consumption. Along with the rainwater tank, it is great to provide greywater circulation. This is wastewater from your technical water system (bathroom, kitchen sink, washing machine, etc.). After proper filtering it will be ready to be reused again, so you can freely direct it to water your plants or sustainable garden. Of course, it is almost impossible to realize all by yourself only, so you'll probably ask professional plumbers for help in designing and installing such a complex plumbing system.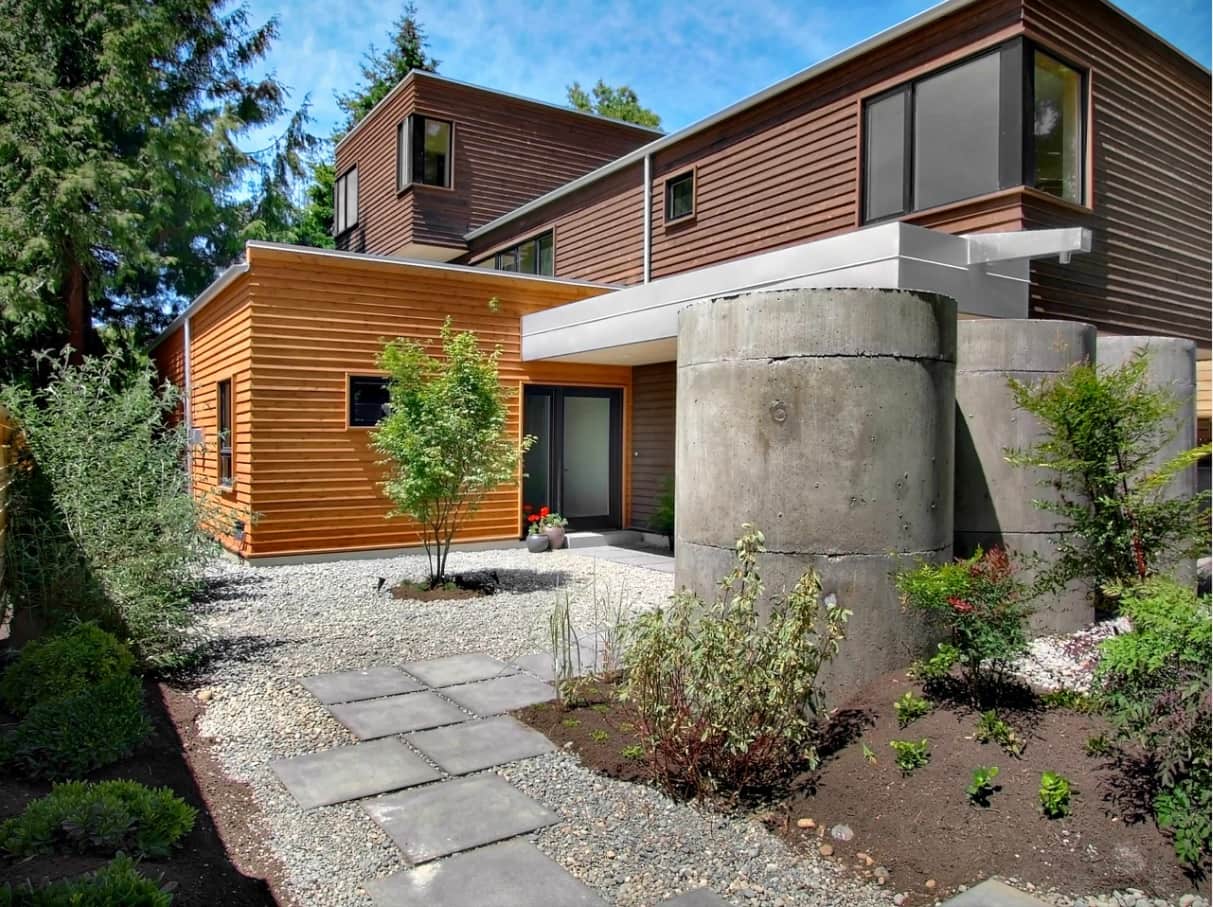 3. Reasonable Budget and Further Expenditures (Economy)
All people want their homes to be not only beautiful and functional but also with minimal communal payments and maintenance costs. This is, in fact, the essence of "sustainability". House should be as energy independent, cheap in maintenance as possible, and without the need for massive renovations in the future.
Building Location
The site where you plan to build a house is very important. You can calculate the expected level of the sun activity, winds, precipitation per season and it will heavily affect the project. For example, it is preferable to build a rainwater collector in a region with heavy rains. In the other location, you might want to achieve water from a well, a local river, or other water bodies.
Temperature conditions throughout the year are also a very important index when making calculations.
Burglar Proofing
If you live in a region with unfavorable crime statistics, all the effort on building a great sustainable house would be a waste of time and money. In the worst scenario, it can lead to compromising your personal safety. Luckily, the most effective burglar-proof methods are simple and not expensive to implement. Taking steps towards security upgrades of the house, picking the right front door can help you avoid a ton of headaches. Yes, it is impossible to insure yourself from everything. We are now talking about the adequate level of precaution.
4. Heating, Ventilation, and Cooling System Efficiency
We already spoke a word about building an energy-efficient house. However, walls and windows are only a part of an effective system. You will need more. Depending on the source of heating, you will decide. Bimetal radiators are now the most productive and undemanding type of water heating element. If you decide to opt for electric heating – the ceramic wall panel heater is the best solution.
The same goes for ventilation. You can provide nice healthy airflow in the house just by correct planning.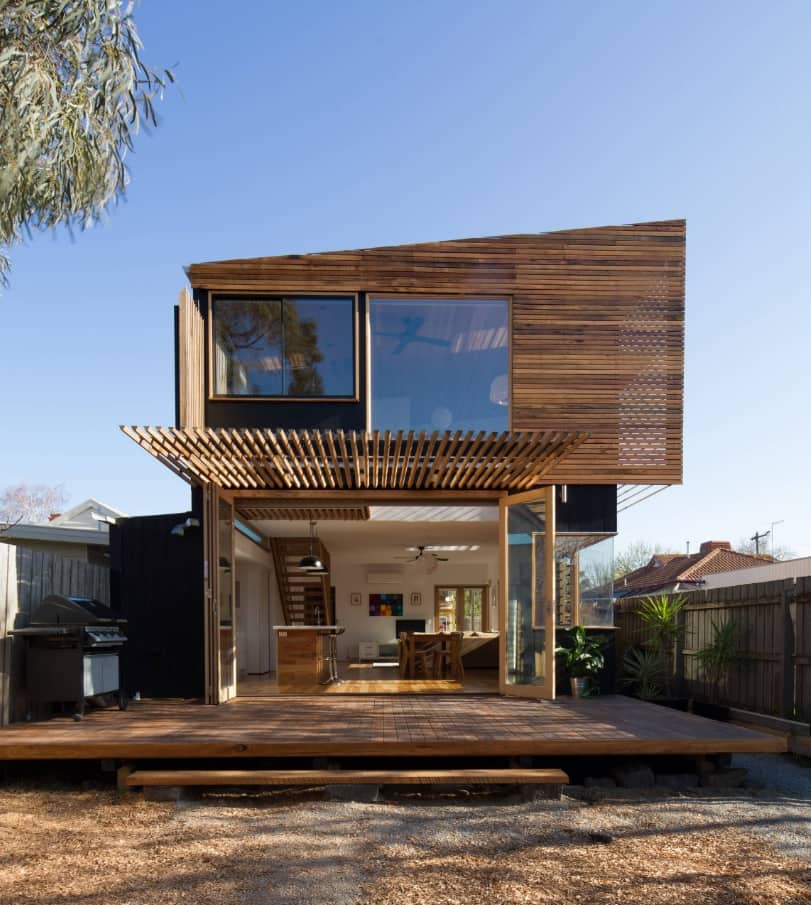 As for cooling, remember that trees bestow freshness and protect from the scorching sun. Use the natural vegetation around your home to help your conditioning system.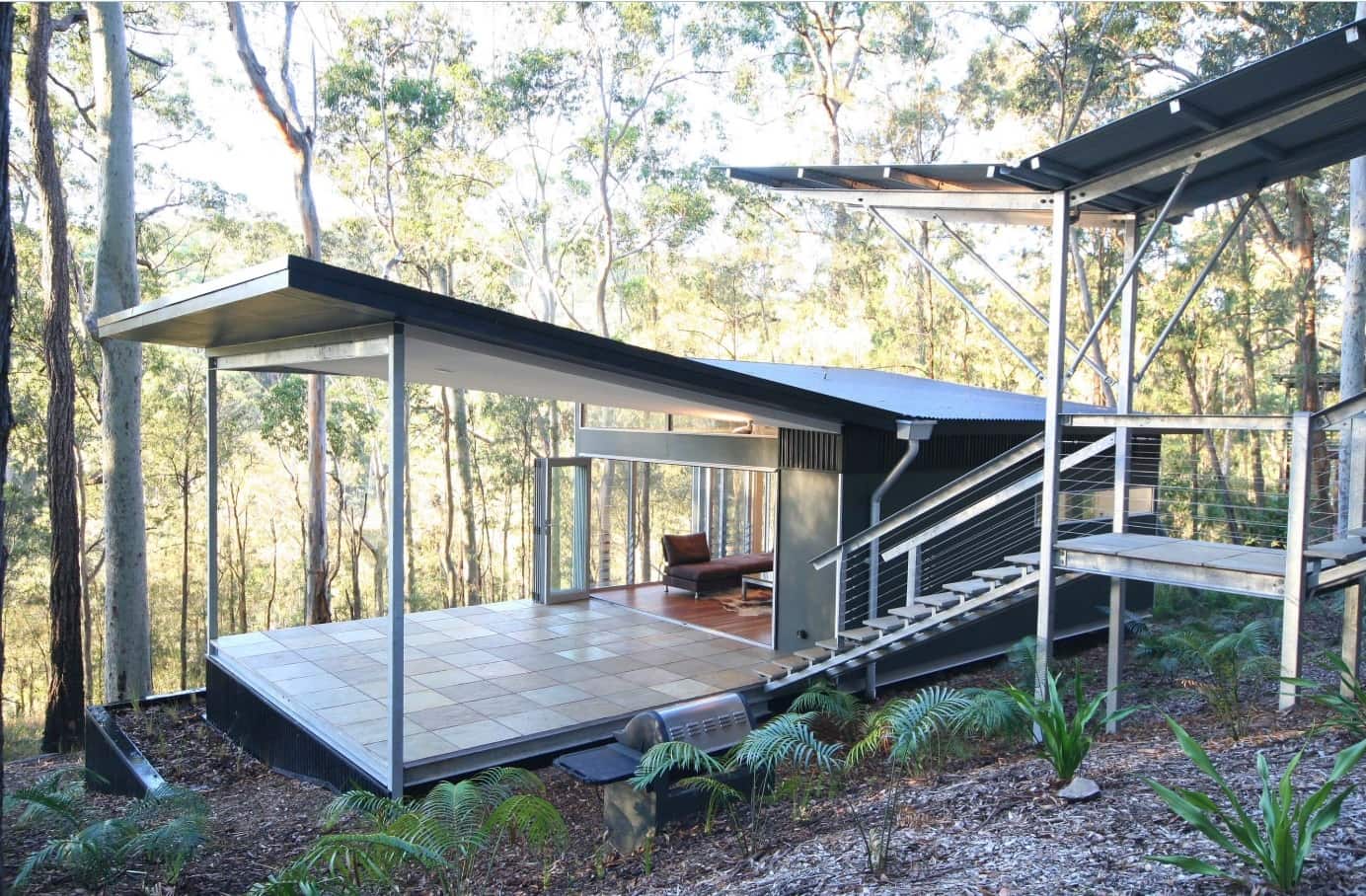 As you can see, all the features and components of the sustainable house are interdependent throughout the stages of planning and building. For example, materials that you'll choose for your house based on the research and economic expedience would affect all three basic principles of sustainability (Environment, Design, Economy). Therefore, it was hard to attribute correctly the respectable features of a sustainable house.
We also adore the top-10 collection of sustainable houses from Arch20 that you'll love to look through.