In support of our recent post of most trendy kitchen design 2020, we decided to continue to explore fashion trends of this year. Let's talk about the living room which steps into turbulent yet so exciting 2020. The living room is the hallmark and literally the heart of every home. It is here that the family gathers for a joint rest, pleasant conversations and interesting pastime. Therefore, it is necessary to approach its design especially carefully, taking into account the nuances of the room and the main trends in the design world. In addition, it is important to consider what function this room will perform. Indeed, in small apartments, it can act not only as a living room but also as a bedroom or an office, a dining room.
Content: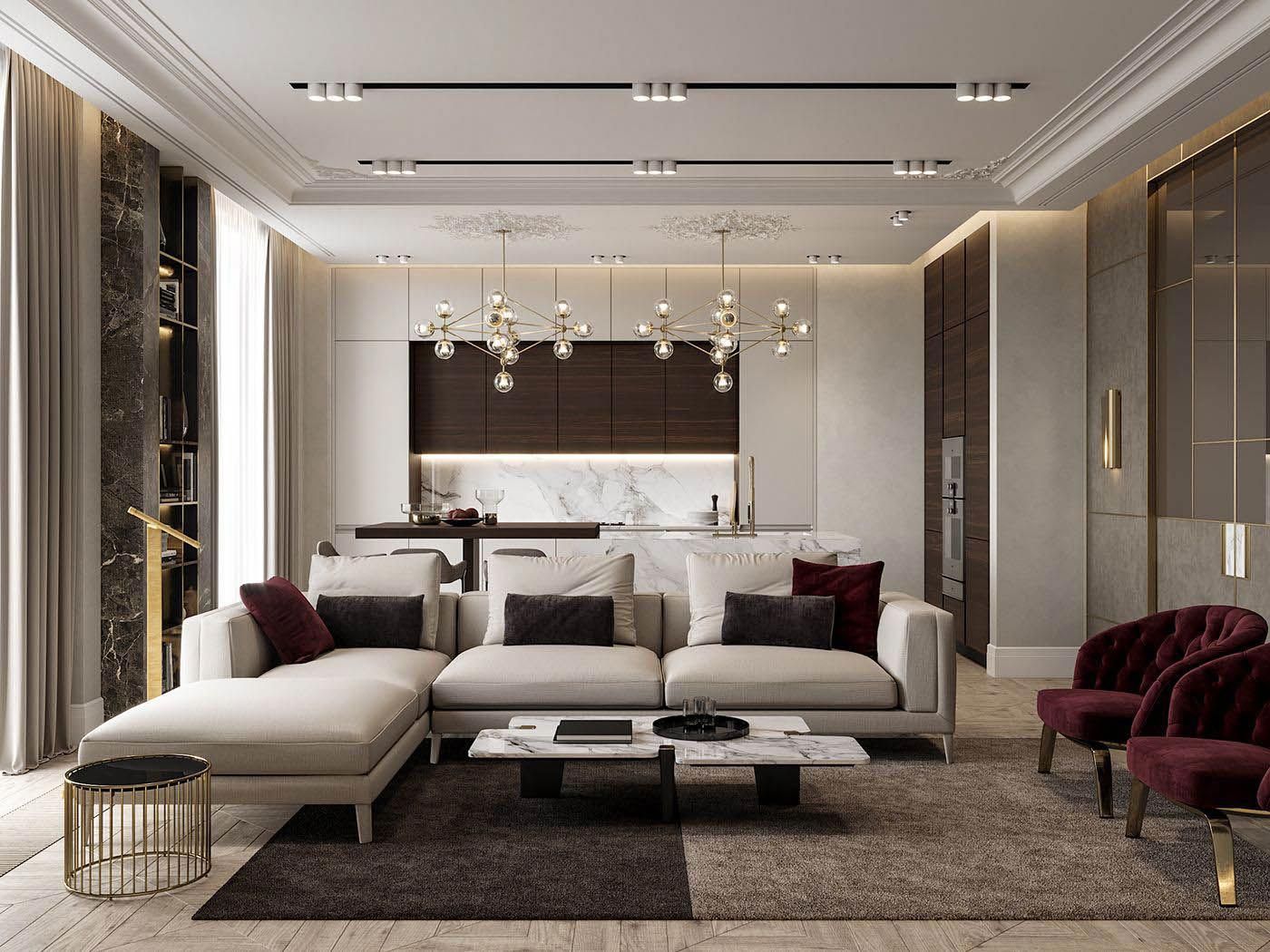 Living Room Design 2020: Key Trends
The rhythm of life of every modern person is swift. Everyone is constantly in a hurry somewhere, combine several things, saturate their lives with many interesting events. For this reason, returning home, we want to plunge into a calm, comfortable atmosphere. That is why designers say that the design of the living room is important for most customers. Indeed, in addition to the usual comfort, it should be conducive to relaxation and generally evoke positive emotions.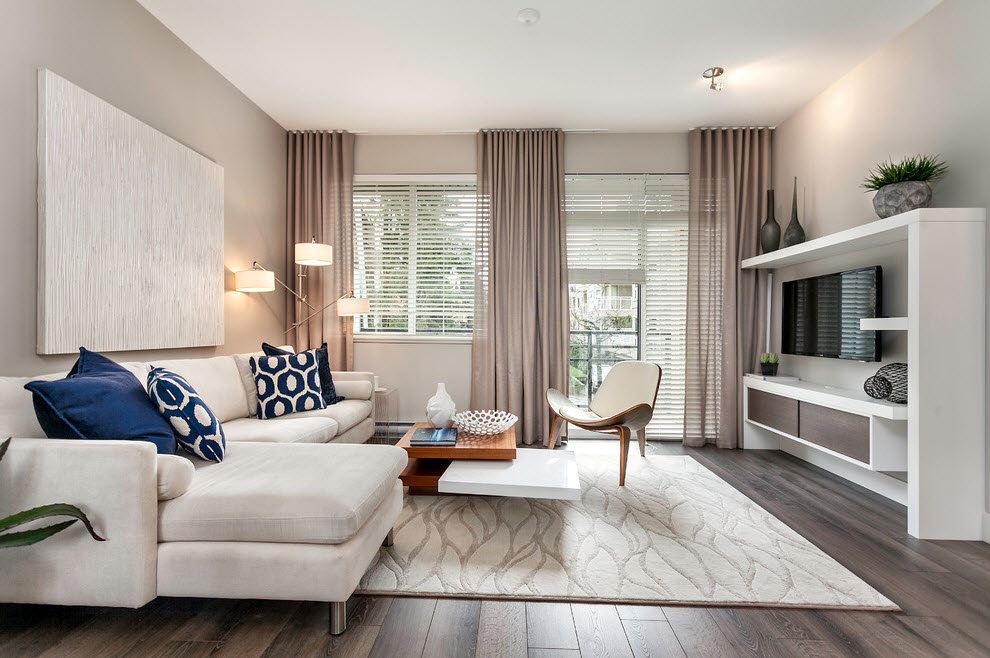 There are many design options for a modern living room. Among them are projects in classical, Scandinavian and many other styles. Undoubtedly, other trends that can be used as a source of inspiration for the design of any room have become relevant in 2020. It is worth paying attention to retro style and modern classics (neoclassicism). With their help, you can realize countless ideas for living room design, each of which will be unique. Also, look at minimalism in the interior. It involves a small amount of furniture, as well as practical decor items. Here you will not find paintings in volumetric frames, massive curtains or figurines.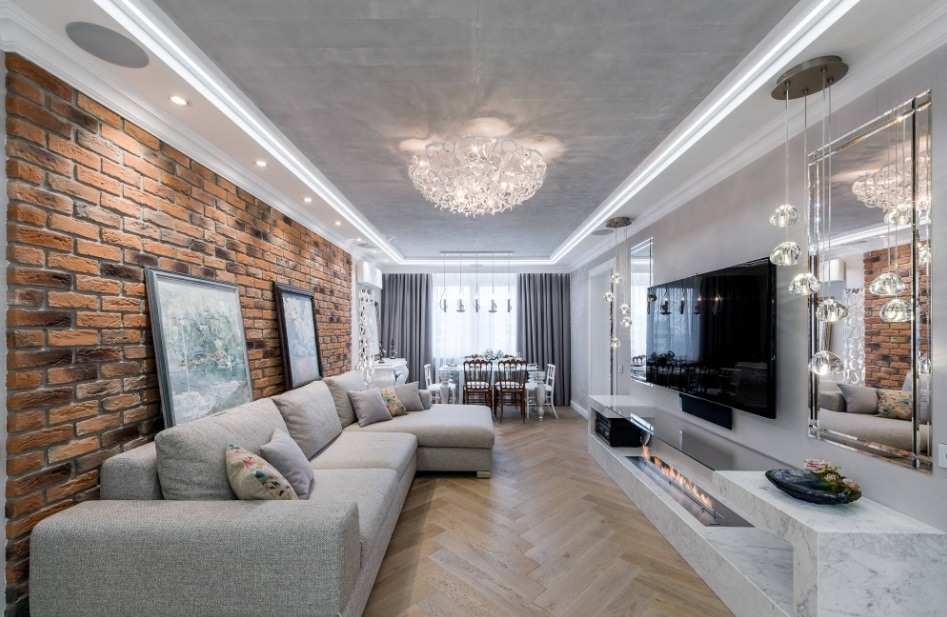 The main feature of the interior style is that it is not too fleeting. Having organized the living room in accordance with fashion trends, it will be relevant for several years.
Color Scheme
The color scheme of the modern interior of the living room is not too wide. Basically, it is worth emphasizing light shades. They are concise, restrained, but at the same time go well with many other tones. Thanks to this feature, it will be possible to change the interior of the living room without cardinal decisions even in a few years. Do not deny the relevance of bright accents, such as plants, floor lamps or decorative pillows. They can be the very missing part of the decor for the comfort of the living room.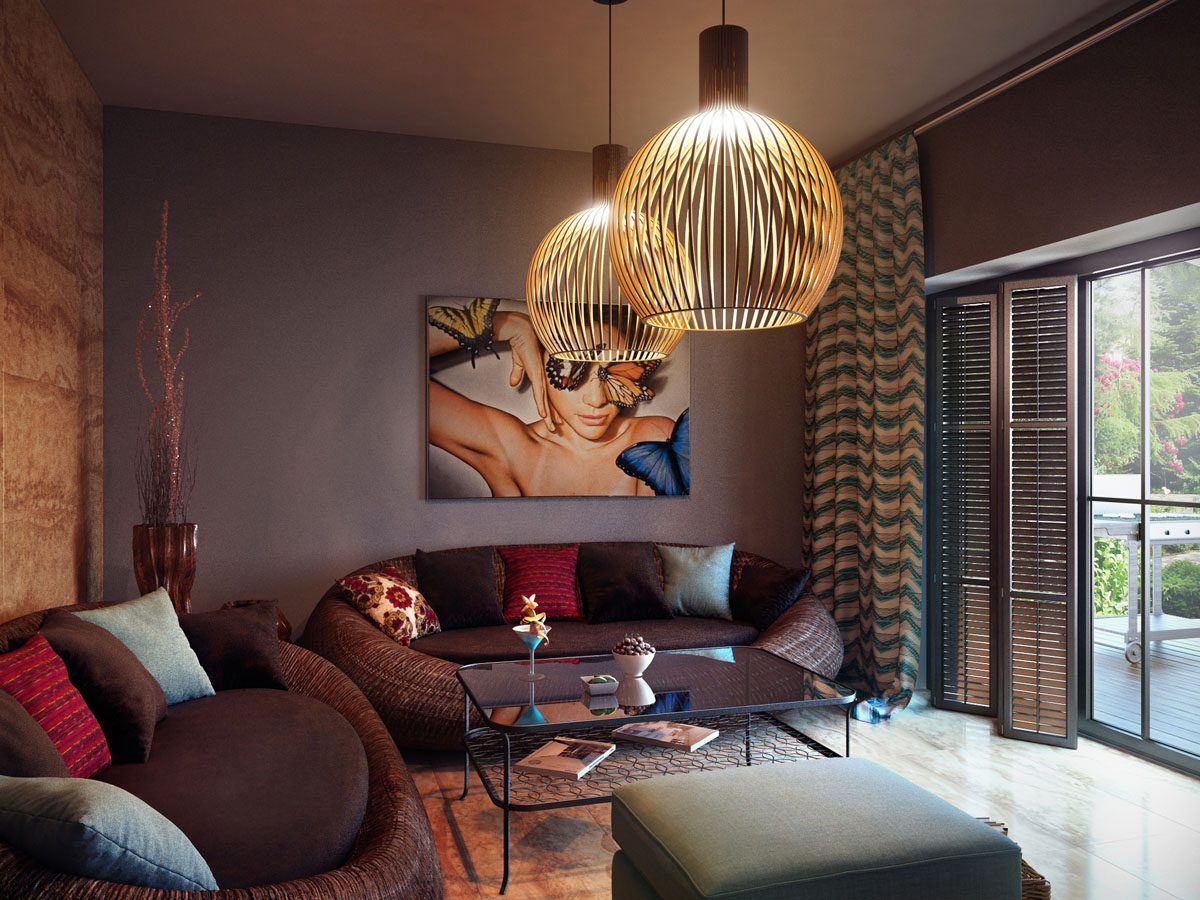 Natural Light
One of the main trends in 2020 is a large amount of light in the living room. For this, panoramic windows are increasingly being installed. Thanks to this, the room seems visually larger. In addition, in this part of the room, you can arrange an evening tea party with a beautiful view of the city. Of course, small rooms are less suitable for creative experiments than others. Therefore, designers offer the opportunity to combine the living room with the kitchen. Cozy open space studio apartments literally catch on in 2020. It is because they can implement countless ideas. Just look at the photo examples in the gallery.
The trend for environmental friendliness is present in almost all areas of life and the design of the living room is no exception. Try to choose furniture and decor items mainly from natural materials that do not harm the health. For example, hardwood furniture looks luxurious and has high performance. Of course, its price is quite high, but it is justified. After all, you can be sure of its quality and durability. As for home textiles, products made of cotton and other natural fabrics are much more pleasant to the body. The choice of decorative details is still easier. Take a look at products made of stone, wood, paper and other materials. Indeed, most often plastic structures only spoil the overall look and look cheap.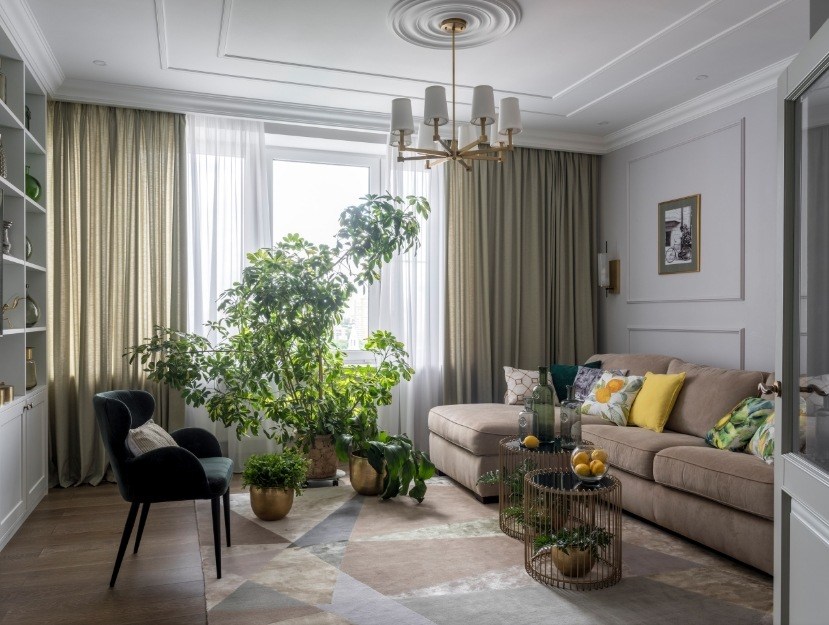 What Style is better for the Living Room?
The combination of several styles in one interior does not always look advantageous. This is always reminded by designers. Therefore, those who plan a renovation in 2020, we recommend immediately to determine the style of the interior and adhere to it in everything. Be sure that such a solution will definitely be relevant for a few more years.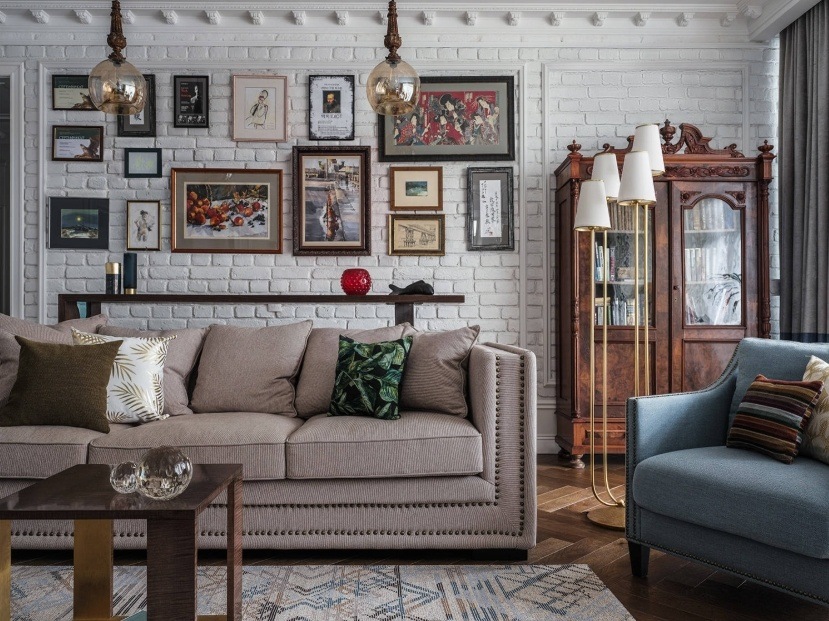 Loft Living Room
For some time now, the loft has been among the relevant interior styles. Initially, it was used in industrial premises and later in apartments. The main conditions for this design are the combination of a large area and high ceilings. Designers argue that if you wish, you can bring elements of this style into a humble-sized living room to transform it beyond recognition. To create an interior in the Loft style, it is not at all necessary to use all the walls. Recently, it has been used more often for this one (largest) wall. It is on it that it is necessary to arrange the brickwork. In some cases, you can use an untreated wall. But it must be well crafted. Among the characteristics of this style, one can distinguish unusual shapes of lamps, an emphasis on pipes or wiring. Of course, not everyone will like the Loft style, but it does not become less stylish, unusual because of this.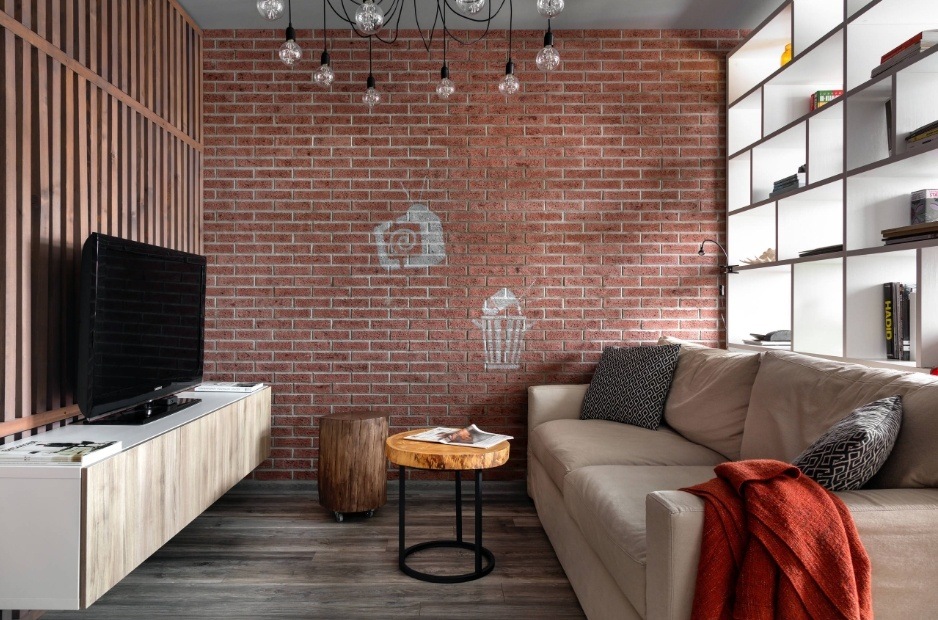 Scandinavian Style Living Room Design
The popularity of this style is difficult to overestimate. The thing is that it involves some features that allow you to design a living room in a modern and comfortable way. Laconic design, light shades and maximum amount of light always contribute to the comfort of each family member. To achieve this effect, it is first of all necessary to abandon too dense and dark curtains. Often they play only a decorative role in the living room. In this case, roller blinds or dense ones in a light shade will look much better. In addition, in the interior of the Scandinavian style, natural materials should be used by default. High-quality wooden furniture has high-performance characteristics and looks decent as well. As for upholstered furniture, natural fabrics should also prevail in it.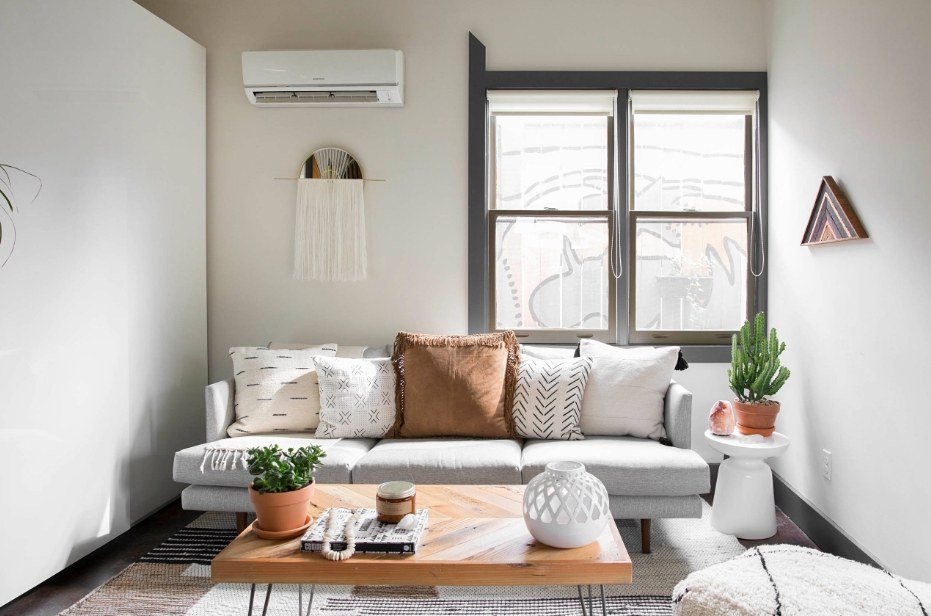 Of course, a significant role is played by the decoration of the floor, ceiling, and walls. Designers recommend choosing a material that imitates wood for the floor. Light texture wallpaper is ideal for walls, and the ceiling is best designed in classic white. If such a light decision is not to your liking, just add contrasting accents. It can be pieces of furniture, as well as various decorative details: pillows, carpets, paintings and much more. The main thing is not to use them too much. It is better to periodically change, thereby setting a different mood for the overall interior.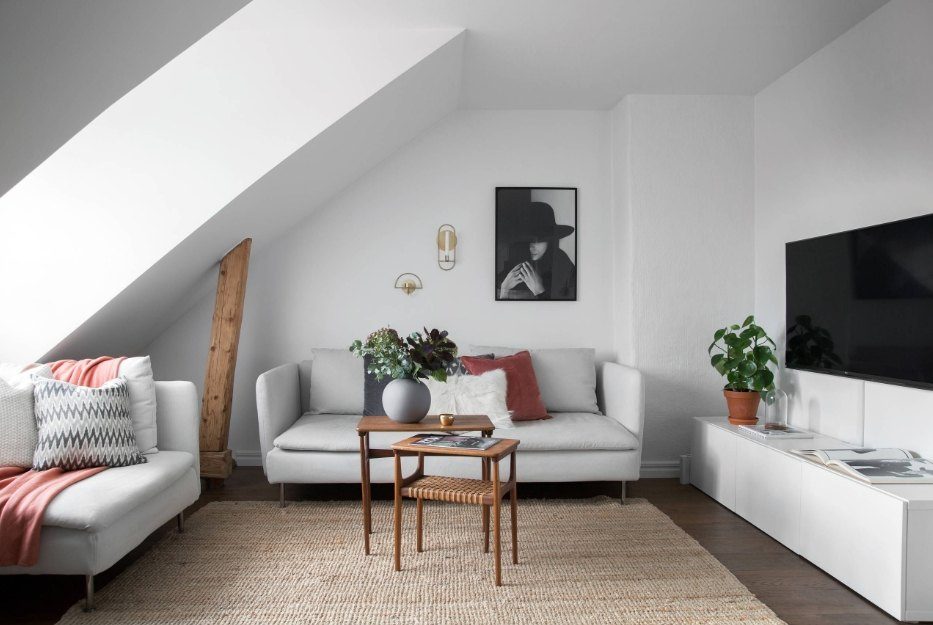 Classic Style Living
The classic interior of the living room is becoming increasingly relevant. Light shades that are used to decorate walls and floors make the room warmer and more comfortable. Such an atmosphere always disposes to a good pastime. Of course, the number of lighting devices also plays a role. Quite large chandeliers, as well as floor lamps – all this is appropriate in the classic style of the interior of the living room. The process of choosing furniture, in this case, will not be difficult, because it should be luxurious. For example, a sofa may have velvet upholstery. This will make it the main focus of the living room. High quality should be literally in everything, even in decorative details. Among them are textile elements, various vases, caskets, candlesticks and much more.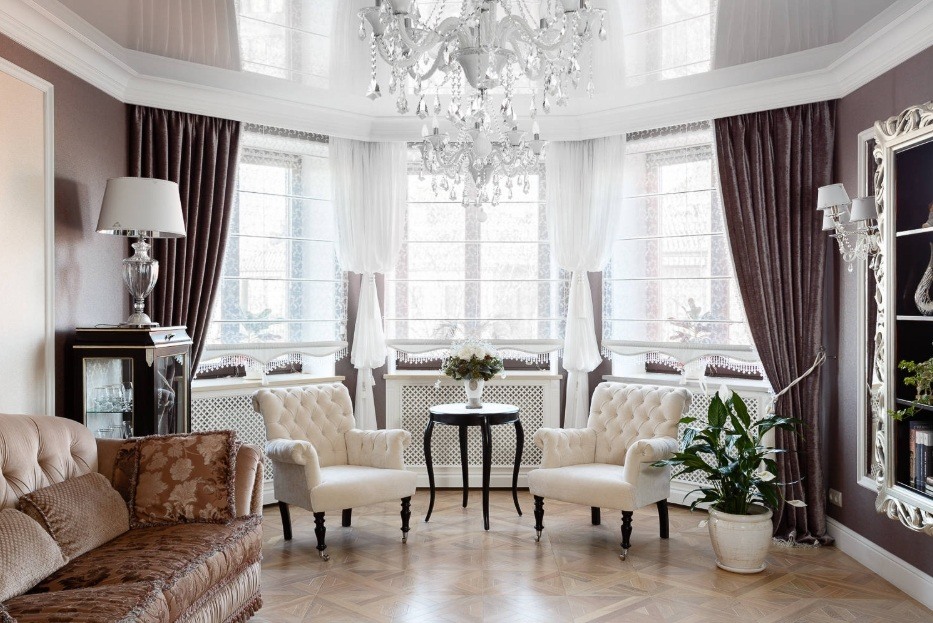 Actual Colors for the Interior of the Living Room 2020
The color scheme in the design of any room is of great importance since it is it that forms the visual perception of the interior in general. It is believed that for large rooms, you can choose any color depending on personal preferences and design ideas. Nevertheless, the decoration of the living room has its own trends. Therefore, you should be guided by one of them for small rooms.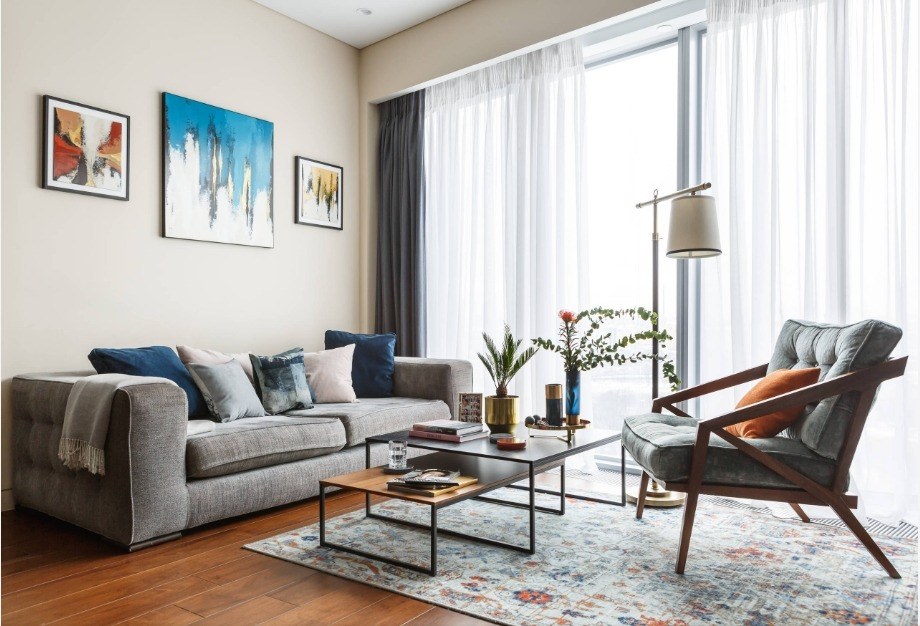 Warm Palette
For owners of a small area, it is always better to visually increase it. Basically, this can be achieved with light color design. In 2020, it is worth paying attention to shades of white and beige. Many people still believe that such options are not practical for everyday life. However, it depends on the quality of the wallpaper or paint that you plan to use. In addition, these shades have a fairly wide range, so choosing the most suitable option is not difficult. One of their advantages is compatibility with many other tones. That is, if desired, you can make an accent with a brighter wall of blue, turquoise, purple or another color. This will be a kind of accent in the living room, which will only emphasize the beauty of its design.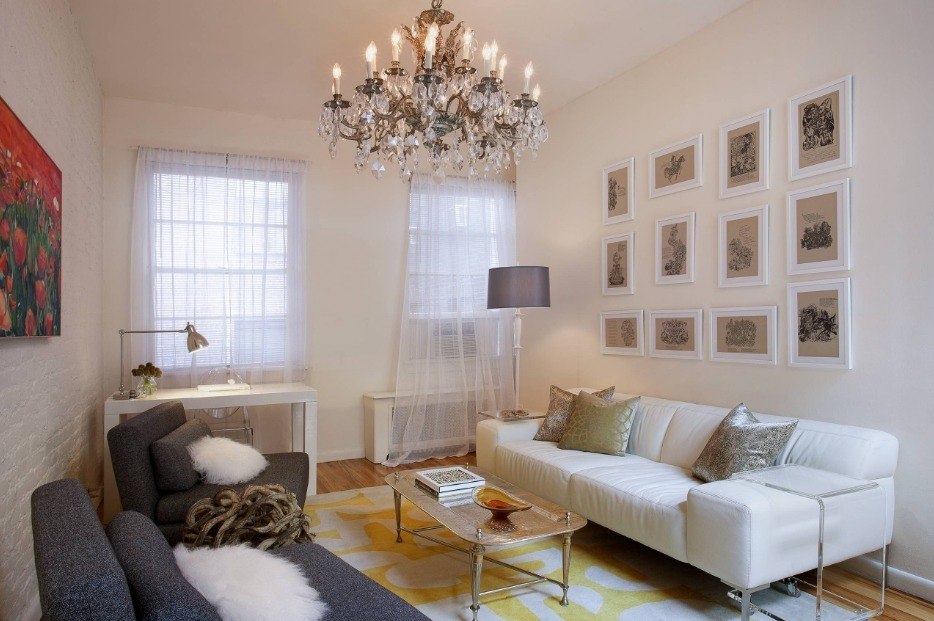 Among the actual walls for decoration, it is also worth highlighting the gray color. Previously, designers tried to avoid it in the design of the living space, considering this option too boring and gloomy. However, now it is literally at the peak of popularity now. Designers note that the gray color is multifaceted and is able to make the interior austere, concise or elegant. At the same time, it combines wonderfully with bright pink, blue, yellow and green. This allows you to experiment a little more. That is, in such a living room you can use lush plants, original decor or bright textiles. The main thing is that all these details emphasize the chosen style of the interior.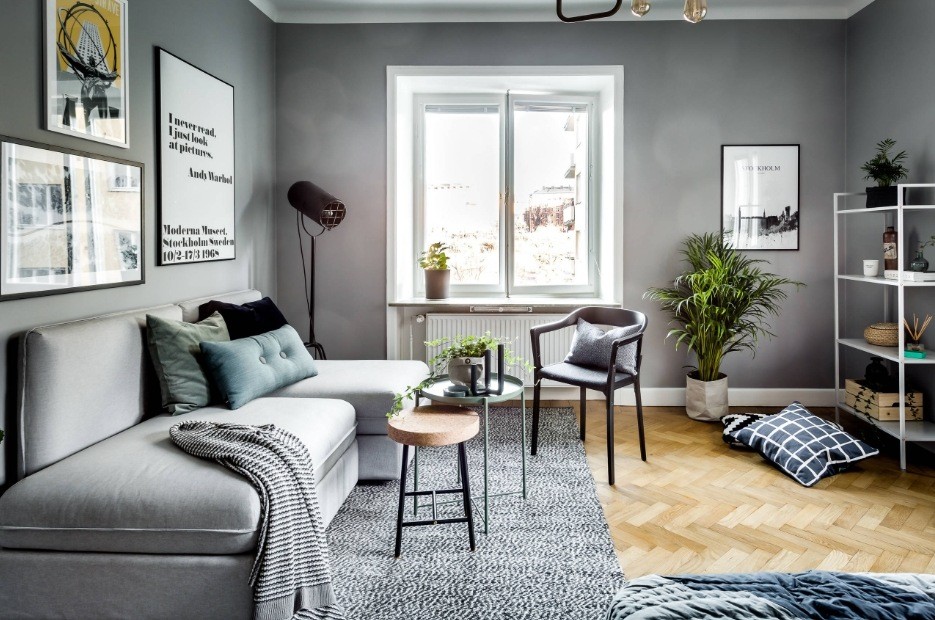 Cold Palette
As for the other options, you can safely use various cold shades to decorate the living room. In 2020, we recommend taking a closer look at the blue range, which includes both light and darker tones. Designers note that more and more customers choose wall decoration in dark blue. In this case, it is extremely important to maintain an atmosphere of comfort and warmth through wooden furniture. Thanks to this combination, optimal color balance is maintained. The same goes for purple and green.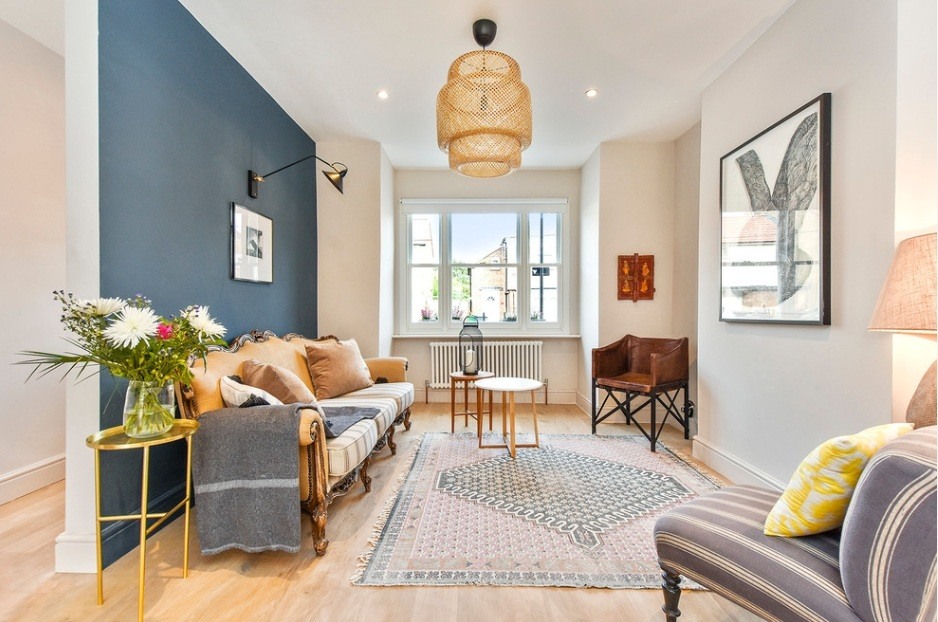 Separately, it is worth noting the interior of the living room in dark green, dark brown or dark purple. Of course, this option is not suitable for everyone. It will be appropriate only if the windows face the sunny side. Only under this condition will there be enough daylight in the living room. If you have the opposite side at your building, then it is better to look at warmer tones.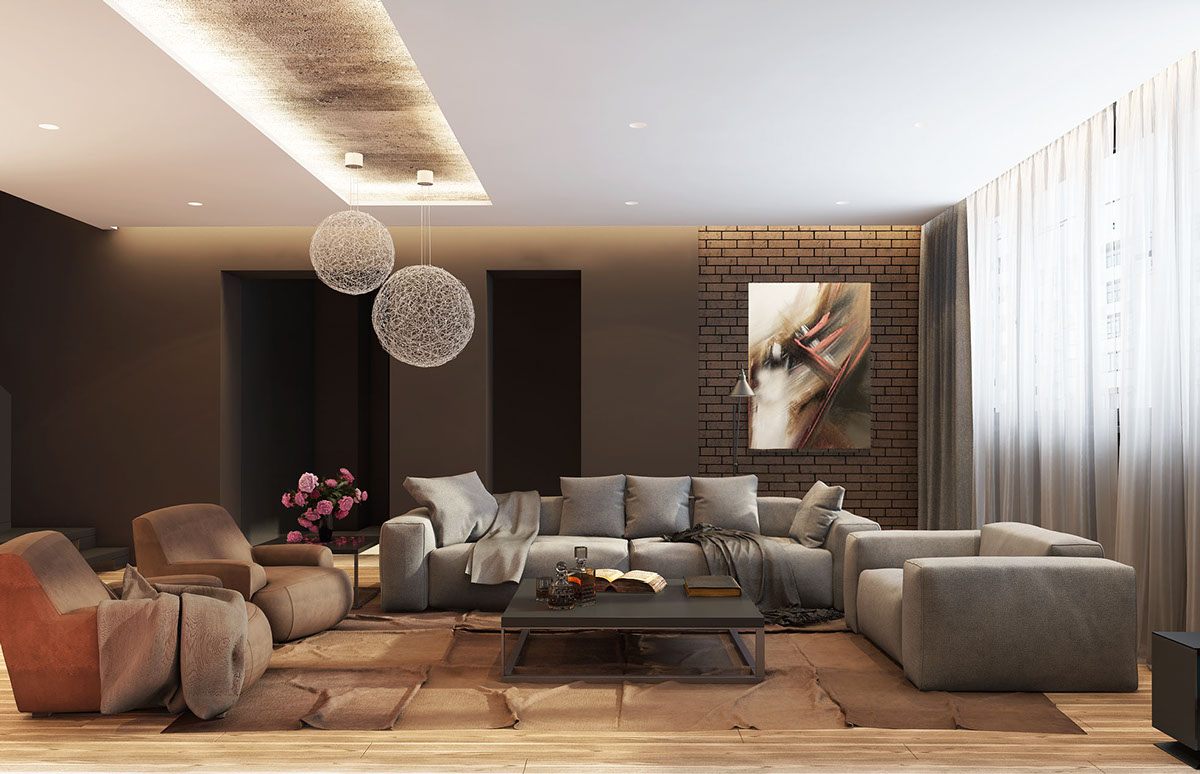 Bright Colors
If there are certain restrictions in the design of the bedroom, then the living room is literally created for experimentation. Therefore, it is not surprising that more and more often this year you can see the interior with an accent of red. It can be used to paint only one wall. Such a decision always looks bold and draws attention. Often, a bright accent in the form of a red sofa is used for the interior in high-tech or some of ethno-styles. In some cases, this color may even have a carpet. Yellow color is used much more often, as it raises the mood and energizes. At the same time, it blends perfectly with classic shades and can complement any interior as a whole.
In general, we can say that in 2020 there are no restrictions on the choice of color scheme. The main thing you should pay attention to is the degree of illumination of the living room. Only starting from this, you can choose the appropriate option.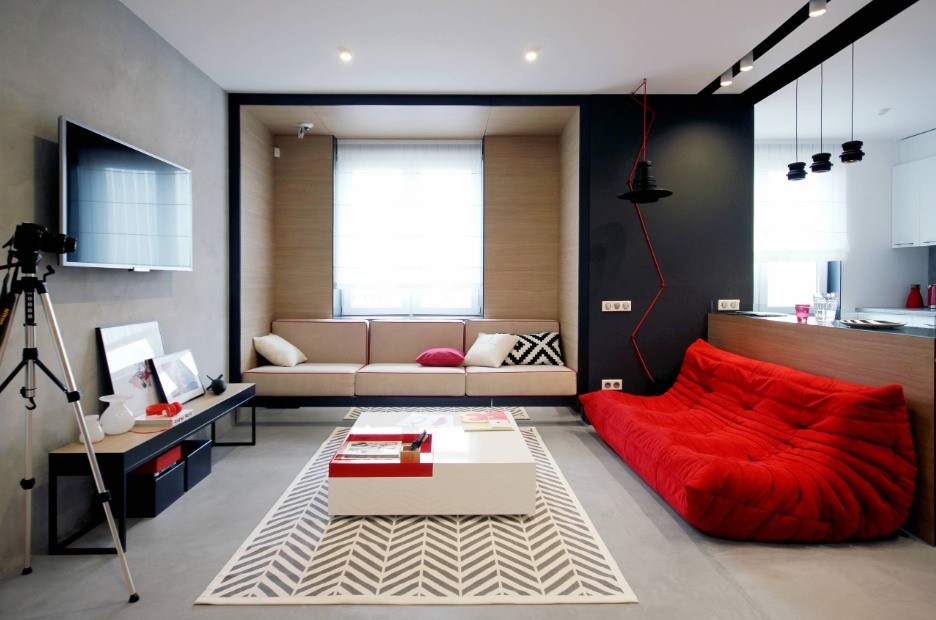 Best Modern Living Room Design Trends 2020: Options for Combining Functional Areas
As mentioned above, the living room in many houses combines several functional areas. Often this applies to small studio apartments. Indeed, in this case, the living room is intended not only for relaxing and having a good time with the whole family, but also for work, sleep or meals. Therefore, it is extremely important to know how to combine them correctly so that the space is used rationally. Sometimes designers offer to remodel a small apartment into a studio since walls and various partitions only make the room smaller. Of course, this requires some costs, both financial and time. But the result is definitely worth it because the apartment will become much more spacious and bright, regardless of the style of its design.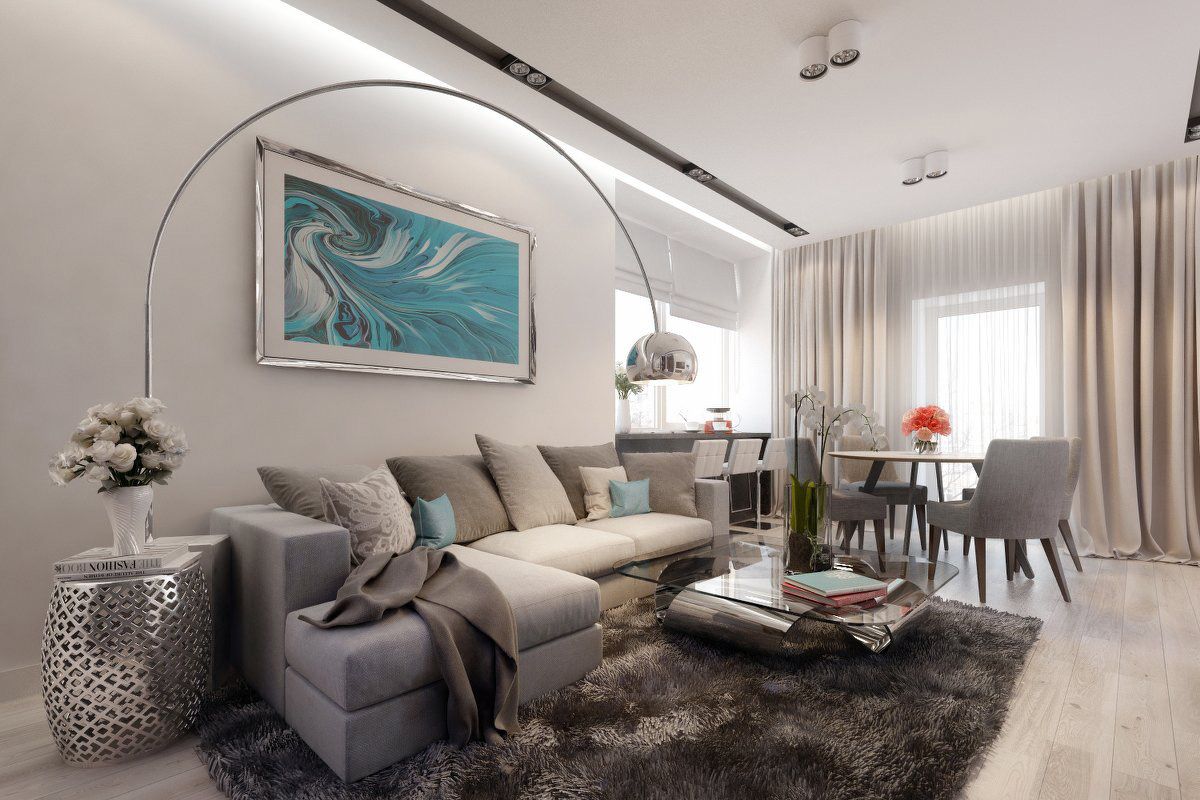 Study in the Living Room
In today's world, many people choose to work outside the office. In this case, it is important to organize the workspace correctly. If it is not possible to have a full-fledged home office, a good solution would be to combine it with the living room. It is best to equip a workplace by the window. Manufacturers offer a wide range of tables, different in shape, style, and size. Therefore, choosing the right option is not difficult. Many of them already have drawers or cabinets for storing the necessary documentation. But if you wish, you can always purchase additional racks or shelves.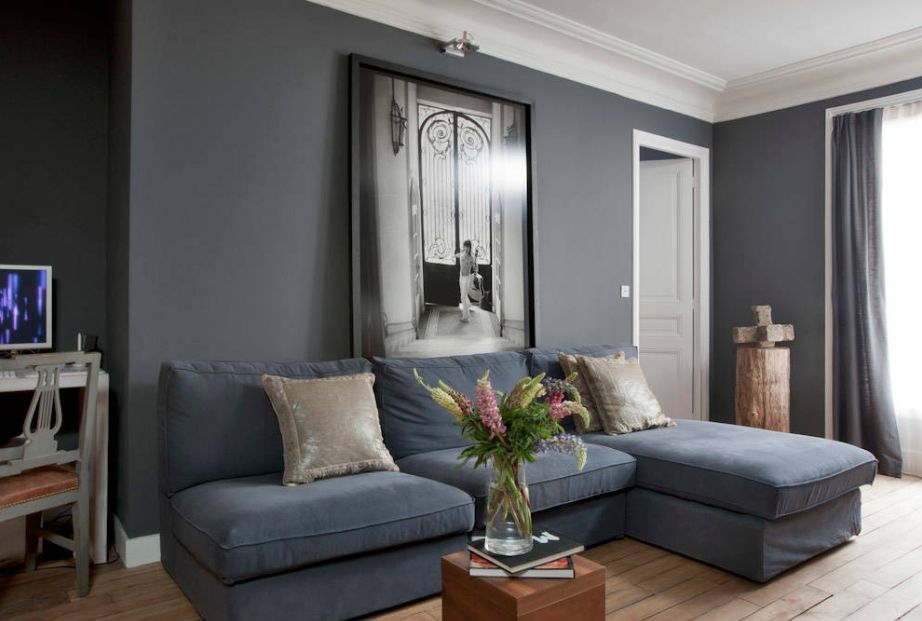 Kitchen-Living Room Design
Perhaps the most popular is a combination of the kitchen with the living room. Designers recommend highlighting a particular area with carpet, furniture and lighting. If desired, even the coating and color scheme for the walls can be different. But small accents would be enough in most cases. For example, a large soft carpet most often indicates a recreation area. At the same time, a dining group emphasizes the eating area. Using such simple tricks, it will be possible to competently divide the space without erecting additional walls and partitions between the zones.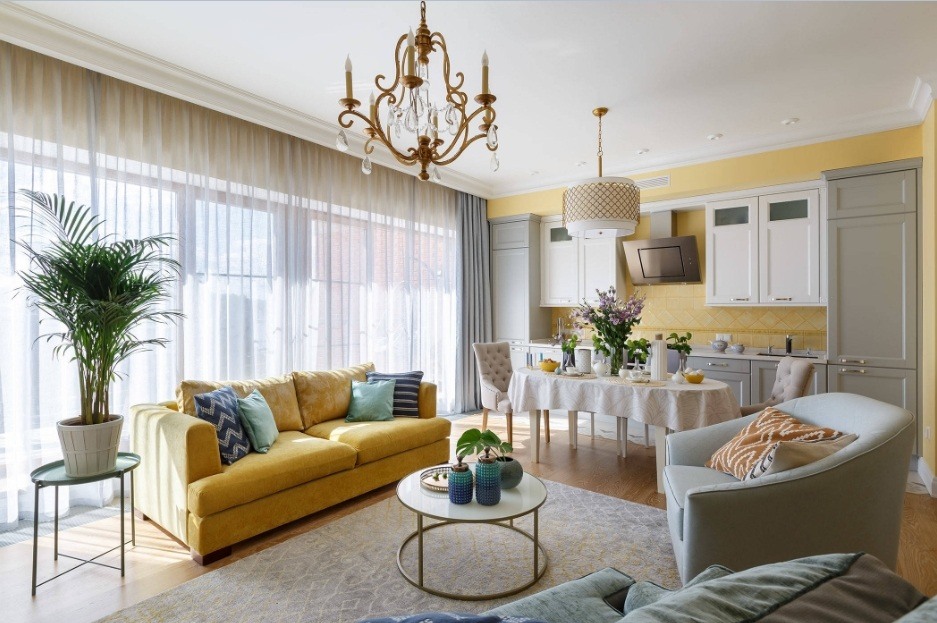 Living-Bedroom in a Small Apartment
Owners of a small apartment know firsthand how important the proper organization of space is. In this case, the living room acts not only as a place for receiving guests and relaxing but also as a permanent place to sleep. There are several options for such a combination. Most often, a high-quality sofa is installed in the living room, which is suitable for sleeping and relaxing. The rest of the space can be organized as you wish. A fairly popular solution was also the installation of a partition in the center of the room. It visually separates the area of ​​the bedroom and living room. This option is ideal for small rooms. At the same time, the space looks stylish and modern.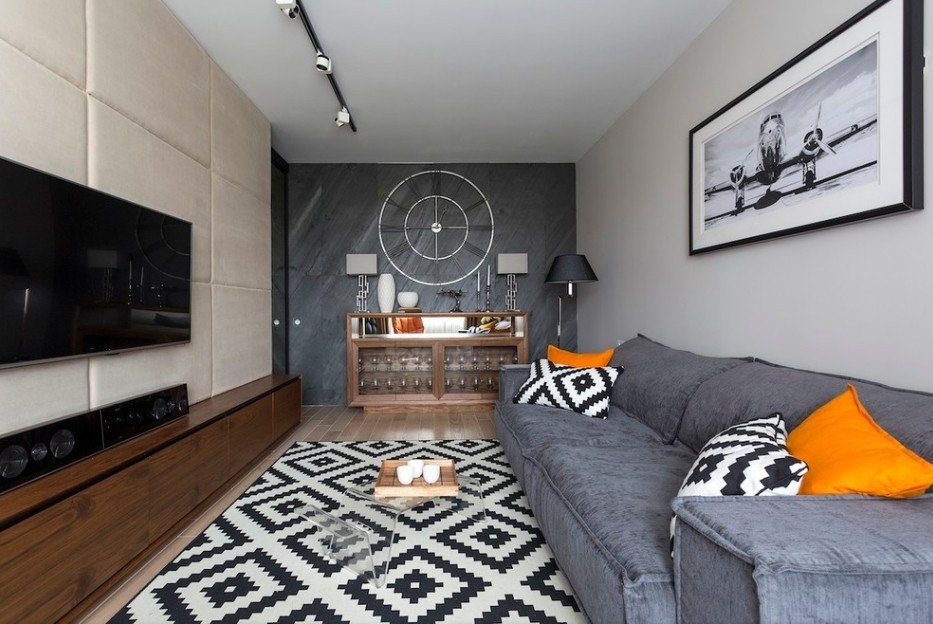 The Main Trends in the Lighting of the Living Room 2020
In the design of the living room 2020, exquisite lighting primarily attracts attention. It plays a significant role in the design, as it helps to emphasize the beauty of furniture or other interior details. In addition, a correctly selected number of lighting devices affects the feeling of warmth and comfort in the room.
The main light source can be of any shape and size. The most important thing is that it should blend well with the overall interior and fits the style. That is, pay attention to not only modest, concise options but also massive and even elaborate chandeliers. As for the additional fixtures, their number always depends on the size of the living room. But in general, beautiful floor lamps are most often used. When the light is on, they highlight a particular area of ​​the room. Most often it is a sofa or armchairs. This is an ideal option for an evening pastime reading a fascinating book.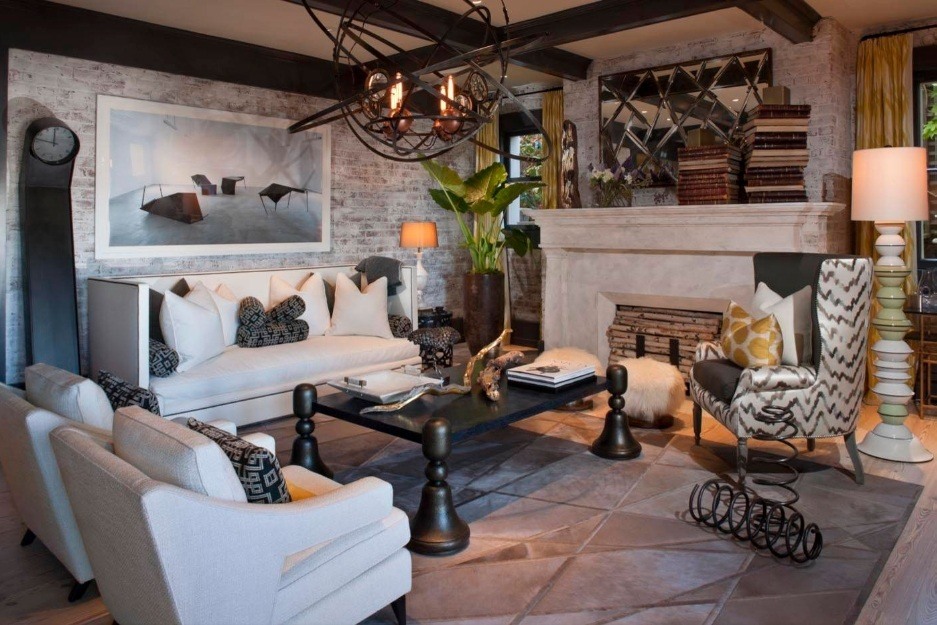 A large room requires more elaborate solutions (especially if the living room combines several functional areas). By the way, very often the lighting is a way of zoning the entire space. In general, we recommend installing perimeter lighting for a large living room. To do this, you will need a chandelier, as well as special additional lamps. If this room is combined with the kitchen, then in the cooking area there must be good lighting. In the living-dining room most often use one chandelier in the center of the room, and the remaining lamps are placed as necessary. Well, of course, for the working area, you must definitely buy a table lamp, and for the recreation area, stylish floor lamps.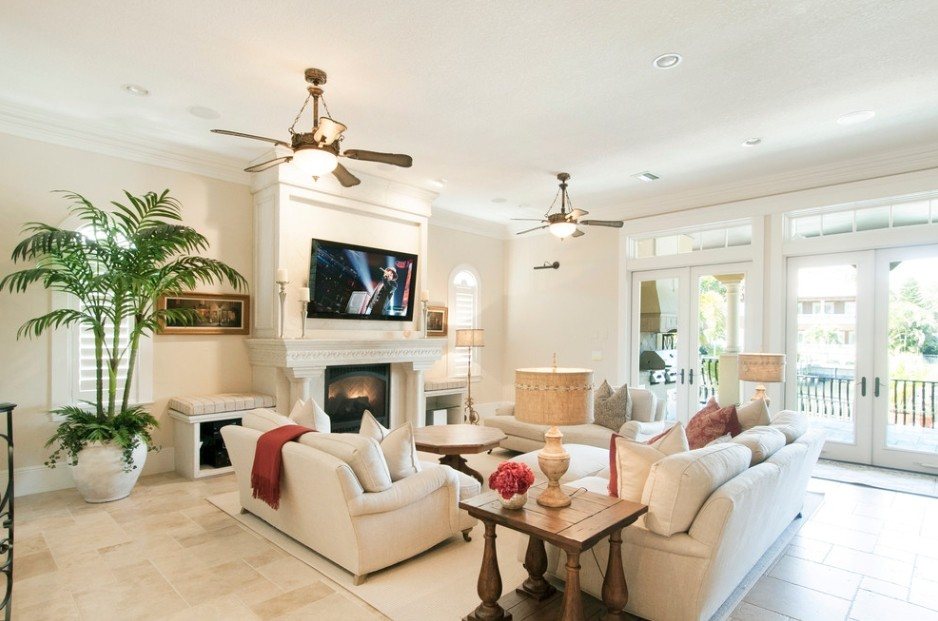 What Furniture to Choose for the Living Room?
The choice of furniture for the living room often brings some concerns. After all, it is necessary to take into account the style of the interior of the room, as well as the quality of structures and the budget limits. In addition, each living room implies its own set of furniture, which differs from case to case.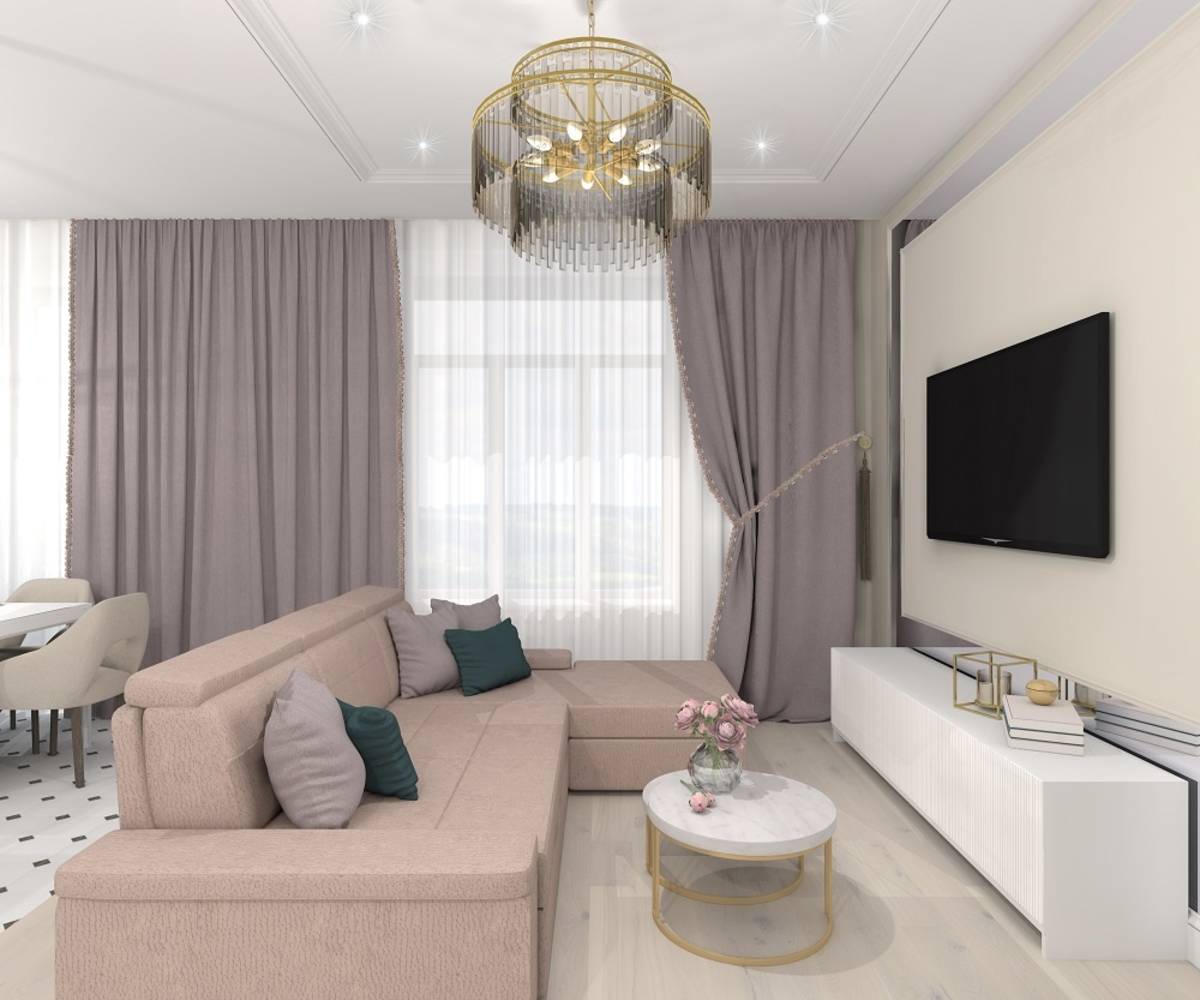 Perhaps one of the main pieces of furniture in a modern living room is a sofa. It must be chosen especially carefully. After all, regardless of the size of the room, it should be comfortable and fit the role of the main berth. No less important is the upholstery of the sofa. In 2020, velvet and velveteen became relevant again. Such options look very beautiful, stylish, but do not have special practicality and wear resistance. Therefore, always analyze different options based on your own wishes and lifestyle. Do not forget about the decorative details. Pillows and again with a thematic print instantly transform even the simplest, laconic form sofa.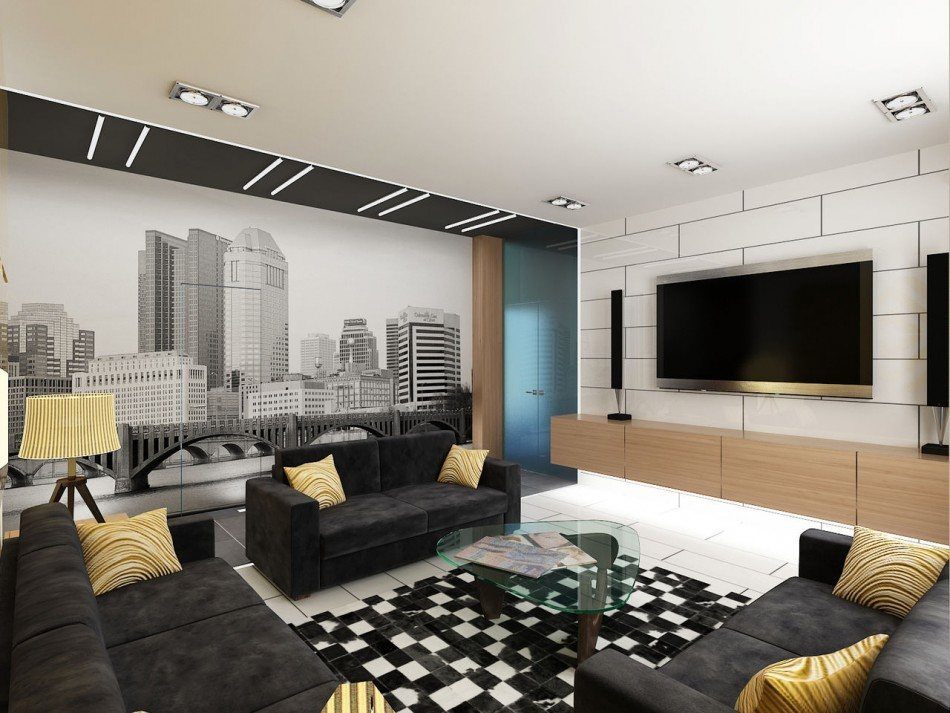 Each living room traditionally has a small coffee table. It is located near armchairs or a sofa. In a small living room, it can be made of wood, metal or glass. Large rooms often accommodate several tables in the same style. They can be of different heights and sizes, but together they look holistic and perfectly complement the overall interior. The vase with flowers, your favorite book or other decorative details are mainly placed on the coffee table. By the way, do-it-yourself coffee tables are often used in the style of the loft . This is a fascinating activity that brings only positive emotions. It is noteworthy that as a basis, you can use regular building pallets without processing. Such detail will decorate the interior and give it originality.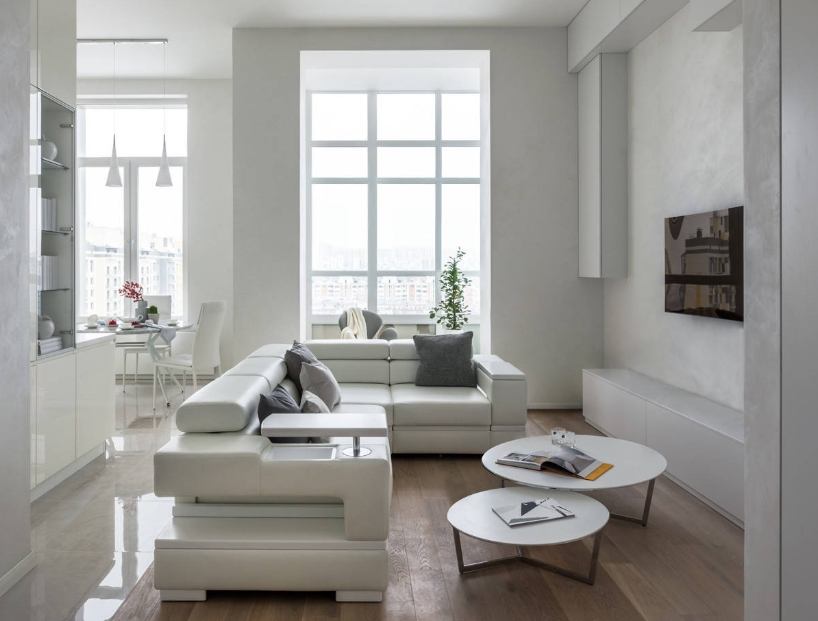 In 2020, there are many ways to make a stylish living room design. Moreover, it does not matter how large its area will be. A competent approach to zoning, as well as the right choice of furniture and lighting, can transform even a small room beyond recognition. And thanks to the bright accents in the form of decorative details and large plants, you can create an interior that will delight you for many years to come.