Modern girls prefer to decorate their room on their own. After all, every room reflects taste, personality, and individual preferences. The design of a big girl room in a modern style can be made in different colors. There are different styles and design tips that will help to equip the room, create a cozy atmosphere in it.
Fashionable Colors in the Girl's Interior
Depending on nature and age, you can choose different shades of materials. Each room should reflect the personality of the girl. Designers emphasize the most popular shades for decoration:
Specialists advise combining colors. So, a completely pink room will look too "girlish". But if you combine such materials with finishes in white or gray, the room will become stylish and modern.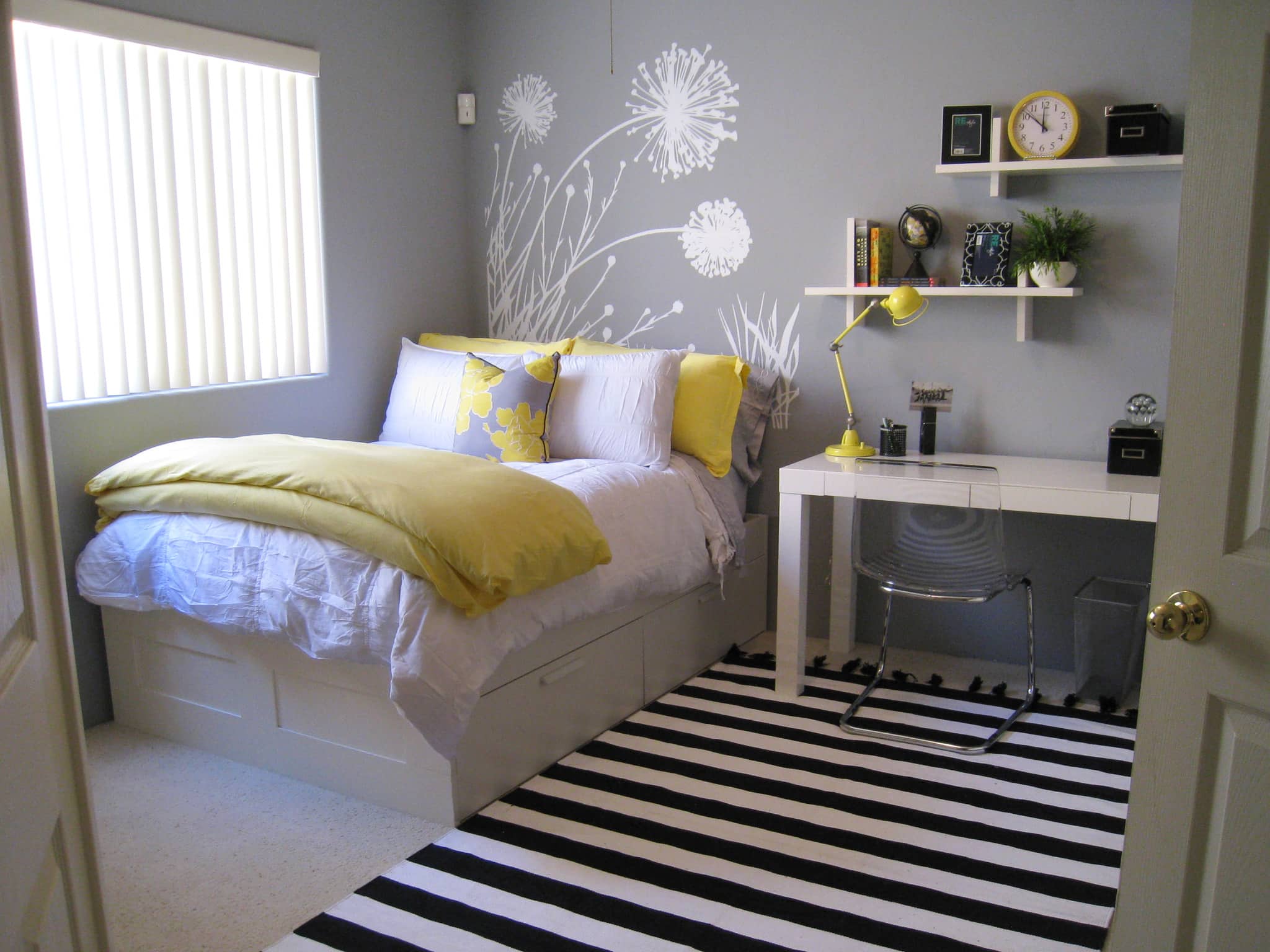 Room design can be implemented in a minimalist style. Then you should make a bright touch into the interior with the help of a beautiful accessory. It can be textile accessories, a rug, a mirror, picture frames, or souvenirs.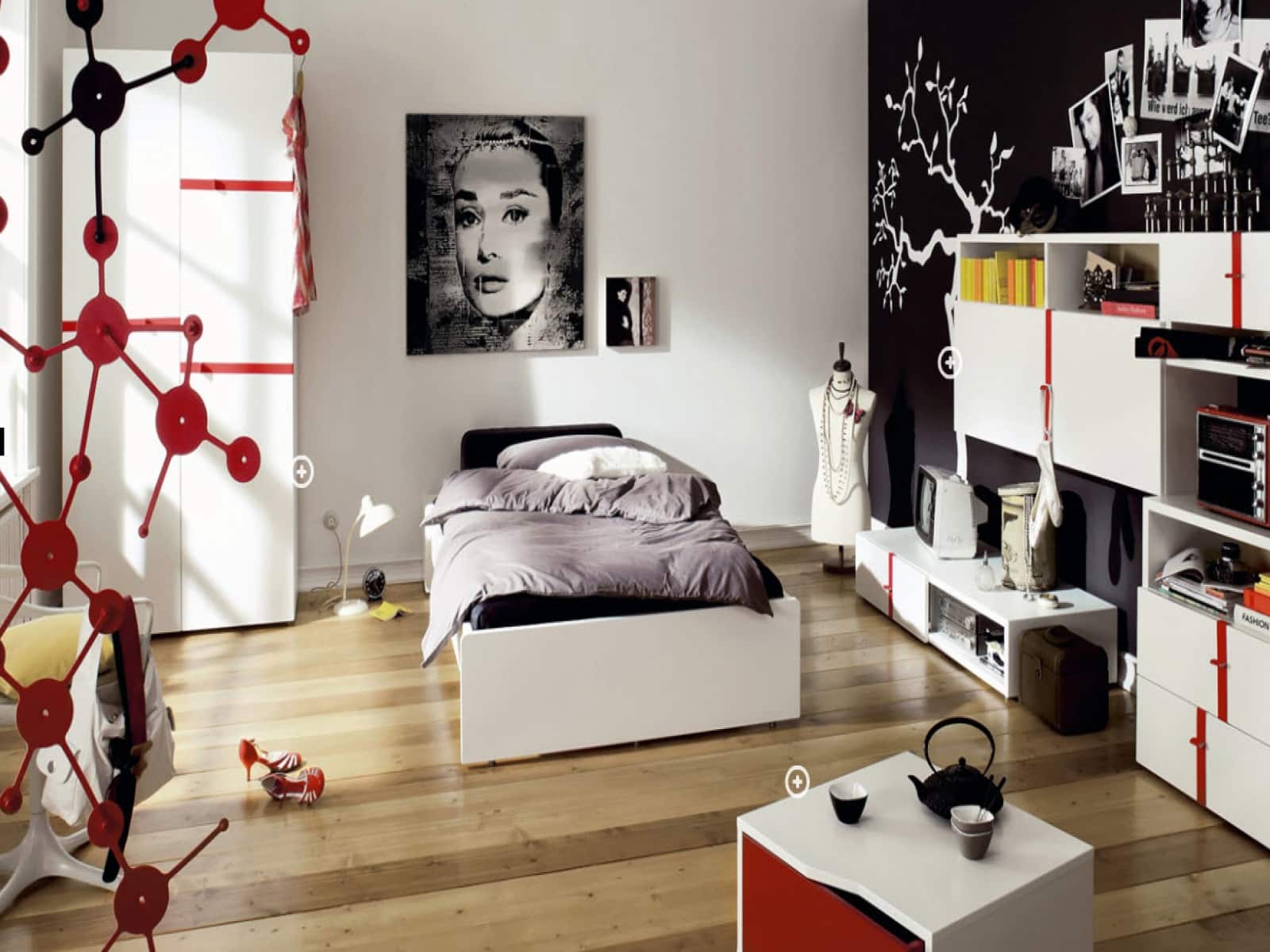 For a romantic nature, we can recommend using shades of white, lilac, lime, and pink in the interior. They will give the design a romantic mood and a delicate aura.
For rational and calm girls, you should try neutral colors. Materials of gray, white, or beige shades will be the perfect complement to the arrangement of the big girl room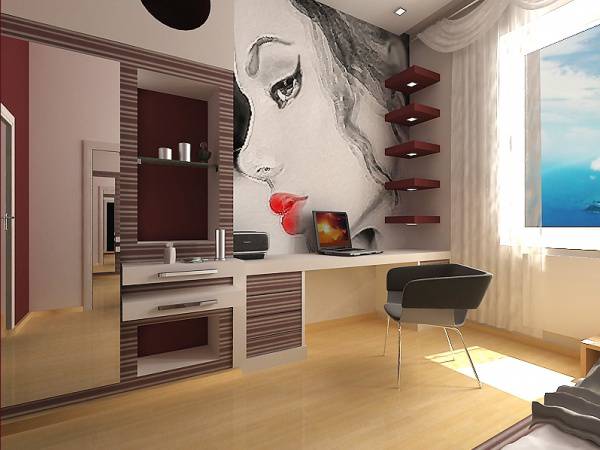 Ideas for decorating and the most successful options are reflected in the photo gallery. Similar projects can be used as a basis for creating your own design. In this case, it is necessary to take into account the age of the hostess. Girls of 15-17 years old prefer gentle colors in the design, after 18-20 years you can experiment in a combination of different palettes.
Basic Ideas for Big Girl Room Design
Before equipping a room and selecting materials for decoration, a plan should be drawn up for the placement of all necessary items. The room should be divided into functional zones. In modern design, there is usually found:
sleeping place;
workplace;
rest zone;
wardrobe.
The main area is the sleeper. The dimensions of the bed depend on the area of ​​the room. In the large room, you can place a beautiful baroque canopy bed. The modern design means a standard twin- or full-size bed.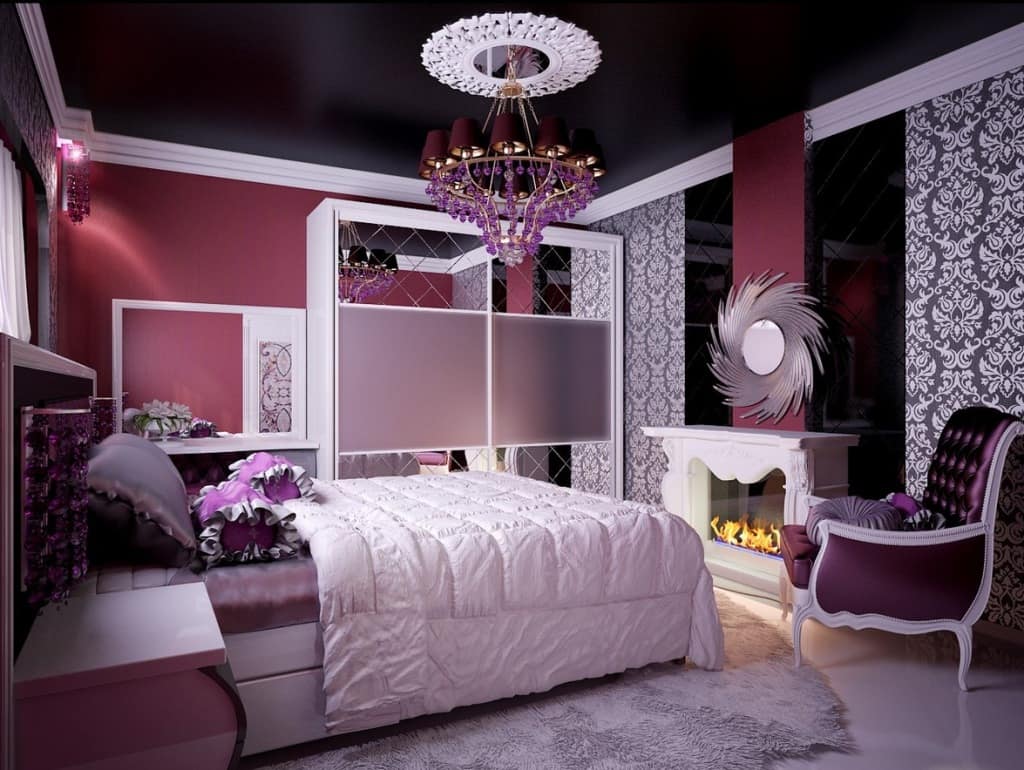 The wardrobe area may include a spacious wardrobe with many shelves and a mirror. Such a place can be made in the corner of the room, where the girl will be comfortable to dress up.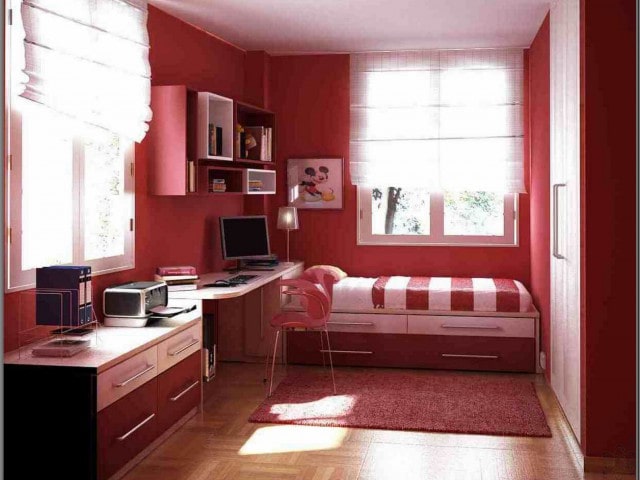 Modern girls study or work, communicate with friends through social networks. Therefore, the room should have a desk with an armchair. Modern firms offer a wide selection of furniture, which is ideal for creating a beautiful interior. Items can be matched to the color of the base materials.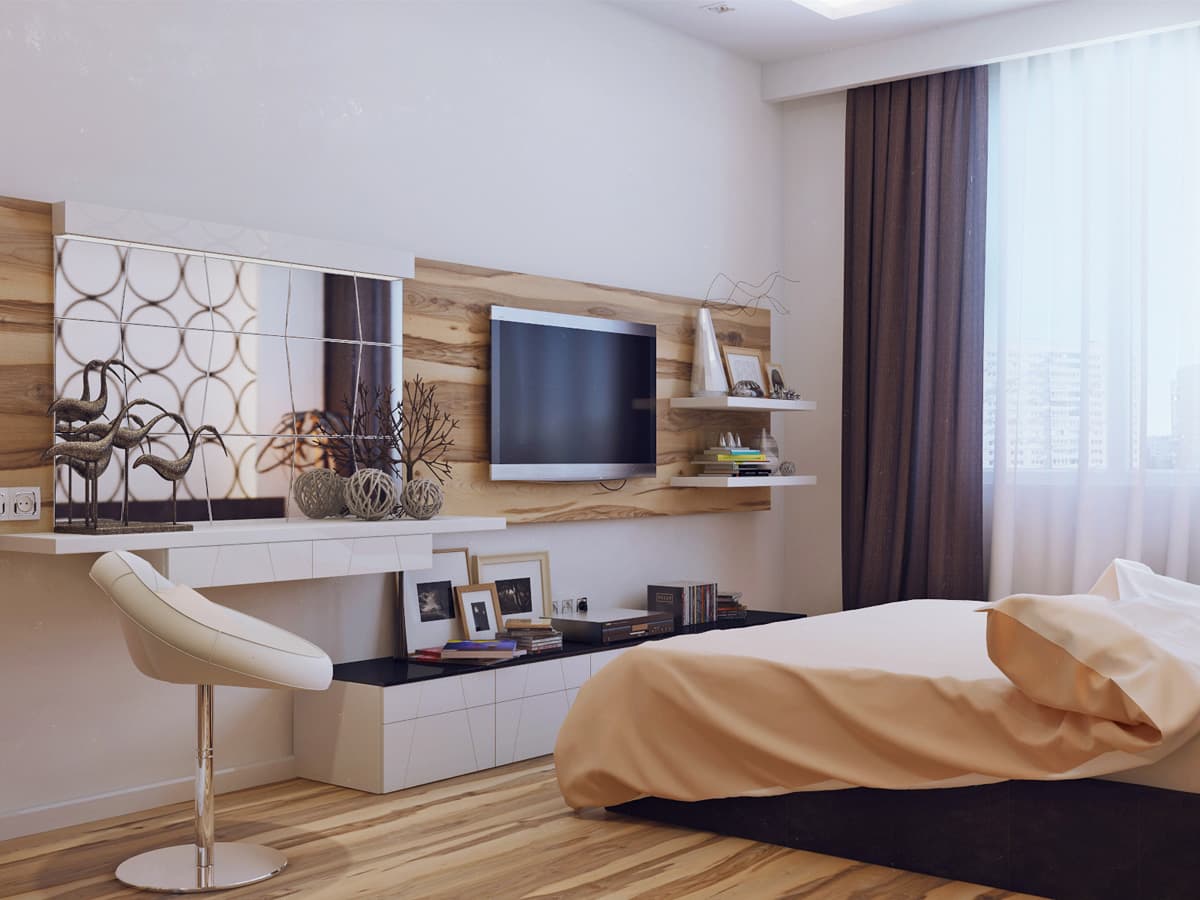 The relaxation area is a TV, a comfortable armchair, a pouf or a sofa. Some girls do not purchase such items because of space savings. In this case, you can complement the interior with a vintage chair or a small bedside stool.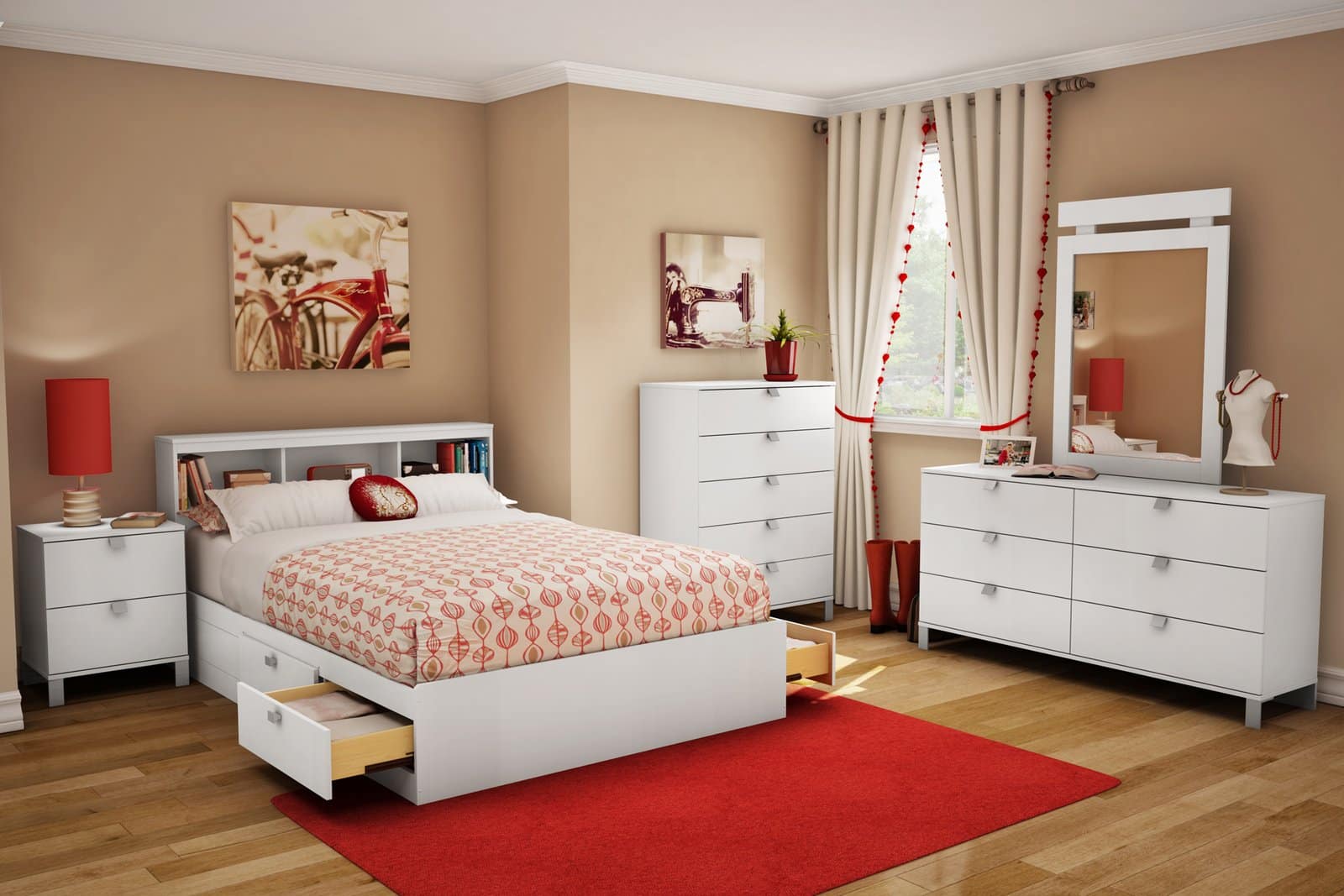 The arrangement of furniture directly depends on the shape of the room. To begin with, you can put a bed, and only then purchase additional items. In any case, your own ideas and advice from designers will help create a beautiful, comfortable, stylish interior. The design of a big girl room in a modern style can be supplemented by an original painting or a combination of photo frames. By adding a certain touch, you can make a bright accent in the interior.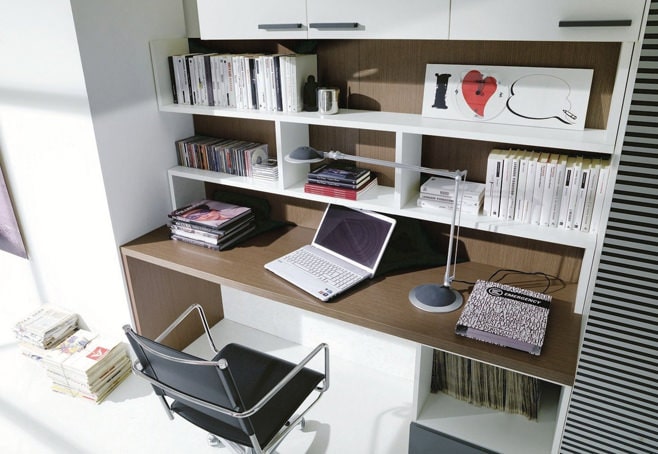 At the age of about eighteen years old, the interior of the room for the child must be changed to a more serious and adult interior for the girl. Too bright colors and wallpapers with children's drawings are no longer acceptable in the design of the bedroom for a young girl. You also need to think about the location of the dressing table and wardrobe.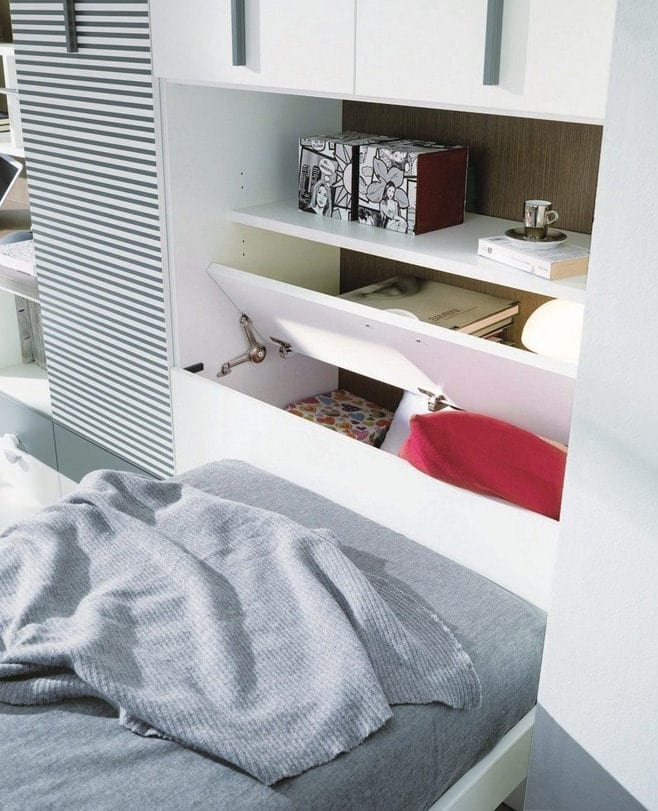 The choice of interior room for a young girl should start with the choice of design for future space. The stylistic coloring of the room decor for a teenage girl depends largely on preferences, character and hobbies, and her favorite style. Some girls prefer up-to-date strict interior design options in the style of minimalism or high-tech, while others prefer a more romantic and delicate design.
Division of Space into Zones in Big Girl Room
It is a living room, a bedroom, a space for receiving guests, a dressing room and a home office at the same time. It can be difficult to fit everything in a small area. To skillfully arrange furniture in the interior, you need to think about the zoning of the room. In a girl's room of 18 years old, it is very important to divide the space into a storage area, a work area, a guest area, and a relaxation area.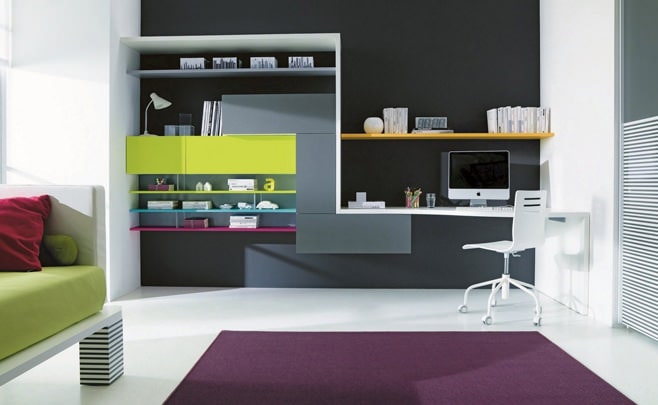 Furniture for a Big Girl Room
When choosing a bed, you need to consider that the room is both a bedroom and a living room, which is why it is better to abandon bulky beds in favor of folding sofas. The desktop can be a sophisticated desk or a computer desk with bookshelves, but most importantly, its degree of convenience.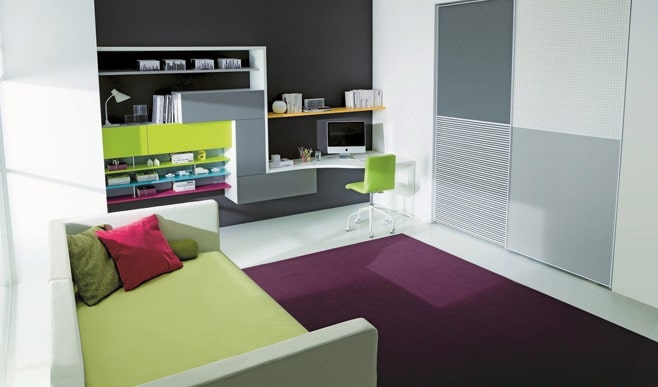 The dressing table is no less important detail than the desktop in the design of the big girl room. As an ideal option, you can consider a chest of drawers with a mirror. Also, in the design of the room for a teenager, you need to organize a relaxation area, for example, lay out soft ottomans or pillows on the floor.
In addition to aesthetics, we also need to worry about the functionality of the room. We must convince our children to furnish the room with the necessary furniture that will help maintain order – cabinets for things and books. The arrangement of the interior must begin with a sleeper and a place for study.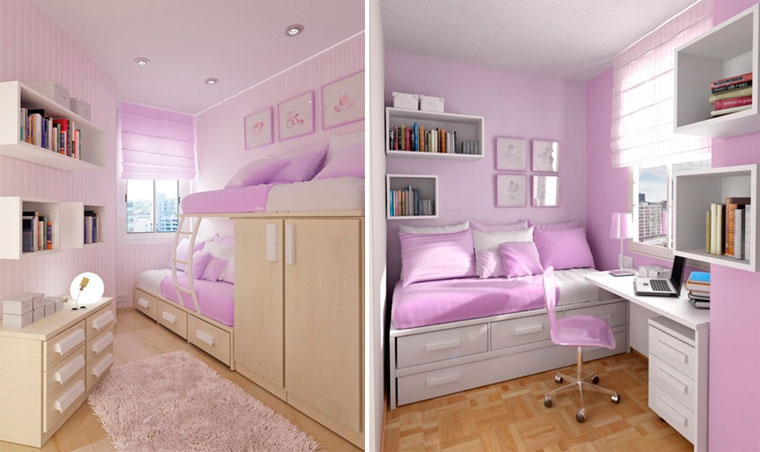 The desktop is a very important element. This is not only a place to learn but also our child's little kingdom. It is here that the girl will do homework, chat with friends or play computer games.
The size of the table should allow the child to feel quite free. Of course, this place should be well-lit and comfortable, so the desktop should be placed in a bright place. Lockers in the table are a great place to hide a lot of trinkets. A good option is to install an extended countertop with cabinets and bookshelves.
A simple but very effective solution is a classic desk or bed with drawers and a large worktop that will be well lit by daylight.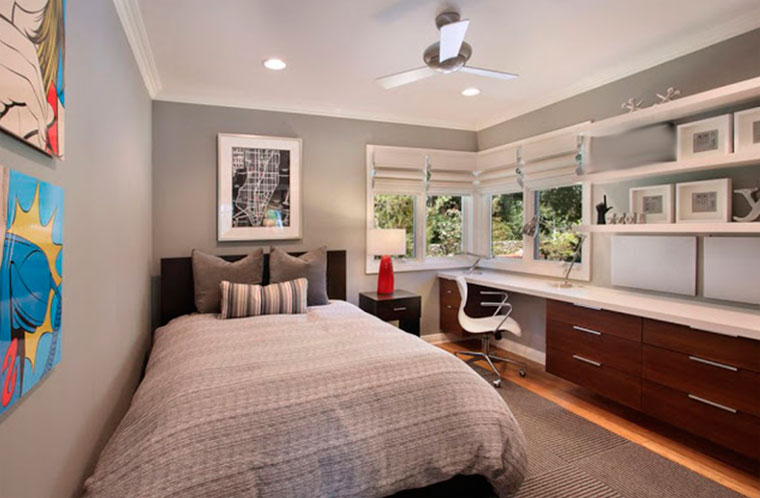 When organizing a workplace, you should choose a fashionable and stylish combination of colors, stylish lamps, fancy hangers, for example, as in the photo below in the form of buttons. All this will create a fashionable interior of a girl's room in a modern style.  Placing a build your own neon sign on the wall will surely add vibes to your room.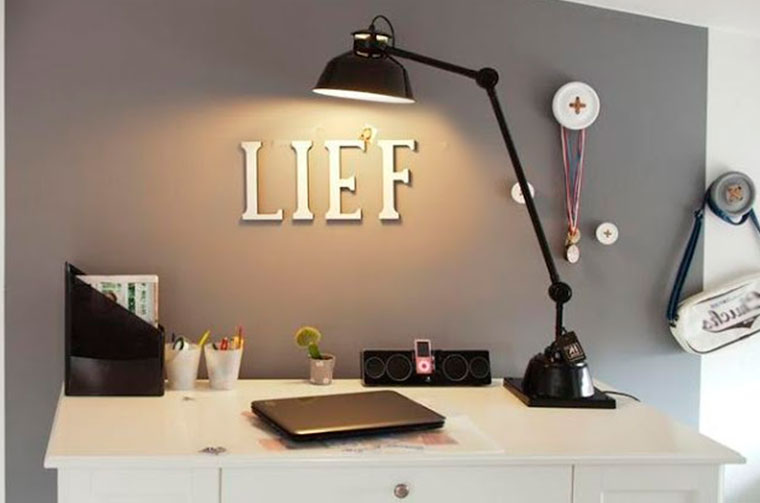 Young people often like to stick their idols and stickers on their walls or doors. As we know, their tastes change quickly, so in order to protect the wall from contamination with glue, tape or holes from nails, it is better to hang a cork or fabric panel.
You can also paint the wall with magnet-marker paint, which will help you in creating various plots and inscriptions with chalk, and also place pictures with magnets. This solution has recently been very popular and can be used not only in the teenager's room but also in other rooms.
If necessary, you can purchase additional bookcases for books and other items that are important for your child. It can also be an additional shelf.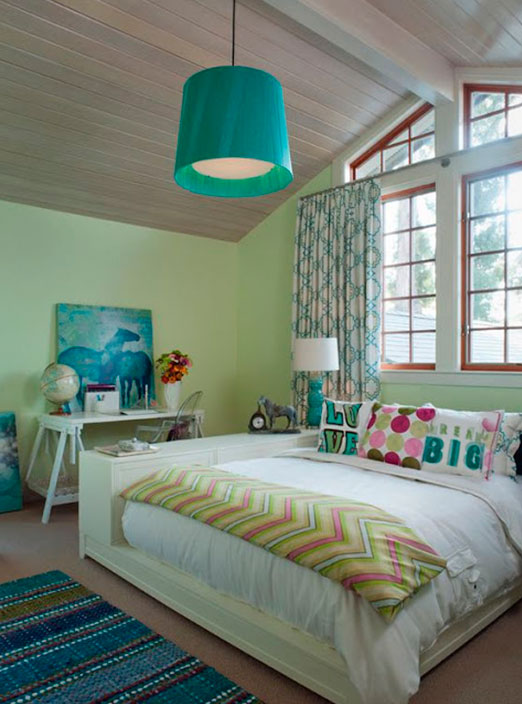 It always seems to parents that the desktop is the most important element in the room for a young girl. It turns out that teens think differently. For them, the bed is the center of the room.
They prefer comfortable beds because they spend most of their time there, they not only sleep but also study, read, chat with friends on the phone, watch movies, listen to music on it. Thus, a large bed with a comfortable mattress is a very good option.
Even with the simplest bed, we can organize an interesting interior by choosing beautiful textiles, stylish pillows or a beautiful bedside table, a trendy lamp, for example, a light bulb on a long cord.
Sparkle your imagination and creativity, but rather the creativity of the owner of the room, let her choose the original piece of furniture or wallpaper at the head of the bed.
As a functional solution that saves space, you can use bunk beds. This option is suitable not only for younger students but will fit perfectly into the interior design of a big girl room. The bunk bed can accommodate two sisters.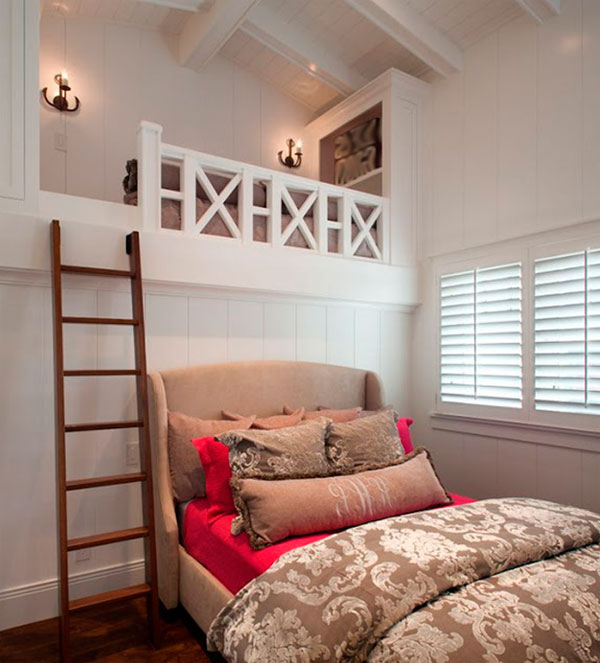 Having placed a bed on the "second" floor, on the "first" you can organize a cozy sofa on which girl(s) can receive guests or leave girlfriends to spend the night during a pajama party.
The Wardrobe is also a Very Important Detail
Any girl in adulthood can not do without a dressing room. A small closet with two doors or a whole adjacent room can be considered as a wardrobe. The size of the wardrobe depends on family income and requests. A closet is a very good option for a small space.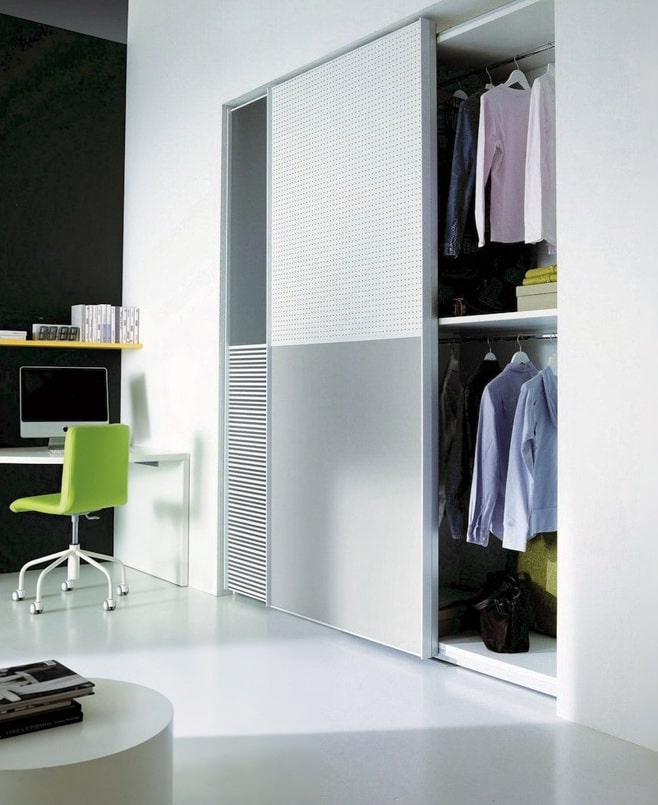 Designers of the 21st century offer a huge selection of ideas on how to decorate beautiful bedrooms in a modern style. There are an unimaginable number of projects for which you can create attractive rooms. In them, the girls will feel as comfortable as possible. The room of a young woman is no longer a nursery, but not yet an adult. Girls are very vulnerable and refined natures, and therefore they need room for sleep, relaxation and their lifestyle, which is fully consistent with their person.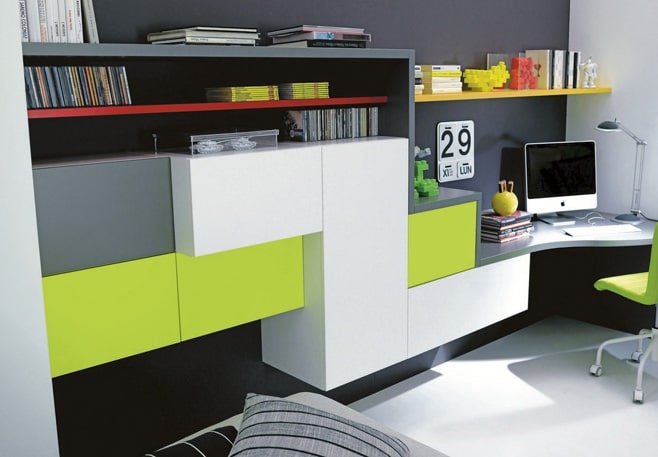 Big Girl Room Lighting
The light design of the bedroom for the girl is thought out taking into account the general illumination of the room. If it is not enough, additional lighting must be provided. At least two lighting schemes are used in the interior: daytime and night ones. It is better to refuse large and solemn chandeliers unless this is dictated by the chosen style.
Instead of a chandelier, it is better to use point sources of light, evenly distributed over the ceiling area, as the main lighting. They will suit any interior design and will illuminate even the most remote corners of the room.
For the working area, it is better to choose a modern lamp with the ability to change the direction of the light flux. This lamp can also be used for additional illumination of other areas, pointing it in the right direction.
Bedside lighting can be implemented in various ways: a lamp standing on the bedside table, a sconce over the headboard or a floor lamp near the bed will make it possible to read before bedtime.
Windows must be equipped not only with light, transparent but also with thick curtains that provide isolation from a street light. This will allow the hostess to fully relax at night. Instead of curtains in the design of the bedroom, you can use blinds.
What Style to Choose for a Big Girl Room?
Before proceeding with the equipment of the bedroom, it is necessary to determine its style. Here, the girl's preferences and her personality come first. The choice of possible styles is very wide.
Shabby Chic
It is one of the most romantic styles. Many girls choose him, wanting to emphasize their femininity. The design of the bedroom is dominated by delicate, pastel shades – blue, pink, beige, peach. The furniture may have forged elements; the bed usually has a patterned headboard. Textile extras and soft lines are welcome. Mainly natural materials are used in decoration. This applies to both furniture and textiles.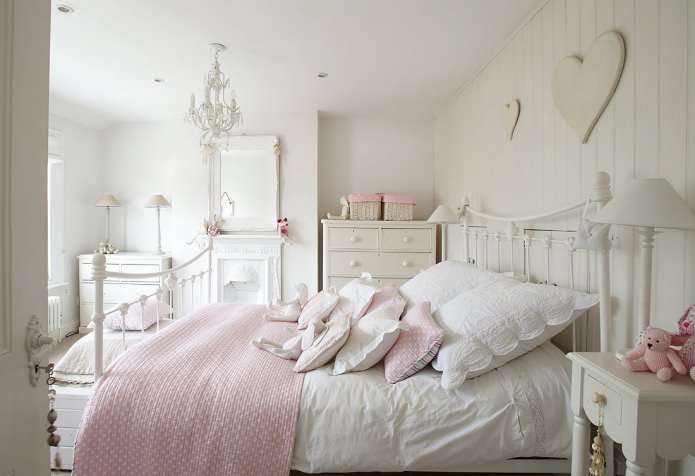 The modern room for a girl in the style of shabby chic is richly decorated: wood carvings, mirrors in elegant frames, candlesticks and vases, indoor flowers – all this creates a lovely atmosphere in the design of a girl's room.
Particular attention is given to textile elements. Curtains should fall in large folds, pillows of different designs, sizes and shapes are designed not only to add comfort but also to create a cozy atmosphere. Bed linen is also chosen in pastel colors, with patterns of flowers or monograms.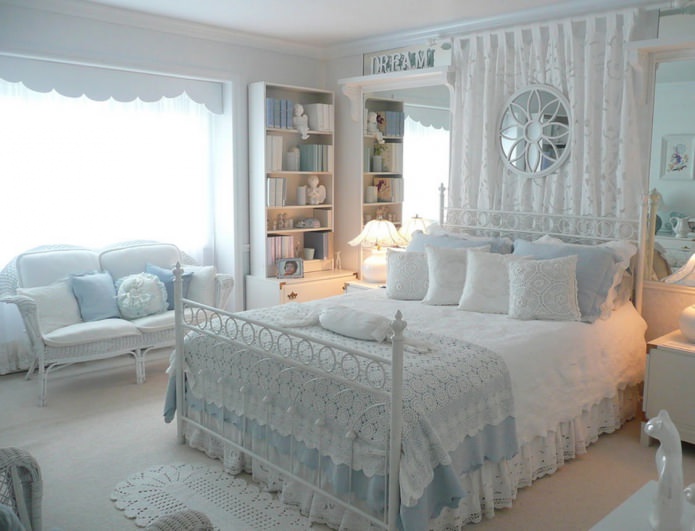 Modern Style
The design of the bedroom for the girl in a modern style is made using light colors, uniform lighting, and a minimal amount of furniture in laconic shapes. The choice of this style solution is justified if a small area is reserved for the bedroom – it will allow you to visually increase the area. In modern styles, a minimal number of accessories and accessories are used. The feeling of warmth and coziness in the design is achieved by a thoughtful color combination and interesting interior accents. We can distinguish such characterizing elements of the big girl room in modern style as:
the availability of free space;
the use of transforming furniture;
natural materials for decoration;
calm colors;
lack of rich decor in the design.
Typically, modern style is preferred by girls who move with the times, as well as who need a computer desk. The interior fits perfectly with modern audio and video systems.
The interiors of bedrooms for young girls are usually presenting a romantic atmosphere, pastel colors, as well as a variety of plush toys and pillows. Romantic style – this is far from a new version of the bedroom styling, and it has long been thought out by designers in full.
It contains:
Floral prints;
Openwork textiles, both on curtains and upholstered furniture;
Original indoor flowers;
Photos in the original framework;
Applications and panels on the walls.
Color options
It is worth noting that, according to the choice of color, the big girl room should contain such shades as:
Pink;
Lemon
Blue;
Olive;
Mustard;
Lilac;
White
This does not mean that you need to be limited only to them since it is quite possible to have bright accents on the background of a plain pale pink wall or to highlight the sleeping area with a more rich color.
Recently, it is believed that it is considered a great idea to install a glossy stretch ceiling of pale pink in the women's bedroom. Such an element in the design is a great addition, and can also become a balancing detail. If a stretch ceiling is installed, then you should not choose a classic chandelier, as it will look out of place in this composition. For such rooms, the French style is excellent, in which there are also floral designs and pastel shades of pink.
The women's bedroom, decorated with textiles, which depict small drawings of hearts, flowers, symbols and even notes, will be the most unusual place and will appeal to the young princess.
Classic
The classic interior of the bedroom for the girl is spacious, calm comfort and a certain solemnity of the atmosphere. In such an interior, there is no place for bright color combinations and super-modern design solutions. The color scheme is restrained warm – beige, pistachio, gray, lilac, white. The use of natural wood in the design is another sign of the classic style.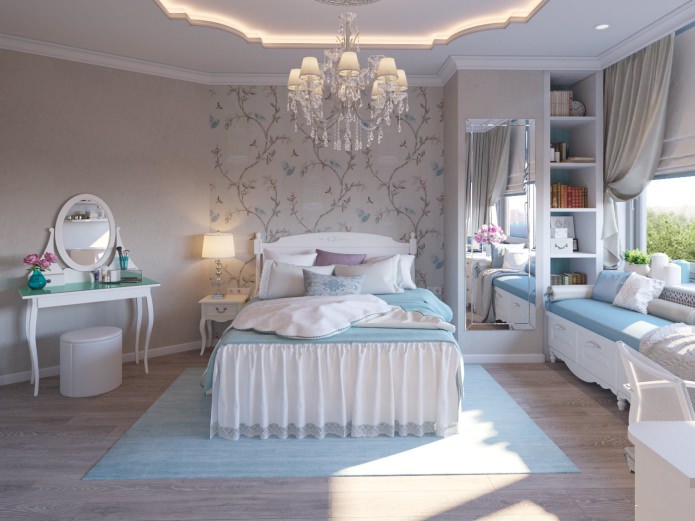 A wooden bed should be equipped with a spectacular headboard, either covered with fabric or decorated with carvings. Let's imagine a canopy above the bed – it will make a romantic touch in the design of the bedroom. The fabrics used in the classic interior should also be natural, of good quality.
For furniture upholstery, you can use velvet, satin, silk. A dressing table or a pouf near it should not only fulfill its intended purpose but also emphasize the chosen style decision. They can become the main design elements of a classic bedroom. A large mirror in a carved frame will be a bright accent.
Scandinavian Style
Modern bedrooms for girls are often performed in the Scandinavian style. Its main advantages are simplicity, the ability to implement it even in very small rooms. The abundance of light and air, clear shapes, strict lines in combination with rich colors and traditional patterns create a soft and stylish atmosphere in the design of the bedroom, which is a pleasure to relax in.
Bright accents of blue, turquoise and red add to the main pastel colors, getting expressive and original interiors. As wall decorations, you can use graphic black and white images, in this case, the color is added using decorative pillows. Green plants will add freshness and warmth to the design.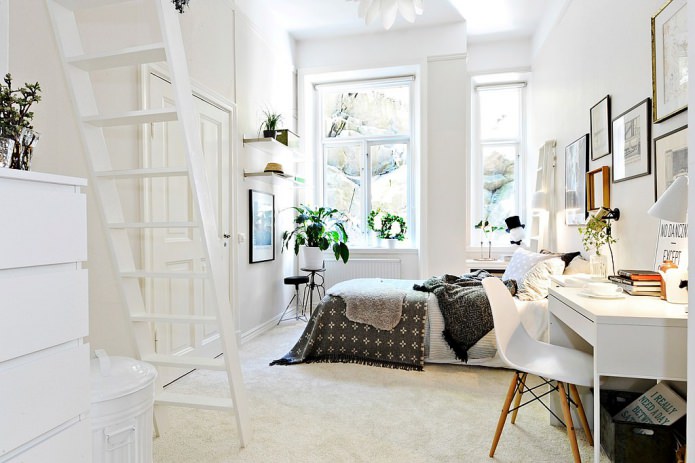 Accessories
We know from our past that our own room should provide an opportunity to engage in our hobbies, invite friends, plunge in self-education and self-knowledge. This is a "refuge" where a teenager spends time alone or in the company of his friends. Therefore, the design of the room for a teenage girl in a modern style, which is slowly entering adult life, is not so simple!
As additional accessories in the interior of the bedroom for the girl, you can use not only photographs, travel souvenirs, but also your favorite toys, collections of figures, embroideries or drawings of the hostess of the bedroom, and all those little things that add coziness and warmth to this very intimate room in the house.
Remember that the interior should be organized according to a number of principles that should fit the bedroom, and meet the needs of your child.
The first rule is to allow the girl to take an active part in organizing the interior of her bedroom and make decisions regarding her design. The best idea is a joint selection of furniture and decor. In this case, they will delight the teenager, because they are of interest to her, these items are fashionable, but at the same time functional and practical. We all went through this stage in our life, and we know that young people have their own opinions and ideas for arranging the interior.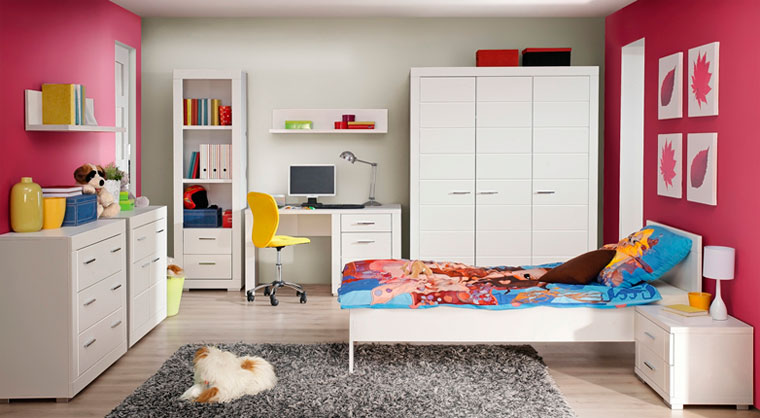 We must respect the opinion of the girl because she will spend most of her time in this room eventually. But remember that you should not give your child complete freedom in choosing all the elements of the interior. The gusts of adolescents are changing rapidly, so it's worth trying to create a universal project together, which can then be changed in accordance with the hobbies and age of the girl. The design of the room for a girl of 16 years old and the design of the room for a girl of 20 years old will be significantly different. Therefore, equipping, it is necessary to create a good base for subsequent changes.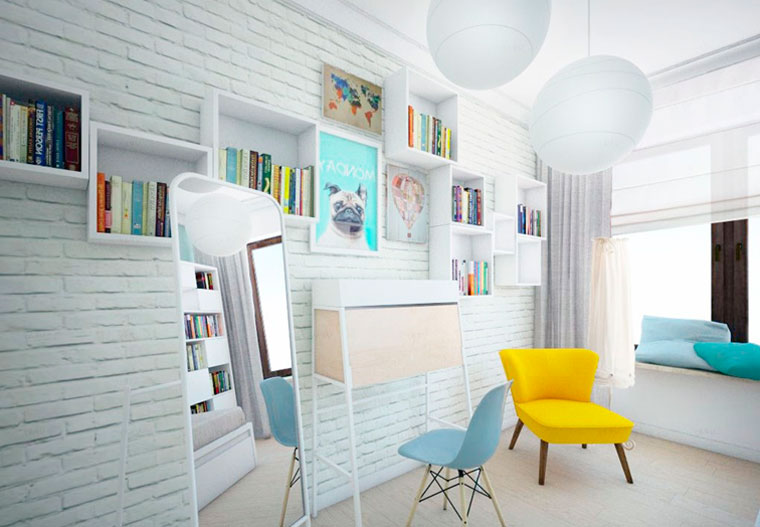 Teens love it when their room reflects their hobbies. This helps them in self-expression and in communication with their peers. Below are some ideas that emphasize a child's hobby in the interior.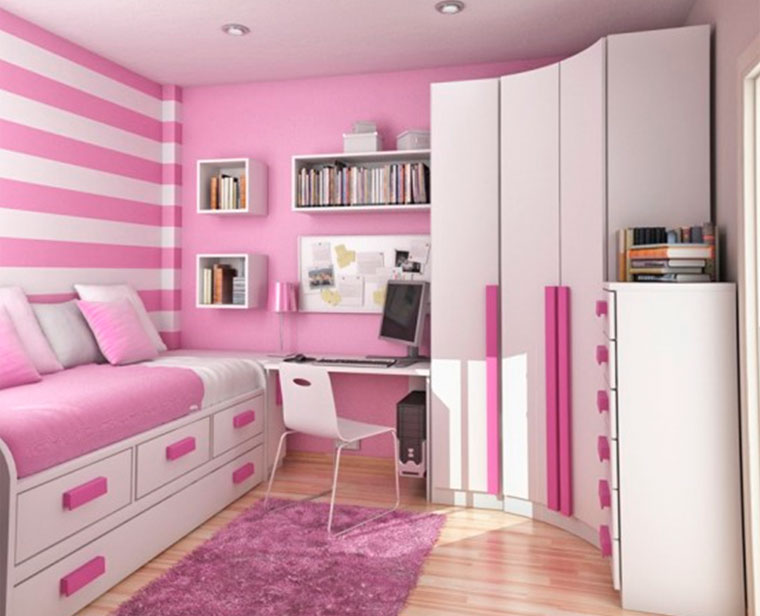 We have something for young fashionistas! Fashionable decorative pictures for girls are the main element for decoration in a room in a modern style. A large mirror, mannequins, free space allow you to try on dresses and create fashionable images.
In Conclusion
Please note that all interiors are characterized by soft wall colors. Light wallpaper and paint is an excellent background that allows you to apply more freedom in choosing additives and at the same time not to overload the room. In addition, the youth room usually contains various posters and stickers on the walls or furniture. The background for them should be delicate.
In the girl's room, a closet is not just a place to store clothes. Here she has to place shoes, hats, sports equipment, games, and many other things. Therefore, it is better to buy as large cabinet as possible, better divided into several compartments.
When choosing a closet, we believe that this is the least interesting element in the room, but it can also attract attention in the room if it is interestingly decorated. You can use spectacular wall paintings and stickers on cabinets.
Of course, creating a harmonious and functional modern interior of a youth room for a girl is a rather difficult task. However, if you do this together with the hostess of the room, it will be much easier for everyone.